Top 10 Best New Restaurants in Washington, Chosen by Top Chefs
13 famous and delicious restaurants, which have been selected and chosen by Top Chefs, range from a fried chicken destination to a lovely restaurant that offers the best Italian dishes, according to Bloomberg.
Power dining has always had special significance in the U.S. capital. For years the place to eat was in dining rooms near Capitol Hill—not for the food, but for the politicians you could sit alongside.
In the last decade, though, the city has thrown off its steakhouse stereotype to become one of the most dynamic dining scenes in the country. The power-dining scene hasn't disappeared altogether; some dining rooms maintain in-house security for the concentration of VIPs sitting down to eat.
Now D.C. is working to bring back the travelers that before the pandemic made it one of the country's most popular cities for domestic tourists: In 2019, it hosted 24.6 million visitors. The city has been attracting a new round of out-of-town talent, such as the dean of New York restaurants Keith McNally, who's planning an outpost of Minetta Tavern, as well as chefs like New Orleans favorite Kristen Essig, who's brought her winning take on Cajun classics to the new Dauphine's, according to Bloomberg.
1. Maiz 64
Photo: DC Eater
midAmid all the eye-catching flourishes installed inside Maïz64, a rare new option for Mexican fine dining in D.C., the most important may appear to be the most humble. Considering the glass cubes that display golden-dipped casts of corn with akimbo husks, a communal table made out of a slab of parota wood that weighs more than a ton, and a charcoal-burning Spanish oven visible through an open kitchen, customers who enter the refurbished restaurant in the old B Too space (1324 14th Street NW) near Logan Circle might breeze right past the squat, white chimney with a circular metal top tucked behind a small bar at the front. This gas-fired comal, the flat-top stove traditionally responsible for cooking tortillas, is where chef Alam Méndez Florián plans to showcase Maïz64's namesake ingredient.
At this modern Mexican restaurant, chef Alam Méndez uses local ingredients to create a wide array of dishes. "His mom, Celia Florián, is a well-respected chef in Oaxaca and a big defender of traditional Oaxacan cuisine from the restaurant Las Quince Letras," observes Rubén Garcia Castilla, an alum of José Andrés's Think Food Group. "Alam bring a lot of knowledge and experience to the city, showcasing traditional Oaxacan favors and ingredients." Castilla's favorite order reflects the southern Mexican influence: a broccoli and mole Oaxaqueno taco. Recommended by Rubén Garcia Castilla, co-founder of Unfold Hospitality Group.
The 64 in the restaurant's name refers to the number of corn breeds that have been identified as Mexican. When Méndez Florián shows off a few kernels of blue corn harvested from the state of Tlaxcala and destined to become tortillas, he hesitates before tossing them in the garbage. "In my mom's town they don't let anyone throw away corn kernels," he says. "We give it to the chickens." While explaining the significance of maiz, or corn, in Mexican culture, he references a Mayan story of creation.
"They say that the men were made with corn masa. That's the reason we want to represent it in our restaurant and our name as many ways as we can," he says. "For us, it's the base of our food and has the same value as gold."
2. Pennyroyal Station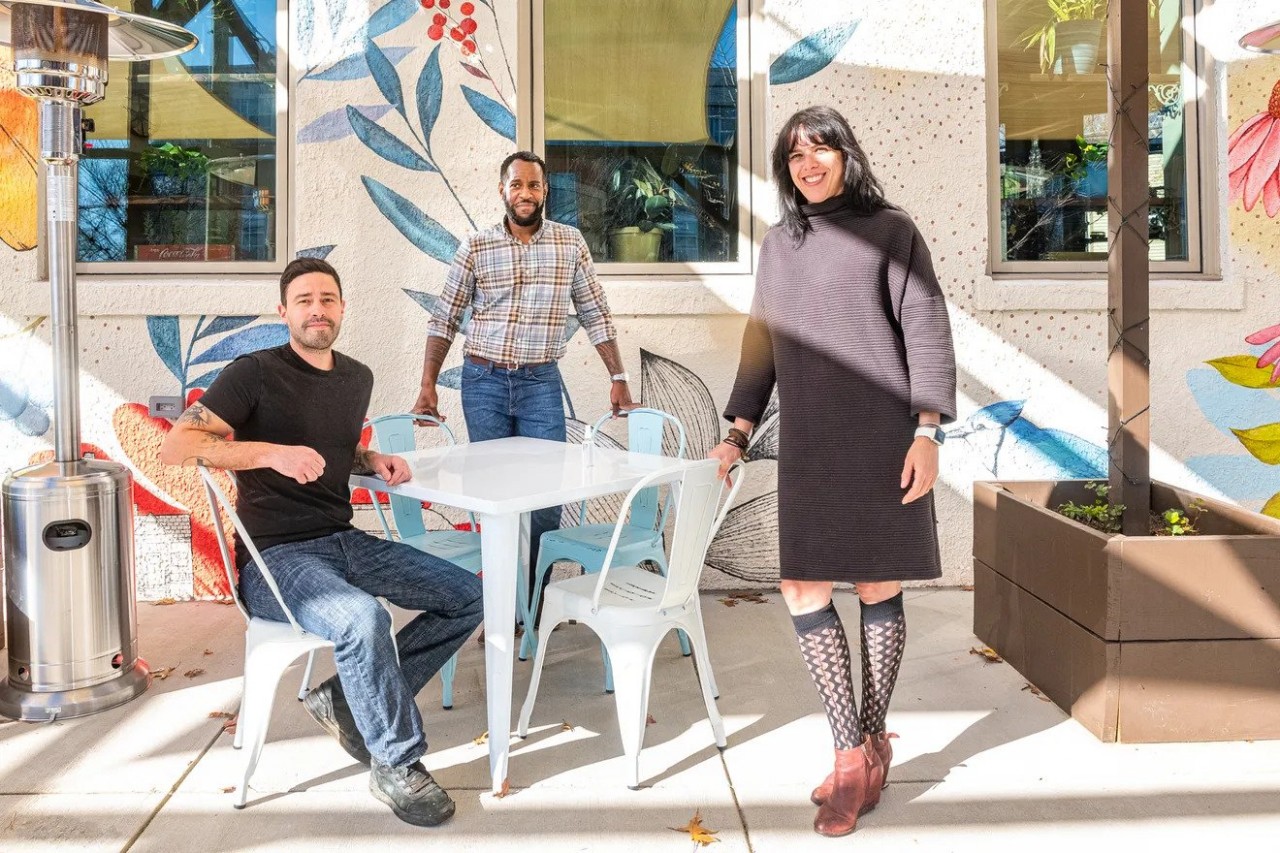 Pennyroyal Station partners Jesse Miller, Garrick Lumsden, and Erin Edwards on its patio. Rey Lopez/Eater DC
"I'm loving the vibes over at Pennyroyal Station," says chef Peter Prime. "Chef Jesse Miller is putting a very creative spin on comfort food, the very food I've been craving during this pandemic." The restaurant in Mount Rainier, Md., occupies a light-filled space in the Singer building, which was the First National Bank in the early 1900s. There's a powerful array of sandwiches such as porchetta and fried egg as well as crabcake melt. Family meals that include smoky brisket for two can be had for $35. "There's a lot to like on the menu, but if you had to order one thing, I'd recommend the potted chicken liver mousse with grilled bread," says Prime. Recommended by Peter Prime, chef and owner of Cane and the upcoming St. James.
Pennyroyal Station served its first dinner in Mount Rainier on Friday, November 20, 2020, sending out plates of suckling pig, fried chicken sandwiches, and family-style helpings of brisket or roasted pork shoulder tacos from chef Jesse Miller. Delicate, vintage plateware is one of many callbacks to the era when the restaurant space was part bank, part sewing machine factory. Tuesday, December 1, 2020 marked the beginning of regularly scheduled service and the start of online ordering for takeout via a Toast system that will launch on the restaurant's website.
Miller and Erin Edwards cashed out of Bar Pilar last year to direct all their attention to the tedious renovation project. They brought in Passion Food Hospitality alum Garrick Lumsden as a partner. Miller's comeback menu in Maryland bears a resemblance to the one that helped make the Hemingway-themed bar a mainstay on 14th Street NW.
"To me, at least, it's simplistic, American-style comfort food that is just taken up a notch," Miller said.
3. NaRa-Ya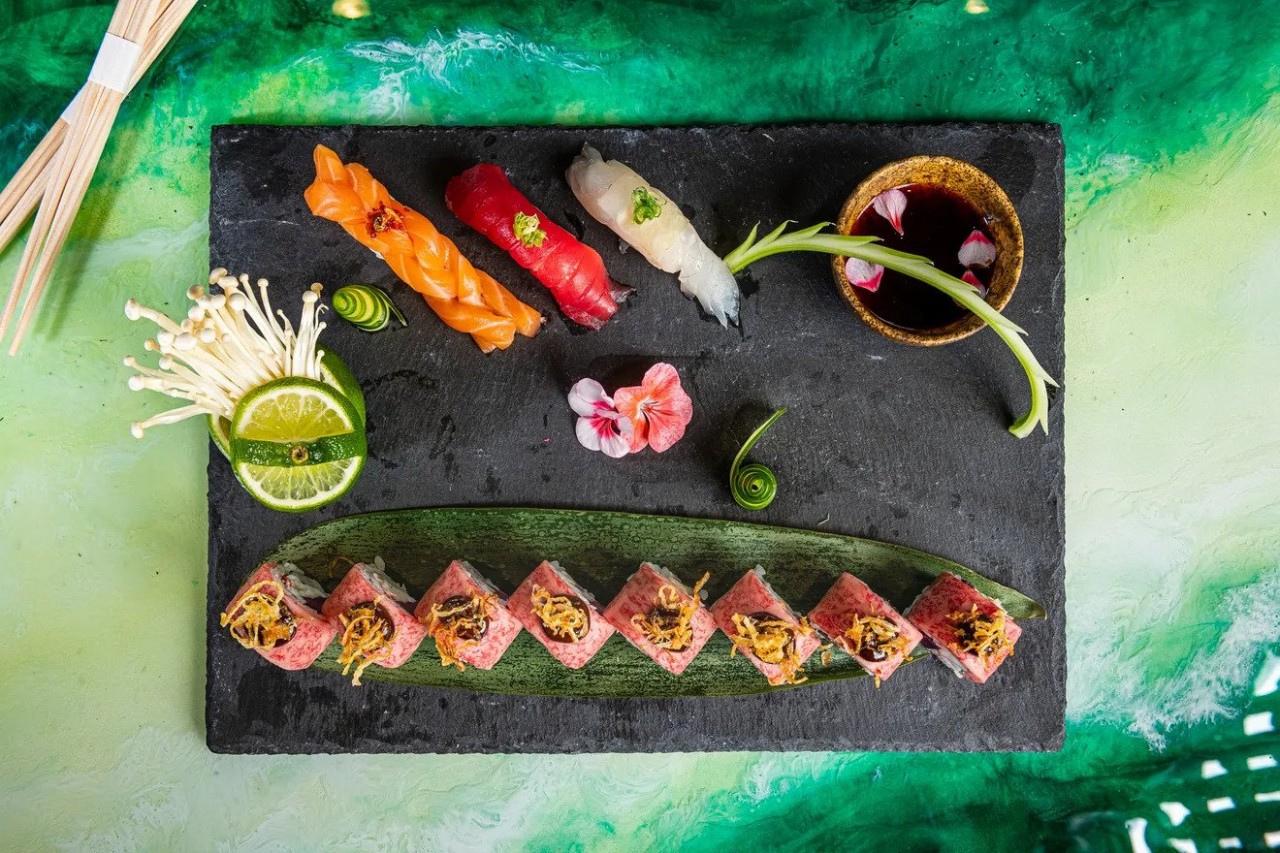 A sushi platter from NaRa-Ya Rey Lopez/Eater D.C.
NaRa-Ya brings a fresh take on Japanese izakaya-style dining in a lavish waterfront setting. Immerse yourself in the flavors of Japanese cuisine—with a modern inflection—directed by Executive Chef Lucas Irwin and renowned Creative Culinary Director Kaz Oshiro. Enjoy a range of imaginative beverages alongside carefully handmade classic dishes including Sashimi (fresh fish), Kushiage (meat and vegetable skewers), Takoyaki (octopus), and one of the most innovative Sushi menus in The District.
Chef Lucas Irwin cooked with Masaharu Morimoto before opening this creative, high-end Japanese restaurant in the burgeoning Wharf district. Alongside nigiri and sashimi and omakase menus, there's a selection of a la carte dishes including braised short ribs with koji-glazed kabocha. "I had all but convinced myself that there couldn't possibly be another way to improve on short ribs," says chef Jocelyn Law-Yone. "The dish was plated like a work of art. The meat melted to the touch, and the sauce it was braised in was delicately seeped in to make each bite sophisticated, subtle, and complex." Recommended by chef Jocelyn Law-Yone, chef and owner of Thamee.
Irwin, the latest in a string of sushi chefs attached to the long-developing waterfront restaurant, left Maui a long time ago, using experience working for Iron Chef Masaharu Morimoto and Hawai'i legend Alan Wong as a springboard to travel around the country for jobs in places like Beaver Creek, Colorado, the island of Nantucket, and, most recently, Palm Beach, Florida, where he answered a Craigslist ad from NaRa-Ya culinary director Kaz Okochi. Inside NaRa-Ya, seats are covered in hot pink leopard print fabric, and one wall is wrapped in a print of cherry blossoms in peak bloom.
The NaRa-Ya roll, for example, includes a filling of Alaskan king crab and purple sweet potato, a topping of A5 Japanese wagyu beef with black garlic aioli and crispy onions, and rice that's been milled, or "polished," on-site. Irwin employed that process at Morimoto Maui and says he only knows of a few other places in the U.S. that do it.
"It just changes the grain completely, and you have a fresher product," Irwin said. "You can tell the difference, you can smell it."
4. Apéro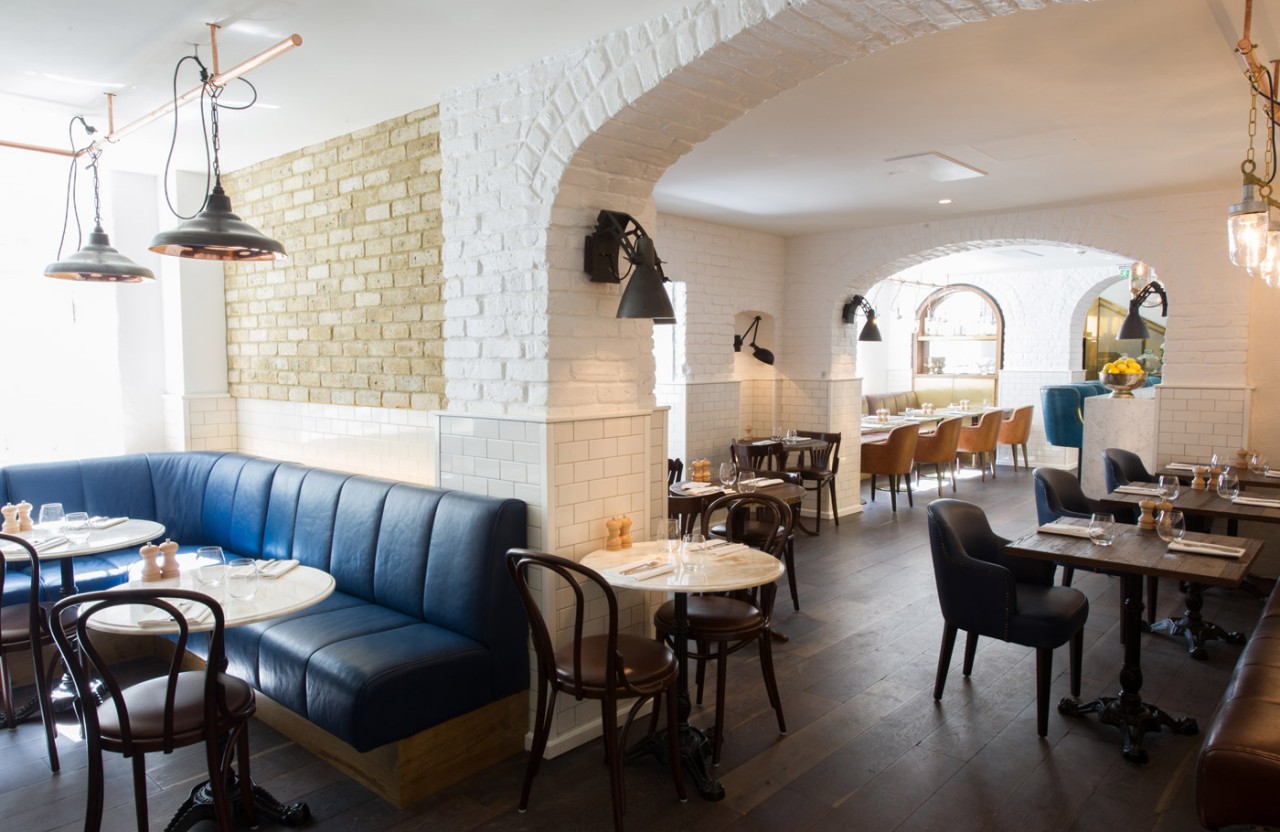 Photo: Amy Murrell
Taking sanctuary from the street-level bustle and dive in to the flavours of the Mediterranean at Apero, the all day neighbourhood brasserie nestled in the vaulted cellars of The Ampersand Hotel. With leather snugs, Spanish tiled floors and exposed bricks, this intimate London restaurant and bar is where South Kensington chic meets Mediterranean zest.
Champagne, wine, and the foods that pair particularly well with them are the focus at this Georgetown haunt. Along with a strong list of wines by the glass, there are inspired cocktails such as Diamonds and Pearls, a mix of gin and vodka with an accompanying serving of house caviar. "It's intimate and full of charm," says chef Jenn Crovato, "There is an incredible selection of Champagne. But don't leave without ordering the confit canard with roasted potato and morel sauce." Recommended by Jenn Crovato, chef and partner at 1310 Kitchen & Bar.
5. Moon Rabbit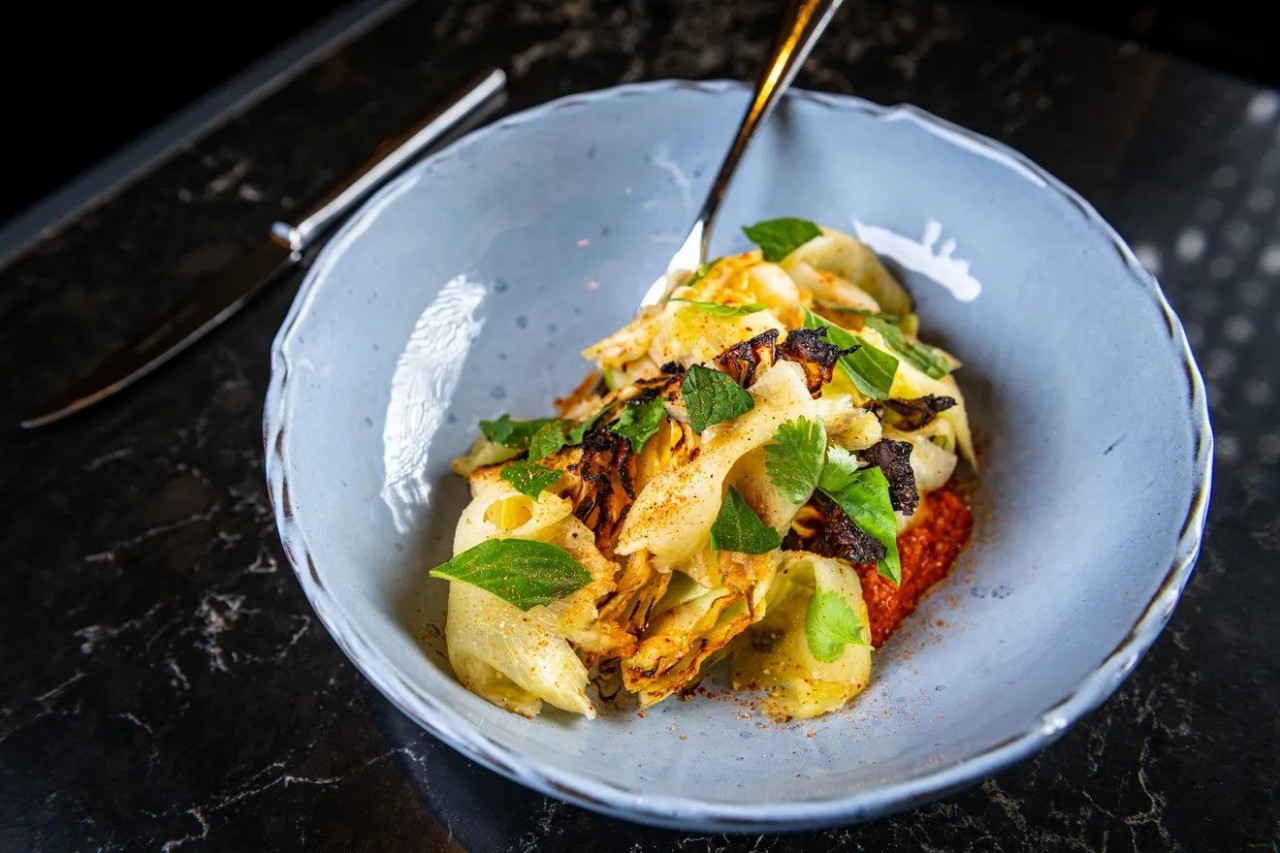 Charred Carafalex cabbage at Moon Rabbit comes with slices of pineapple and a spicy peanut romesco sauce meant to evoke bún bò huế Rey Lopez/Eater D.C.
Moon Rabbit evokes memory, honors history, references globally inspired techniques and spotlights reinterpreted takes on Vietnamese and American dishes. Chef Kevin Tien's unique and complex menu is a modern, lively, and innovative approach to Vietnamese cuisine. It is a love letter to his family, and growing up as a first generation Asian American.
The restaurant is located inside the InterContinental Washington D.C.-The Wharf hotel.
Before he opened Moon Rabbit, chef Kevin Tien made a name for himself at the buzzy Emilie's. Then, during the pandemic, he started a takeout series to stop hatred directed at the Asian American Pacific Islander community. His new restaurant specializes in elevated Vietnamese cuisine and has a waterfront view. "Chef Kevin has a creative take on flavors that's still true to his Vietnamese heritage," says master chef Peter Chang. "He beautifully combines execution and creativity in everything from the cocktails to the evolving menu." Chang especially likes the grilled pork with lemongrass. "The flavors are perfectly balanced and refreshing, giving the dish the right notes of acid for an awesome taste combination."
Recommended by Peter Chang, chef and owner of Q by Peter Chang in Bethesda, Md.
The version on Moon Rabbit's opening menu starts with a lobster and shrimp stock and folds in local crab, a common ingredient in the city where Tien has cooked for the past nine years. Halved pods of roasted okra and a dark roux sauce drizzled on top give the rice a touch of gumbo. The chef says he was the first member of his family born in the United States. He spent a formative chunk of his adolescence in Lafayette, Louisiana.
"Your family pushes you to be more American. It's all about assimilation," Tien says. "You try to be American. And then trying to be American growing up, I lost touch with my Vietnamese side. My family came over after the Vietnamese war, so they don't want to talk about it much."
Tien says his grandmother raised his mother in Ho Chi Minh City. Although his family was based closer to the coast, he's using an inland recipe for a dipping sauce called muối ớt xanh sữa đặc— sweetened condensed milk loaded up with blitzed Thai green chiles — that's served with grilled prawns dressed in garlic and Thai basil butter. He adds scallions to cut the heat, but the fiery condiment still reflects how his family likes to eat.
6. Oyster Oyster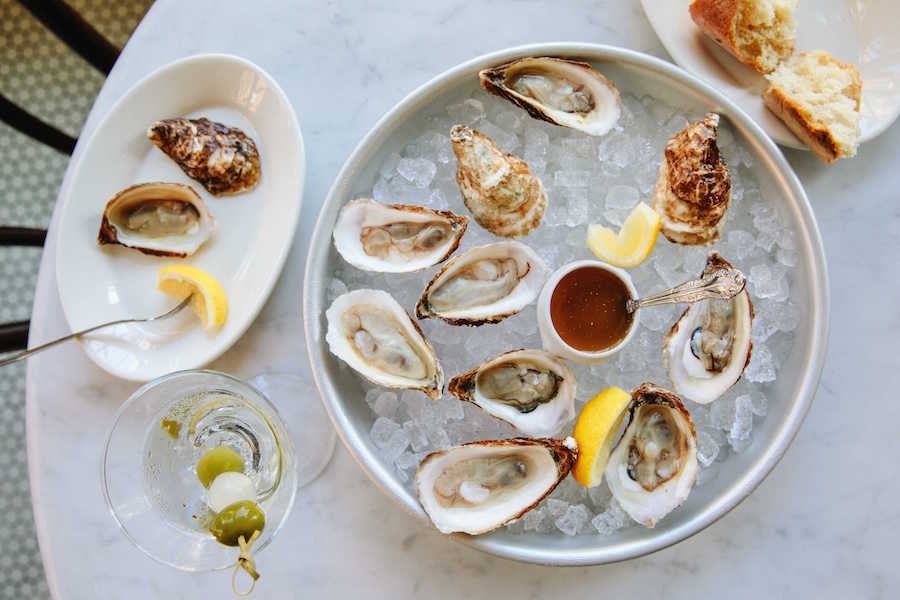 Photo: Boston Magazine
After briefly flirting with the name "Future," chef and owners Rob Rubba and Matt Kuller were texting one night when Kuller typed out "oyster oyster."
"It sounded so fun to say," said Rubba. But what the name really pays tribute to are the beating hearts of the restaurant's menu: the oyster mushroom and the briny bivalve. And they just so happen to embody the philosophy of the whole concept, too.
Not only are these two ingredients incredibly environmentally friendly, they also contribute greatly to their ecosystems. For instance, Rubba points out that mushrooms grow quickly and need only a fraction of the water that meat does to produce. Meanwhile, oysters and oyster reefs are on a sustainability mission themselves: They combat wave damages from storms, help with beach erosion, and provide habitat and food to a multitude of coastal species, among other benefits.
The namesake oysters are also the proud emblems of the restaurant's logo, which Rubba calls their Bat-Signal. "[We] use it as an influence for us at all times," he says.
Despite its name, Oyster Oyster is principally focused on vegetables—there's an option of having a tasting menu that's vegetarian or "oystertarian." Paola Velez, who co-founded Bakers Against Racism with the restaurant's chef Rob Rubba, says the program has been one to watch. "Not only is their natty wine selection incredible, I love how chef Rob uses local mid-Atlantic ingredients and lets them sing in all their glory." For Velez, a standout dish is the fried eggplant with fennel kraut and red onion jam. Recommended by Paola Velez, co-founder of Bakers Against Racism and Doña Dona doughnuts.
7. Taqueria Xochi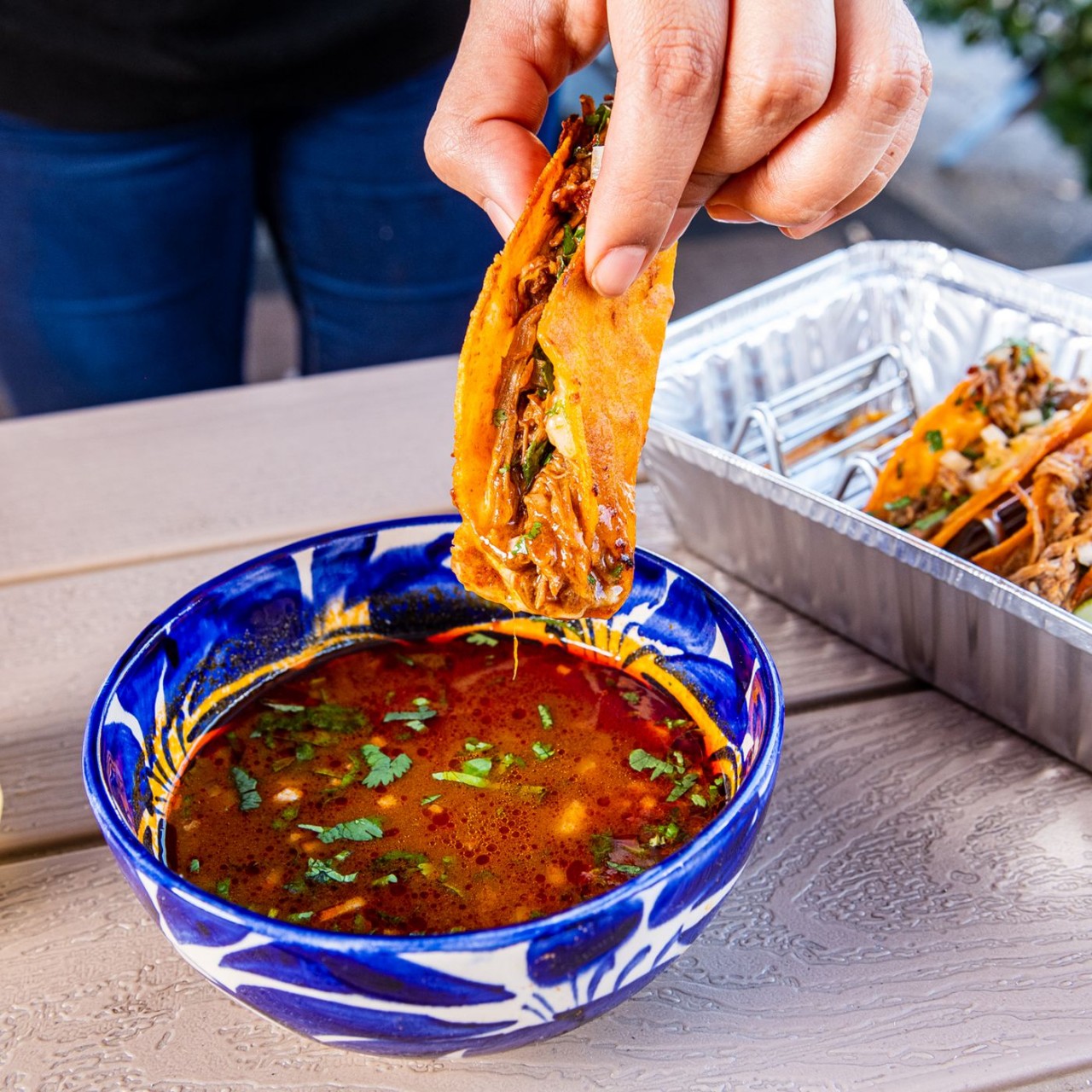 Photo: D.C Eater
Geraldine Mendoza and Teresa Padilla never thought they were going to open a restaurant during the pandemic.
From selling Mexican food out of a house, to an expanded pop-up— the women opened their brick-and-mortar, Taqueria Xochi on U Street, after business boomed from selling dishes such as cemitas—sandwiches from Puebla, Mexico, according to NBC Washington.
"I guess the pieces just fell into place in a way for us to have all the support of people liking the food," Mendoza said.
Taqueria Xochi offers an expanded menu with their most popular item being "quesobirria." A combination of the words "queso" and "birria," quesobirria brings a cheesy experience to "birria," a traditional Mexican meat stew dish.
"It's like a crispy taco, you're going to have a little bit of cheese in there, then you have the consommé, which is the broth that the protein is cooked with, and then you have all those flavors," Mendoza said.
Chef Teresa wants to keep the food as authentic as any food customers would eat in Mexico.
"If you go to a taco stand in Mexico City, you'll find the same tacos, how we plate is the same, we try to keep it as simple but try to keep all those flavors in there as well," Mendoza said.
Pastry chef Teresa Padilla spent 15 years working with Think Food Group before losing her job during the pandemic. She started making cemitas (a type of sandwich) with crispy chicken before opening a brick-and-mortar spot on U Street with a menu of Mexican street food. "I really enjoyed the lamb quesabirra," says local chef Amy Brandwein. "It features beautiful orange handmade tortillas filled with braised lamb and spices, served with a side of rich lamb consommé. It is perfect with a delightful tamarind aqua fresca. Cheers to Teresa." Recommended by Amy Brandwein, chef and owner of Centrolina and Piccolina.
8. The Duck and the Peach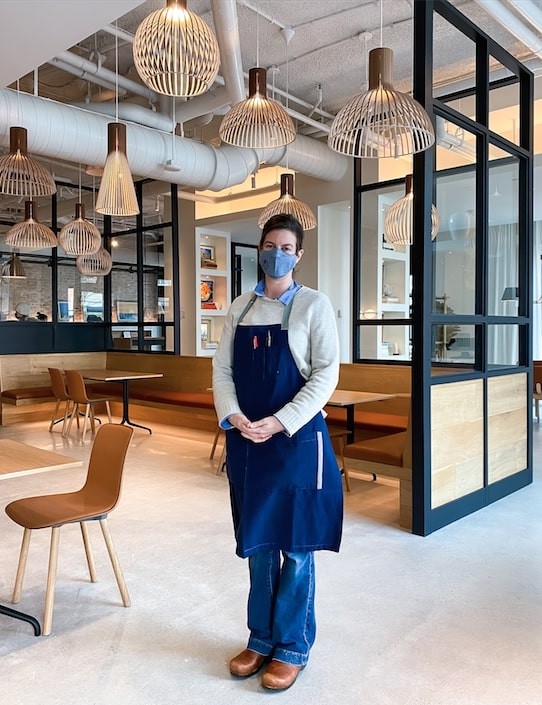 Photo: The Hill is Home
Opening one establishment is challenge enough. Hollis Wells Silverman has introduced three places to eat and drink since December, all on Capitol Hill, where she lives four or so blocks from the collection. The former chief operating officer of José Andrés's ThinkFoodGroup says she never expected to open a restaurant of her own. But space opened up near Eastern Market, and she saw a chance to give the neighborhood what she thought it needed: an all-day restaurant with a California lilt (the Duck & the Peach), a breezy osteria inspired by a college trip to Italy (La Collina) and, most recently, a gin-driven, reservation-only watering hole (the Wells). She hopes the look of the 30-seat bar, dreamy in green and copper, makes visitors feel as if "they've stepped out of D.C."
The branding for the Duck & the Peach is personal for Wells Silverman. Yes, she likes the idea of promoting two popular ingredients. But the words are also the nicknames for her late black Labrador, Red, and 11-year-old daughter, Davis, respectively.
Caramel-colored leather chairs and banquettes prove both stylish and comfortable; clusters of elegant wooden lights could double as art installations. Coffee table books, many from the owner's home, practically ask to be cracked open. Wells Silverman is from New England but has a soft spot for the Golden State, where she worked in San Francisco at the renowned Jardiniere and tried her hand as a wine broker in San Diego. Paintings of beaches and flowers by her late artist-father draw eyes to the walls, according to Washington Post.
During the day, this Capitol Hill spot is a café with breakfast and lunch favorites like scrambled egg sandwiches. At night, the place transitions into a restaurant. The seasonal menus from chef Katarina Petonito and pastry chef Rochelle Cooper highlight ingredients from local farms, and pastry chef Pichet Ong is a fan in particular of the namesake summery roast duck with peaches. "I never pass up a meal with great desserts," he says, "whether it is a simply delicious cobbler or a s'more that eats as incredible as it looks." Their fresh approach to restaurant culture includes a 22% service charge "to make hospitality a profession." Recommended by Pichet Ong, chef and partner NiHao in Baltimore.
9. La Famosa
La Famosa's octopus, shrimp, and scallop salad with tostones. Photograph by Scott Suchman
Puerto Rican native Joancarlo Parkhurst is wary of the way Latin cuisines too often get lumped together, with mash-up menus and fusion flavors.
"We all kind of get put into one box." Parkhurst says. "Yes, we share common threads—language and some common lineage and history—but we have rich and diverse cultures within us. And so I thought it was time to showcase what the Puerto Rican culture is."
The result is La Famosa, an all-day "fast-fine" Puerto Rican restaurant which opened in Navy Yard. For Parkhurst, this is the first restaurant to tap into the food of his childhood. The law school dropout-turned-chef-and-manager has worked from New York to Miami to San Juan and initially came to the DC area with Ruth's Chris. He also helped to open RPM Italian and previously ran (now-closed) Lina's Diner & Bar in Silver Spring.
At La Famosa, named after a Puerto Rican canning company that Parkhurst's family owned until the late 1970s, the chef is embracing the humble roots of Puerto Rican food but not sticking strictly to tradition.
"A lot of our historically cultural food comes from a level of poverty, whether it be salt cod, different cured meats, a limited selection of vegetables outside of what we can grow on the island," he said.
The food of Puerto Rico is spotlighted at this all day café in the Navy Yards from chef and owner Joancarlo Parkhurst. His menu includes a BMT (bacon, mezcla cheese, and tomato sandwich), mofongo, as well as mashed plantains, with the option of pork, crab, or vegetables on top. "What I keep going back for is the pastries, and they have this iced drink called coco shakerato," says chef Katsuya Fukushima. "It's espresso, coconut water, and coconut cream. Soooo good. And the people there have that Latin warmth that makes you happy." Recommended by Katsuya Fukushima, chef and partner at Bantam King.
10. Capa Tosta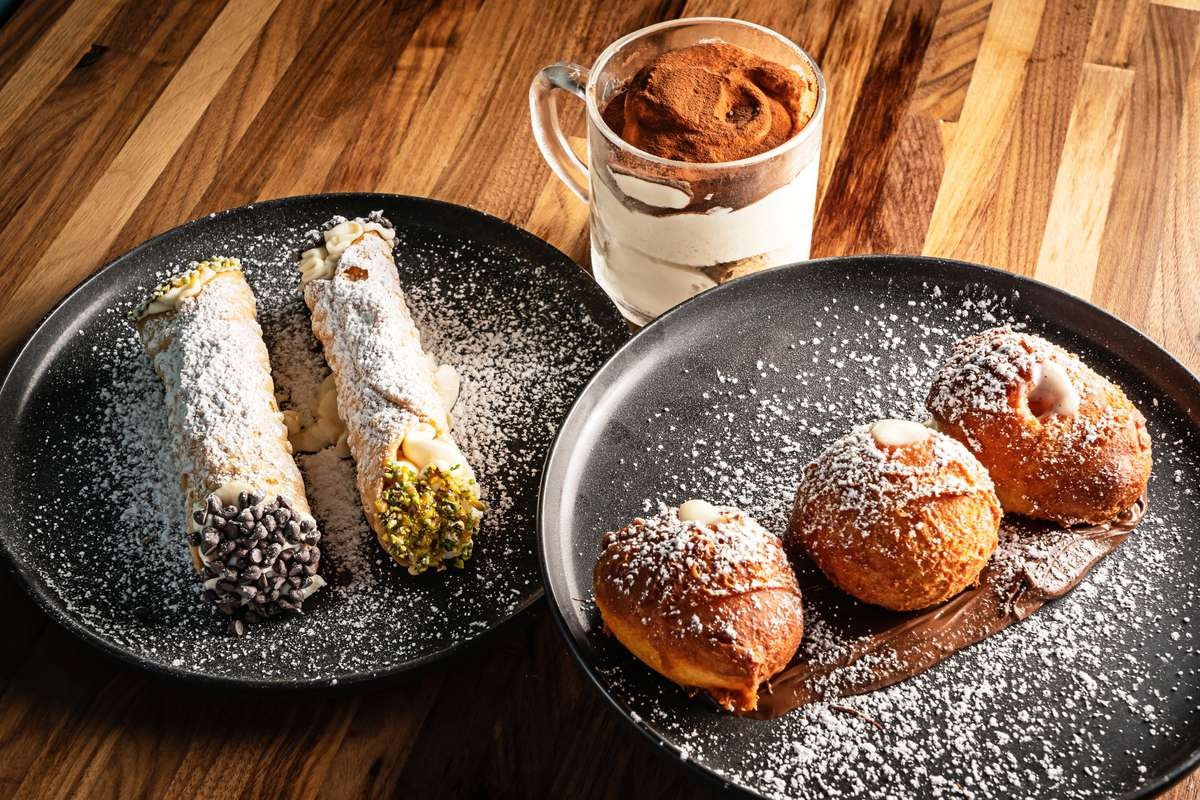 Photo: Capa Tosta
Take-out pizza is good, and jarred pasta sauce will get the job done at dinner time. But when you're ready for an authentic Italian meal, turn to Capa Tosta. This restaurant in the Columbia Heights neighborhood has real, classic Italian food, prepared with fresh ingredients and utilizing tried-and-true recipes. The hard decision will be choosing what to order. Between appetizers like crispy artichokes, fennel salad, and arancini, and entrees of freshly made pan pizza or handmade pastas, you have plenty to choose from. Try to bring a few friends so that you can order a few dishes, and possibly have room for dessert. The tiramisu, cannoli, and bomboloni are as delicious as any you'd get in the heart of Rome.
Find Capa Tosta on Sherman Avenue NW, with operating hours from 4 p.m. to 10 p.m. Tuesday through Friday, or a bit earlier for lunch service at 11 a.m. on weekends.
Italian-American classics star at the brick-wall-lined Capa Tosta. From hearty meatballs in tomato sauce to penne vodka and chicken marsala, the restaurant also features a drinks list that capitalizes on Negronis and Old Fashioned cocktails. "What a gem of a place—great service, friendly staff, food that is insanely delicious and authentic," says Top Chef star Spike Mendelsohn. "The eggplant parmesan is still a conversation piece in our household. The drinks are on point, and the vibe is the vibe." Recommended by Spike Mendelsohn, chef and owner of Good Stuff Eatery with multiple locations.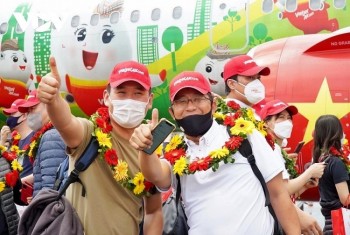 National
Vietnam News Today (Jan. 26): Vietnam reports 15,699 more domestic Covid-19 cases; Vietnam told to reopen to international tourism ahead of SEA Games 31; Germany donates four million more vaccine doses to Vietnam; Vietnam has opportunity to become global leader in renewable energy.