Top 10 Most Idyllic Places To Celebrate Christmas In Canada
If you are looking to celebrate your Christmas somewhere else outside the country, then Canada can be the perfect choice for you with these 10 best and most idyllic places to have a wonderful Christmas holiday with your friends and families.
Like almost everything else in our lives, holiday celebrations feel really different this year. Still, regardless of the gathering restrictions in your part of the country, there are many places where you can experience the holiday spirit and an epic Christmas in Canada.
From festive Santa Claus parades to can't-miss holiday markets, we're counting down the best places to celebrate Christmas in Canada.
1. Quebec City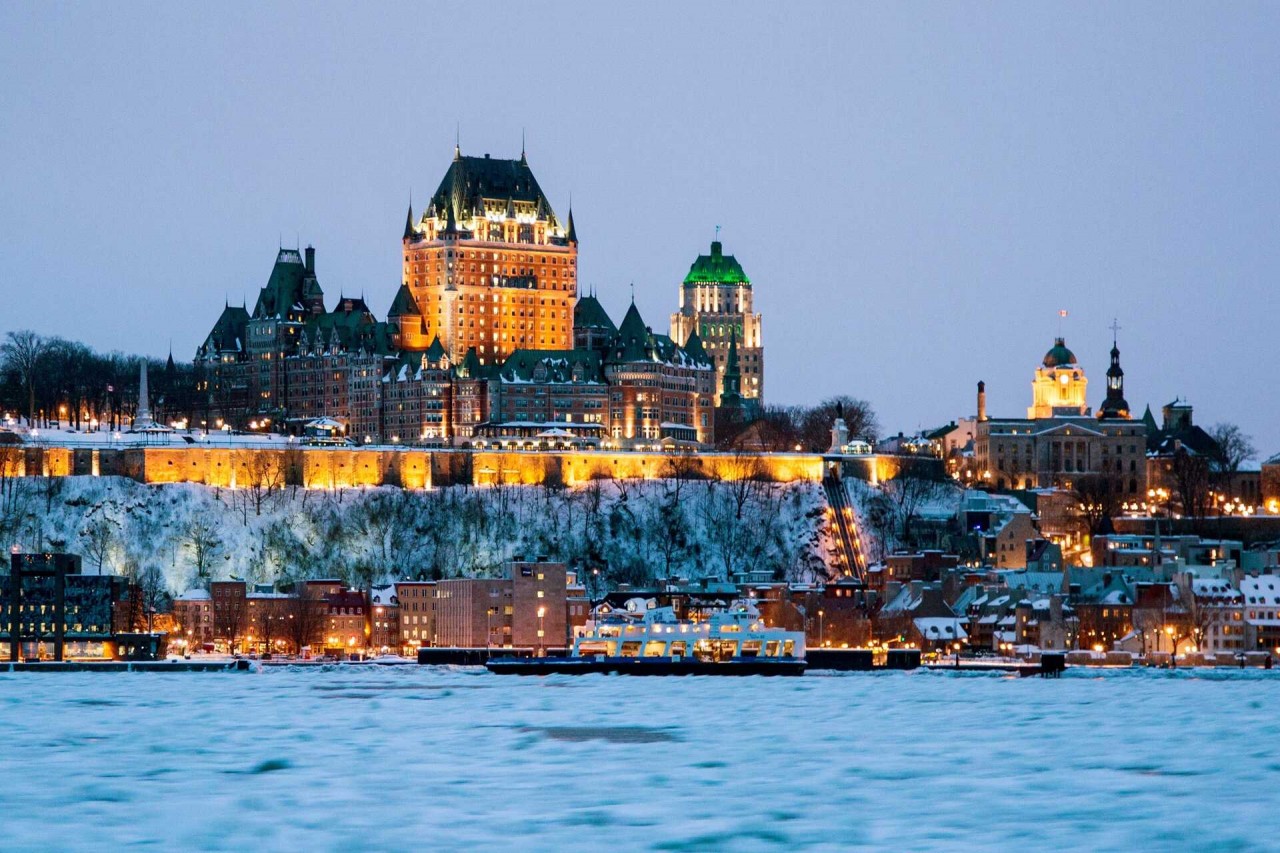 Veranda
The sight of winding cobblestone streets and towering cathedrals; the sound of French pleasantries and tourists' "Oohs;" the smell of fresh-baked bread and pungent cheese; the taste of creamy cafe lattes and buttery croissants. All your senses agree: You're in France. But they're wrong: You're in Québec.
Québec City – the capital of the Canadian province, Québec – dwelled in the shadow of its neighbor, Montréal, for a long time, but the 2008 celebration of its 400th birthday catapulted Québec City back into the spotlight. Since then, travelers have flocked here to experience this UNESCO World Heritage site's charm for themselves. As the birthplace of New France, Québec City continues to uphold the culture of its motherland. Upon passing through the fortified walls of Old Québec, you'll discover a world straight out of a European painting: 17th- and 18th-century buildings house bakers, bistros and boutiques, while cobbled squares are drowned by a sea of cafe tables. And around every corner, a piece of Québec City's rich heritage awaits discovery.
Even if they did nothing at all, Quebec City would still be a great place to spend the holidays, with cobblestone lanes, fluffy white snow, and some of the most historic and striking architecture in Canada. But, fortunately, there's a lot going on in the capital of La Belle Province, including an authentic German Christmas market where you can sip mulled wine and browse for gifts, and the chance to meet Santa Claus himself at Fairmont Le Chateau Frontenac—widely recognized as one of Canada's greatest hotels. If you can't decide where to spend Christmas in Canada, Quebec City will not disappoint you.
2. Banff, Alberta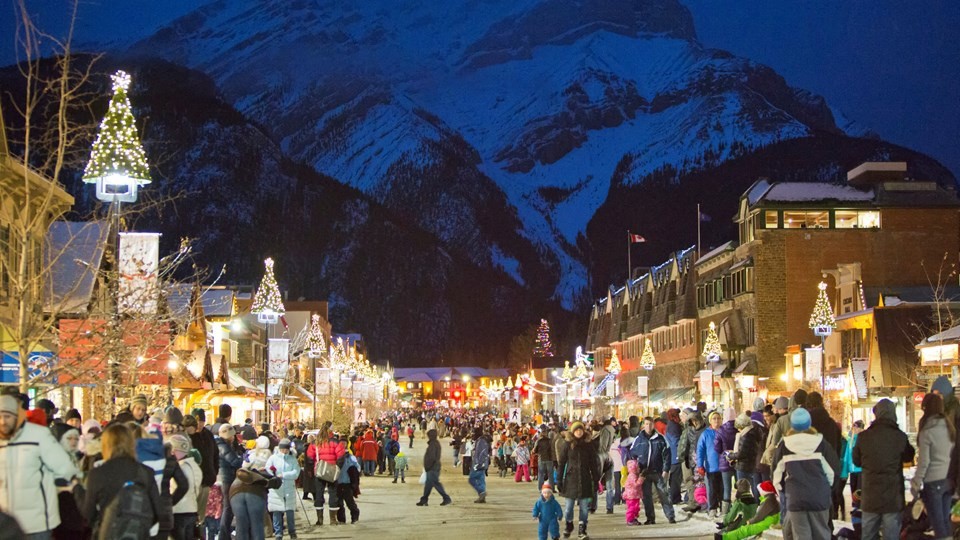 Travel Alberta
If you're itching to experience the lifestyle of a Swiss skiing village, but don't want to fork over the cash for a trans-Atlantic flight, consider Banff. Thanks to its location in the heart of the Canadian Rockies near the southeastern border of Banff National Park – Canada's first national park – taking trips here will decrease not only your flight time from the U.S. but also your expenses (although only marginally). Banff caters to intrepid explorers who prefer to end the day in a nice hotel rather than roughing it at the campgrounds (though, there are plenty of those, too). Opportunities for adventure abound, so pick your sport: Ski down Mount Norquay, hike to the massive, free-standing limestone pillars known as the Hoodoos, "scramble" up the face of the Stoney Squaw Mountain or bike along Healy Creek. When you are exhausted, retreat to your cozy (and warm) resort, and replenish yourself with a hefty helping of bison meat.
Banff is one of the most picturesque resort towns in all of Canada. Its main street of restaurants, hotels and shops surrounded by soaring mountains has one of the most magical views in the wintertime. If you're looking for the best Christmas in Canada, Banff truly transforms with light shows, sleigh rides, Santa's Workshop and endless winter sports opportunities. You'll also find Christmas festivities at one of Canada's most stunning castles, the Banff Springs Hotel.
3. Halifax, Nova Scotia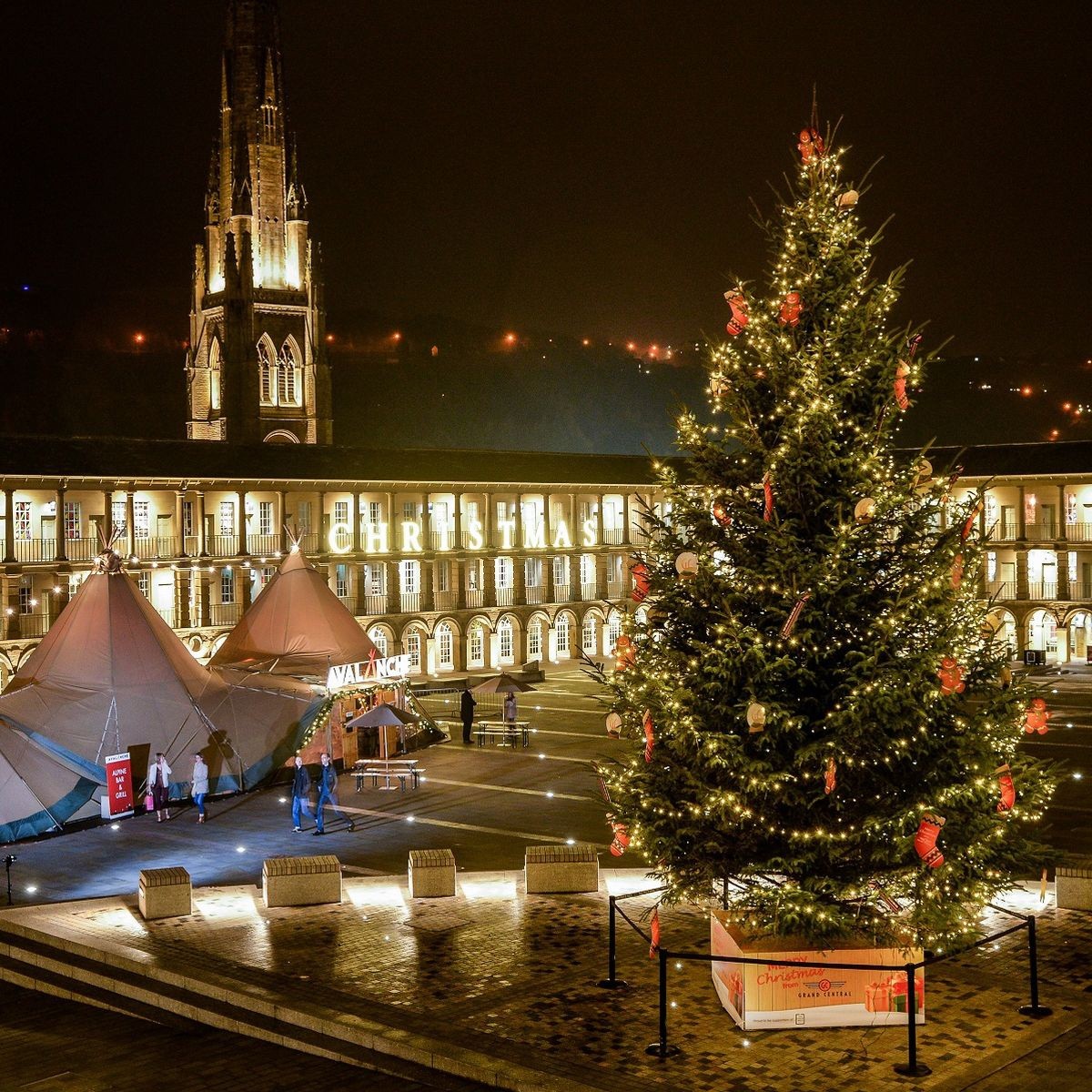 Yorkshire
The capital of Nova Scotia is any historian's dream: This harbor town has been a British stronghold and a pirate haven. The city was also the starting point for more than a million immigrants' new lives and the final resting place for hundreds who died at sea after the "unsinkable" Titanic went down in the icy Atlantic. And with so many of Halifax's top attractions devoted to the preservation of its rich history, you might think that this city is stuck in the past. But you'd be wrong.
Halifax has emerged as the commercial capital of Canada's Maritime Provinces thanks to its natural harbor. This status has helped Halifax come into its own as a cultural hub as well. For visitors, that means an abundance of festivals, art galleries and live performances. This is also a great place to kick off an outdoorsy getaway – Halifax is home to several notable public parks and is an easy drive from some small ski areas. And did we mention the seafood? Salmon and lobster are staple ingredients in Nova Scotian cuisine and can be savored alongside stunning views of the harbor at many downtown restaurants. So, whether you're looking to sample the past or the present, Halifax provides an ideal backdrop.
What would Christmas in Canada be without a Christmas tree? Well thankfully, Halifax will never have to know as they've created an entire festival dedicated to evergreen trees and everything Christmas. There's no shortage of snow, plus an amazing market and holiday light trail. They also have great festive eats, performances and maple syrup – essentially, all the ingredients for a perfect holiday season.
4. Ottawa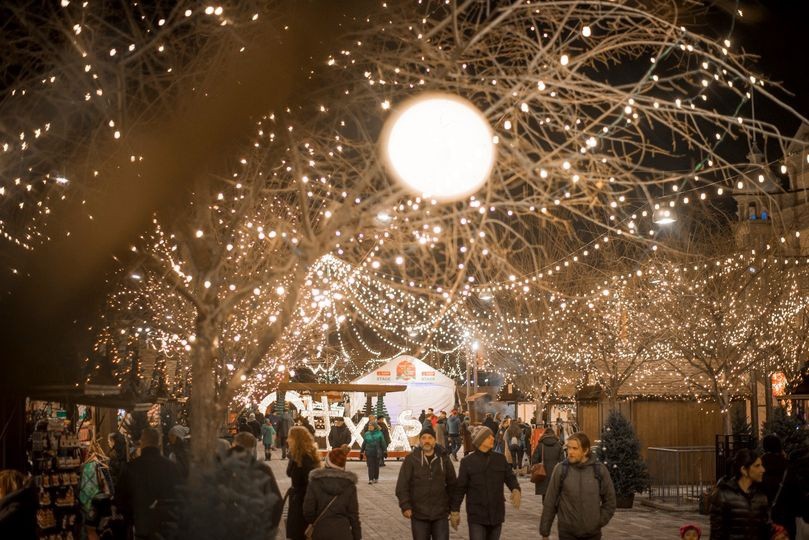 Narcity
Located in southeast Ontario near the Québec border, Ottawa may seem an unlikely choice for Canada's capital when compared to larger cities like Toronto and Montreal. But that doesn't mean it should be ignored. Visit for yourself, and you'll see this city doesn't fall short. It's small yet lively, family-friendly yet nightlife-ready, somewhat chilly yet undeniably cool.
Ottawa is a political and cultural hub that particularly caters to the out-of-towner. Its downtown overflows with jaw-dropping architecture, state-of-the-art museums, funky boutiques and fantastic snack joints that are all easy for you to explore on foot. Plus, this is a city that loves to celebrate, hosting dozens of festivals throughout the year. And while cold weather may seem like a deterrent, a few hours ice skating (or sipping hot chocolate) along the Rideau Canal will transform even the most stubborn summer-lover into a winter buff.
Beginning with an illumination ceremony in early December, the nation's capital bathes the Parliament Buildings in dramatic lights with the prime minister often flipping the switch himself. The ceremony also includes free hot chocolate, Christmas caroling and Beaver Tails, and is followed by a solid month of beauty: both Parliament Hill and more than 60 sites along Confederation Boulevard feature lovely illumination displays.
4. Dawson City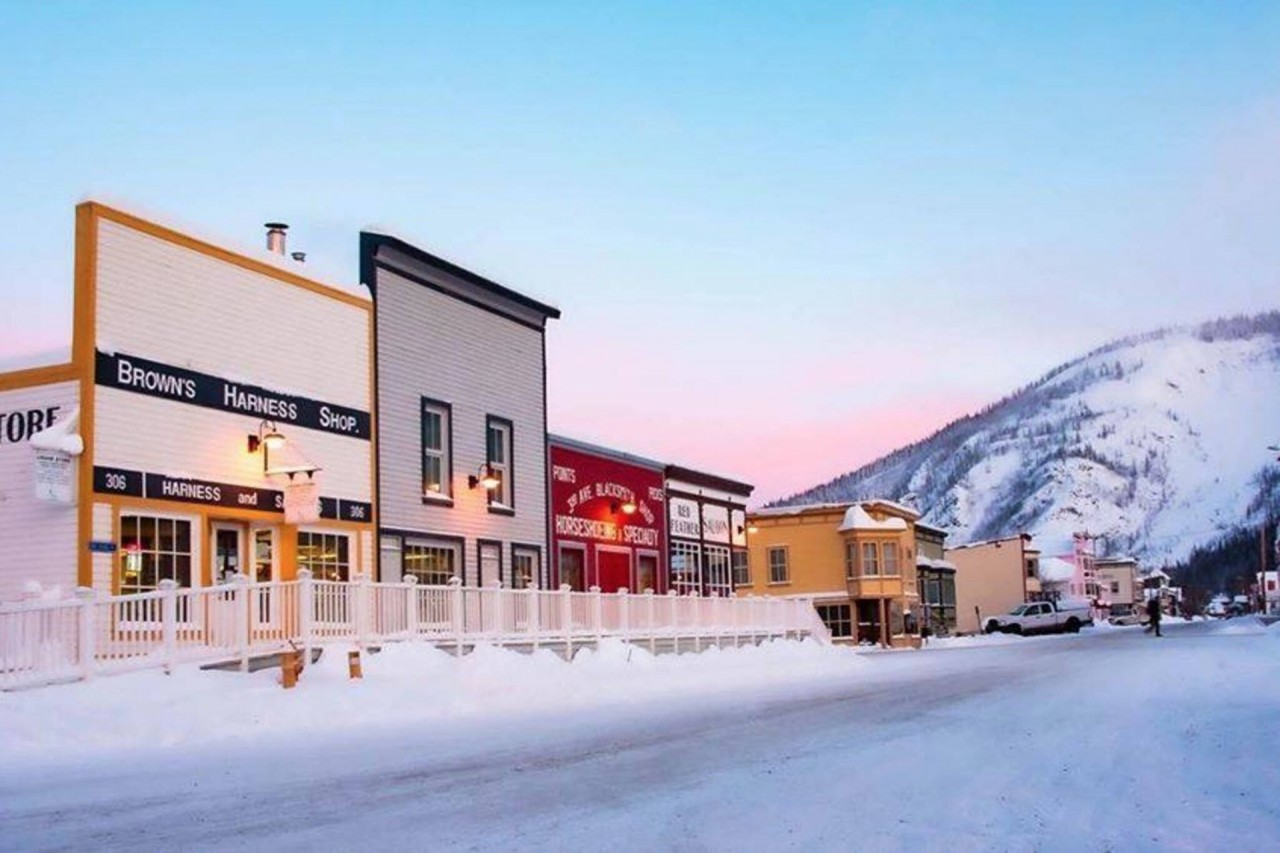 Freshdaily
If you didn't know its history, Dawson City would be an atmospheric place to pause for a while, with a seductive, funky vibe. That it's one of the most historic and evocative towns in Canada is like gold dust on a cake: unnecessary but damn nice.
Set on a narrow shelf at the confluence of the Yukon and Klondike Rivers, a mere 240km south of the Arctic Circle, Dawson was the center of the Klondike Gold Rush. Today, you can wander the dirt streets of town, passing old buildings with dubious permafrost foundations, and discover Dawson's rich cultural life (that person passing by may be a dancer, filmmaker, painter or miner).
Dawson can be busy in the summer, especially during its festivals. But by September the days are getting short, the seasonal workers have fled south and the 1400 year-round residents are settling in for another long, dark winter.
Winters are long, cold and dark in Canada's sub-arctic, but in the former gold rush town of Dawson City, Yukon—home to the cabins of Robert Service and Jack London, and all of it a national park—the hardy locals light up the holidays with a unique "flotilla." Towing river boats strung with lights and decorations, residents cruise through town in a boat parade, accompanied by snowmobiles, quads, canoes and police cruisers. And sometimes—on one of the longest nights of the year—the northern lights add to the show, dancing in the sky above. Truly magical!
5. Toronto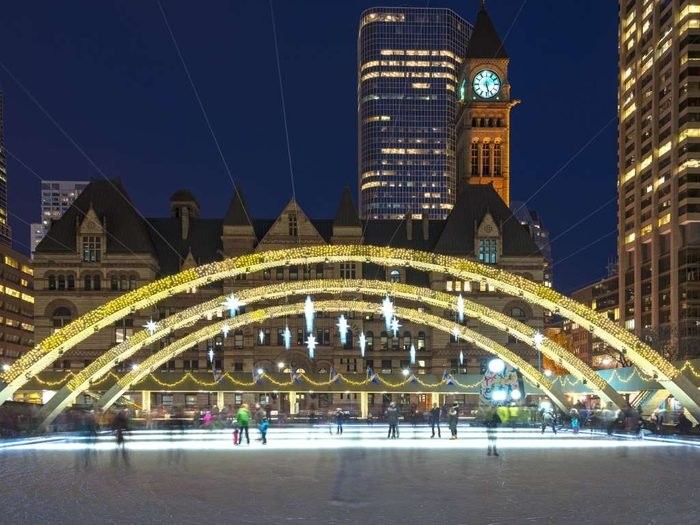 Photo: Getty Images
Bright and bustling, Toronto is a cosmopolitan city whose residents have roots across the globe. Art, food, beaches, nightlife – in Toronto, you've got it all.
Like any place that's cold, Toronto adores its spring and summer months. Torontonians aren't necessarily outdoorsy as a bunch, but the city makes it easy to enjoy those precious sunny days. There are beaches and waterfront paths along Lake Ontario, plus kayaking or standup paddling around the Toronto Islands. Green spaces such as High Park and Kew Gardens, huge and grassy, are perfect for a picnic and an afternoon stroll, while the east end has a growing network of leafy bike paths and walkways. Even in winter, on a gray, chilly day, there's outdoor ice skating to enjoy!
Canada's largest city certainly knows how to do Christmas. Attracting half a million people each November, Toronto's Santa Claus Parade is one of the biggest in the world. And throughout the month of December, you can take in the Christmas market in the charming Distillery District, as well as the Cavalcade of Lights—a festival that kicks off with the lighting of a massive Christmas tree in Nathan Phillips Square, in front of City Hall.
6. Almonte, Ontario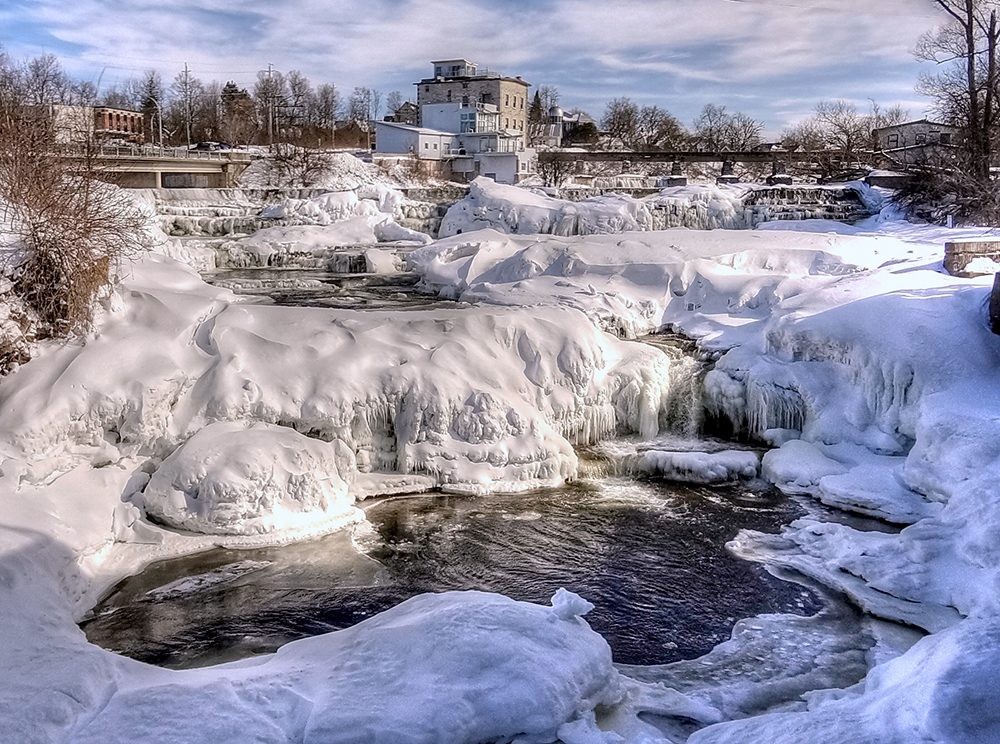 PHOTO: SIMON LUNN
Almonte is a former mill town in Lanark County, in the eastern portion of Ontario, Canada. Formerly a separate municipality, Almonte is a ward of the town of Mississippi Mills, which was created on January 1, 1998, by the merging of Almonte with Ramsay and Pakenham townships. Almonte is 46 kilometres (29 mi) south-west of downtown Ottawa. Its population as recorded in the 2016 Canadian Census was 5,039.
Just like clockwork, they appear every holiday season—those kitschy, cozy, made-for-TV Christmas movies. Predictable as their feel-good plots might be, we eat them up year after year, curled up on the couch with a comfy blanket and a steaming mug of hot chocolate. Where does Almonte, Ontario, fit into this cherished holiday tradition? Believe it or not, this picture-perfect town just southwest of Ottawa has served as the filming location for countless festive flicks, including The Rooftop Christmas Tree and Christmas Festival of Ice. Step into your own Hallmark-worthy winter wonderland by touring its impossibly charming streets and scenic waterfalls. If you can, time your visit for the first Friday of December: the town's population literally doubles for the downtown's annual "Light Up the Night" festivities.
7. Yellowknife, Northwest Territories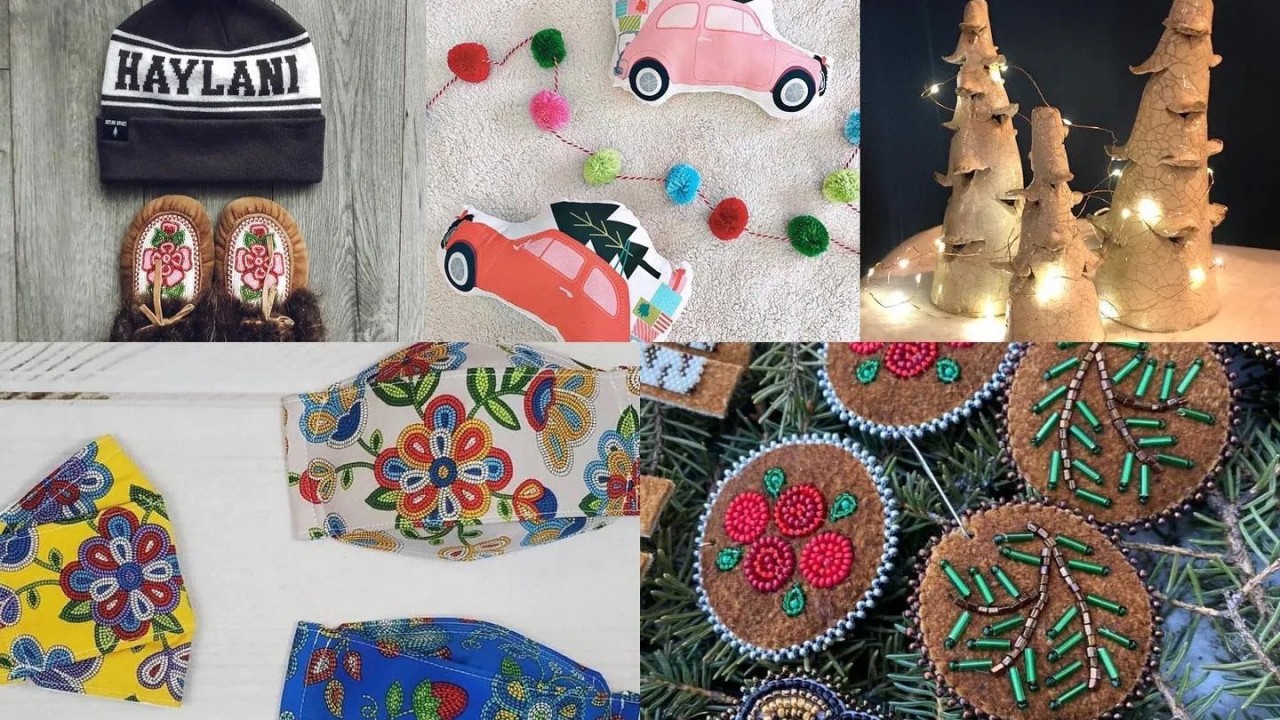 Image source: Yellowknife Makers Market
Do you like snow? Do you like awe-inspiring natural beauty? Have you heard of the Aurora Borealis? If you answered yes to any of these questions, Yellowknife, capital of the Northwest Territories, is the place for you. There's so much to do in what was once Canada's furthest frontier.
What started out as a boom town in the Thirties for gold miners is now a thriving city and a great vacation destination for those who want to see the Northern Lights, fish, ski, eat great food or just take in the culture of Canada's largest and most perpetually frozen province.
Spending the holidays in Yellowknife may be as close as you can get to combining capital city festivities with Arctic-like surroundings. A Christmas in Yellowknife will legit make you feel like you're in the North Pole. Around the holidays, you can enjoy light shows, the famous Snowking Festival and gorgeous Indigenous craft markets. And you can almost guarantee you'll see the Northern Lights.
8. Niagara Falls, Ontario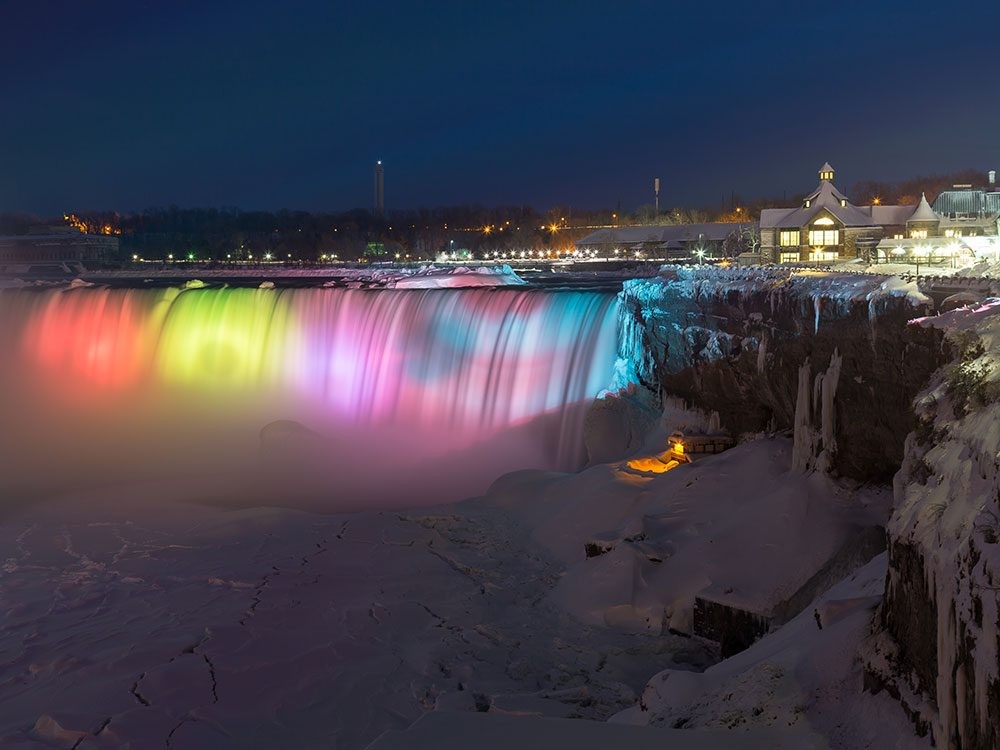 PHOTO: SHUTTERSTOCK
It's not hard to understand why many consider Niagara Falls a top natural wonder of the world. Or why it has been the location of some incredible (and now illegal) daredevil antics over the years. The second you see the mammoth Niagara River rumbling toward a 188-foot waterfall at about 20 to 30 (and up to 68) mph, your mouth will drop. The speed at which the river falls creates a misty fog and an unmistakable roar heard from miles away. From the top, crowds flock to the railings to feel the mist on their faces. As you follow the water's path downward, boats, platforms and observation decks support colorful poncho-clad visitors.
Over the years, Niagara has gone from classic honeymoon spot to cheesy honeymoon spot and, now, it's an odd mix of the two. In addition to the stunning waterfalls, there is a large concentration of quickie wedding chapels and hotels backlit in blaring neon. But strolling through the ice wine vineyards of the nearby Inniskillin Winery is truly romantic, as is enjoying the lush landscape at the Niagara Parks Botanical Gardens. So hop in the two-seater with your special someone or pack your family in the minivan and take a spectacular trip to the majestic Niagara Falls.
How do you make one of Canada's most awe-inspiring natural wonders even more impressive? A spectacular light show, of course! The illumination of the majestic waterfalls is part of Niagara Falls' annual Winter Festival of Lights, which sees more than three million lights strung throughout the city, including the world's largest Canadian/American illuminated flag. There are also weekly fireworks over the falls for the duration of the festival, and a number of other festive events, including musicals, shopping fairs and concerts.
9. Whistler, British Columbia
Photo: Pinterest
Named for the furry marmots that populate the area and whistle like deflating balloons, this gabled alpine village and 2010 Olympics venue is one of the world's largest, best-equipped and most popular ski resorts. Colonizing two mountains – Whistler and Blackcomb – and lying a mere 90 minutes north of Vancouver, the Village, which dates from the late 1970s, is a poster child for attractive design with nary an ugly building or piece of litter to pierce the natural beauty. Skiing may be Whistler's raison d'être, but these days summer visitors with their BMXs and SUPs outnumber their ski-season equivalents. Adding more diversity, the resort has recently developed an art scene worthy of a small European city. The caveat? Whistler is busy (2.3 million visitors a year) and expensive. For a quieter, more economical experience, be selective with your dates and don't follow the herd.
We think Whistler Village is probably where Santa would go for a break and some fun after all his hard work on Christmas Eve. You'll find world-famous slopes, stunning mountain views, activities and eats galore in Whistler. Plus you can even attend a film festival to fill your time with all this winter wonderland has to offer.
10. Churchill, Manitoba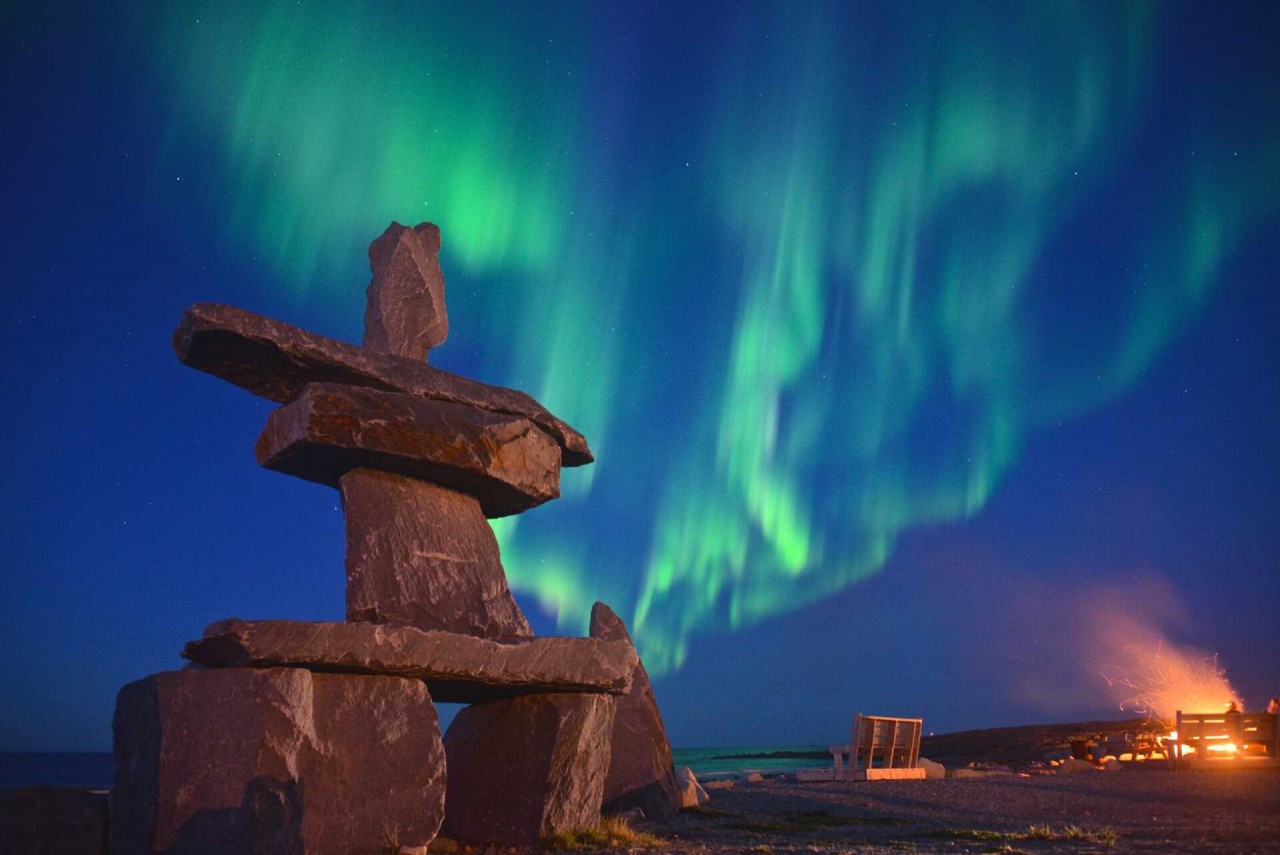 Photo: Churchill Polar Bear
The 'Polar Bear Capital of the World,' Churchill lures people to the shores of Hudson Bay for its majestic predators, beluga whales, a huge old stone fort and endless subarctic majesty. But while the highly accessible wildlife is enough for Churchill to be on any itinerary, there's something less tangible that makes people stay longer and keeps them coming back: a hearty seductive spirit that makes the rest of the world seem – thankfully – even further away than it really is.
There are few things more festive than polar bears, and Churchill is a magical winter wonderland that lets you see them in the wild. As the polar bear capital of the world and a hub for winter wildlife – like foxes, moose, snowy owls, lynx, and caribou to name a few! – you'll find everything needed for a winter wonderland other than the jolly man himself.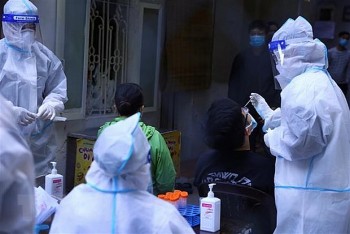 Focus
Vietnam's Covid-19 death toll is now 26,483, or 2 percent of total cases. More than 7,000 coronavirus patients nationwide are in serious condition, with 741 requiring invasive ventilation and 20 on life support.