Top 10 Famous Christmas Markets That Will Be Re-open In Europe
With Christmas coming close and everyone is celebrating, these large Christmas markets will be re-opened for tourists to visit and enjoy their time in Europe.
Despite many restrictions due to the Covid-19 pandemic, the bustling Christmas markets in Europe with sparkling lights and the unique European feature of Christmas, have fortunately returned this year. There are many ways to celebrate this time of the year, such as trying out the best wine in Germany's traditional markets or riding a roller coaster at London's Winter Wonderland.
1. Cologne, Germany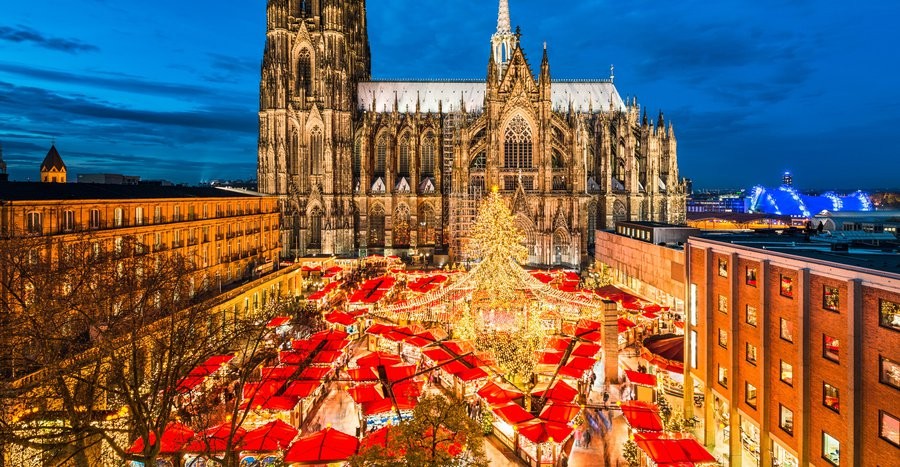 Photo: Dispatches Europe
Dates: November 25 to December 22, 2021
Best for: A variety of markets
Every year, the festively decorated "Cathedral City" invites visitors to take a Christmas stroll through Cologne during the holiday season.
Large, lavishly decorated Christmas markets shine in the city center. Each market is devoted to a different theme and is well worth a visit. Arts and crafts from all over Europe, high-quality goods, culinary delights, and captivating entertainment programs for young and old will make you look forward to Christmas with even greater anticipation.
But visitors can also discover a wide variety of smaller Christmas markets outside of the city centre, in the various city quarters (called "Veedel" in Cologne). These markets range from neighbourhood markets that offer goods from local businesses to markets that only sell culinary specialties and unique weekend markets.
The Christmas-related offers are rounded out by Advent trips on the Rhine, the Christmas Garden in the Cologne Zoo, and various thematic circus performances, concerts and other events. Last but not least, visitors shouldn't miss this opportunity to do some of their Christmas shopping along Cologne's popular shopping miles.
2. Salzburg, Austria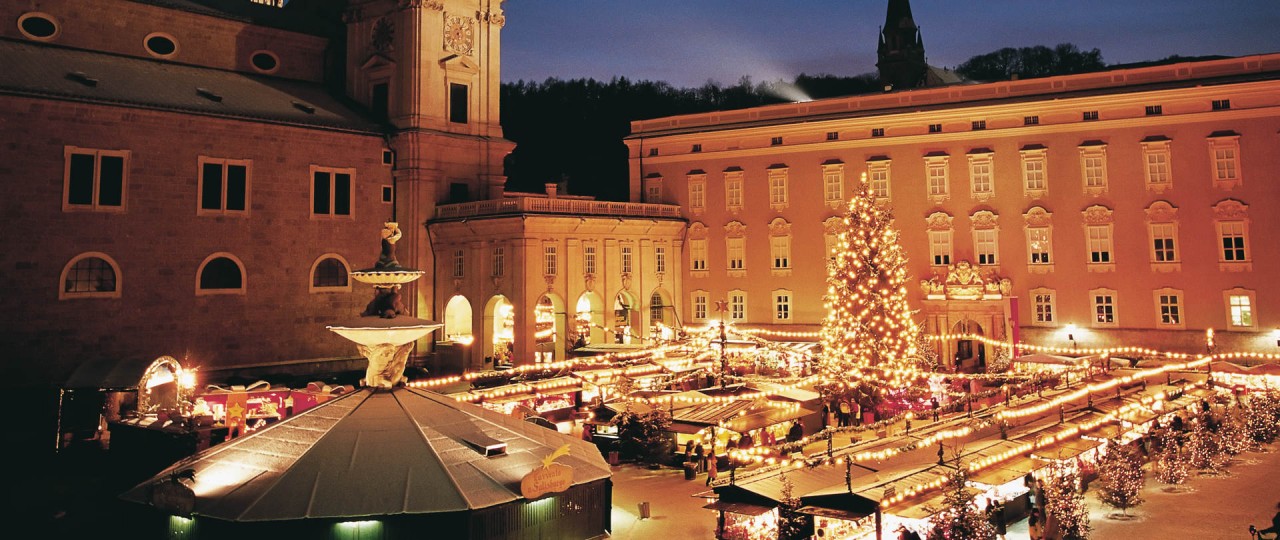 Photo: Salzburg Panorama Tours
Dates: November 18 to December 26, 2021
Best for: Christmas carols and ancient traditions
The Salzburg Christkindlmarkt at the Dom and Residenzplatz has deep historical roots and is one of the world's oldest Advent markets. It is the unique setting in the heart of Salzburg's World Heritage-listed Old City, the traditional market stands, and its long history that make the Salzburg Christkindlmarkt a truly special occasion.
The origins of the famous Salzburg Christmas market go all the way back to the late 15th century. Back then, the so-called "Tandlmarkt" would be held on Cathedral Square in the heart of the city, offering a wide range of goods for the locals to buy. By the 17th century, this Advent market had been christened the "Nikolaimarkt" – that is to say, the "Saint Nicholas' Market". For two weeks before and two weeks after St. Nicholas' Day (on December 6), a variety of products were offered for sale on and close to Cathedral Square: from a delectable selection of foods to dolls and all kinds of bric-a-brac. The "Nikolaimarkt" was one of the most famous Advent markets of its day, second only to the ones in Vienna, Paris, Amsterdam, and Nuremberg. From 1903 until the early 1930s, the Christmas market was restricted to the area adjacent to the cathedral arches.
The Salzburg Christkindlmarkt, as it is known today around the world, has existed since 1974. Every year, the market is officially opened with befitting pomp and circumstance on the Thursday preceding the first Sunday in Advent, closing its shutters for the final time on 1 January. Local folk customs and traditional decorations for the Christmas tree, gifts for big and small, incense to help conjure up a festive atmosphere in your own home, all kinds of delectable treats in the form of Austrian specialties, mulled wine and hot punch: At the Christmas market on Salzburg's Cathedral Square, you will discover practically everything you could possibly wish for. This famous Advent market draws countless visitors every Christmas season, and is also very popular with the locals, too. Not least because of the traditional huts and unique atmosphere, along with specially designed lighting that stretches above the market stands like romantic stars across the night sky.
3. Düsseldorf, Germany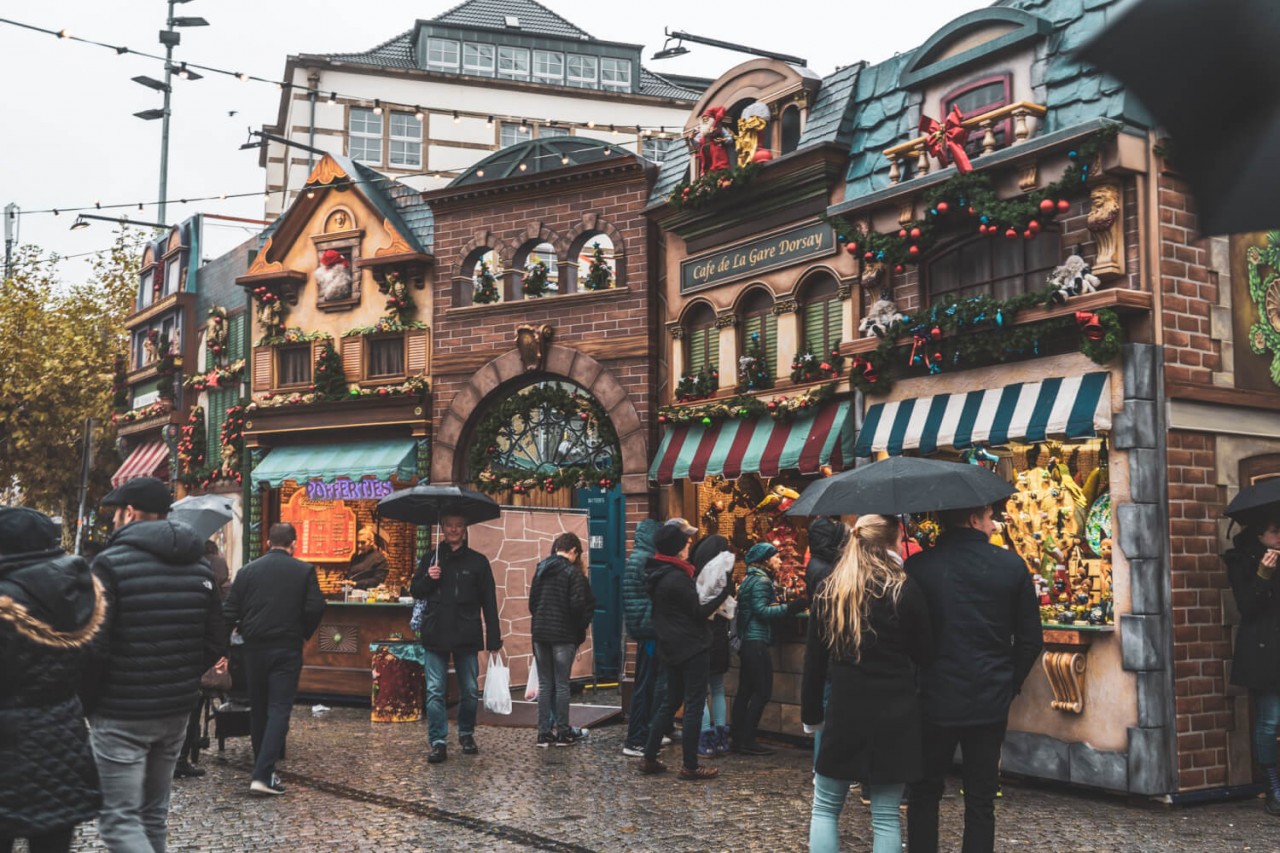 Photo: Christmas Markets in Europe
From 18th November to 30th December – a longer period than ever before – the Christmas Market will be inviting visitors to the city center with a large variety of Christmas worlds in different looks. There are several Christmas markets in Düsseldorf, all located in the Old Town area (Altstadt).
During the festive season, Düsseldorf will have lots of atmospheric new features. At the northern end of Königsallee, directly adjacent to the Hofgarten and the Kö-Bogen, this year visitors will be able to enjoy a 1,700-square-meter ice rink on Corneliusplatz.
Right next door, a new Fairy Tale Market invites all visitors, and especially families with children, to experience the pre-Christmas magic. The children's program has been expanded overall so that this year, for example, there will be a children's activities tent on Jan-Wellem-Platz with shows every day.
So grab your loved ones and make sure to get into the festive Christmas spirit in Düsseldorf.
4. Christkindelsmärik, Strasbourg, France
Photo: Places n Things - PNT
Dates: November 26 – December 26
Christkindelsmärik (Alsatian dialect meaning "Market of the Christ Child") is a Christmas market held annually in Strasbourg, France on the Grande Île near Strasbourg Cathedral and Place Kléber. It draws in approximately 2 million visitors each year and since the arrival of TGV service in Strasbourg in 2007, the number of visitors has been on the rise. Hotels can be booked a year in advance and some receive between 15 and 17% of their yearly income thanks to the Christkindelsmärik's visitors. It is considered one of the most famous Christmas markets throughout Europe. It is estimated that the city benefits of a 16 million Euros profit from this 38-day-long tradition. It is mostly famous for its fragrance of mulled wine (French: vin chaud; German: Glühwein).
Strasbourg has been holding Christkindelsmärik around its cathedral since 1570, making it one of the oldest Christmas markets in Europe. The name "Christkindelsmärik" is of Alsatian origin, a low Alemannic German dialect that was the main spoken language in the Alsace until the 20th century. In many parts of southern Germany and Austria Christmas markets (German: Weihnachtsmärkte) are also called Christkind(e)l(s)markt (the spelling depends on the local dialect).
5. Colmar, France
Photo: Christmas Markets in Europe
Dates: November 26 – December 29.
Situated right in the heart of the historic town centre, Colmar's six Christmas markets radiate warmth and an inviting atmosphere where you are sure to make some delightful discoveries. Each with its own particular theme, the markets will envelop you in the magic of Christmas, a unique atmosphere guaranteed to delight young and old alike.
As you stroll around the stalls and wooden chalets, the lights and decorations will carry you away into Christmas wonderland. Subtly illuminated streets and alleyways invite you to stroll gently through the Capital of Alsatian Wine, soaking up the atmosphere in a town whose outstanding heritage provides the perfect setting for the festivities!
6. Gdańsk, Poland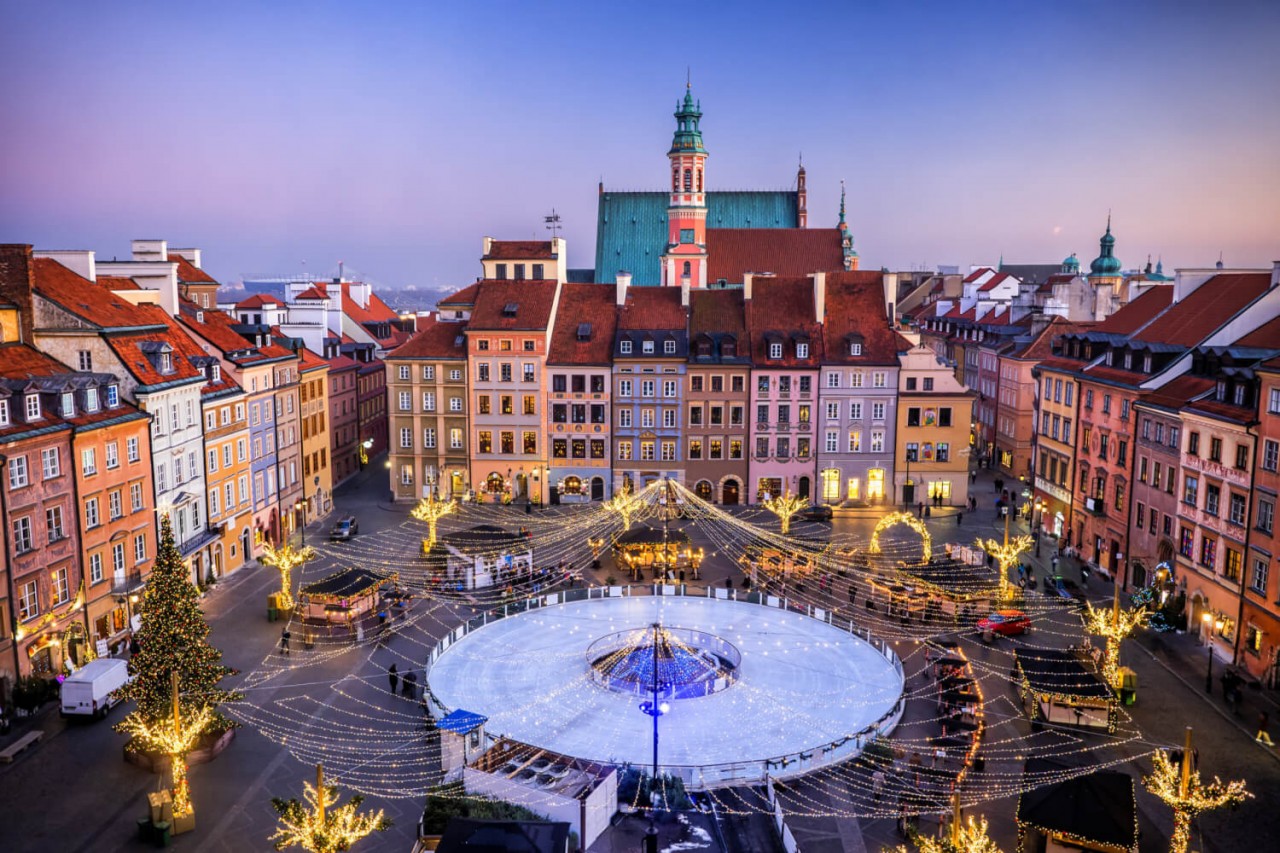 Photo: Christmas Markets in Europe
Dates: From November 22, 2020, to January 2, 2022
Best for Festive romance and global delicacies
Situated in the historical city center, Gdańsk Christmas market is a magical winter wonderland with romance oozing from every corner – there's even a spot that's been set up so lovers can kiss under the mistletoe in the hopes of having a long-lasting life together. Expect to see elf parades, a talking moose, the Snow Queen, and her singing carollers; and the chance to take a spin on the fairy-tale carousel. Shop for original jewelry, ceramics, and upcycled clothes such as hats and knitwear or fill-up on the wide variety of delicacies from around the world including traditional Polish cuisine (try pierogi). Foodies will be tempted by Alsatian pancakes, Greek bougatsa, and Spanish churros. Warm up with a mug of hot chocolate mulled beer or honey and ginger and aromatic mulled wine.
7. Hyde Park's Winter Wonderland, England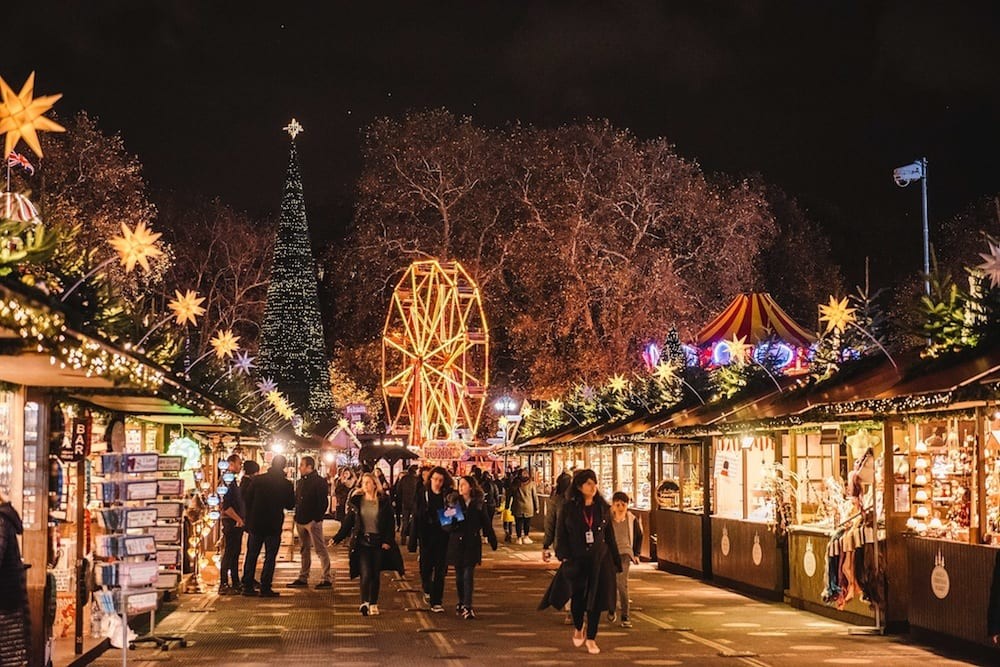 Photo: Blooloop
Dates: November 19 – January 3
Hyde Park Winter Wonderland, commonly referred to as Winter Wonderland, is a large annual Christmas event held in Hyde Park, London, from mid-November to early January. It features several festive markets, over 100 rides and attractions from across Europe, a Giant Wheel, numerous live shows, including a circus, ice show, and live music, as well as numerous bars and restaurants. In its first ten years, Winter Wonderland had 14 million visitors.
Winter Wonderland began in 2005 as a small funfair operating through the Christmas period at the edge of Hyde Park. The lack of success leads The Royal Parks to look at alternative events. In 2007, The Royal Parks invites AEG Live and PWR Events to co-operate in organising the new Winter Wonderland event. The event includes a Christmas Market, temporary Ice Rink, Giant Wheel, and a small selection of amusement rides along Serpentine Road in Hyde Park.
From 2008 to 2010, the event grew substantially, introducing the Bavarian Village (a German-style food and drink center), Zippo's Circus, Santa Land (an area with smaller rides for children and families), and the introduction of several larger rides, such as the Power Tower 2 freefall tower.
In 2012, the event was granted an expansion of the site. The following attractions were introduced: Wilde Maus XXL roller coaster; Magical Ice Kingdom (a walk-through exhibition of ice sculptures). The Bavarian Village expanded to include The Great Hall, an Oktoberfest-style beer tent with live music.
In 2016, the attractions Munich Looping, the world's largest portable roller coaster; and the Imperial Ice Stars ice show were introduced.
In 2018, the following attractions were introduced: Dr. Archibald – Master of Time dark ride, the Winter Wonderland Comedy Club, The Snowman Experience, and the Teletubbies Christmas Show.
On 2 September 2020, PWR Events announced that due to the Covid-19 pandemic, the event was canceled, however, it returned on 19 November 2021.
8. Edinburgh, Scotland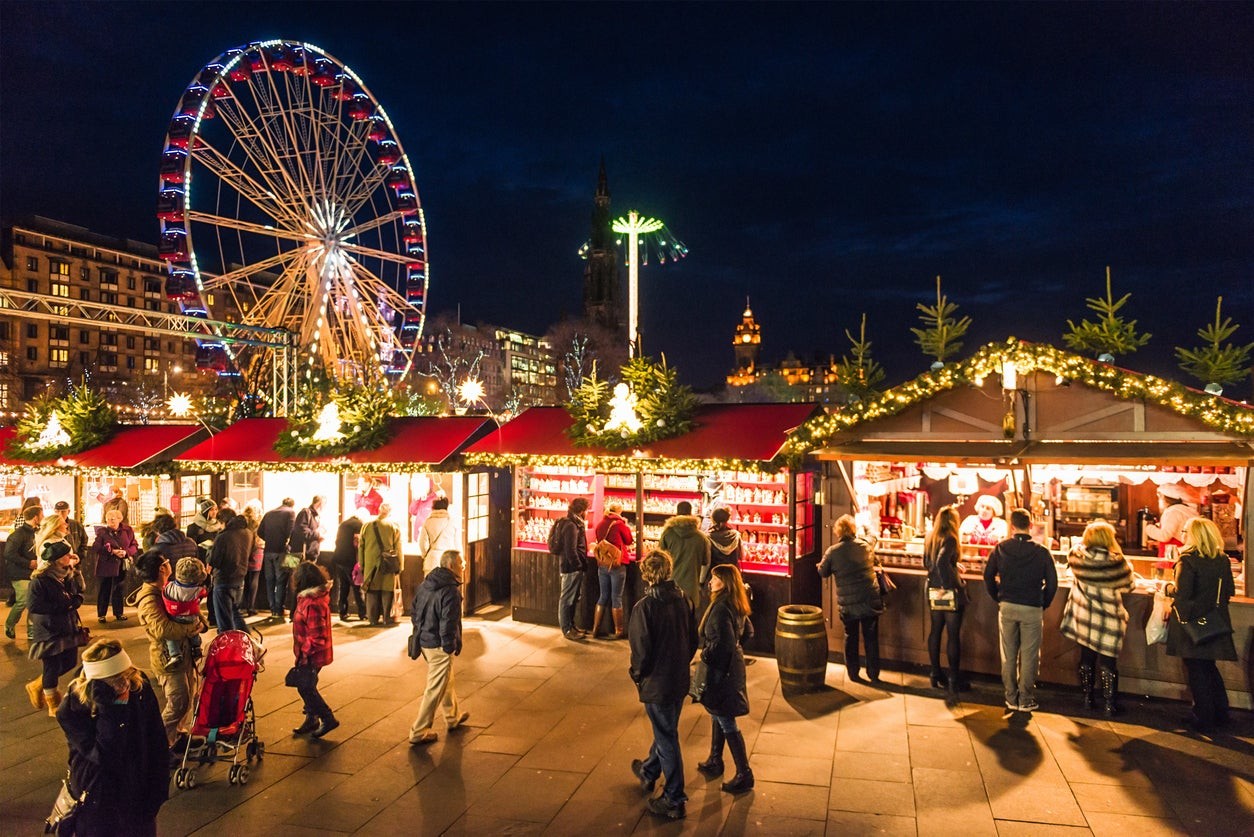 Photo: Retail & Leisure International
Dates: November 12, 2021 and January 5, 2022
Best for: A cultural Christmas
Undeniably one of the prettiest cities on the planet, Edinburgh really shines in the winter months as Christmas markets and Hogmanay celebrations come together to create a winter wonderland offering one of the world's best festive calendars.
Along with Santa's Grotto; an oval ice rink; fairground rides, such as the 60-meter-high Star Flyer; an elves' workshop hidden within the Christmas Tree Maze; and stalls selling wooden toys, Harry Potter themed gifts, and mulled Irn Bru; you'll find special projections, performances, and artworks showcasing local talent. Barcrawl under the fairy lights of George Street and pop into the Scottish National Gallery to contemplate winter scenes (national galleries. org; free). After dark, head to the Royal Botanic Garden to sip spiced cider and marvel at its Christmas illuminations (rbge.org.uk; £19).
Expert tip: If you can only visit once, be sure to come at the end of December to join the city's enchanting, Hogmanay Torchlight Procession through Edinburgh's Old Town on 30 December. Bag a ticket and you can return for the Hogmanay street party and stunning fireworks display on 31 December. Don't miss the famous ceilidh and concert in Princes Street Gardens on New Year's Eve either.
9. Zurich, Switzerland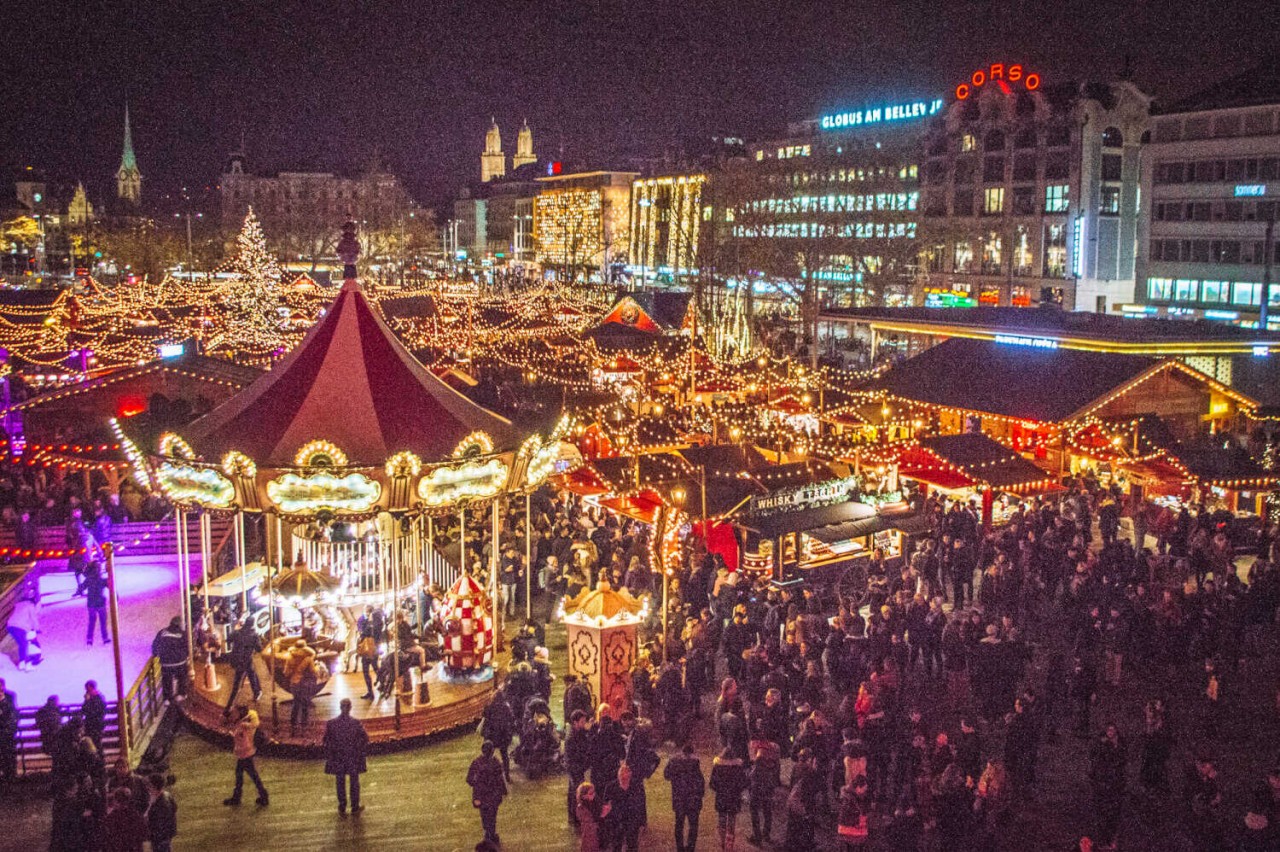 Photo: Christmas Markets in Europe
Whether at Zurich's oldest Christmas market in the picturesque Old Town, at the urban "Wienachtsdorf" Christmas village on Sechseläutenplatz near Bellevue, or next to the 15-meter (49 ft) tall sparkling Christmas tree at the Christkindlimarkt at Zurich Main Train Station: In Zurich, there is a Christmas market to suit each and every taste. A huge choice of gifts and gift ideas enchants visitors to the beautifully decorated market stands.
During a stroll through the Christmas market, there is also plenty of opportunity to warm up with a glass of punch (for the children) or mulled wine (for the adults), or a hot bite to eat, such as raclette or fondue. The Christmas markets in the city of Zurich, as well as in the region around Lake Zurich, are especially inviting and multifaceted, with the result that every visitor is guaranteed to find their own particular favorite.
10. Prague, Czech Republic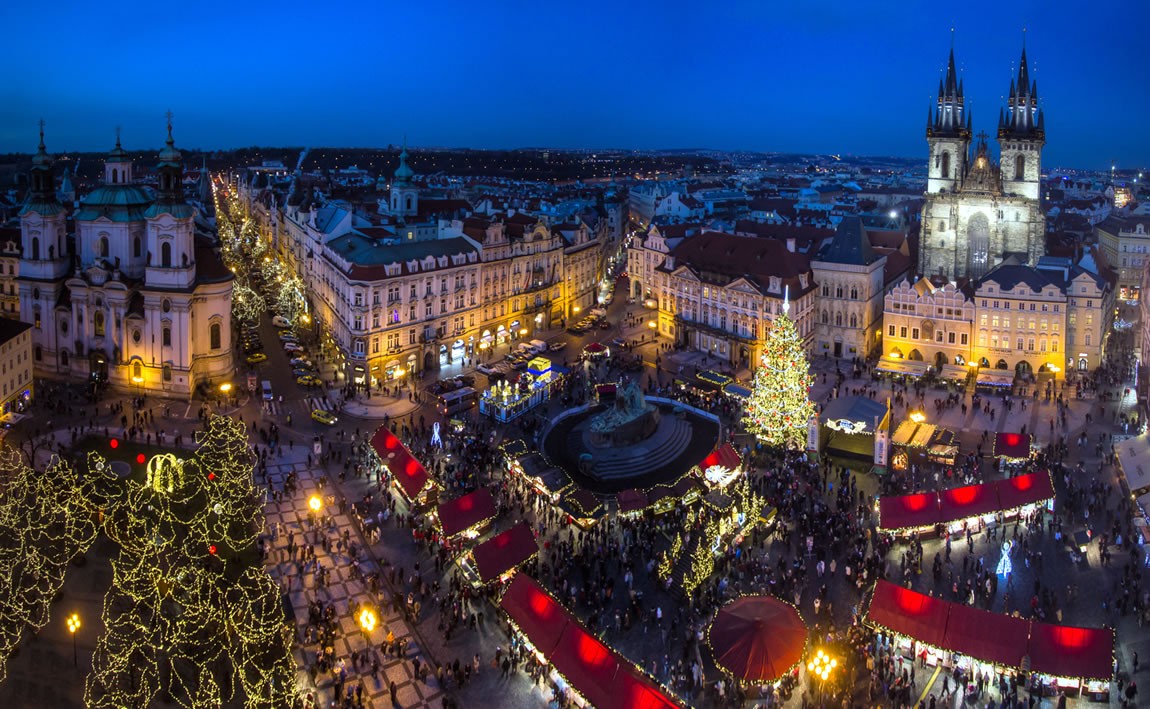 Photo: Prague Experience
Dates: From November 27, 2021 to January 2, 2022
Best for: Open-air concerts and traditional nativity scenes
Postcard pretty Prague is perfect for the festive season. Make like a local and swap your mug of mulled wine for a glass of grog – rum, water, lemon and sugar. The setting is magnificent: on one side, the 14th-century twin spires of Our Lady Before Týn; on the other, the city's famous 15th-century astronomical clock. Between them swirls a glittering pool of seasonal cheer. There are presents aplenty on offer including frosted, hand-blown glass baubles. But it's the food that will keep you hanging around: warm, fatty sausages just off the grill; fresh pancakes; garlic and-cheese flatbread; all topped off by a glug of svarák, the local, citrussy take on mulled wine. Its cinnamon scent is misted over the whole square.
If you've got little ones, shepherd them over to the Old Town Square where you'll find sheep, goats and a donkey waiting patiently for attention from earnest tourists.
Best Tech Gadgets for Christmas Gifts

All of these fantastic products, from folding phones, headphones, and VR headsets to smart speakers and eco-friendly phone cases, are outstanding, built to last, and ...