The Best Cities To Celebrate Christmas In The U.S
The season is coming close, and it is time to celebrate the Christmas holiday, building snowmen, drinking hot cocoa, and spending your holly jolly time with your families.
From coastlines to big cities, the United States is made up of so many diverse destinations that it's hard to decide which places deserve the distinction of the best in America. With the Covid-19 pandemic, it will be more difficult to celebrate Christmas outside of your country or have a fancy holiday. For these cities across the United States, Christmas isn't just a holiday, it's a way of life and often their claim to fame. They erect dreamily lit-up villages, serve hot mulled wine, and cover the city in hundreds of thousands of twinkling lights. Some, like Santa Claus, Indiana, and McAdenville, North Carolina have parades and Christmas tree lightings that date back years and years, according to Timeout.
1. Bethlehem, Pennsylvania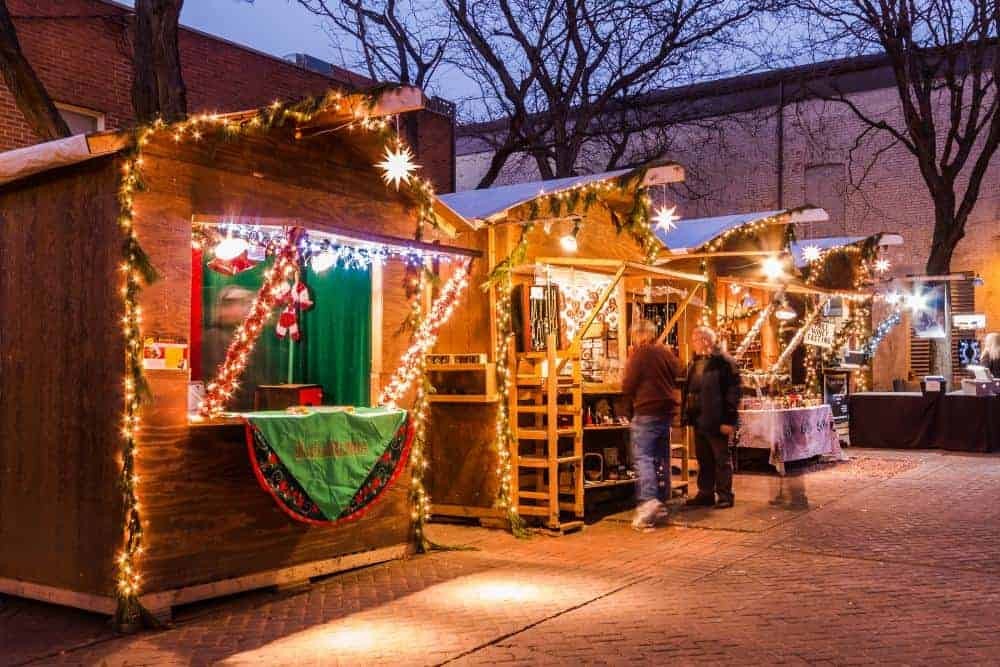 Photo: Uncovering PA
Bethlehem is nestled in the Lehigh Valley along with Allentown and Easton.
In 1741 a group of Moravian missionaries from Europe arrived in what is now Bethlehem and established a community. They christened their settlement during the traditional vigils on Christmas Eve with their patron, Count von Zinzendorf, who was visiting from Europe. Many of the large stone buildings constructed by the Moravians are still in use; the structures are considered among the finest examples of pre-Revolutionary German architecture in the country. The visitor center offers guided tours of the historic district.
Bethlehem is the home of three institutions of higher education: Lehigh University, Moravian College and Northampton Community College. Moravian, established in 1742, is one of America's oldest colleges, and Lehigh is a major research university.
Musikfest is a celebration of music, theater, and arts and crafts held in the historic downtown early- to mid-August. Celebrate the holiday season at Christkindlmarkt, which takes place on Main and Spring streets from late November to late December.
It's not just the name Bethlehem that led this community to adopt the moniker Christmas City; the quaint Pennsylvania town is known for getting dressed to the nines each holiday season. Bethlehem's annual Christkindlmarkt is a heart-warming holiday event with live Christmas music and artisan vendors. Kids can also attend a breakfast with Old St. Nick on Saturdays throughout December. While you're there, stop by the nearby Lehigh Valley Zoo for their annual Winter Light Spectacular too, which features more than 1.2 million bright, shining bulbs.
2. North Pole, Alaska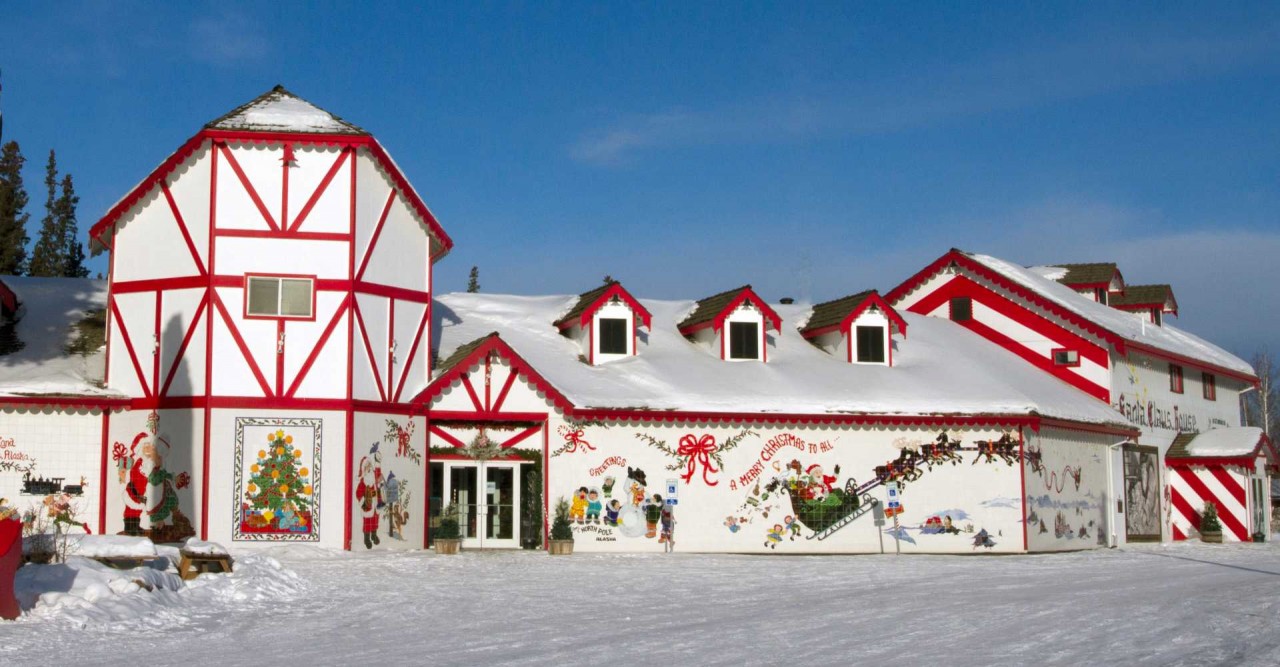 Photo: Fairbanks, Alaska
It all began in 1952 when a development company purchased a homestead about 14 miles south of Fairbanks, subdivided it, and renamed it North Pole, wishing to attract a toy company to the area. While that did not come to pass, it did inspire North Pole city council member, Conrad Miller to open a trading post and name the business Santa Claus House. Meanwhile, fortune smiled on Miller's roadside attraction as it served as the city's first post office. The city government and other businesses followed suit (so-to-speak) and embraced the Christmas town theme.
Today, the North Pole is very proud of its patron St. Nicholas. The streets are decorated year-round with cheerful displays of candy canes and striped light poles that recall the Christmas Season for visitors young and old. Christmas-themed streets in North Pole include Santa Claus Lane, St. Nicholas Drive, Snowman Lane, and Kris Kringle Drive. There are also multiple holiday-inspired ice sculptures during the winter months. Take a delightful drive along snowy Santa Claus Lane and admire the holiday decorations.
A few miles from the city center is Chena Lake Recreation Area. This Fairbanks Borough park offers a variety of outdoor activities including, snowshoeing, snow-machining, skiing, walking, ice fishing, and aurora viewing photography in the winter. And it is a hot spot for swimming, boating, biking, camping, and picnicking in the summer.
Other businesses to discover include Arctic Harvest, a farm, distillery, and tasting room that grows its own grains. And if you're looking for cheerful accommodations, Hotel North Pole offers extended stay lodging located in the heart of the area's shopping district. Ask about their Santa Suite.
3. Alexandria, Virginia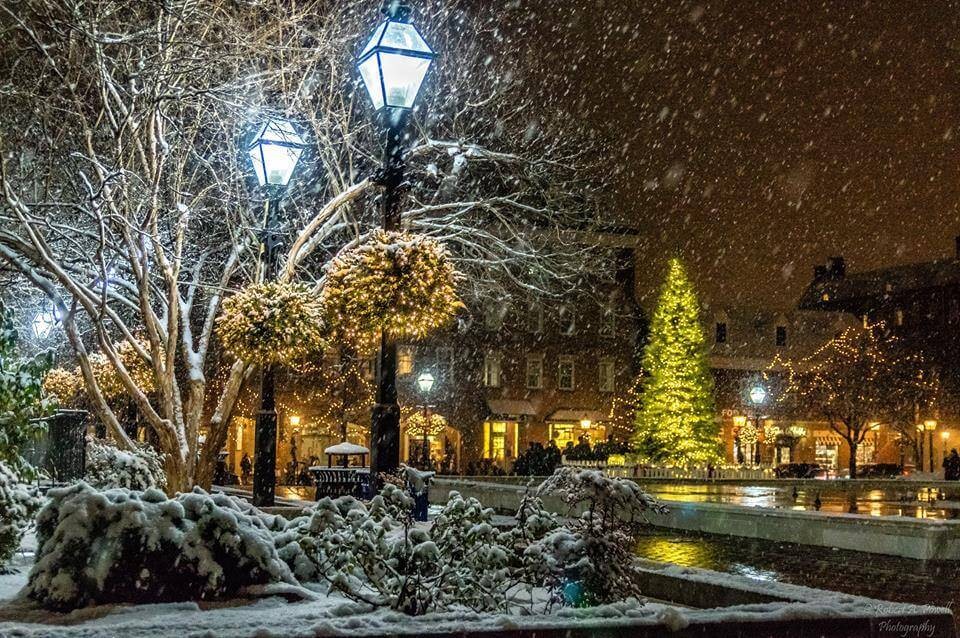 Photo: Suburban Jungle
Alexandria is located in the northeastern tip of the Northern Virginia region on the banks of the Potomac River. Just across from Washington, D.C., Alexandria sits in the Washington-Arlington-Alexandria Metropolitan Statistical Area.
Historic Old Town Alexandria is a bustling center of local boutiques, award-winning restaurants and impressive arts and culture, all nestled within a landscape of colonial-era architecture and cobblestone streets.
As a Top ArtPlace 2013, cultural activities abound at galleries like the popular Torpedo Factory Art Center and the Athenaeum, or live entertainment staples MetroStage and the legendary Birchmere Music Hall.
Alexandria is primarily known for its rich colonial history as George Washington's hometown and includes attractions frequented by America's founding fathers frequented, such as Christ Church and Gadsby's Tavern Museum.
The Old Town's row houses and centuries-old brick streets look even more charming when adorned with snow and Christmas wreaths, and you can expect a ton of seasonal activities. The festivities kick off along the Potomac River shoreline with the Alexandria Holiday Boat Parade of Lights, and the annual Scottish Christmas Walk Weekend (December 3 to 4). Come Christmas Eve, try to spot Waterskiing Santa along the Potomac River.
Get a taste of the Christmases of yore at nearby Mount Vernon (George Washington's former home), where you can take a candlelit guided tour, and enjoy some cider and cookies (upcoming dates include December 10, 11, and 19).
4. Franklin, Tennessee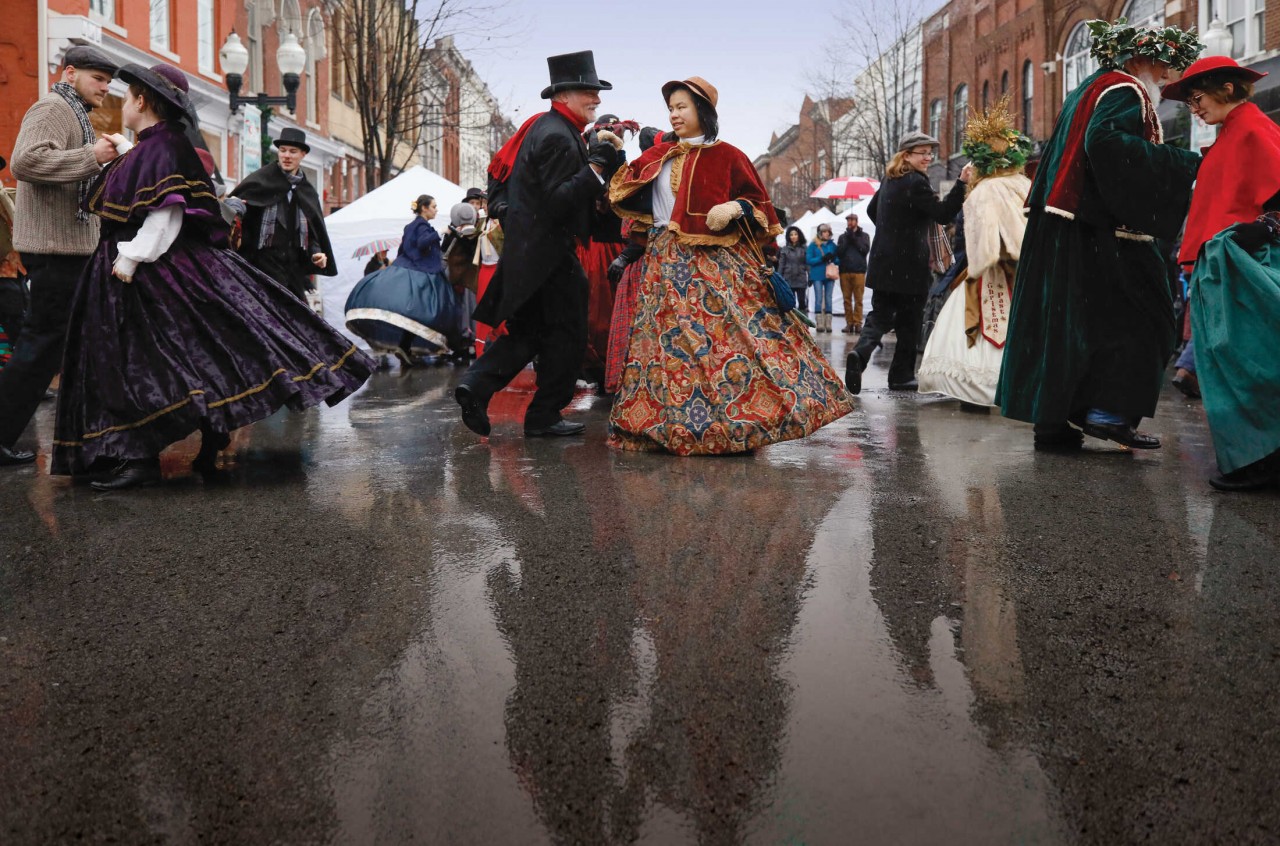 Photo: The Tennessee Magazine
Franklin is a city just south of Nashville, Tennessee. A key site of the American Civil War, it's home to 2 properties exploring the 1864 Battle of Franklin: Carter House and Carnton Plantation, which includes the McGavock Confederate Cemetery. The 1858 Lotz House contains a large collection of 19th-century furniture. Downtown's Main Street is lined with galleries, antique shops, and restored Victorian buildings.
If you've searched this list for a mention of Charles Dickens, then Franklin, Tennessee is the destination for you. This year's annual Dickens of a Christmas celebration fills the streets with roaming characters from A Christmas Carol and Oliver Twist, as well as merry-making dancers and musicians. The event also includes a window decorating contest, quaint shopping opportunities, a beer garden, and a whiskey lounge.
5. Natchitoches, Louisiana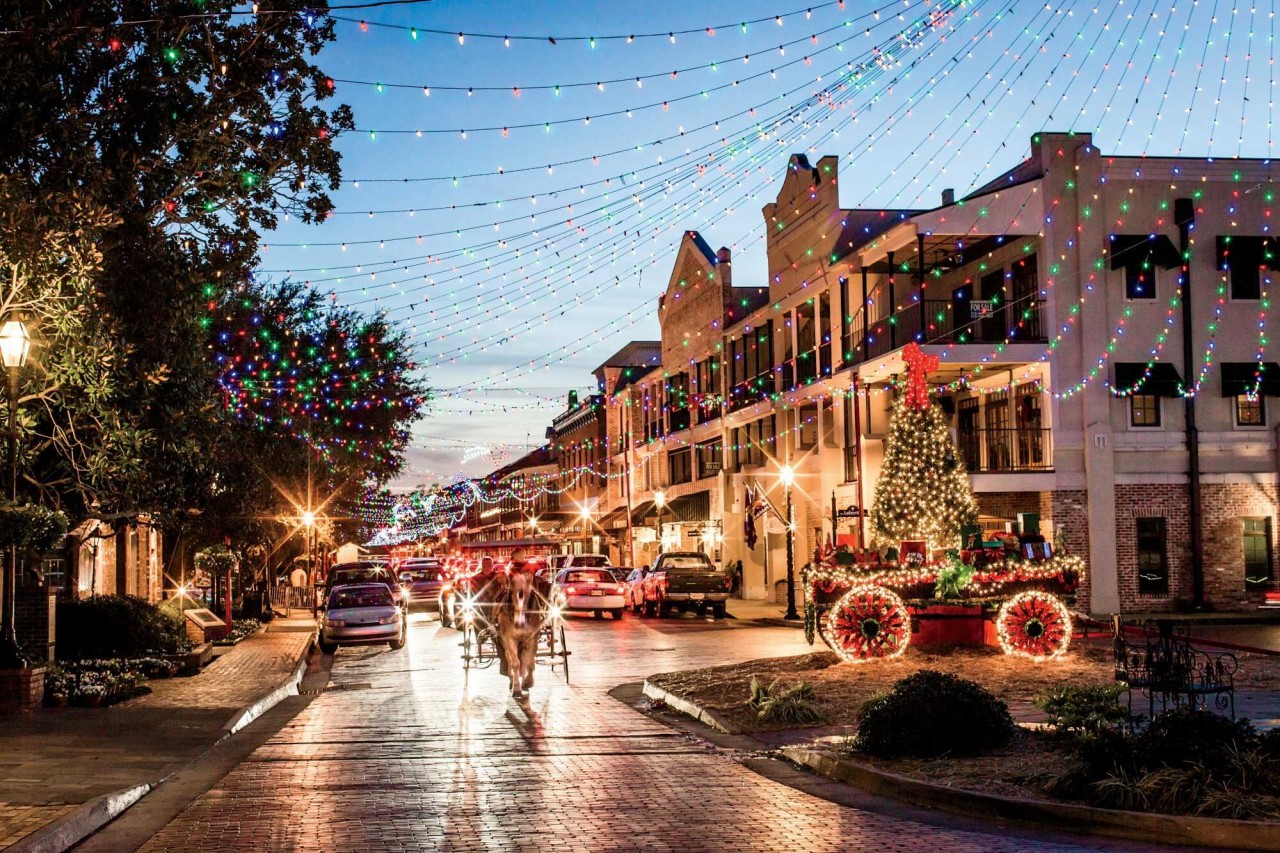 Photo: Southern Living
Natchitoches is a city in Louisiana. The National Historic Landmark District includes French Creole townhouses, the Minor Basilica with its stained-glass windows, and the 19th-century Kaffie-Frederick General Mercantile, the city's oldest general store. The meandering Cane River runs south to plantations within the Cane River Creole National Historical Park. These include the 18th-century Oakland Plantation.
Visit at any time of the year to enjoy festivals large and small. Natchitoches is a city where meat pie is revered and the Christmas Festival of Lights, the city's biggest and oldest festival, continues for six weeks.
Stroll through the historic district downtown, and shop in an eclectic array of boutiques lining the brick streets. Stop by the Kaffie-Frederick General Mercantile, a general store that opened in 1863. Admire the stunning Minor Basilica of the Immaculate Conception Church, considered the heart of the city. Ride a trolley or take a horse-and-buggy tour to see buildings that reflect Queen Anne, Italianate, Spanish Revival, Federal, Art Deco and Victorian architectural styles. Stay overnight in one of more than 40 bed-and-breakfast inns.
From March through October, find a celebration of Cajun culture, music and food at the Natchitoches Alligator Park, where hundreds of alligators are seen in hourly shows. When it's time to venture into the wilderness, explore bayous, bald cypress groves and pine forests on 243,000 hectares at Kisatchie National Forest.
6. Duluth, Minnesota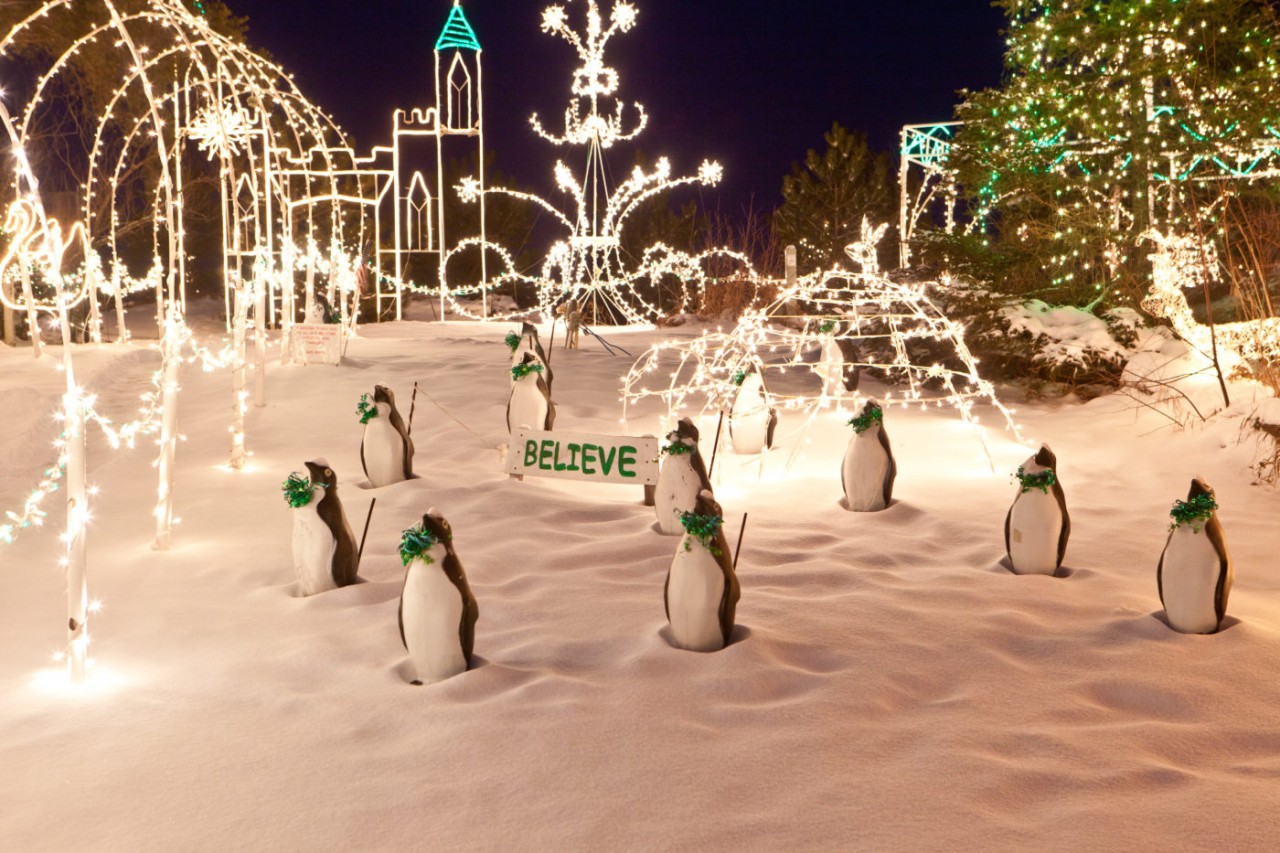 Photo: Perfect Duluth Day
Duluth has been called a crown jewel of Minnesota's many precious getaway spots. A favorite source for the wild outdoors, inspiration, and down-to-earth goodness on the shores of Lake Superior—with just enough places to eat outstanding food, sleep in sweet luxury, and experience entertainment of the finest order.
For all its natural glory, unique culture, and history, Duluth is yours to discover and interpret on your own terms. Like picking rocks along Lake Superior's ancient shores or exploring trails that span every part of the city's expansive outdoor wonderland. Like tasting your way through restaurants and pubs and shopping the variety of shops—whether they're found along the charming brick-paved walks or as hidden gems off the beaten track.
Duluth has a lot to offer Christmas-lovers, from a winter village for shopping to a snowy landscape, but the big draw is Bentleyville, a massive walk-through light display. Santa and Mrs. Claus are on-site to visit with families. Check their Crowd-O-Meter to choose a date with the best viewing.
7. Asheville, North Carolina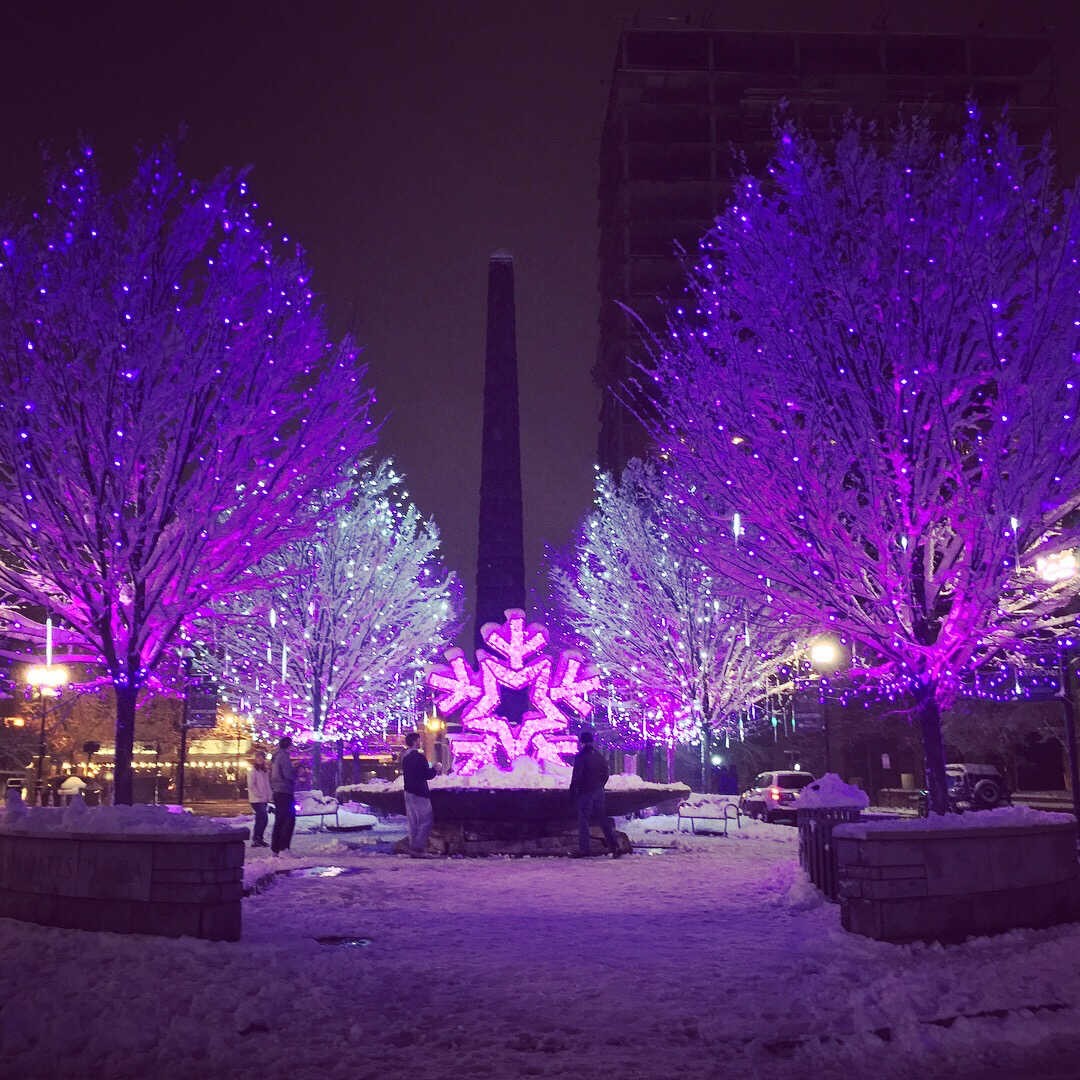 Photo: The North Carolina Arboretum
Quaint mountain town. Hipster haven. Beer City USA. College town. Bluegrass home. Culinary destination. Try as you might, it's impossible to give Asheville just one label. Located in western North Carolina just off the Blue Ridge Parkway, the city is an unexpected gem, where a vibrant arts scene intertwines with Southern traditions and beautiful scenery. It's safe to say, no matter what your interests, Asheville has something to offer you.
While history buffs get lost on the grounds of the Biltmore Estate, epicureans can sample from a culinary smorgasbord and test their taste buds at one of the city's many breweries. Culture hounds can wander through the River Arts District while adventure seekers go full-throttle hiking, biking, zip-lining, or whitewater rafting in one of the numerous parks and forests. Asheville meshes together these personalities to make something uniquely its own, with an identity that is always changing but somehow stays true to its roots, according to U.S News.
Asheville is easily one of the country's best places to spend Christmas, offering all the light displays and holiday shopping—not to mention the perfect tucked-away location in the Blue Ridge Mountains—any vacationer could wish for. Some of the city's seasonal offerings include a lit-up wonderland at the North Carolina Arboretum, and the 29th Annual National Gingerbread House Competition at The Omni Grove Park Inn (on display from November 28 to January 2).
Christmas at Biltmore is just as spectacular as it sounds, with 100 hand-decorated trees, 10,000 ornaments, and 100,000 holiday lights drawing visitors through Jan. 9, 2022.