Top 10 Halloween Costume Ideas in 2021
Halloween is coming, and have you had an idea for what to wear this day? If you are not, here are 10 best Halloween costume ideas for this year to impress your friends and families.
Halloween or Hallowe'en (a contraction of "All Hallows' evening"), also known as Allhalloween, All Hallows' Eve, or All Saints' Eve, is a celebration observed in many countries on 31 October, the eve of the Western Christian feast of All Hallows' Day. It begins the observance of Allhallowtide, the time in the liturgical year dedicated to remembering the dead, including saints (hallows), martyrs, and all the faithful departed.
Halloween is almost here, and if you haven't decided on what to dress up as this year, we've gathered some of the best costume ideas for 2021. The list below features options inspired by some of this year's most memorable red carpet looks, the most meme-worthy moments, as well as the most hyped TV shows and blockbuster movies.
1. Squid Game character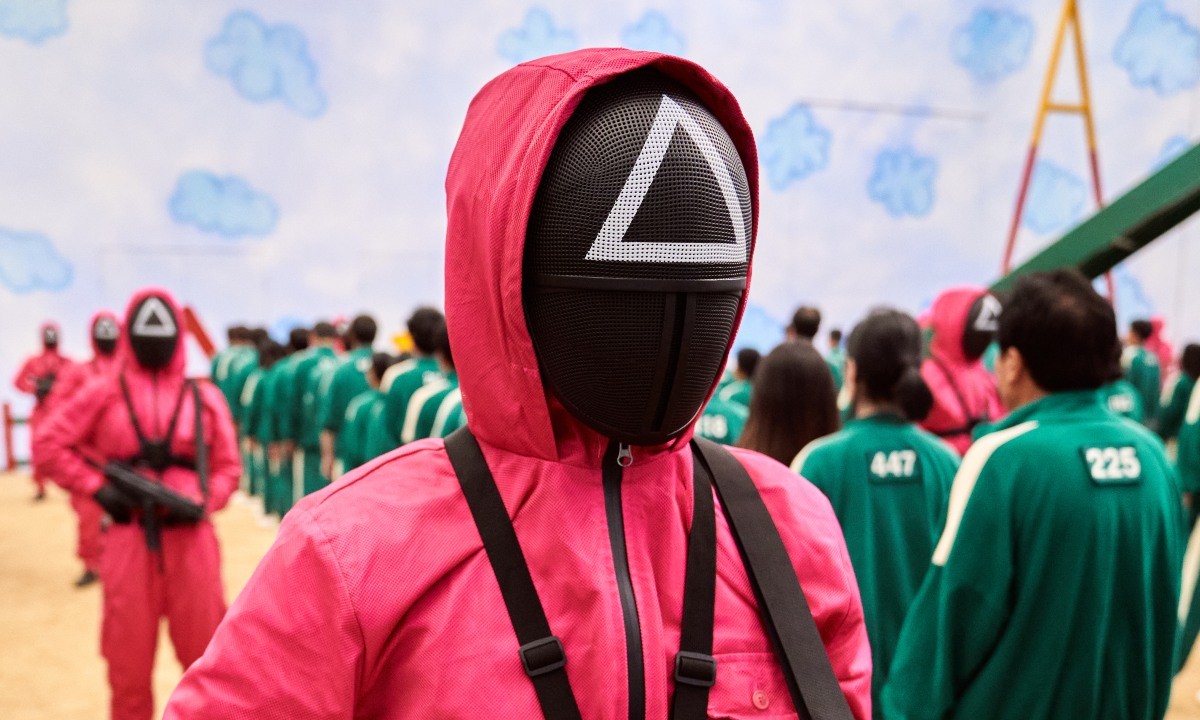 Photo: Hello Magazine
Squid Game (Korean: 오징어 게임; RR: Ojing-eo Geim) is a South Korean survival drama television series streaming on Netflix. Written and directed by Hwang Dong-hyuk, it stars Lee Jung-jae, Park Hae-soo, Wi Ha-joon, Jung Ho-yeon, O Yeong-su, Heo Sung-tae, Anupam Tripathi, and Kim Joo-ryoung. The series, distributed by Netflix, was released worldwide on September 17, 2021.
The series revolves around a contest in which 456 players, all drawn from different walks of life but each deeply in debt, play a series of children's games with deadly penalties if they lose for the chance to win a ₩45.6 billion prize. Hwang had conceived of the idea based on his own economic struggles early in life as well as the class disparity in South Korea. Though he had initially written it in 2009, he was unable to find a production company to fund the idea until Netflix took an interest around 2019 as part of their drive to expand their foreign programming offerings. Hwang wrote and directed all nine episodes himself.
Squid Game received critical acclaim and attracted international attention. Within a week of its release, it became one of Netflix's most-watched programs in several regional markets; within its first 17 days of release, it attracted more than 111 million viewers, surpassing Bridgerton as the network's most-watched series to date.
2. Kim Kardashian's Balenciaga look at the 2021 Met Gala
Photo: Page Six
Kim Kardashian West's polarizing covered-up Met Gala look has already been made into a Halloween costume.
Online fashion retailer Yandy, known for turning pop culture moments into sexy Halloween looks, created an outfit inspired by Kardashian West's controversial red carpet moment at the 2021 Met Gala. For $100, fans can recreate Kardashian West's fully covered Balenciaga outfit that was complete with a mask that concealed both her face and head.
Just like the Keeping Up with the Kardashians alum's look, the Yandy costume, called "Mystery Guest Gala Costume," includes a "breathable black facial hood" plus a strapless tube dress, floor-length cape, opaque tights and long gloves.
"Glimmering gowns had their fashion moment, and we're here for it, but look who paved the way for statement-making avant-garde! Heart eyes for dress code perfection with all black everything from this concealed, Calabasas queen. Dark, dramatic, and ever so obscure, flaunt your couture-kissed curves like an A-list celeb in this exclusive Mystery Gala Guest costume," reads the product description on Yandy's website.
3. Squid Game Doll
If you're not keen on the enforcer or the player, how about another viral character from the show. You know the one we're talking about, the big murderous doll from the iconic first episode. To be fair, she's enough to give anyone nightmares, so you'll definitely give folks a good scare.
Google searches for 'Squid Game Doll Costume' hit over 361,000 worldwide this month and there was huge surge in fashion searches for 'orange skater midi dresses'.
Sales of 'Orange Skater Midi Dresses' increased by over 264% on LovetheSales.com in October, compared to October 2020 figures.
Sales of 'Black Flat Shoes' have also shot up by 125% on LovetheSales.com. (October 2021 v October 2020 figures).
4. Harley Quinn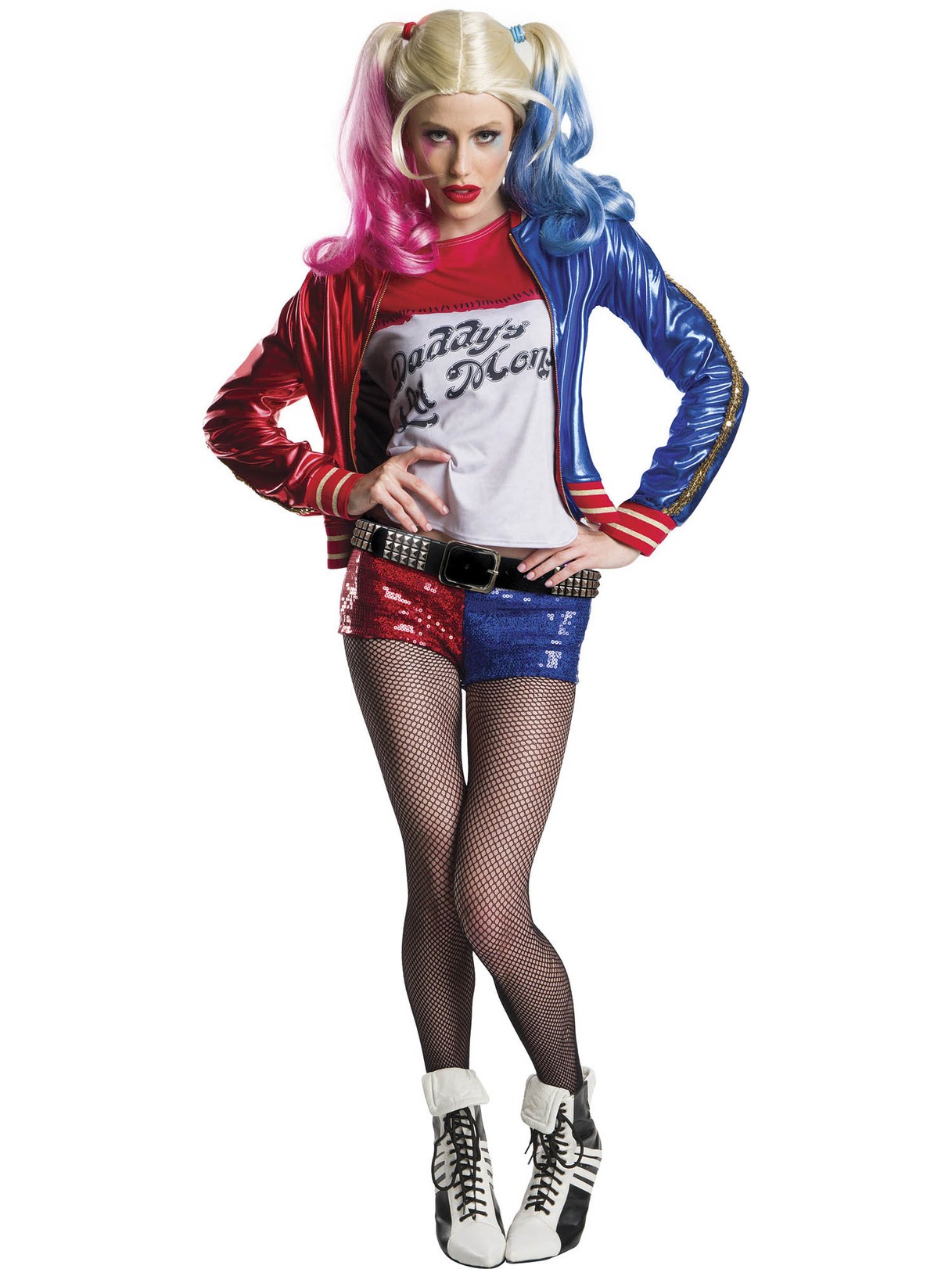 Photo: Costume Supercenter
Harley Quinn (Harleen Frances Quinzel) is a character appearing in American comic books published by DC Comics. Harley Quinn was created by Paul Dini and Bruce Timm as a humorous henchwoman for the supervillain Joker in Batman: The Animated Series, and debuted in the 22nd episode of the series on September 11, 1992. While originally intended to appear in one episode, she became a recurring character within the DC Animated Universe as the Joker's sidekick and love interest, and was adapted into DC Comics' Batman comic book canon, beginning with the one-shot Batman: Harley Quinn #1 (October 1999). The character's alias is a play on the stock character Harlequin from the sixteenth-century theater commedia dell'arte.
If you're more into your superhero's and supervillains, then why not consider the iconic Harley Quinn as a costume idea.
The popular DC supervillain has been a staple for Halloween costumes, but the latest Suicide Squad' blockbuster that hit screens this Summer has brought outfits back into the spotlight.
Google searches for 'Harley Quinn Costume' surpassed 346,000 in October.
Demand on Google for the supervillain's outfits are up 50% this October, compared to October 2020.
5. Cruella De Vil from Cruella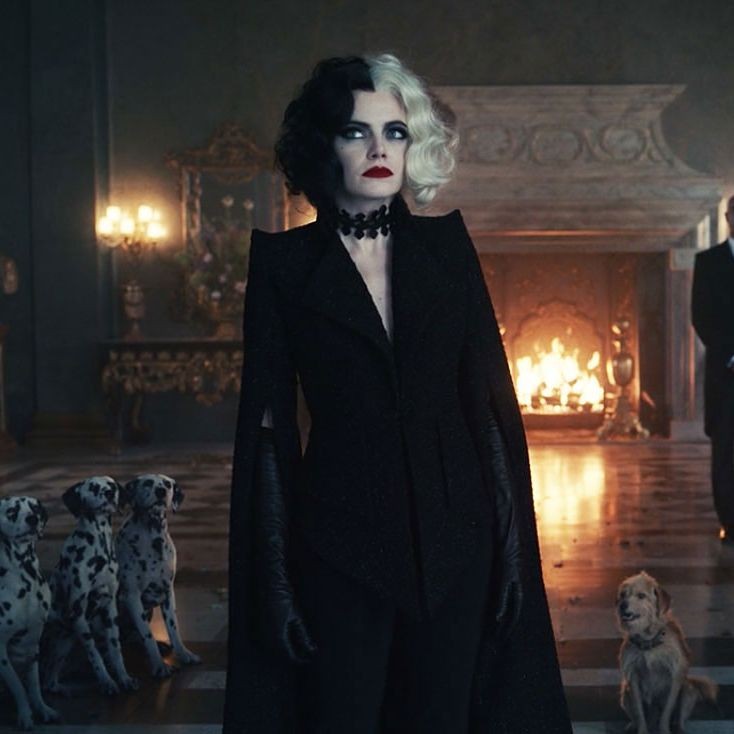 Photo: Vulture
Cruella de Vil is a fictional character in British author Dodie Smith's 1956 novel The Hundred and One Dalmatians. A pampered and glamorous London heiress and fashion designer, she appears in Walt Disney Productions' 17th animated feature film, 101 Dalmatians (1961), voiced by Betty Lou Gerson; in Disney's 101 Dalmatians II: Patch's London Adventure (2002), voiced by Susanne Blakeslee; in Disney's live-action 101 Dalmatians (1996) and 102 Dalmatians (2000), portrayed by Glenn Close; in the reboot film Cruella (2021), portrayed by Emma Stone; and in many other Disney-produced sequels and spin-offs.
Villains and anti-heroes seem to be all the rage this year, which fits with the theme of Halloween, so why not consider dressing as the iconic Cruella? Emma Stone's Disney+ origins film for the villain saw Cruella costumes be searched over 244,000 times on Google this month.
6. Loki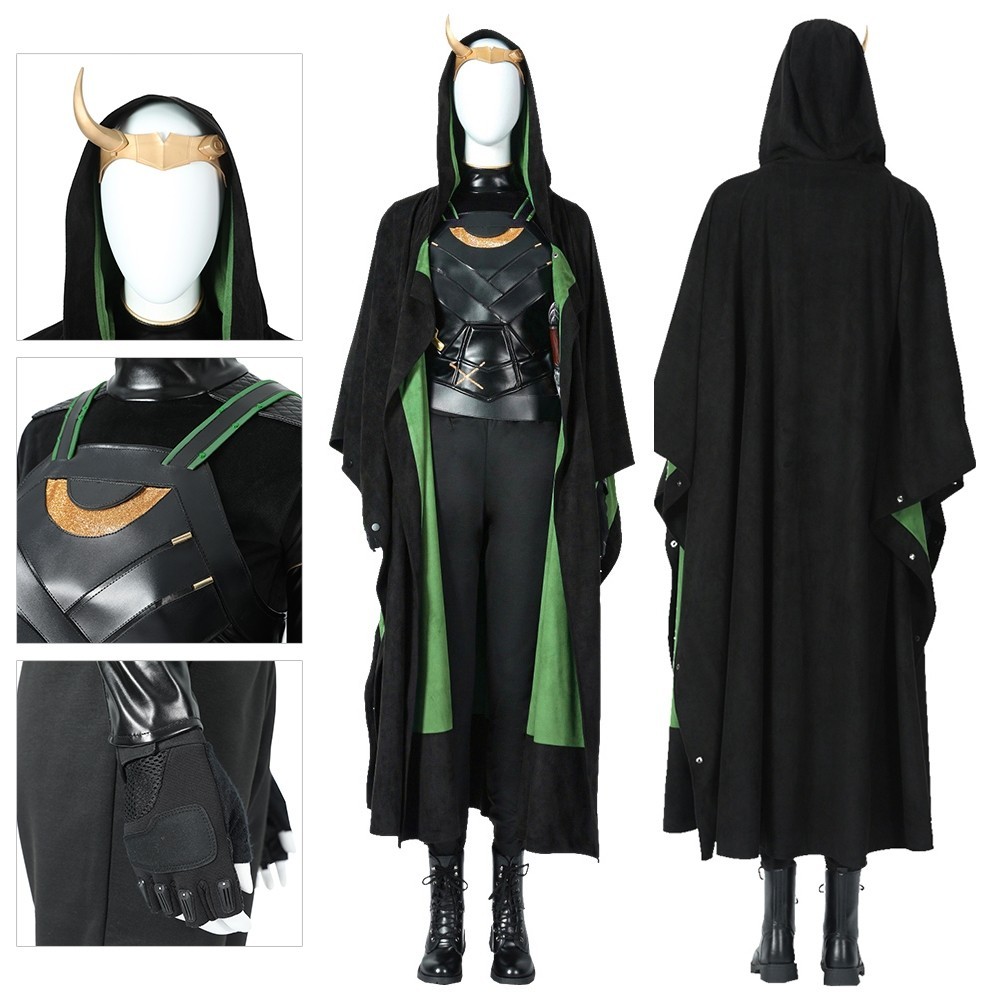 Photo: Amazon
Loki is an American television series created by Michael Waldron for the streaming service Disney+, based on Marvel Comics featuring the character of the same name. It is the third television series in the Marvel Cinematic Universe (MCU) produced by Marvel Studios, sharing continuity with the films of the franchise. The series takes place after the events of the film Avengers: Endgame (2019), in which an alternate version of Loki created a new timeline. Waldron serves as head writer, with Kate Herron directing for the first season.
Thanks to the popularity of the character, Loki was one of Disney+'s most anticipated shows this year, making it a fab idea for a Halloween costume. Google searches for 'Loki Costumes' peaked at 74,000 in October.
7. Scarlet Witch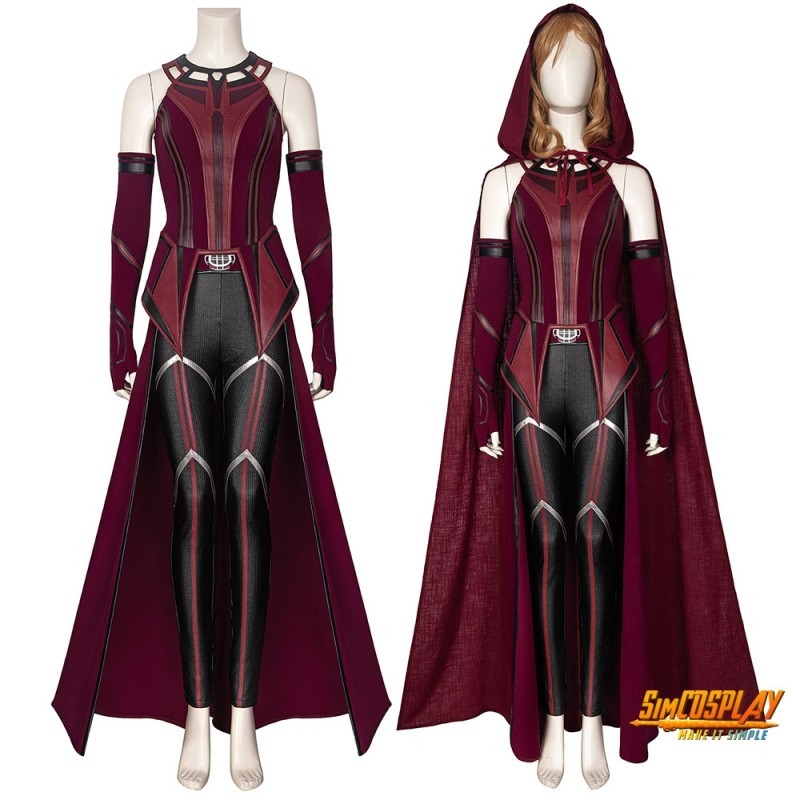 Photo: SimCosplay
The Scarlet Witch (Wanda Maximoff) is a fictional character appearing in American comic books published by Marvel Comics. The character was created by writer Stan Lee and artist Jack Kirby. Her first appearance was in The X-Men #4 (March 1964) in the Silver Age of Comic Books. Originally said to have the ability to alter probability, the Scarlet Witch has been depicted as a powerful sorceress since the 1980s and was later said to be powerful enough to alter reality. For most of her comic book history, she is portrayed as a mutant, a member of a fictional subspecies of humans born with an "X-gene" that grants superhuman abilities and traits. This was revised via a 2015 storyline establishing that her superhuman traits are a result of experimentation done by High Evolutionary when she was a child.
When WandaVision hit screens earlier this year, no one could have anticipated the impact the show would have, or the amount of outfit inspirations it would cause. However, it's Wanda's iconic Scarlet Witch outfit from the Halloween episode that has seen a rise in demand, and it could be your next Halloween outfit.
Just grab yourself a full red ensemble, including tights, a leotard, gloves, wig, heels and a cape and you are ready to cast some hexes. Just promise not to take a whole town hostage, alright?
8. Candyman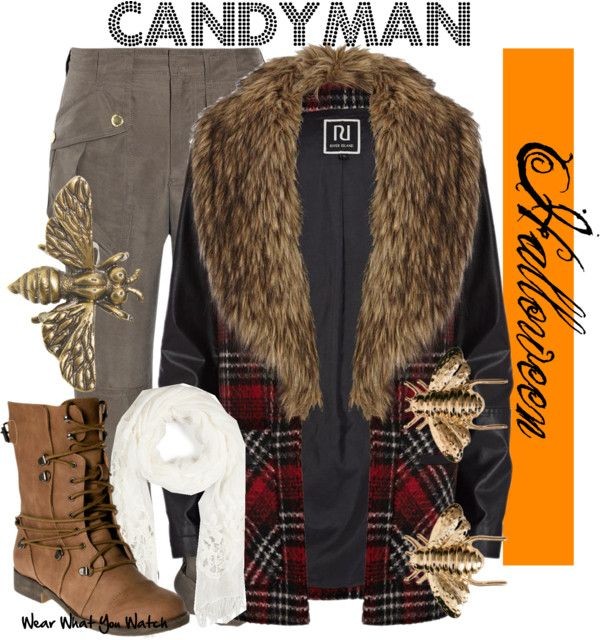 Photo: Pinterest
Candyman is a 2021 supernatural slasher film directed by Nia DaCosta and written by Jordan Peele, Win Rosenfeld, and DaCosta. The film is a direct sequel to the 1992 film of the same name and the fourth film in the Candyman film series, based on the short story "The Forbidden" by Clive Barker. The film stars Yahya Abdul-Mateen II, Teyonah Parris, Nathan Stewart-Jarrett, Colman Domingo, and Kyle Kaminsky. Vanessa Williams, Virginia Madsen, and Tony Todd also reprise their roles from the original film.
Say his name five times to channel your inner Candyman for this Halloween - It's a simple costume, just grab yourself a brown faux fur coat and a hook.
9. Harry Style's costume at 2021 Grammys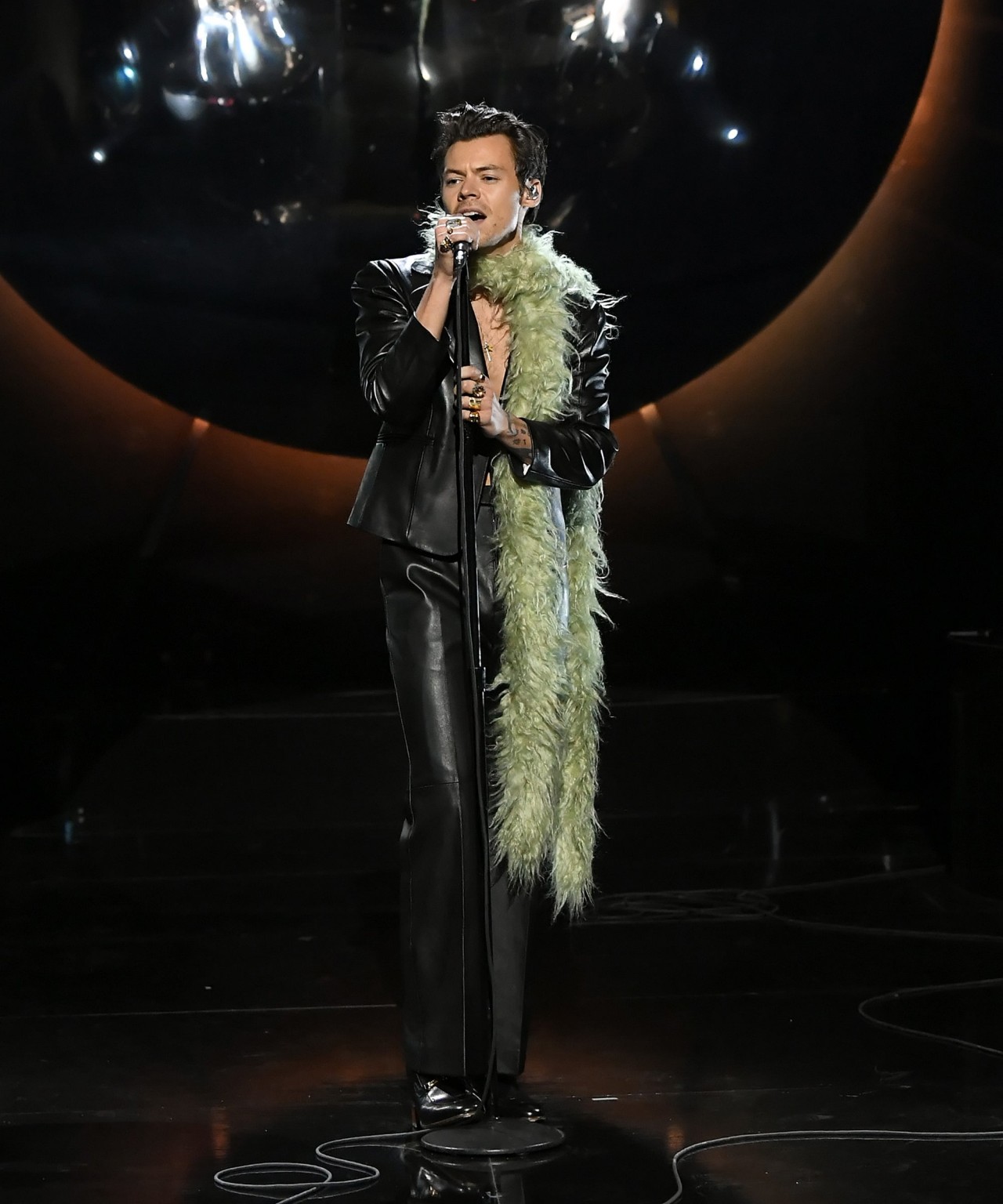 Photo: Getty Images
Harry Styles attended the Grammy Awards, and he made a case for wearing feather boas while there.
He opened the show with a performance of his hit song "Watermelon Sugar," and wore a leather suit with no shirt underneath. He also accessorized with a green feather boa.
Styles wore the scarf wrapped around his neck and later loosened it, revealing that it extended from his shoulders nearly to the floor.
In addition to his Gucci suit and scarf, Styles also wore black shoes with brown heels, and a variety of rings.
On the red carpet, Styles wore the same boa in a purple shade. That time around, however, he paired the accessory with a yellow, '70s-inspired houndstooth blazer, brown velvet pants, cream-colored shoes, and a pink-hued shirt with a low V-shaped neckline.
10. Squid Game (front man)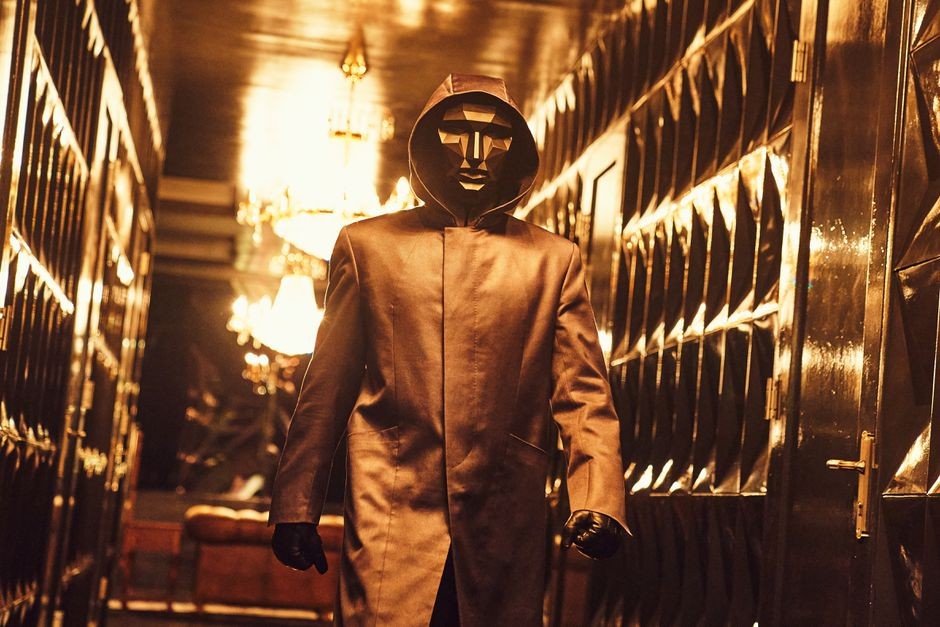 Photo: Netflix
The Front Man from the hit Netflix show is another great idea for a Halloween costume. Considering the popularity of the show, why don't you get a group of friends together to do a full ensemble of all the characters. Admit it, though, you'll have to draw straws who gets to be this top dog.
Demand for 'Black Trench Coats' on LovetheSales.com increased by 73% in October. (Compared with October 2020 figures)
Google searches for 'Squid Game Front Man Costume' peaked at 61,000 in the last month.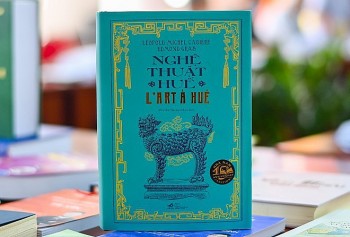 Expats in Vietnam
Inspired either by Vietnamese art or the people themselves, foreign authors often find inspiration in the S-shaped nation.