Top 5 Best Boutique Hotels Near Hoan Kiem Lake, Hanoi
There are various hotel options in Hanoi, ranging from the world's finest five-star hotels to the modest yet trendy ones. However, staying near Hoan Kiem Lake is ideal because you can avoid the noise while wandering to the Old Quarter center in minutes. The list of boutique hotels near Hoan Kiem Lake recommended by the Vietnam Times will not break the bank while providing everything you need for a comfortable stay.
La Siesta Classic Ma May
The La Siesta Hotel is a tranquil hotel with a homey ambiance that exemplifies ultimate luxury. It promises a warm welcome and personalized treatment and is conveniently located on historic Ma May Street, close to Hanoi's evocative Hoan Kiem Lake and other main attractions.
There are 50 spacious guestrooms in all, including suites and duplex rooms. The suites have modern and comfortable amenities, including seating spaces. Furthermore, the duplex rooms are ideal for families and groups of friends. A spa, gym, and movie room are also available to help you relax even more during your stay.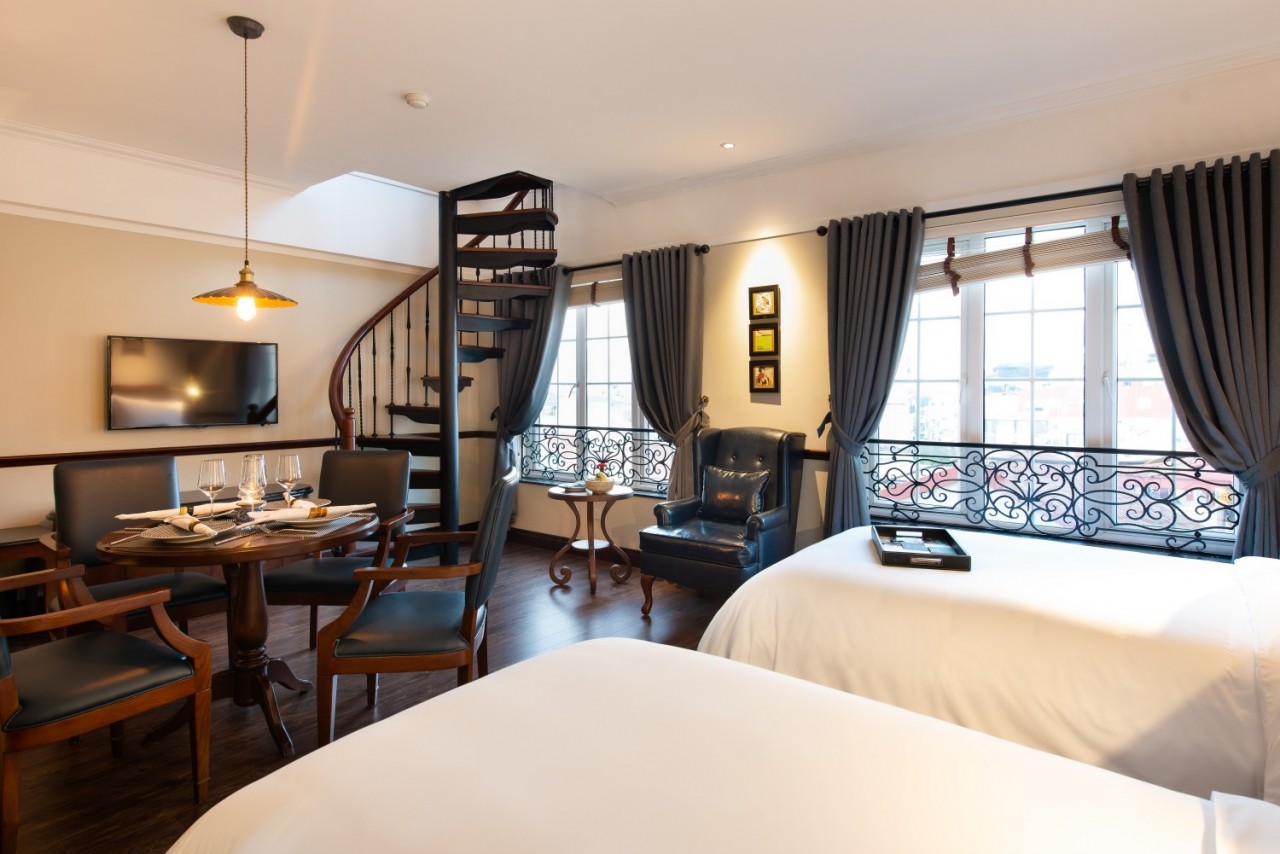 Photo: Kien Nguyen/Elegance Hospitality Group
For food lovers, the Redbean Restaurant on the ground level serves authentic Vietnamese cuisine. There is also 24-hour customer assistance, nightly turn-down service, free unlimited Wi-Fi internet with a PC in every room, cable TV, and movies on demand. Staff members constantly go out of their way to pleasure in-house guests and deliver little surprises on key occasions like birthdays and honeymoons.
Address: 94 Ma May, Hoan Kiem, Hanoi
Telephone: 024 3926 3641
Price range: From VND1.200.000 (US$50,38)
Hanoi E-Central Hotel
As it is located in the heart of Hanoi City, Hanoi E-Central is an excellent choice for travelers. Tourists may walk from the hotel to numerous popular sights in this picturesque city, including Hoan Kiem Lake, the Hanoi Opera House, and the Thang Long Water Puppet Theatre.
The first thing tourists notice while entering this hotel is the comfortable ambiance of the interior area. The intimately luxurious interior decoration, as well as the hotel's friendly employees, contribute to this sense.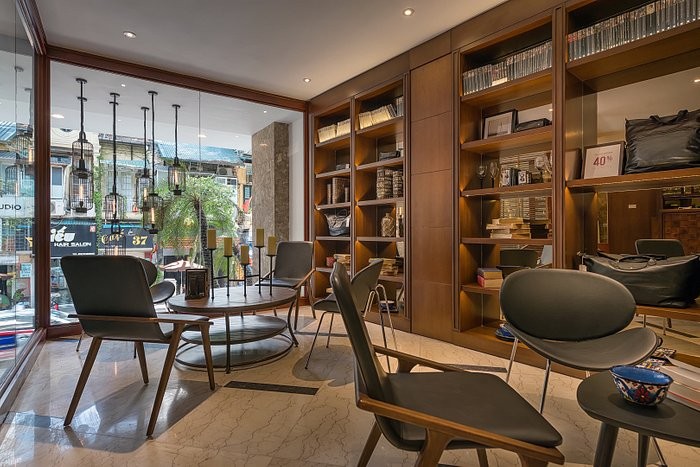 Source: TripAdvisor
The rooms at Hotel E Central Hanoi are all equipped with individually controlled air conditioners and enabled with an internet connection. The hotel has five accommodation types: Superior King accommodation, Deluxe Double Room, Deluxe Twin Room, Family Room, and Penthouse Suite. Each area has a comfortable and personal feel thanks to the wooden parquet flooring and cozy seating arrangement.
A writing desk and a reading lamp in each room, in particular, allow guests to work while on vacation. Each room includes bottles of water, a minibar, and all required necessities. Each room is soundproof, providing guests with the assurance of privacy and quiet.
Address: 18 Lo Su, Hoan Kiem, Hanoi
Telephone: 024 3935 1616
Price range: From VND960.000 (US$40,30)
La Siesta Premium Hang Be
La Siesta Premium Hang Be is just steps away from Hang Be market, one of the most popular of its kind in Hanoi's Old Quarter, where tourists can get a taste of city life. A short stroll south-west will take you to Hoan Kiem Lake, while a walk north-east will take you to the famed Ta Hien Bia Hoi corner.
The hotel exudes classic beauty, featuring Asian influences, traditional features, and fine period furnishings that create harmony and balance. A peaceful neutral color palette accented with touches of warm hues and mood lighting creates a relaxing environment.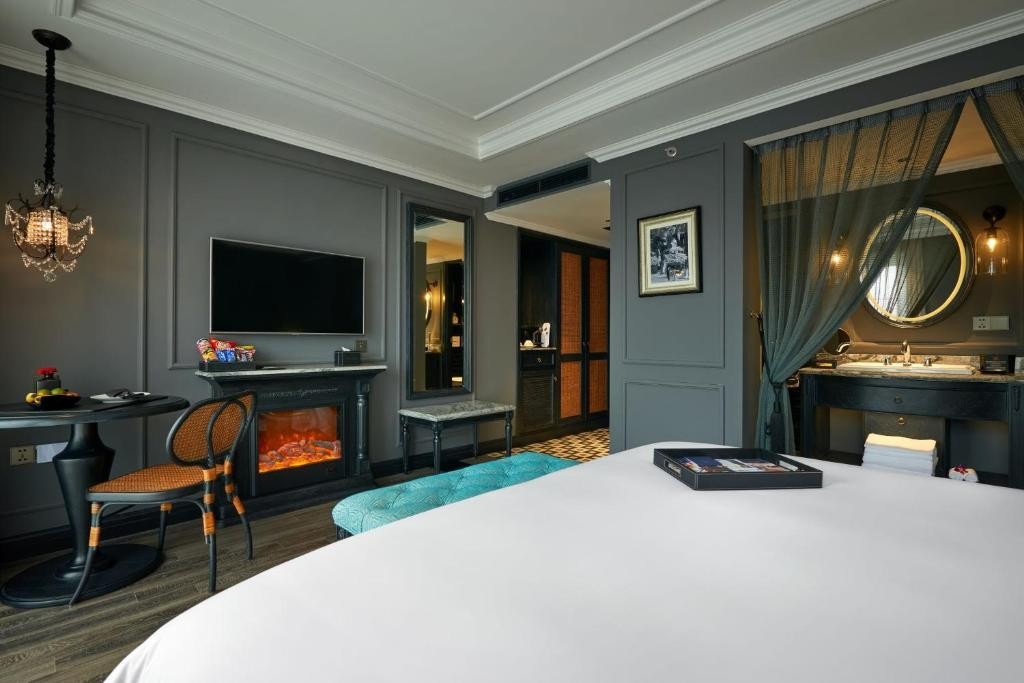 Source: Booking.com
La Siesta Premium Hang Be offers a variety of facilities, including 60 hotel rooms, the fine dining Cloud Nine restaurant, and the top-rated Lighthouse Sky Bar. Most rooms have huge windows that can be opened to let in fresh air and provide plenty of natural light.
Address: 27 Hang Be, Hoan Kiem, Hanoi
Telephone: 024 3929 0011
Price range: From VND2.300.000 (US$ 96,56)
Solaria Hotel
Solaria, a newly created and hugely popular alternative for Hanoi visitors, will appeal to all of your senses from the first step. The hotel is located on Bao Khanh, a narrow alley that connects Hang Trong to Hoan Kiem Lake, and is one of the most peaceful yet green and romantic sections of Hanoi's Old Quarter.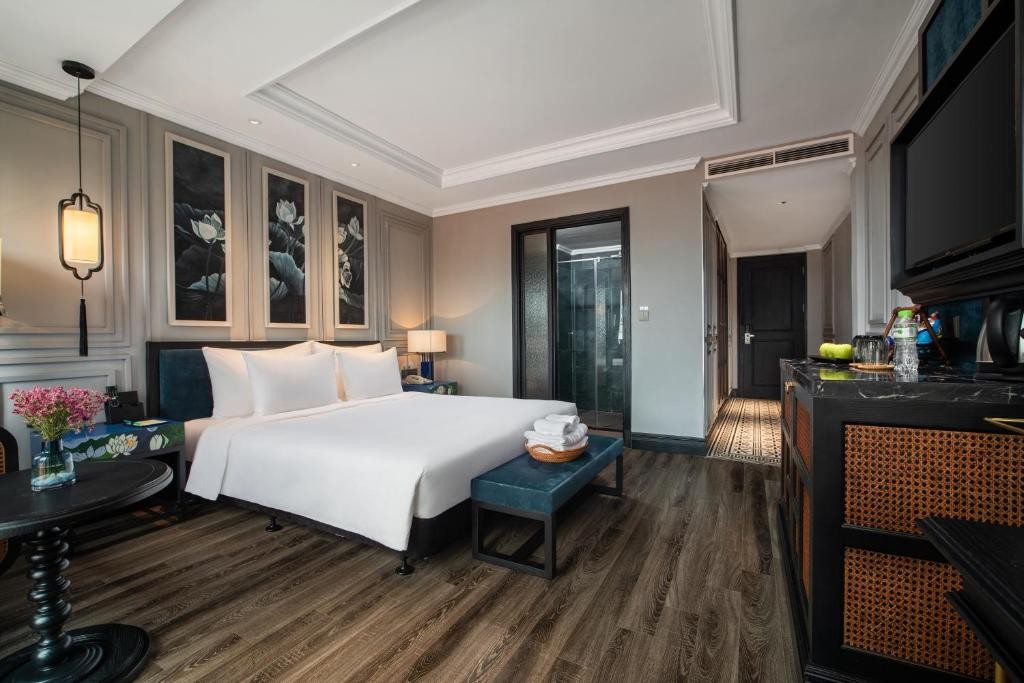 Source: Booking.com
Every aspect of the hotel, from the lobby to the guest rooms, has been painstakingly chosen and crafted to provide a one-of-a-kind experience for in-house guests. It has 60 rooms on nine levels, including Family and Connecting rooms, which are ideal for single clients or families. There are rooms with balconies or large living areas, which is a fairly distinctive feature.
Solaria Hotel Hanoi greets its guests in a stylish and intimate ambiance inspired by Vietnamese traditional materials, a combination of grey and beautified by black. Traditional materials are arranged in various tones and discreetly accented with bits of grey, yellow from the soil, and furniture black in each room.
Address: 22 Bao Khanh, Hoan Kiem, Hanoi
Telephone: 024 3926 3456
Price range: From VND2.000.000 (US$83,96)
La Sinfonia Majesty Hotel & Spa
La Sinfonia Majesty, located on Cau Go Street in Hanoi's Old Quarter, is a wonderful representation of monarchy and classicism with a touch of modernism. Step outside the hotel and discover the beauty of local life as well as numerous significant sights within a few minutes' walk.
The hotel gently embraces the beauty of local eccentricities embodied by two separate characters. While the front side overlooks the ancient capital's hustle and bustle, with a variety of stores and eateries depicting citizens' daily lives, the rear side offers spectacular views of Hoan Kiem Lake, Ngoc Son Temple, and Red Bridge, Hanoi's three most prominent historical symbols.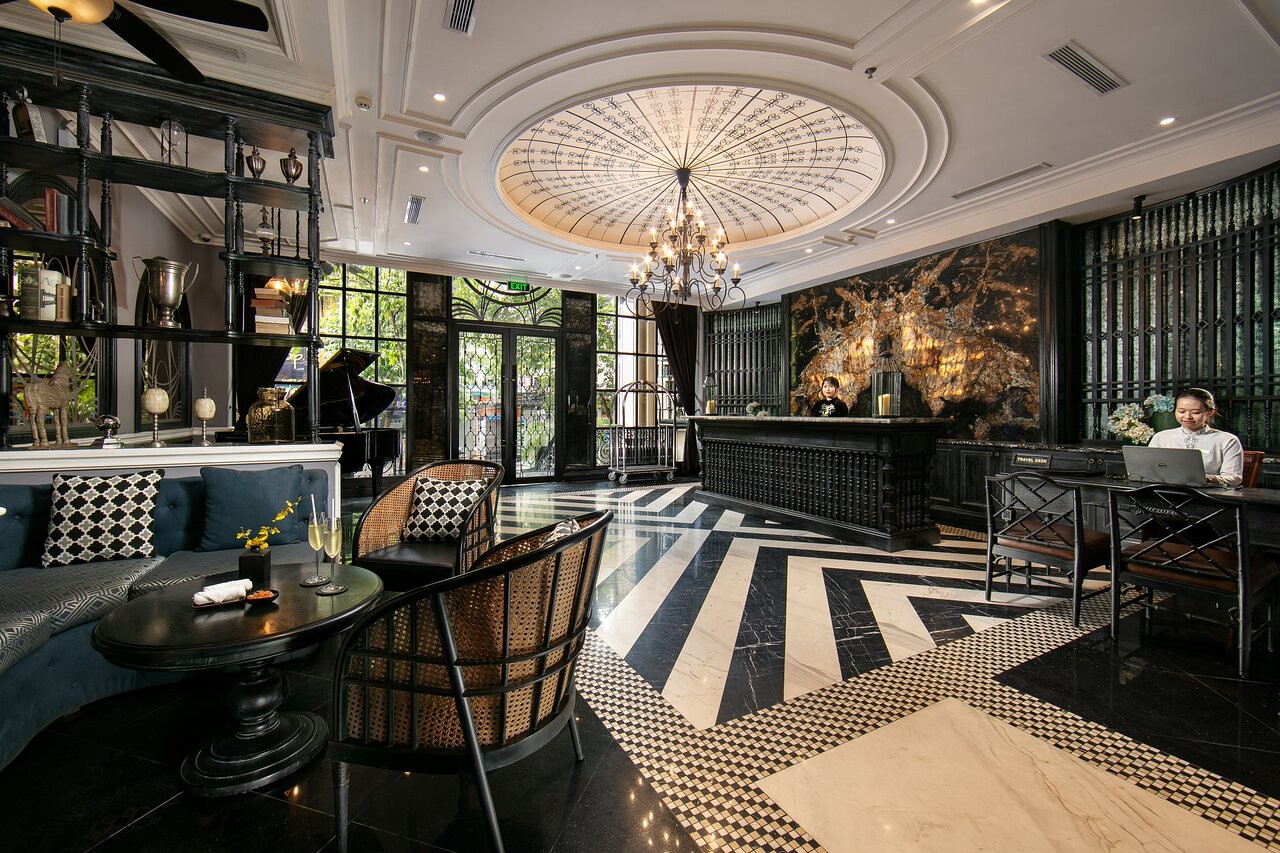 Source: Booking.com
In particular, the Symphony Restaurant here serves delectable cuisine, while the rooftop Majesty Sky Bar offers unsurpassed city and lake views. In the evenings, Hoan Kiem Lake lights up, creating a fantastic ambiance that you can experience well during your stay.
Address: 1 Cau Go, Hoan Kiem, Hanoi
Telephone: 024 3715 2345
Price range: VND1.700.000 (US$71,37)