Top 8 Best Traditional Craft Villages That You Should Visit in Vietnam
Not only famous for its beautiful scenery and tasty dishes, Vietnam is also a wonderful place to find the traditional craft villages that present the country's culture and history.
Vietnam's craft villages have earned famous reputations over the years. Since these villages were founded, the skillful artisans not only created new handicrafts, but also techniques from previous generations alive as well. Today we're seeing a lot of modernisation in Vietnam, but that doesn't mean handicraft villages in Vietnam are dying off. Visit these villages to check out a piece of history, and don't forget to read the first part of our series for even more suggestions.
1. Bat Trang Pottery Village
Bat Trang, traditional porcelain and pottery village with history of seven centuries, is an interesting attraction in Hanoi that tourists should put on their list.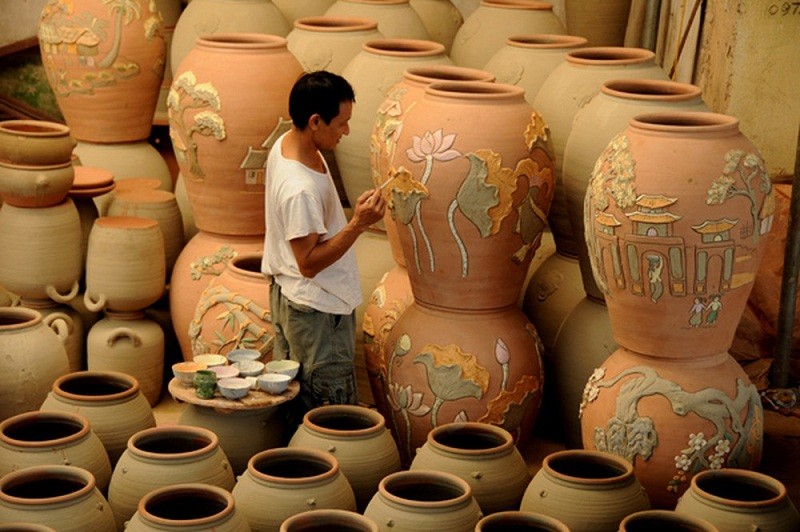 Photo: sodulich.hanoi.gov.vn
Located in an area rich in clay, the village has advantage of ingredients to create fine ceramics. Moreover, lying besides the Red river, between Thang Long and Pho Hien, two ancient trade centers in the north of Vietnam during 15th-17th century, Bat Trang's ceramics were favorite products not only in domestic market, but also foreign ones thanks to Japan, Chinese and Western trading boats that passed by.
In the18th and 19th century, due to restricting foreign trade policy of Trinh, Nguyen dynasty, it was difficult for pottery products in Vietnam to be exported to foreign countries, and some famous pottery making villages like Bat Trang, or Chu Dau ( Hai Duong province) went through a hard time. Since 1986, thanks to economic reforms and development, more attention has been vested in the village and the world gets a chance to know more about Vietnamese porcelain through many high quality exported Bat Trang's ceramic products.
Visiting Bat Trang, tourists can take a walk or join a buffalo tour for sightseeing and shopping. Besides many ceramic stores along the road in the village, tourists should visit Bat Trang Porcelain and Pottery Market where they can directly make pottery products by themselves. Many youngsters and foreign tourists are interested in in this pottery- making experience, and spend a whole day in the market to make a gift for family or friends.
2. Tay Ho conical hat making village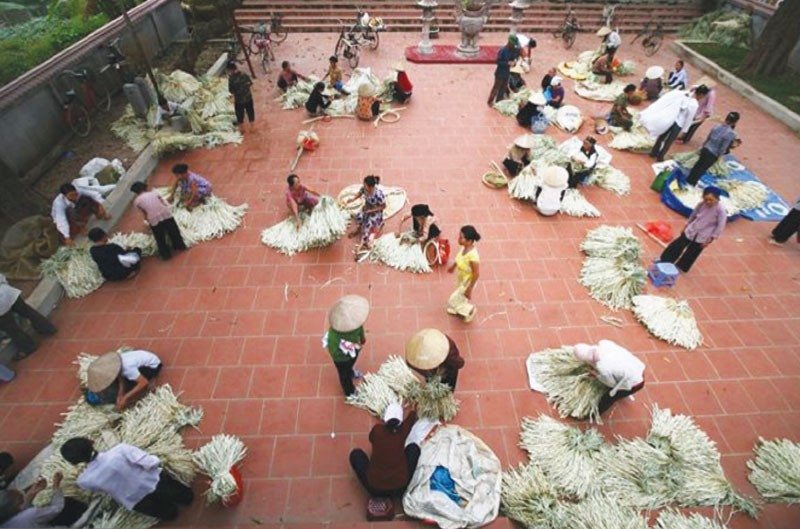 Photo: Sachmem.vn
Located by the Nhu Y river, Tay Ho village (Phu Ho commune, Phu Vang district) has long been known as the home of poetic conical hat, a familiar symbol when it comes to Hue.
At first, villagers only gave the poetic conical hat to their relatives and special guests as gifts. As it was later loved by more and more visitors, many decorative patterns were added in addition to the well-known line "Whoever comes to Hue, do not forget to buy a poetic poem as gift". The Aodai, Thien Mu pagoda, Truong Tien bridge or lines of poem showing the soul, love and characters of Hue locals then appeared on the conical hat, leaving a lasting impression on visitors. Unlike the poetic conical hat, there is another local product made from "ke" leaves. This type is thicker, often used by villagers instead of being made in large number.
Tay Ho village girls are taught how to make conical hat at very young age. To create beautiful products, only light green palm and "goi" leaves are selected. Adding leaves on the already-prepared hat frame is considered as the most difficult step and therefore it is often performed by skillful craftsmen only. It is uneasy to prevent layers of leaves from overlapping, to gently sew leaves together, and keep the hat thin, yet strong enough to protect users from the rain.
Nowadays, visitors coming to Hue usually visit Tay Ho village, pick the conical hats on which their favorite lines of poem are written home to present as gift, to exude their charm or simply protect themselves from sun and rain. Following visitors to all parts of the country, Tay Ho conical hat has contributed to glorifying Hue, the homeland of traditional craft villages and skillful craftsmen.
3. Dia Linh Village
What is the Kitchen God? According to Vietnamese belief, this deity is the spirit of the kitchen, believed to keep the kitchen fire burning and bless the family with happiness and wellbeing throughout the year. Legend has it that every year on 23rd day of the last month of the lunar calendar, the kitchen god rides a red carp to the sky, where he reports memorable news to the Jade Emperor. To give thanks to this protector and ensure luck for the new year, Vietnamese people annually offer the Kitchen God a meal, clean his shrine and replace his statue, if need be.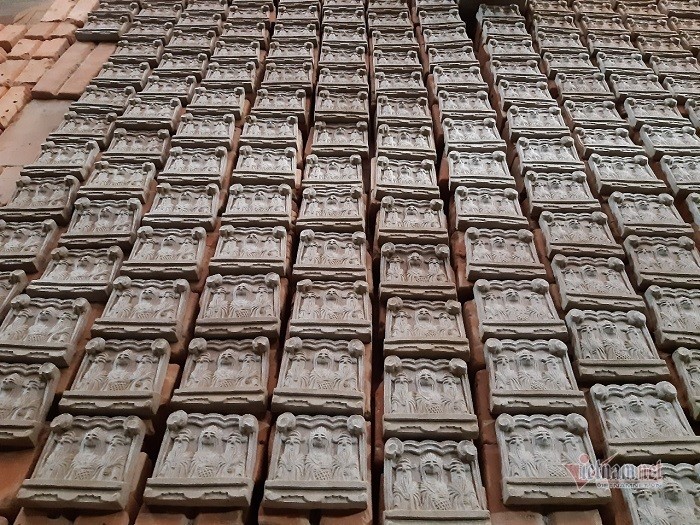 Land Genie and Stove God statues after molding. Photo: Vietnamnet
This village is located in Hương Vinh Commune, Hương Trà District, Huế. This is said to be the kitchen god's birthplace; even today, this village is the only one in Vietnam who continues to make kitchen god statues. These statues are especially popular in the days before Tết, and the heavy demand keeps these artisans busy.
To prepare all the statues by Tết, the craftspeople have to buy the clay by August. Once they have it, they get to work, shaping and colouring it to create the finished products. The success of the finished products depends heavily on the weather. If it rains too much, it can take up to three days for the statue to dry. Nowadays, the craftspeople use fans to hurry the drying process to finish the statues by Tết.
Once the statues have been dried, they're placed in huge stoves that can fit up to 2,000 at a time. The artisans have to pay special attention to the fire the whole time, so the flames don't get too big or too little. It normally takes two days to fire the statues, and two days for them to fully cool. After this, they're ready to be painted.
The craftspeople only receive around VND100.000 per statue. These works of art become family heirlooms, and are passed down from generation to generation.
4. Da Phuoc Village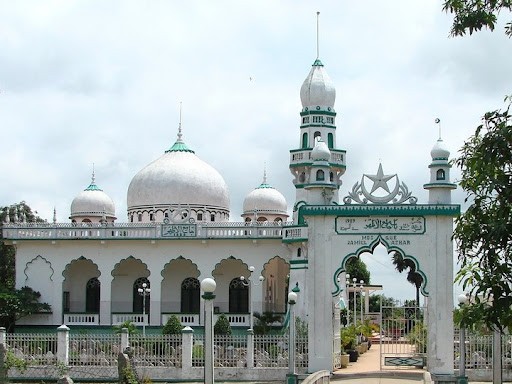 Photo: Holiday in Vietnam
Following the course of the Mekong from Chau Doc upstream, 5 km north of Chau Doc, you will arrive at Da Phuoc village, also called Muong Cha.
The Cham in An Giang Province, who are mainly Moslim, are called by many names such as Cha, Cha Va, Cha Va Ku, Chiem Thanh, Gia Va, Ma Lai, Khmer Islam, or Champa. Cham women often put on conical hats when they go to Chau Doc market, to 'blend in'. The scarfs they normally wear are made of the fabrics they weave during the dry season under their stilt house, because during the rainy season the water levels are too high. When you visit the village you can see the women busy weaving and you can buy the woven brocade products, like scarves and sarongs. To get there you have to go upstream from Chau Doc. You arrive at the village after crossing a 500 metres long wooden bridge. At the end of the bridge there are two Cham-style boats, and on the bank of the Da Phuoc River are Cham houses on stilts. Masjid Al Ehsan Mosque and Masjid Jamius Sunnah are located in this village.
5. Van Phuc Silk Village
Sitting on the bank of Nhue River, about 10km southwest of Hanoi Old Quarter, Van Phuc silk village is renowned for its traditional weaving and premium quality silk products. At the age of more than 1,200 years, Van Phuc is proud to be the most ancient silk village which provides the best silk in Vietnam.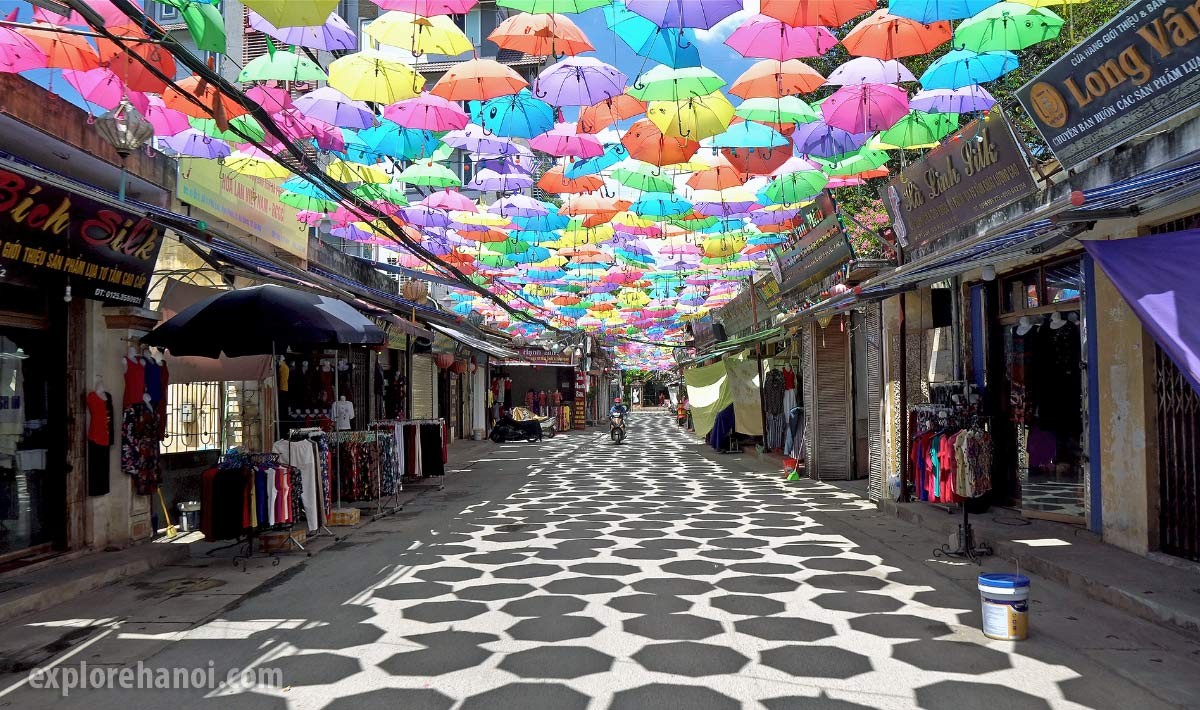 Photo: Explore Hanoi
Visitors to Van Phuc village will be impressed by typical manner of an ancient village in the north of Vietnam with banyan tree, well, communal house, and the sound of power-looms everywhere. Walking on the main road in Van Phuc, tourists will be lost in the world of silk with various products like shirts, ties, crafts, dresses… made of silk available in the village.
For a long period of time, silk was considered as extremely precious handwork which was only used to tailor Royal members' and aristocrats' dress. The special beauty of Van Phuc or Ha Dong silk was inspiration for many Vietnamese poems, songs and movies (see The White Silk Dress, one of the 5 most outstanding Vietnamese movies).
In Nguyen dynasty time, Van Phuc silk was brought to Hue imperial citadel to make dress for royal members. Between 1931 and 1932, Van Phuc silk was on display in international exhibitions for the first time in Marseille, then Paris and was highly appreciated and preferred by the French. From 1958 to 1988, Van Phuc silk mostly was exported to Eastern European market, and since 1990, it has been known widely in many countries all over the world.
6. Dong Ho Painting Village
Dong Ho Painting Village Hanoi, set within Bac Ninh, is famed for its traditional folk paintings, all of which are created for the annual Tet Festival (Lunar New Year). Located along the Duong River, this traditional village also offers travellers a relaxing break from Hanoi's bustling cityscape.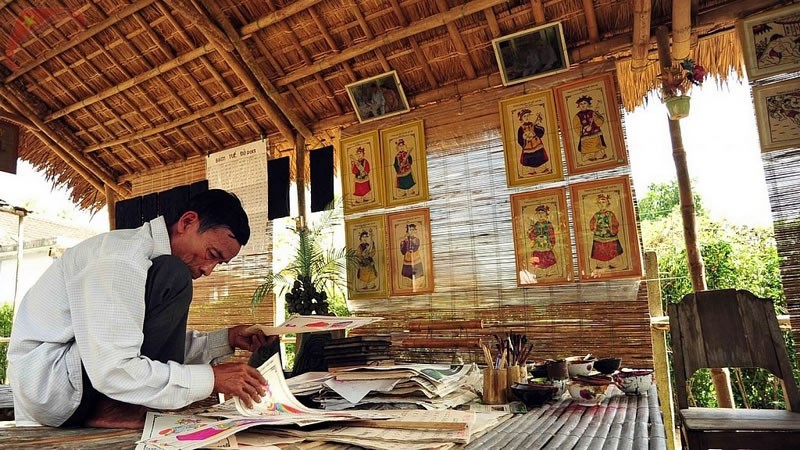 Photo: Eviva Tour Vietnam
Also known as woodcut or Dong Ho paintings, these artworks often depict bright and colourful scenes of everyday life, folk allegories, mythical and historical figures, as well as symbols of happiness, fertility, prosperity, and fortune. Therefore, many households and businesses often use them as decorations throughout the year, particularly during Tet holidays.
In order to produce a single Dong Ho painting, the craftsmen first carve a wooden block into different shapes, before brushing a layer of ink onto each block, and then pressing them on a traditional giay gio paper. The ink is made with natural ingredients such as the ash of burned bamboo leaves, gravel, finely ground oyster shells, and flowers. Finally, the finished design is sealed by a layer of sticky rice paste.
Dong Ho Painting Village Hanoi is 35 kilometres east of Hanoi, and the best time to experience its vibrant atmosphere is during the weeks leading up to Tet Festival (mid-January or February). There are many tour companies offering daytrips from Hanoi and Sapa, often including other prominent attractions in the Thuan Thanh District such as Dau Pagoda, Hoa Phong Tower, and But Thap Pagoda.
7. Lang Van Rice Wine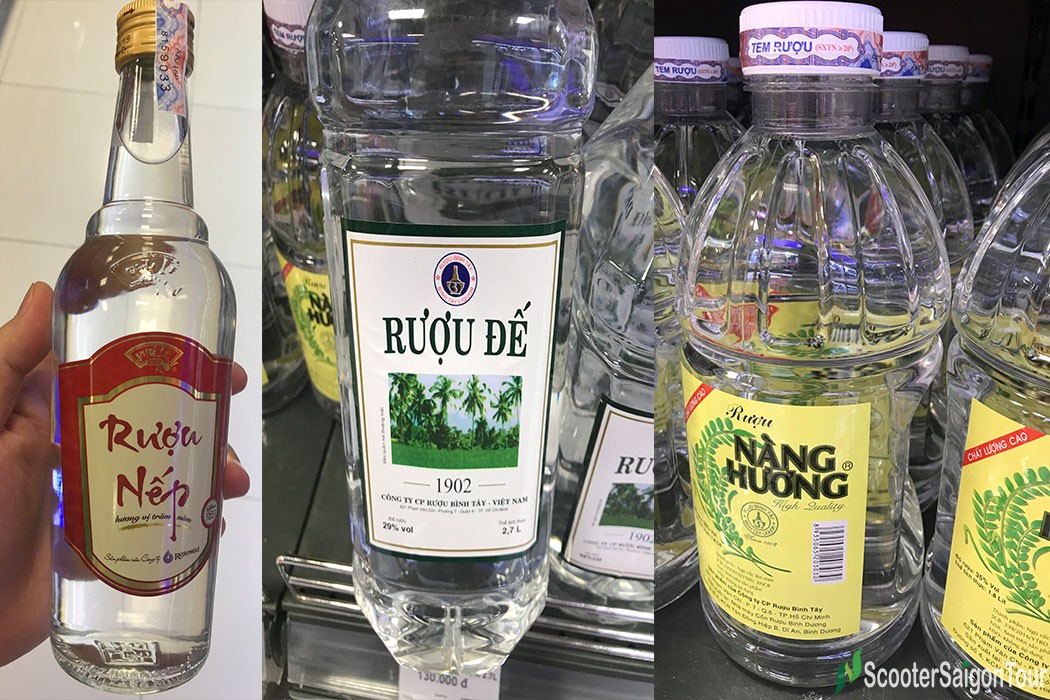 Photo: Scooter Saigon Tour
It's made in Vân Hà Commune in the Việt Yên District of Bắc Giang Province. Wine from Làng Vân is a special drink famous inside as well as outside the country. It's a nice present to give to family members and friends when coming here.
Just as red or white wine is a typical dinner drink in the current age, Làng Vân wine was once a mainstay of banquets in dynastic times. It was considered a proper gift for the king.
The main ingredients are glutinous rice. A kind of special sticky rice is chosen very carefully, a secret yeast and pure water from the well in the village. All of them are mixed to make the special Làng Vân drink.
Surprisingly, the locals in Làng Vân have striven to keep the traditional trade of their family. Làng Vân wine has developed a following not just in Vietnam but in other countries.
8. Ke Mon jewelry making village
Ke Mon village was founded in the 14th century in the reign of King Tran Anh Tong, beside the Tam Giang Lagoon. The residents lived by farming and fishing.
In 1789, after defeating the Chinese Qing invaders, King Quang Trung made Phu Xuan, former name of Hue, his capital city and called on talented people to help him rule the nation. Cao Dinh Do, a Thanh Hoa native, came to Hue to work as a goldsmith. While crossing the O Lau River, his family encount an accident, but they escaped death thanks to several Ke Mon villagers. Mr. Do later returned to Ke Mon to teach the villagers goldsmithing and pass on his expertise to them as a token of gratitude.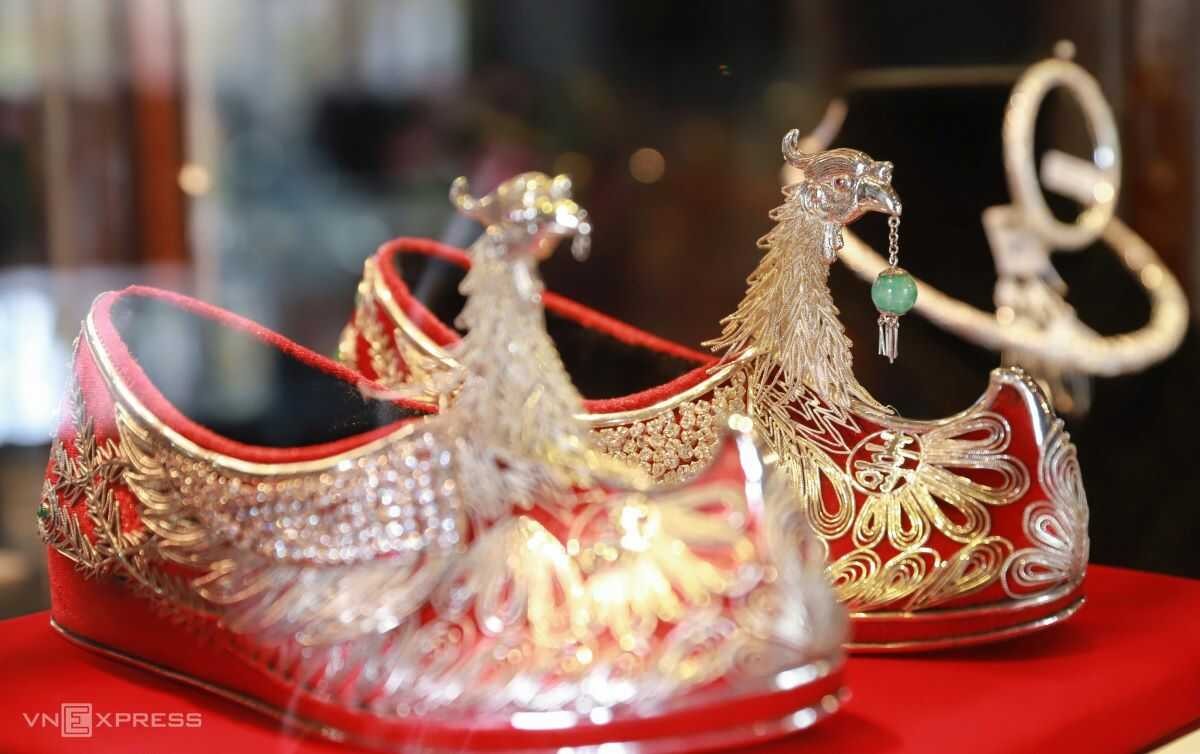 Photo: VnExpress
Bui Van Day, head of the Ke Mon culture village's executive committee, said: "Located between a river and the sea, Ke Mon village has a place called "Bau Nguoc" which means anyone passing by will meet a headwind. People from northern provinces must go through Tam Giang Lagoon to Dien Huong and take a ferry-boat to reach Hue. Cao Dinh Do and his family were in distress there, but were saved by two men of the Tran Duy clan and one of the Hoang clan. After a period working in the Royal Court, Mr. Do returned to Ke Mon to repay those who saved him by passing on to them his expertise in goldsmithing."
200 years later, Ke Mon village has become the region's gold jewelry center. Local jewelers have supplied the rich citizens and mandarins of Hue since the end of the 18th century.
Ke Mon jewelry is considered of better quality than jewelry from other places because of the skill, experience, and creativity of the local artisans. Their intricate decorative techniques grace gold and silver necklaces, bracelets, rings, and earrings.
Magical Photos of Milky Way Across Vietnam

Ganh Den lighthouse, En cave, and Moc Chau tea hill shimmering under the night sky through photos of Vietnamese authors participating in the 35AWARDS international ...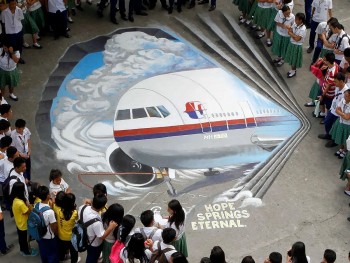 World
The world might never know what really happend when these planes went off the radar. Let's take a look at some of the unsolved mysteries of aircraft disappearances.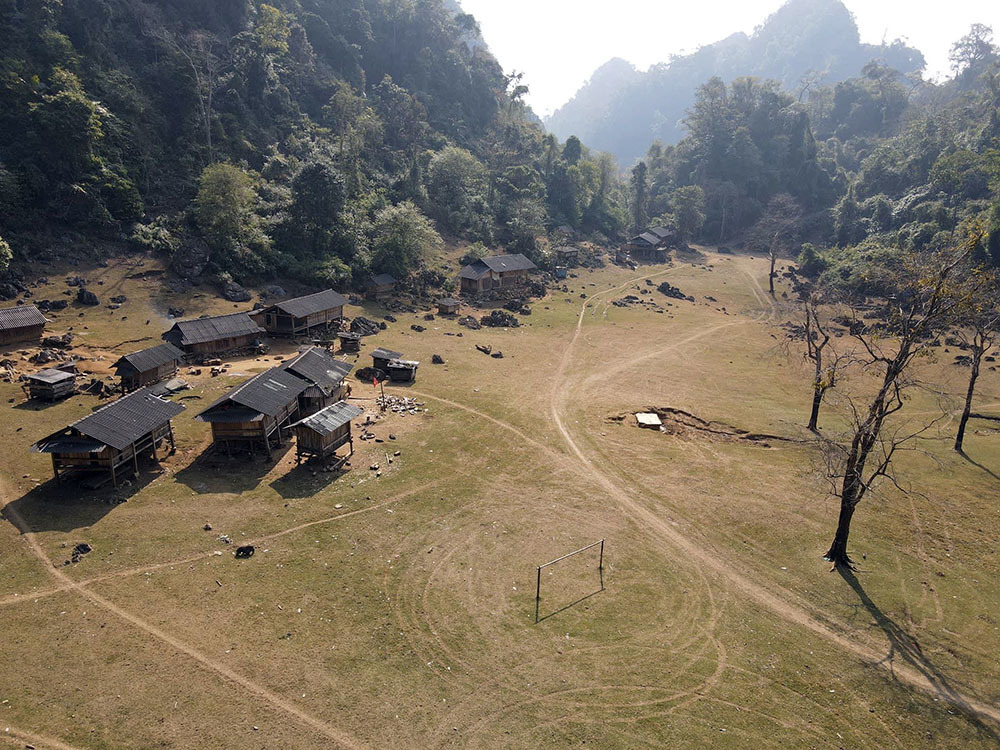 Travel
June 24, 2021 | 10:38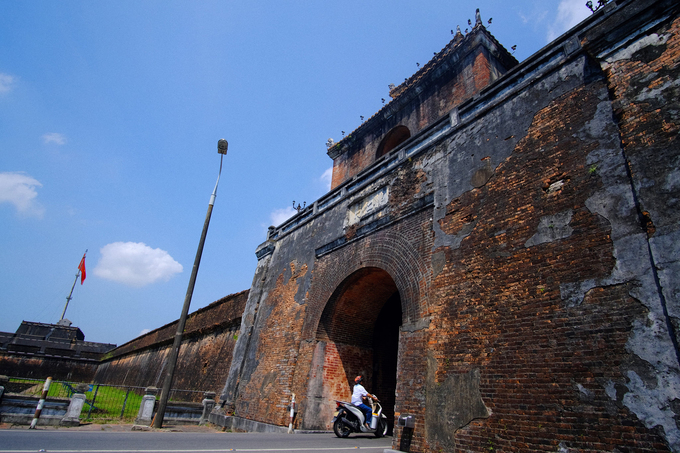 Travel
July 07, 2021 | 07:19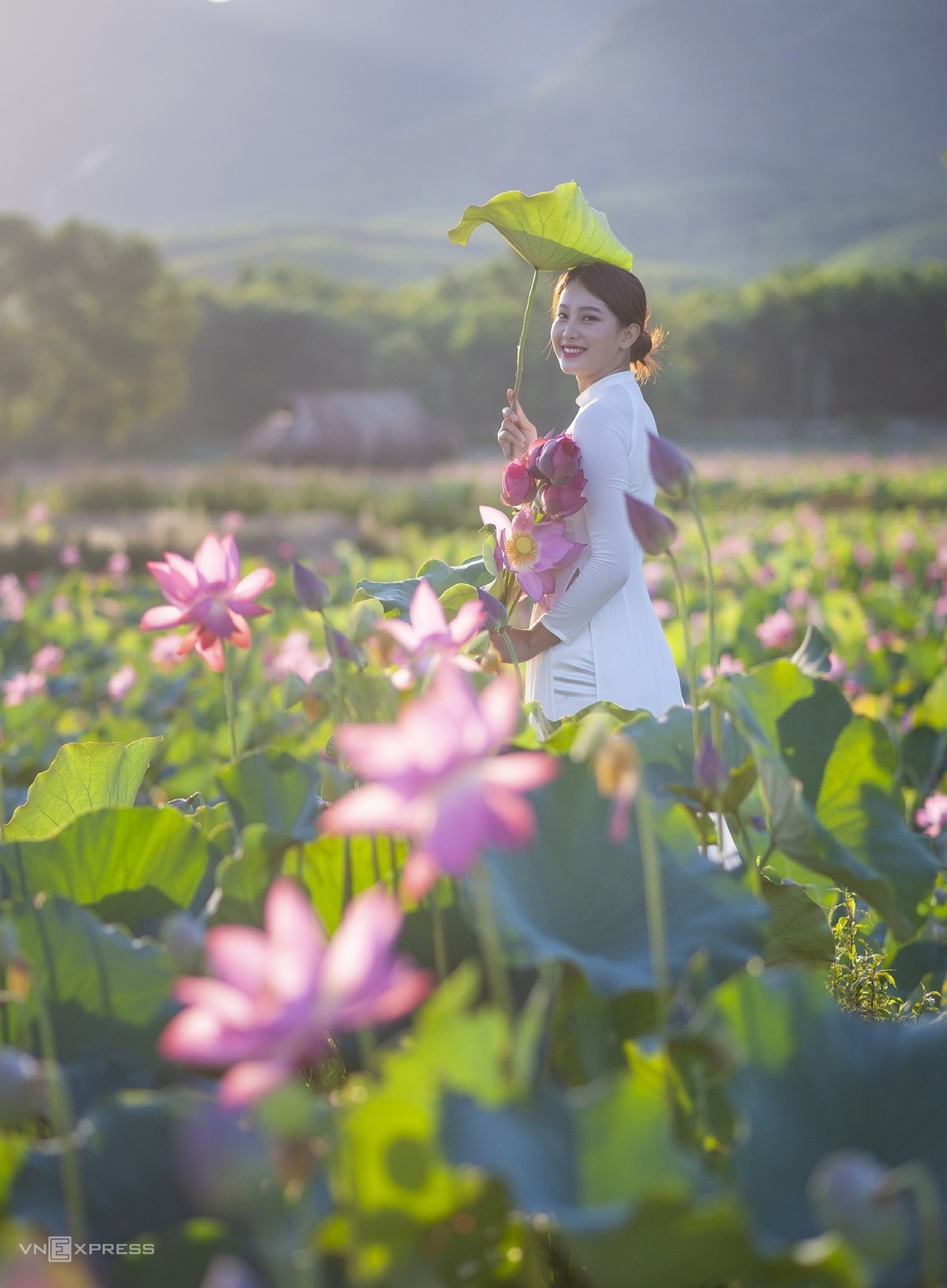 Handbook
June 09, 2021 | 08:16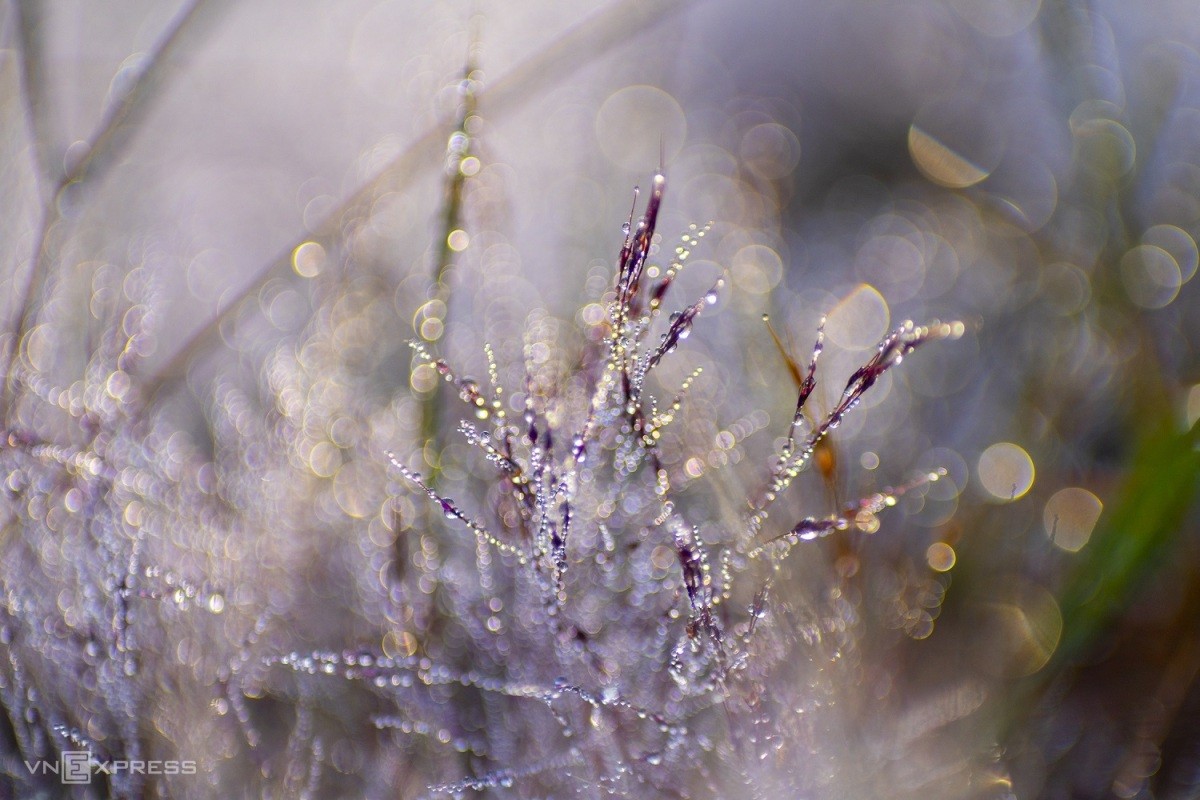 Travel
November 16, 2021 | 08:13