Top 9 Most Bizarre And Weirdest Sculptures In The World
Art is a way of expressing oneself, creating something unique and inspiring, or showcasing thoughts and ideas. These incredible, unusual, and extraordinary sculptures will astonish you for their immense creativity and outstanding works.
Art is about creativity, unique and the artist's own thoughts and feelings put into their works. Indeed, art is not always meant to depict the sensible and plausible realities of the world, but rather the inexplicable feelings and perceptions that we experience all the time. Take a look at these 8 weirdest and most unusual sculptures around the world today.
1. Die Badende (The Bather), Hamburg
Photo: Giantess Wiki - Miraheze
Hamburg's Inner Alster Lake has a new inhabitant – and this is not your standard duck or fish.
For ten days, a giant woman sculpture called "Die Badende" ("The Bather") will grace the lake – making Inner Alster essentially the world's biggest bathtub.
She rises 13 feet out of the water and appears in a comfortable state of repose, with her knees up, proving quite an obstacle for boaters in the Inner Alster. In fact, many have been renting paddleboats just to get a closer glimpse.
She stretches 67 feet long and weighs more than 2 tons. Created by German sculptor Oliver Voss, "Die Badende" is in reality an advertisement for British beauty products company Soap & Glory to promote the "art" of bathing.
2. Spoonbridge and Cherry, Minnesota
Photo: Walker Art Center
As far as iconic pieces of public art go, none may be as daringly modern or whimsical as Minneapolis' iconic Spoonbridge and Cherry.
This giant spoon and cherry was erected in 1985 by artist Claes Oldenburg and his wife, Coosje van Bruggen and is the centerpiece of the Walker Art Center's Minneapolis Sculpture Garden, the largest urban sculpture park in the world. Oldenburg was an artist who was known for making oversized versions of everyday objects and food products. Together with his wife, he set up a number of public sculptures, including Chicago's Batcolumn sculpture. The spoon was Oldenburg's idea, who had a habit of doodling spoons ever since 1962 when he was inspired by a spoon resting on a piece of fake chocolate. The cherry in the piece was van Bruggen's idea, wanting to use it as a comment on the garden's otherwise staid layout.
The spoon itself weighs 5,800 pounds and the cherry, another 1,200 pounds. The cherry's stem also acts as a fountain that sprays into the bowl of the spoon and off into the pond beneath. Even the pond itself has meaning, being shaped to resemble a linden seed, drawing attention to the rows of linden trees planted nearby, according to Atlas Obscura.
3. The Silent Evolution of MUSA
Photo: Pinterest
Graduated with honors from his bachelor's in the London Institute of Arts, Jason de Caires Taylor, creator of the Silent Evolution, situated in MUSA (Cancun Underwater Museum) is an award-winning underwater sculptor and photographer with more than 20 years of diving experience under his belt.
He spent much of his early childhood in Asia where he perhaps gained a love for coral reefs as he often dived the waters of Malaysia. He started the first underwater sculpture park in 2006 in the West Indies and soon went on to co-found MUSA, the Underwater Museum of Art in 2009 along with Jaime Gonzalez Cano, Director of the National Marine Park, and Roberto Diaz Abraham.
With over 500 sculptures from several artists, the underwater museum draws over 750,000 visitors per year.
The goal of MUSA was to protect the natural resources and reefs of the region by placing artificial barriers that allow people to still enjoy the natural habitats of the diverse underwater creatures but also to take in the mystifying and magical art while also protecting Mexico's rich beauty and important ecology, according to Aquaworld.
4. Les Voyageurs, France
Photo: ArtyPin
Commemorating Marseille's status as the European Capital of Culture in 2013, Bruno Catalano created 10 life-size, bronze sculptures to be displayed along the waterfront. Titled "Les Voyageurs" (The Travelers), these surrealist sculptures, depict people with huge portions of their bodies missing. Seeming to defy gravity, the ethereal quality of the work contrasts the melancholy, existential themes of the art.
Born in 1960 to a Sicilian family living in Morocco and raised in France, Catalano became a sailor in his twenties. This nomadic lifestyle was a major inspiration for his work as an artist. The sculptures of Bruno Catalano, especially, Les Voyageurs show this influence. They delve into themes of travel, migration, and journeying. Themes extend into exploring the ideas of home, belonging, loss, and the experiences of a "world citizen". Each statue carries a single suitcase, weighing them down, but also serving as their only means of support. Fascinating technically, artistically, and in its symbolism, the large omissions in the statues leave much to the imagination. Some figures appear to be fading away, while others materialize before our eyes. Contrary to the opinion that travel broadens and enriches, Catalano lamented that all his travels left him feeling that a part of [him] was gone and will never come back. 'Fragments' makes full use of this ethereal effect with three sculptures broken down to create one unit. The man looks fragile and delicately held together, losing more and more of himself till only his feet and bag remain.
5. Traffic Light Tree, London
Photo: ianVisits
Traffic Light Tree is a public sculpture in Poplar, London, England, created by the French sculptor Pierre Vivant following a competition run by the Public Art Commissions Agency for the London Docklands Development Corporation under their Public Art programme. Originally situated on a roundabout in Limehouse, near Canary Wharf and Millwall, at the junction of Heron Quay, Marsh Wall and Westferry Road, it is now located on a different roundabout near Billingsgate Market in Poplar.
Eight metres tall and containing 75 sets of lights, each controlled by a computer, the sculpture was described by Vivant thus:
"The Sculpture imitates the natural landscape of the adjacent London Plane Trees, while the changing pattern of the lights reveals and reflects the never-ending rhythm of the surrounding domestic, financial and commercial activities."
The Public Art Commissions Agency has said "the arbitrary cycle of light changes is not supposed to mimic the seasonal rhythm of nature, but the restlessness of Canary Wharf."
Traffic Light Tree was installed in 1998 on the site of a plane tree that was suffering as a result of pollution. It was initially intended that the lights would be triggered to reflect flurries of activity on the London Stock Exchange, but this proved to be too expensive to put into practice.
Although some motorists were initially confused by the traffic lights, mistaking them for real signals, the sculpture soon became a favorite among both tourists and locals. In 2005, Saga Motor Insurance commissioned a survey asking British motorists about the best and worst roundabouts in the country. The one containing Traffic Light Tree was the clear favorite.
6. Charles La Trobe Sculpture, Melbourne
Photo: Wikimedia Commons
Charles La Trobe was born in London in 1801. After a period of global gallivanting that included ascents in the Alps and a trip to Mexico with Washington Irving, he was eventually sent to Australia to help administer the various colonies of the British Empire. Despite a lack of experience, he was appointed as the first lieutenant-governor of the colony of Victoria, established in 1851.
La Trobe was an enlightened gentleman and a strong supporter of cultural and educational institutions and did much to improve the colonial (now state) capital of Melbourne. He helped improve the water supply and established various institutions including the City University, State Library, Botanical Gardens, and the Royal Melbourne Hospital.
Today, only two statues of La Trobe exist in the city. The more recent of the two, erected in the forecourt of the State Library Victoria in 2006, is a classic bronze monument to a historic figure, standing on a plinth in an upright pose, dressed in official uniform. The second and earlier monument is not too dissimilar, save for one rather obvious difference: It's standing on its head.
The upside-down statue of La Trobe officially called "Landmark" was created by Melbourne sculptor Charles Robb. The 16-foot-tall statue was unveiled in 2004 and stands in the Bundoora campus of La Trobe University (it also stood for a while outside Parliament railway station, in Gordon Reserve). It is made of polyester resin, fiberglass, polystyrene, polyurethane, and steel, and painted to look like the stone and bronze of a more traditional—and upright—monument, according to Atlas Obscura.
7. Walking to the Sky, Texas
Photo: Roadtrippers
Walking to the Sky is a public sculpture by Jonathan Borofsky. The original was installed at Rockefeller Center in the fall of 2004 before being moved to the Nasher Sculpture Center in Dallas, Texas in 2005. A copy is installed on the campus of Carnegie Mellon University in Pittsburgh, Pennsylvania, United States. Another copy is installed in front of the Kiturami Homsys Co. building in Hwagok-dong, Gangseo-gu, Seoul, South Korea.
The seven-ton work depicts a little girl, a businesswoman, a young man, and several others scaling a soaring 100-foot-tall stainless steel pole. Three people are looking upward from the base of the pole, which points to the east at a 75-degree angle.
A similar work by Borofsky, entitled "Woman Walking to the Sky", is installed in the center of Strasbourg, France, near the memorial for the synagogue that was destroyed by the Nazi occupiers of the city in 1940.
The piece was inspired by a story that Borofsky's father used to tell him when he was a child about a friendly giant who lived in the sky. In each tale, father and son would travel up to the sky to talk to the giant about what needed to be done for everyone back on earth. The artist says the sculpture is "a celebration of the human potential for discovering who we are and where we need to go."
8. Podobenství s Lebkou (Parable With Skull), Prague
Photo: OurTravelPics
Most tourists roaming the 750,000 square foot Prague Castle, which Guinness recognizes as the largest ancient castle in the world, are probably surprised to be confronted with an existential riddle in the form of a giant-skull bearing beggar on all fours.
Jaroslav Róna, who also created the Franz Kafka statue nearby, is a rather prolific surrealist sculptor. In the 1980s he helped found the Czech art group Tvrdohlaví (The Stubborn). He built Podobenství s Lebkou, aka "Parable with Skull" in 1993, a bronze sculpture of a beggar weighed down by a large skull residing on a thick slab of aging wood.
The sculpture used to be found at the eastern end of the Golden Lane by Prague Castle's Daliborka Tower, where Dalibor of Kozojedy, known as the Robin Hood of Czechia, was said to have played the violin while waiting out his days.
Parable with Skull is based on one of Kafka's characters—the "beggar, who, with the death rattle already in his throat, insists on dying on the doorstep" from The Bucket Rider. The sculpture tends to intrigue and even confuse those who visit the castle without prior knowledge of Róna's surrealist works. There's also a surprise at the rear end of the statue: the beggar's dangling bronze testicles are displayed quite prominently, often shocking admirers of the piece, according to Atlas Obscura.
9. Bamboo root sculptures, Vietnam
Photo: Vietnam Travel Magazine
In the middle of Hoi An ancient town, there is a small stall displaying hundreds of strange portrait sculptures carved from bamboo roots. Those are the artwork of Huynh Phuong Do whose nickname is "Do bamboo roots".
The strange sculptures in Do's shop capture the attention of anyone passing by. Seeing an artist surrounded by bamboo roots and artworks hung on the walls, many foreign tourists are surprised and curious. They look to buy and order Do's bamboo root souvenirs when visiting Hoi An.
For many people, the bamboo root is seen as a waste product or at most used to make fires for the poor. Do has been making a name for himself by carving beautiful sculptures out of bamboo roots.
Do launched his artistic career completely by accident. He used to be a carpenter who was trained by many known journeymen in the traditional village of Kim Bong. When Hoi An suffered from a major flood in 1999, Do saw some bamboo roots drifting in front of his door. Seeing the strange shape of the roots, Do came up with the idea of using it to carve a sculpture. After much effort, Do succeeded and has been making bamboo root sculptures ever since, according to Vietnamnet.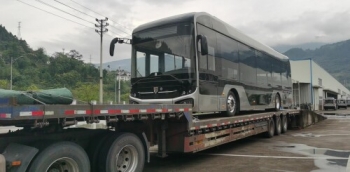 Economy
Ev Dynamics (Holdings) Limited is a pioneer and a prominent player in China's new energy commercial vehicles market, as well as a whole-vehicle manufacturer of specialty passenger vehicles and new energy passenger vehicles.