Top Places to Celebrate Halloween Across Hanoi
Halloween, the most anticipated holiday of October, although originated from Western culture, is starting to migrate and get adapted by more and more Eastern countries. In Hanoi, Vietnam, there are many interesting places, events, and activities waiting for you to discover this Halloween.
Halloween decor stores
Hang Ma street
Hang Ma Street is famous for being a busy place to buy and sell, no matter what time of year, especially on holidays. During the Halloween season, stores on Hang Ma Street sell a lot of colorful, unique, and "horror" decorations to welcome visitors to shop and visit.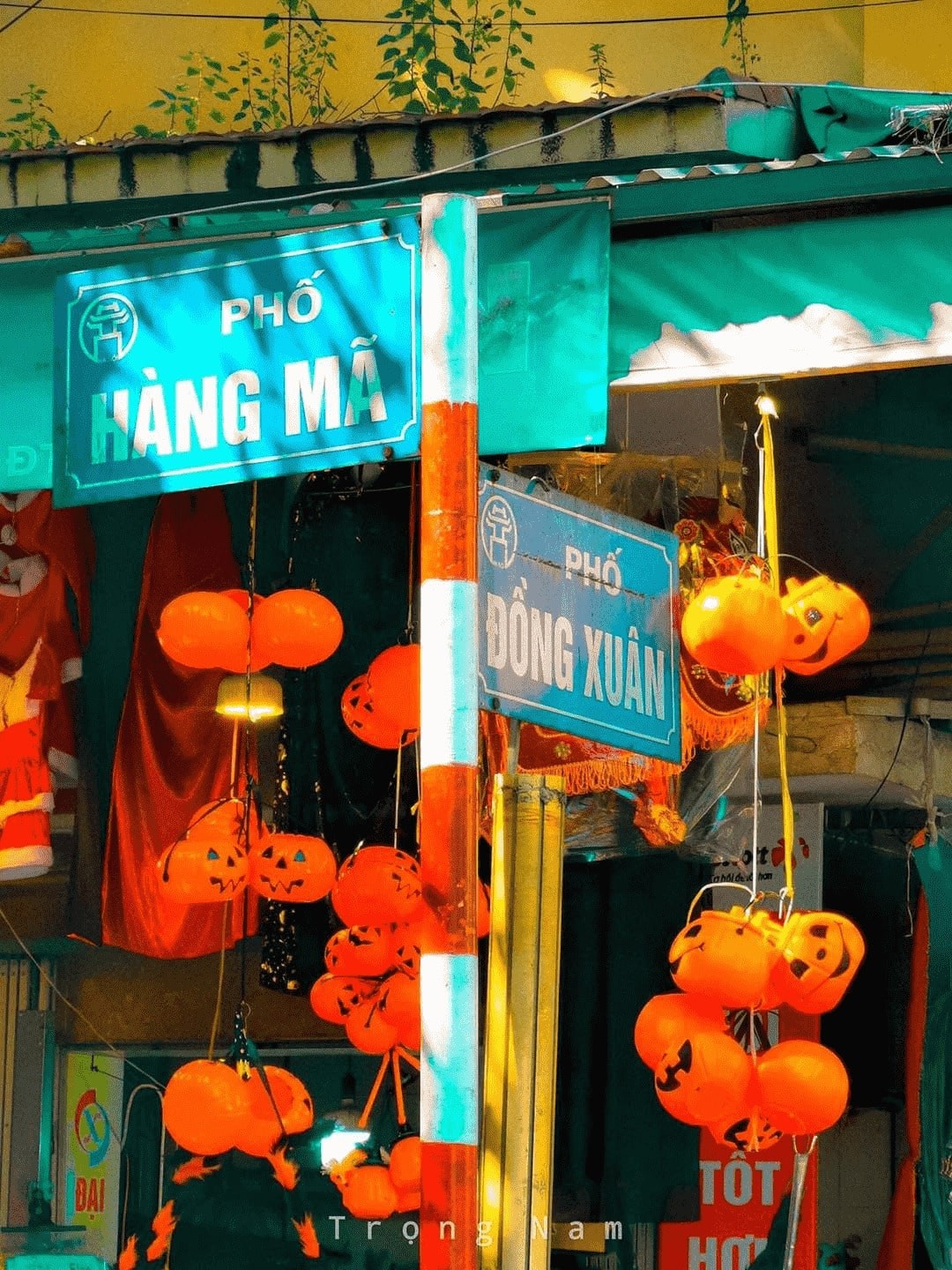 Hang Ma Street (Photo: Trong Nam/ Facebook).
Hang Ma Street is full of Halloween atmosphere, with the main colors being orange and black. The color of the festival dyes the whole road, subtly ghostly and eerie, but equally brilliant and beautiful.
Various Halloween decorations on Hang Ma Street (Photo: Trong Nam/ Facebook).
The selling price of decorations, masks, costumes, etc. at Hang Ma is diverse, ranging from VND50.000 (US$2.01) to VND400.000 (US$16.11) per product, depending on the material and the sophistication.
Visitors can come to Hang Ma in the evening when the city starts to light up as this is the most beautiful time of Hang Ma.
Yun Cosplay
Yun Cosplay is one of the largest costume rental shops in Hanoi with a wide range of exclusively designed costumes. In addition, Yun Cosplay is also one of the leading brands in the trend of dressing up as famous characters in and out of the world.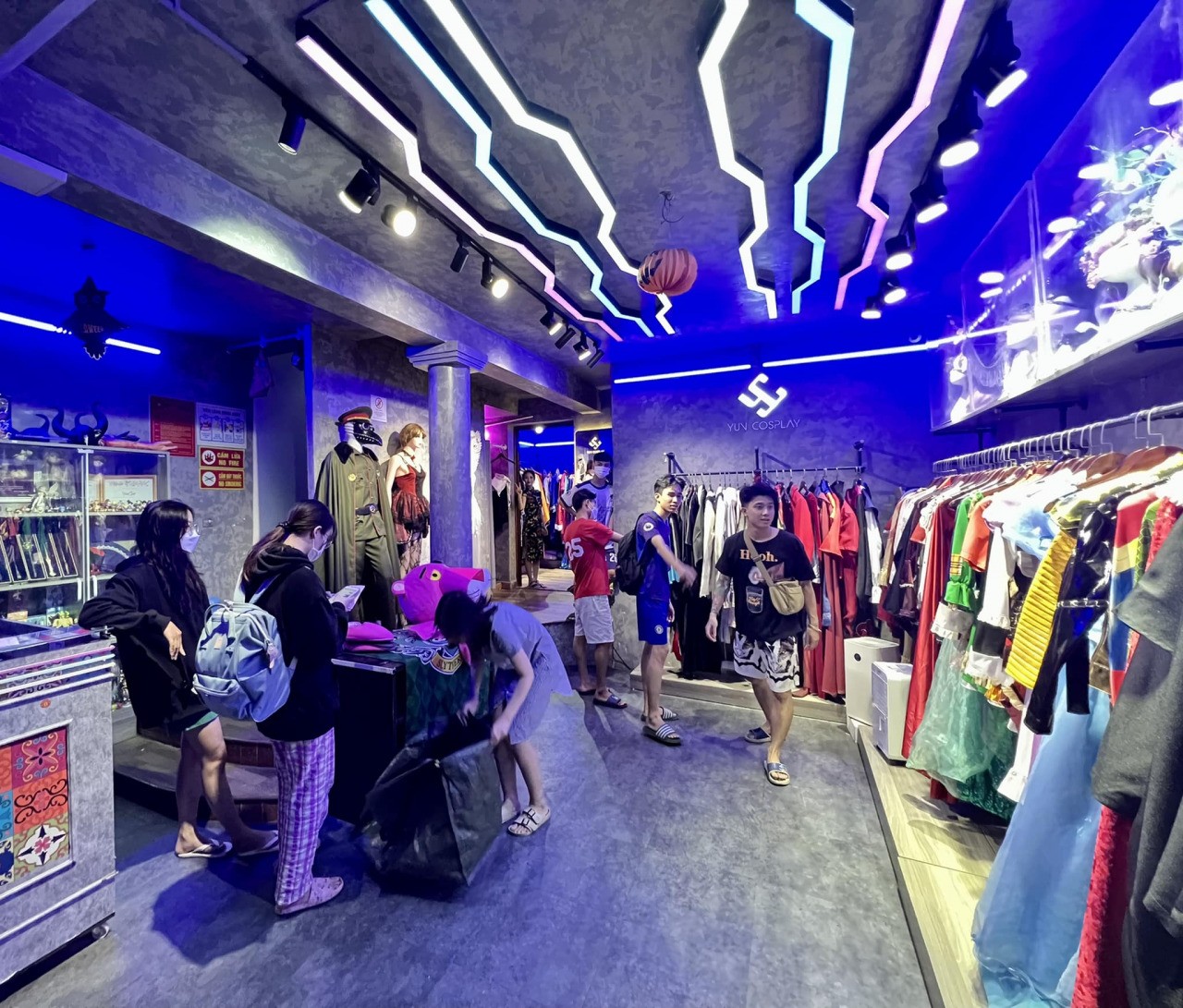 Store space. (Photo: Yun Cosplay/ Facebook)
Coming to Yun Cosplay, you can look for costumes that fit not only your character but also your physique. During Halloween, the store also offers Halloween makeup and art photography services. Therefore, if you are a cosplay fan and want this Halloween to be an opportunity to cosplay as your favorite character, Yun Cosplay will be a place you cannot miss.
Yun Cosplay's rental service is also highly appreciated because the costumes are washed and customers can carefully check the seams before renting.
Address: No. 3, lane 133 Thai Ha, Trung Liet, Hanoi

Opening hours: 9:00-23:30

Rental price: from VND200.000 (US$8.05) to VND500.000 (US$20.13) per product
Gifthaus
Gifthaus is one of the most famous brands in the field of gifts, toys, and souvenirs. At Gifthaus, you will be able to encounter many unique products such as masks, props, etc. that very few stores sell. Because of that uniqueness, the price of decorative products at Gifthaus is generally quite high, but the quality of the products is also guaranteed accordingly.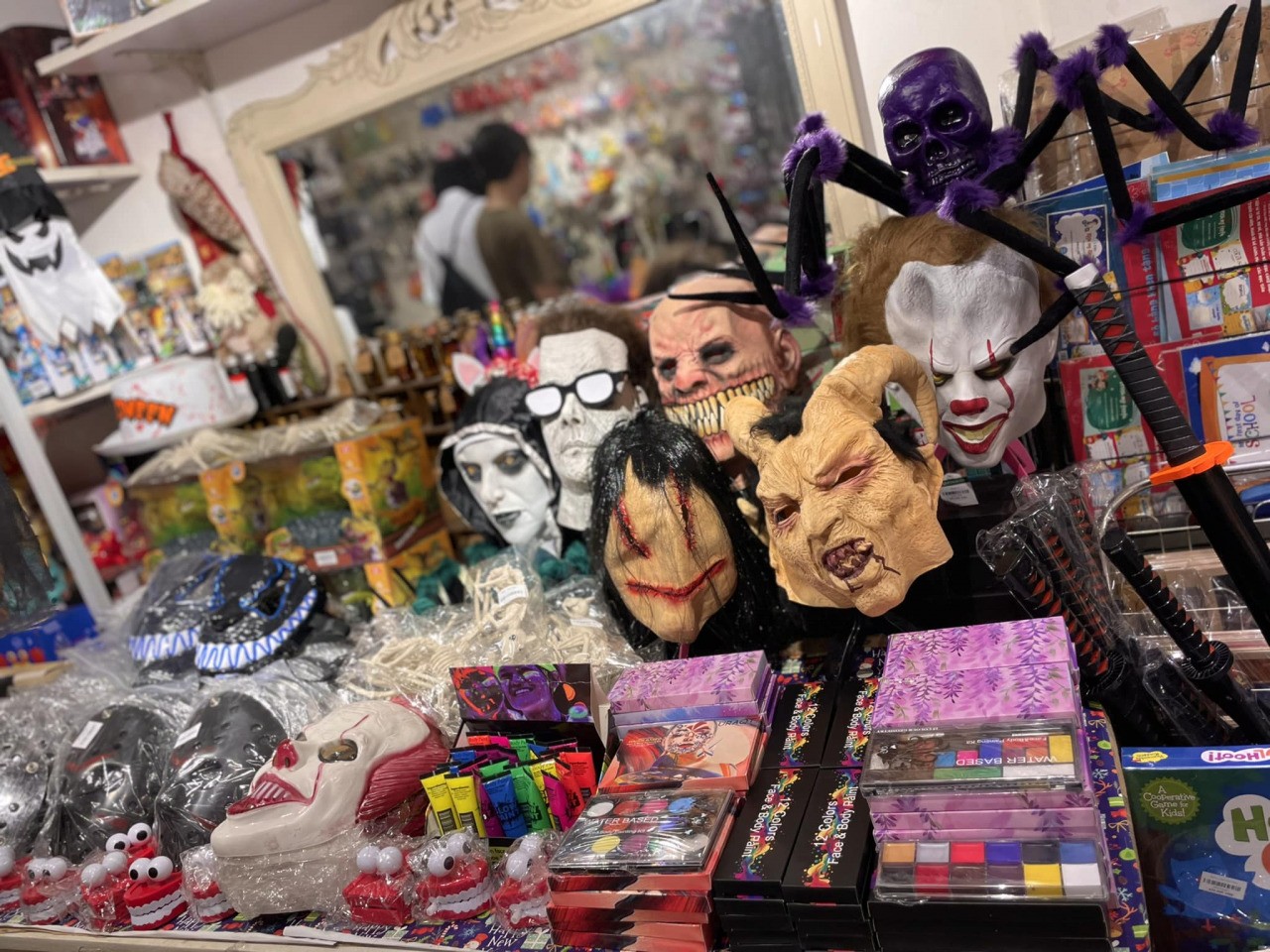 The space inside Gifthaus (Photo: Gifthaus/ Facebook).
The store's staff is considered professional, attentive and dedicated to giving advice. The inside space is small but neatly arranged, scientific, and convenient for shopping.
Address: 39D Ly Quoc Su, Hoan Kiem, Hanoi

Opening hours: 09:00 - 22:00

Price: VND70.000 (US$2.82) to VND2.000.000 (US$80,54)
Halloween decoration cafes
Sứ Coffee
Sứ Coffee is one of the cafes decorated for Halloween very beautifully and elaborately. When you come to this coffee shop, you will be impressed with the magical space, different from the cozy of ordinary days at the shop.
The space is covered with gloom, and ghosts with surreal decorations such as masks, pumpkins, goblins, and dry skeletons. Sứ Coffee is located on the 7th floor of a building, so the surrounding space is very quiet, adding more excitement and suspense for guests when coming to the shop these days.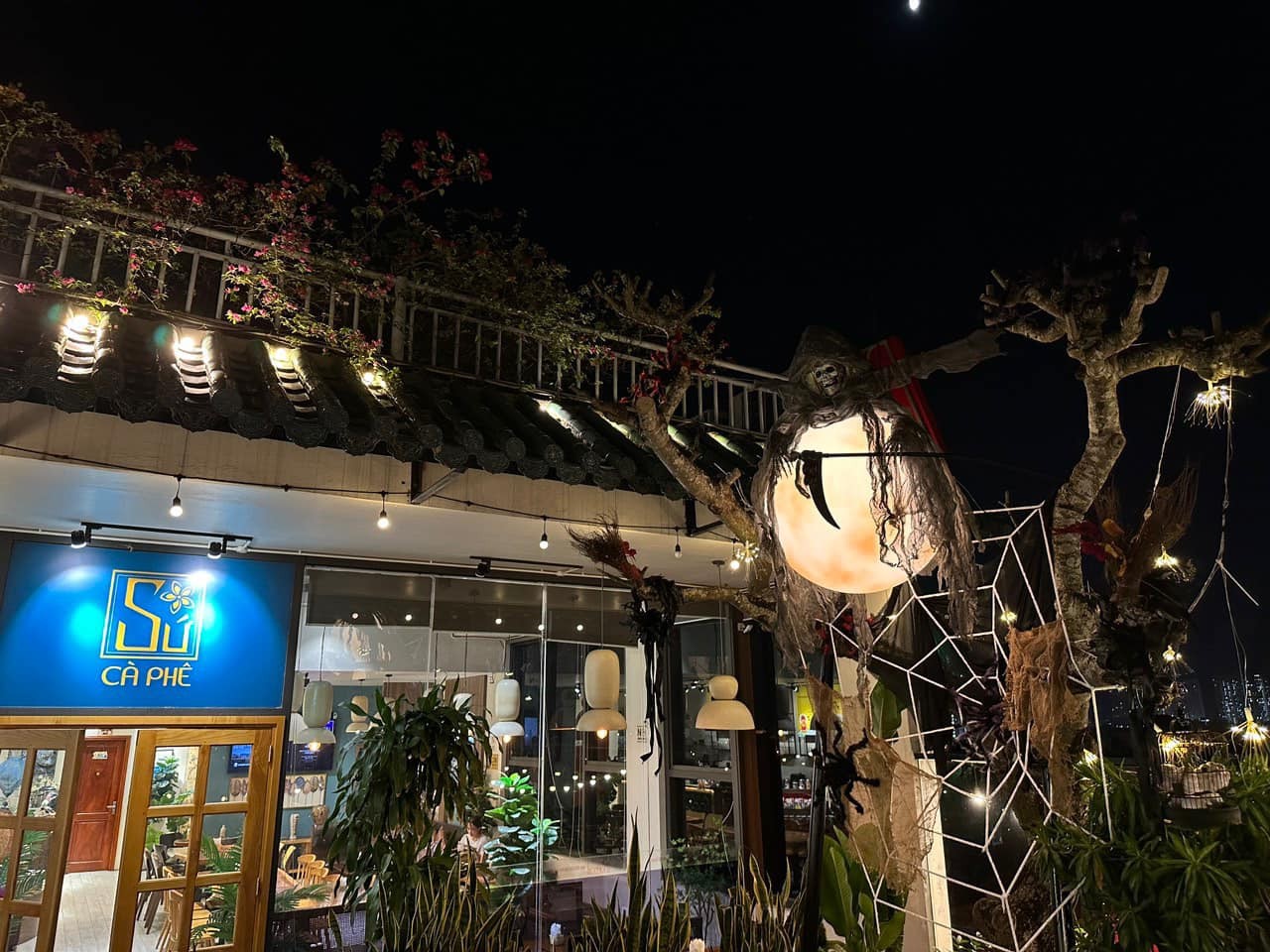 The outside space of Sứ Coffee (Photo: Sứ Coffee/ Facebook).
The space at Sứ Coffee is spacious and airy, suitable for group meetings, and chatting with friends.
Address: 7th floor, 285 Ngoc Hoi, Thanh Tri, Hanoi

Opening hours: 8:00-23:00

Price: VND25.000 (US$1.01) to VND55.000 (US$2.21)
Twitter Beans Coffee
On this Halloween, Twitter Beans Coffee set up a unique check-in corner when bringing a miniature countryside into the shop space at the Vu Pham Ham branch. Most especially, the appearance of two giant pumpkins, weighing up to 72 kilograms, stands out in the gold field.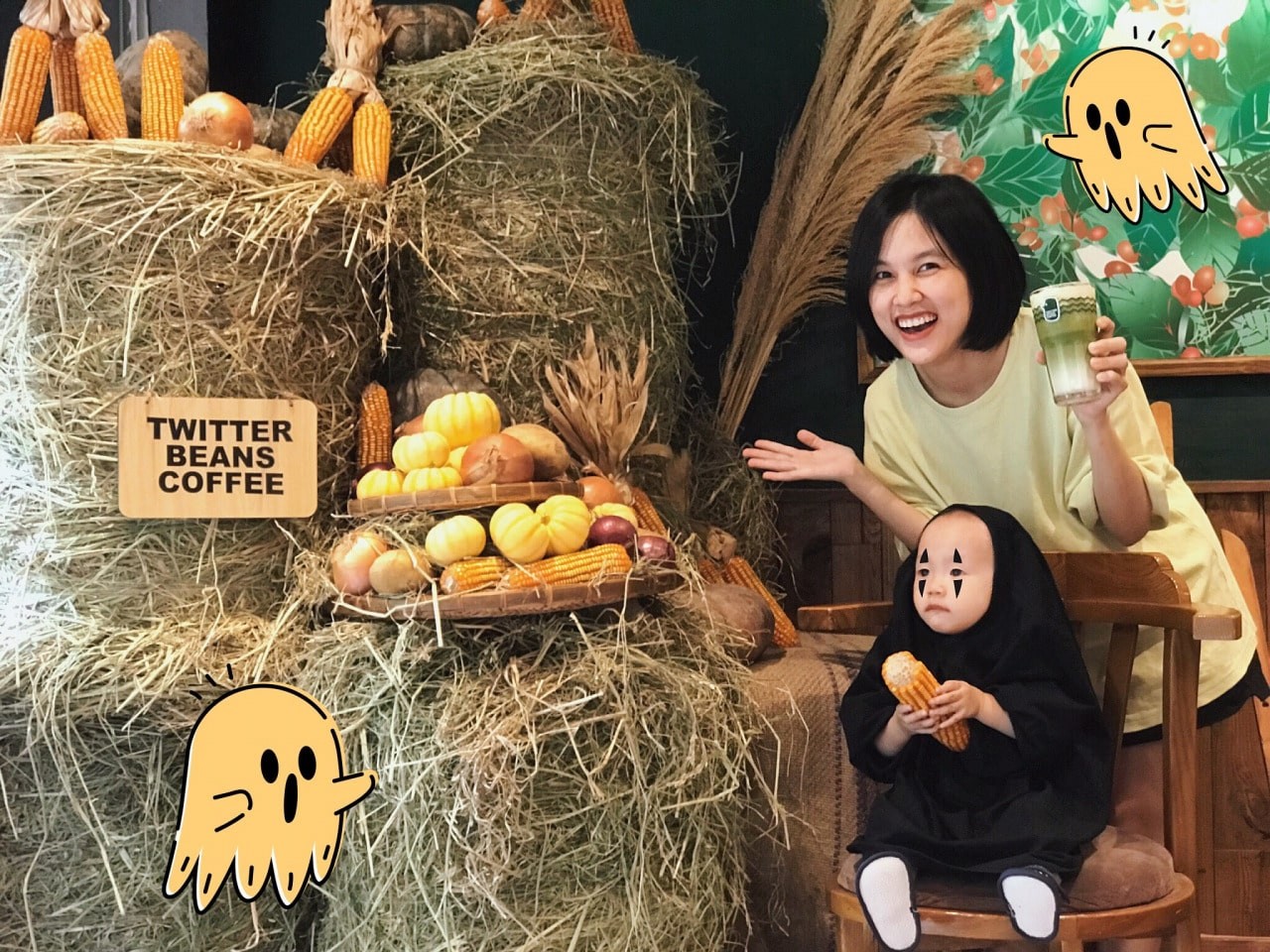 Photo: Twitter Beans Coffee/ Facebook
If you do not know where to take pictures to welcome Halloween and do not like the creepy style, Twitter Beans Coffee will be a perfect choice. The overall space is like an autumn field with many typical fruits, rice mills, etc., for you to interact with and take photos.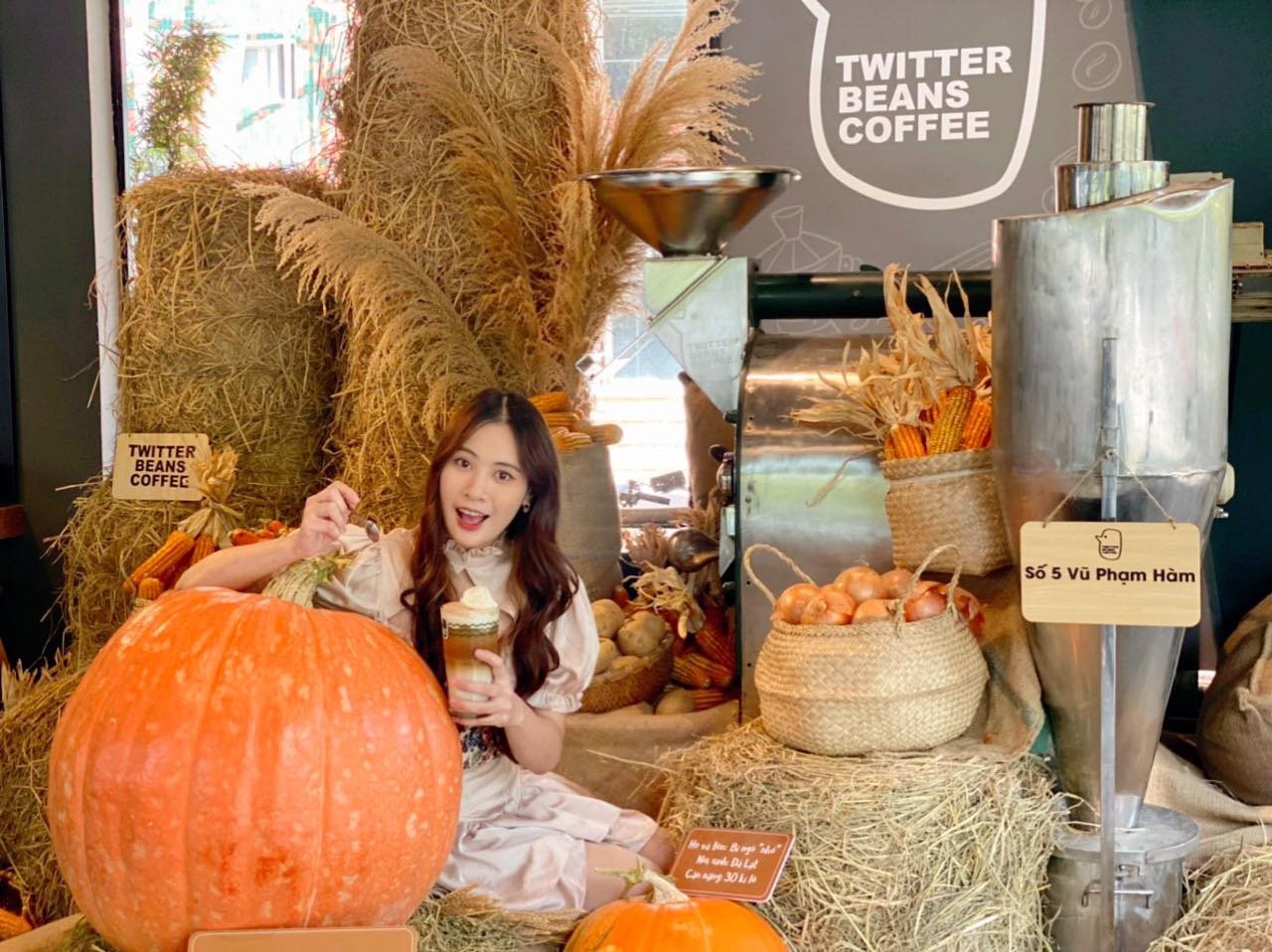 Photo: Twitter Beans Coffee/ Facebook
Coffee with five types of cheese cream and coffee with salt cream are the best-selling drinks at the shop. The thick, full cheese cream layer is pleasing to the eye, combined with the aromatic, salty taste thanks to the combination of five types of cream and fresh cheese. If you are a fan of coffee, you can try adding salted cream coffee with a soft cream that melts in your mouth, a light coffee taste, and a feeling of the salty and salty cream of fresh cheese.
Address: No. 5 Vu Pham Ham, Cau Giay, Hanoi

Opening hours: 7:00-21:00

Price: VND35.000 (US$1.41) to VND65.000 (US$2.62)
Lofita Tea & Coffee
Lofita is located on Hao Nam Street, with an impressively decorated exterior door frame, attracting the eyes of most young people passing by. When you come to the shop, you just need to wear a costume in a ghost style to be able to take great photos, in the spirit of the Halloween season. From the outside of the door to the inside, the typical Halloween items such as giant spiders, pumpkin lights, and dry skeletons are decorated everywhere, creating a creepy and mysterious feeling in the atmosphere.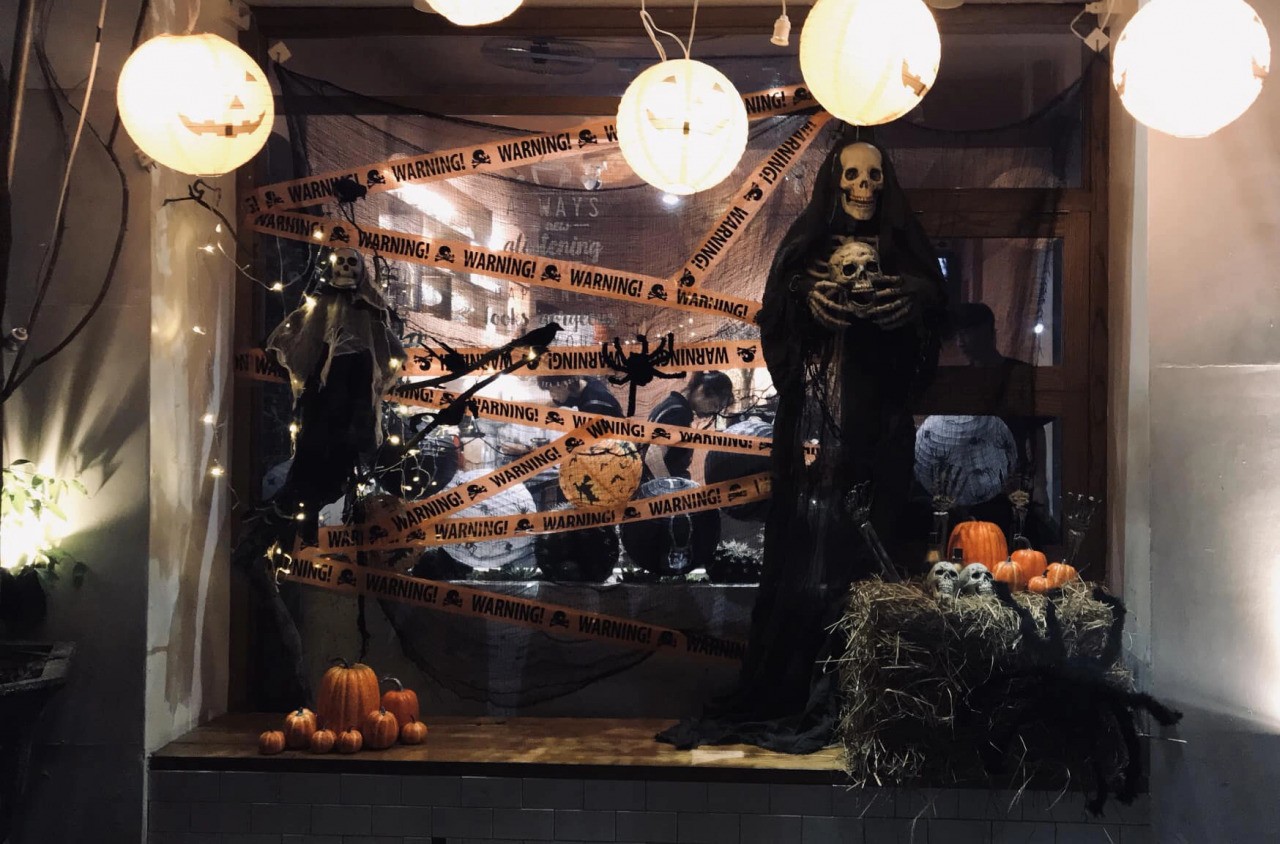 Photo: Lofita Tea& Coffee/ Facebook
Address: 36 Hao Nam, Dong Da, Hanoi

Opening hours: 07:30 - 23:00

Price: VND35.000 (US$1.41) to VND60.000 (US$2.42)
Events/places to celebrate Halloween
Seen Escape Room
Halloween is an ideal occasion for you to experience the haunted house. If you are interested in haunted houses, love exploring, and want to have moments of entertainment with friends, the Seen Escape room will be a great suggestion for you.
Seen Escape constructs fictional spaces and plots. Players need to collect hidden clues, thereby deciphering psychic phenomena or escaping from torture and chases of the villains in the game room.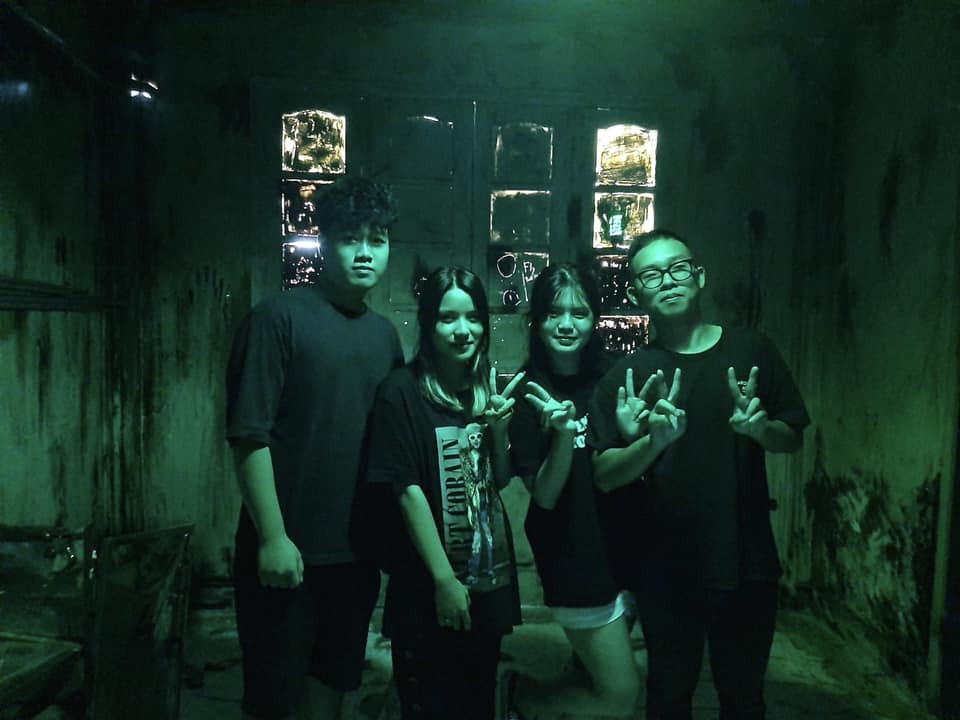 Young people join the playroom "Dark Dungeon" (Photo: Seen Escape/ Facebook).
With two main themes of adventure and horror, players can choose from one of four rooms depending on their preferences: Attic, New Tomb, Dark Dungeon, and Magic World.
Because it's a cooperative game, there will be at least two players per shift, so if you and your group of friends don't know where to go this Halloween, you can try games at Seen Escape.
Address: No. 143 Quan Hoa, Cau Giay, Hanoi.

Open hours: 9:00 to 23:00, all days of the week.

Ticket price: from VND149.000 (US$6) to VND169.000 (US$6.81)/per person.
FCVN Halloween Run 2022 Event, Thong Nhat Park
With the desire to contribute to building a healthy young generation, the unit specializing in organizing FunRun events for children - FCVN Run will bring to parents and children the event "Halloween Run 2022" at Thong Nhat Park.
Starting at 6:30 am on October 30, 2022, the run will give children the opportunity to participate in physical activities and have fun moments with their families.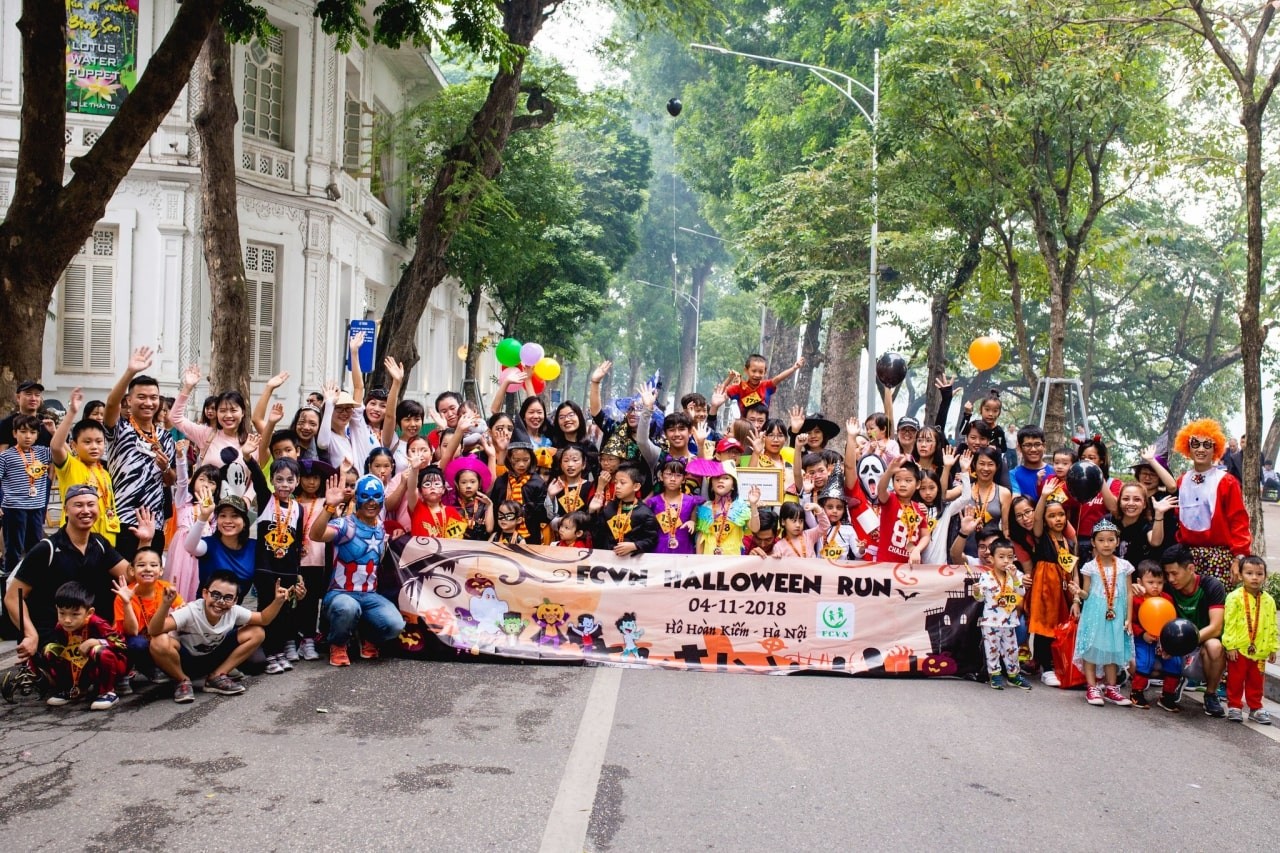 FCVN Halloween Run 2018 event (Photo: FCVN Run/ Facebook).
The run is both an opportunity for children to dress up as their favorite character, exercise, and create a bond with family members.
Halloween night, Aeon Mall Ha Dong
If you are passionate about makeup or have a talent for performing, you definitely can't miss the "Halloween Night" event held at Aeon Mall Ha Dong on October 29.
Contestants are all young people who love costumes and Halloween, no age limit. ​There will be two forms of competition, individual or group, with the contest content being catwalk, dance, and drama performances of all genres.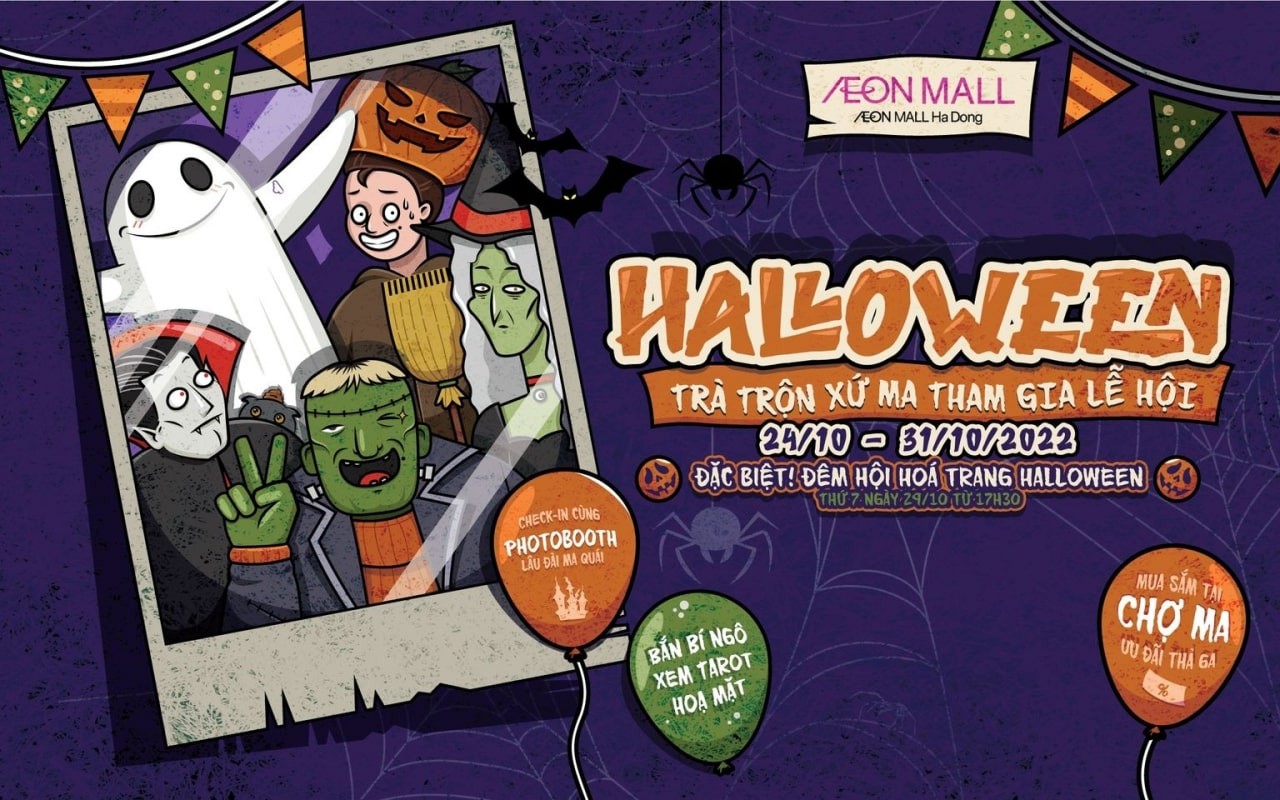 Photo: Aeon Mall Ha Dong/ Facebook
Besides, the event also features a series of activities such as costumes, free tarot readings, and shopping at discounted prices.
Address: AEON MALL Ha Dong, Duong Noi, Ha Dong, Hanoi

Time: from 24 October to 31 October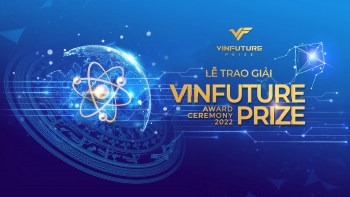 Economy
HANOI, VIETNAM - Media OutReach - 2 December 2022 - The VinFuture Foundation officially announces that the VinFuture Prize Award Ceremony 2022 will be held on December 20, 2022 in Hanoi, Vietnam to celebrate four groundbreaking scientific innovations that contribute to promoting global recovery and post-pandemic restructuring. As part of the Award Ceremony event series, VinFuture will organize a Sci-Tech Week from 17-21 December with inspiring academic activities for the scientific community, businesses, startups, and the public.