Top U.S. General And New Book Showing Ways To Stop Trump In Case of Coup
'They're not going to f**king succeed': Top generals feared Trump would attempt a coup after election, according to new book.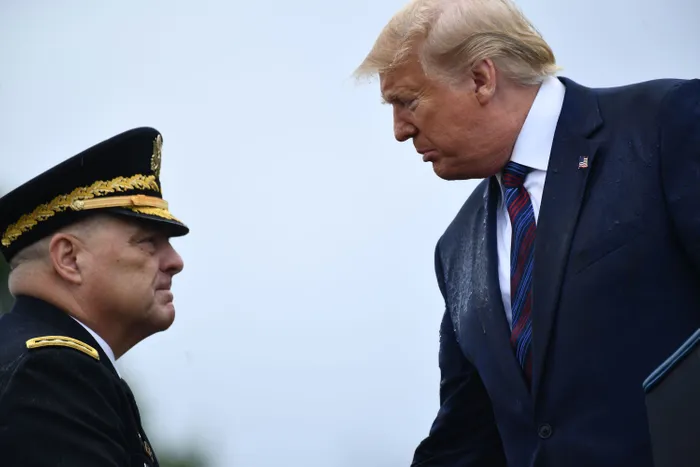 The general versus the president. Photo: Brendan Smialowski/AFP via Getty Images
The top US military officer, Chairman of the Joint Chiefs Gen. Mark Milley, was so shaken that then-President Donald Trump and his allies might attempt a coup or take other dangerous or illegal measures after the November election that Milley and other top officials informally planned for different ways to stop Trump, according to excerpts of an upcoming book obtained by CNN.
General Mark Milley, the chairman of the Joint Chiefs of Staff, likened Donald Trump's effort to hold on to power after the 2020 election to Adolf Hitler, saying the president was preaching "the gospel of the Führer" with his lies about the election being stolen, according to a new book by two Washington Post reporters.
The thing about these yuge Trump books dropping now is that, unlike the ones that appeared in 2017, they're not only re-telling a story we just lived through, but one that was widely understood as it happened as a chronicle of an inept and overwhelmed administration. In Trump's final year, there were fewer and fewer alleged "adults in the room" to watch over a crew of climbers and toadies more or less making it up as they went along in service of an emotionally mercurial, morally crass, and intellectually limited president—who, despite all that, lost narrowly enough, in his mind at least, to deny that reality and could easily have not lost at all if events had played out a little differently.
As chronicled in I Alone Can Fix It, by Carol Leonnig and Philip Rucker, the Pentagon's top general said shortly before the January 6 insurrection at the Capitol that Trump had led the country to the brink of its own "Reichstag moment," viewing him as a potential threat to American democracy. (Intelligencer obtained a copy of I Alone Can Fix It, which is due out July 20.)
Trump had appointed Milley to be chairman of the Joint Chiefs in 2018, over the objections of Defense Secretary James Mattis. The Army general's tenure at the top of the Pentagon had been relatively quiet, until last summer, when he appeared in uniform during an infamous photo opportunity for Trump in Lafayette Square that followed the clearing of protesters in front of the White House. Milley later apologized for creating a "perception of the military involved in domestic politics."
Milley's reputation took a major hit in June 2020, when he joined Trump during his controversial photo-op at St. John's Church, after federal forces violently dispersed a peaceful crowd of social justice protesters at Lafayette Square outside the White House. To make matters worse, Milley wore camouflage military fatigues throughout the incident. He later apologized, saying, "I should not have been there."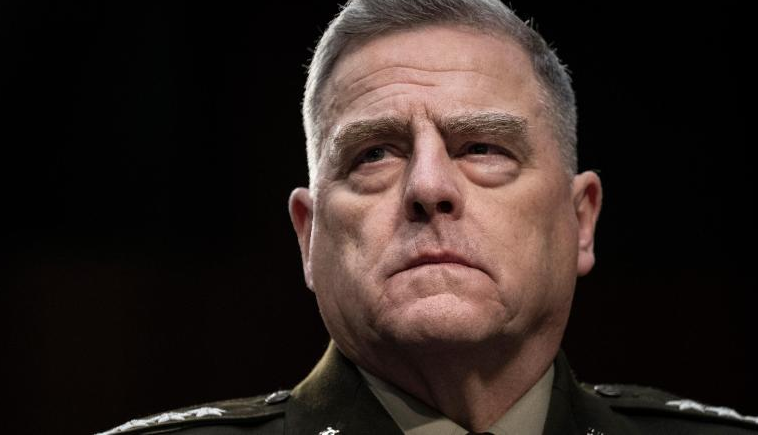 Mark Milley testifies during a Senate Armed Services Committee hearing on March 4, 2020.
Although the book chronicles Milley's concern with Trump dating back to that moment, the general's worries grew rapidly as the president plunged the nation into chaos following Election Day. Seven days later, Milley got a call from "an old friend" with an explicit warning that Trump and his allies were trying to "overturn the government."
Milley was confident that any attempts by Trump to hold on to power would be thwarted, because the military wouldn't go along. "They may try, but they're not going to fucking succeed," he told aides. "You can't do this without the military. You can't do this without the CIA and the FBI. We're the guys with guns."
But behind the scenes, the book says Milley was on the frontlines of trying to protect the country, including an episode where he tried to stop Trump from firing FBI Director Chris Wray and CIA Director Gina Haspel.
Leonnig and Rucker recount a scene when Milley was with Trump and his top aides in a suite at the Army-Navy football game in December, and publicly confronted White House chief of staff Mark Meadows.
Of course, the reporters paraphrasing Trump there are among those chroniclers of the "incredible excitement," both in their day-jobs breaking news for the Post and their side hustle writing a second hefty tome now adding narrative detail to that news about the chaos that's clearly not false but has perhaps been exaggerated, since that's what the "stars" need to give to be that and what the audience demands. There's a reason these new books, which are not revelatory accounts of people in power but first drafts of history, are bestsellers even before they hit the shelves.
That could have been very different if not for the coronavirus. Trump's internal polling in February matched public surveys showing he was in a strong position to win a second term with his impeachment trial behind him, a massive campaign war chest and the economy booming, said thedailybeast.
'That doesn't make any sense'
The book also sheds new light on Trump's descent into a dark and isolated vacuum of conspiracy theories and self-serving delusions after he was declared the loser of the 2020 election.
After the January 6 insurrection, the book says Milley held a conference call each day with Meadows and then-Secretary of State Mike Pompeo. Leonnig and Rucker report the officials used the calls to compare notes and "collectively survey the horizon for trouble."
"The general theme of these calls was, come hell or high water, there will be a peaceful transfer of power on January twentieth," one senior official told the authors. "We've got an aircraft, our landing gear is stuck, we've got one engine, and we're out of fuel. We've got to land this bad boy.", according to the CNN.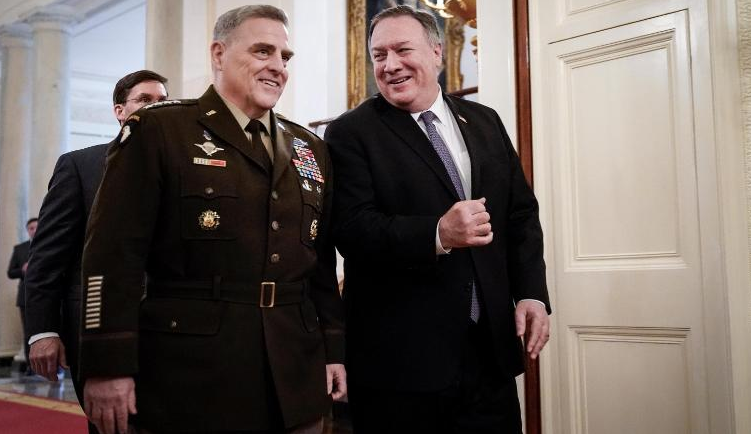 Chairman of the Joint Chiefs of Staff Gen. Mark Milley and US Secretary of State Mike Pompeo. Photo: CNN
Milley told aides he saw the calls as an opportunity to keep tabs on Trump, the authors write.
Leonnig and Rucker also recount a scene where Pompeo visited Milley at home in the weeks before the election, and the two had a heart-to-heart conversation sitting at the general's table. Pompeo is quoted as saying, "You know the crazies are taking over," according to people familiar with the conversation.
The authors write that Pompeo, through a person close to him, denied making the comments attributed to him and said they were not reflective of his views.
In recent weeks Trump has attacked Milley, who is still the Joint Chiefs chairman in the Biden administration, after he testified to Congress about January 6.
When Trump finally puts Vice President Mike Pence in charge of the virus response later in the month, after the virus has arrived here and the markets have tumbled, he chose his veep because "He didn't have anything else to do," first son-in-law Jared Kushner tells Health Secretary Alex Azar later in February, according to I Alone. (An administration spokesperson told the authors that Kushner didn't recall saying that.)
'Crazy,' 'dangerous,' 'maniac'
Some of the most shocking revelations in the book center around Gen. Mark Milley, chairman of the Joint Chiefs of Staff, and his repeated clashes with Trump and others around him over how to handle the protests that rocked the country following the murder of George Floyd.
The book reveals Pelosi's private conversations with Milley during this tenuous period. When Trump fired Esper in November, Pelosi was one of several lawmakers who called Milley. "We are all trusting you," she said. "Remember your oath."
After the January 6 insurrection, Pelosi told the general she was deeply concerned that a "crazy," "dangerous" and "maniac" Trump might use nuclear weapons during his final days in office.
After January 6, Milley participated in a drill with military and law enforcement leaders to prepare for the January 20 inauguration of President Joe Biden. Washington was on lockdown over fears that far-right groups like the Proud Boys might try to violently disrupt the transfer of power.
Milley told a group of senior leaders, "Here's the deal, guys: These guys are Nazis, they're boogaloo boys, they're Proud Boys. These are the same people we fought in World War II. We're going to put a ring of steel around this city and the Nazis aren't getting in."
Trump did not attend the inauguration, in a notable break with tradition, and the event went off without incident.