Trade and Investment Ties Between Ha Giang and Israel Boosted
Chairman of the Ha Giang People's Committee hoped the two sides would soon come up with a specific cooperation program to apply Israeli technology to Ha Giang agriculture.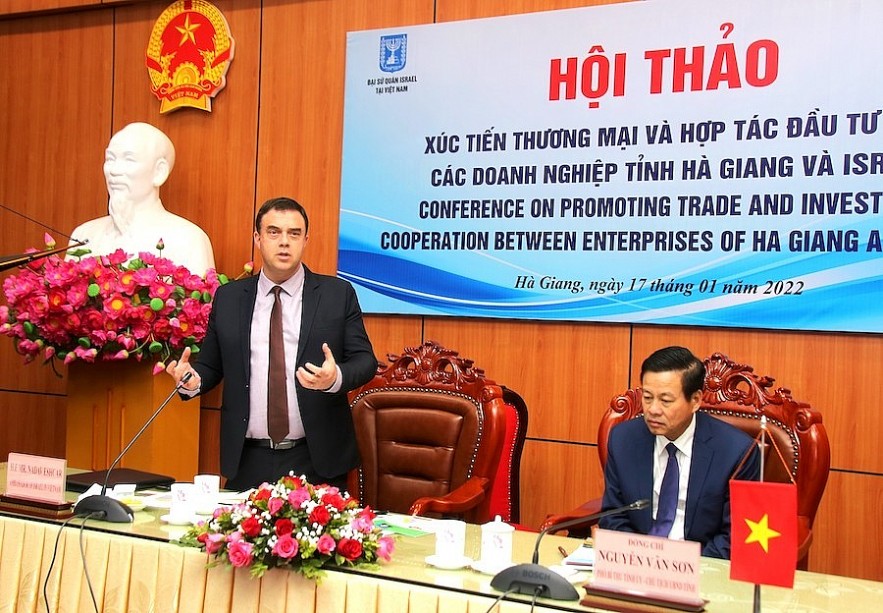 Nadav Eshcar, Ambassador Extraordinary and Plenipotentiary of Israel to Vietnam delivered a speech at the seminar.
Ha Giang People's Committee coordinated with the Israeli Embassy to Vietnam to hold a seminar on trade and investment cooperation between Ha Giang and Israeli businesses on Jan. 17.
The Israeli embassy introduced the country's characteristics, agriculture, some example of how its agricultural special feature had been applied in Vietnam.
In the field of agriculture, Israel has came up with many innovations, such as an ecological system with a unique and harmonious combination of farming, research, development, industrialization and agricultural promotion services.
Over the pass years, Israeli businesses have implemented projects in Vietnam's provinces such as automatic irrigation and fertilization, aquaculture using closed technology, cows and poultry industry, aquaculture in greenhouses, IT application in agriculture.
A representative of Ha Giang's Department of Planning and Investment introduced the province's potential, strengths and needs for cooperation. He said the province was focusing on developing high-tech agriculture, provincial specialties such as Shan Tuyet tea leaves, mint honey, Sanh orange, medicinal herbs.
Dong Van Plateau, the terraced fields, and various religious sites in the region have great potential for tourism.
The province wishes to cooperate with other countries including Israel in building concentrated agricultural areas, applying high technology, introducing its investment environment and attracting investment cooperation, processing medicinal herbs, agro-forestry, high-class eco-tourism.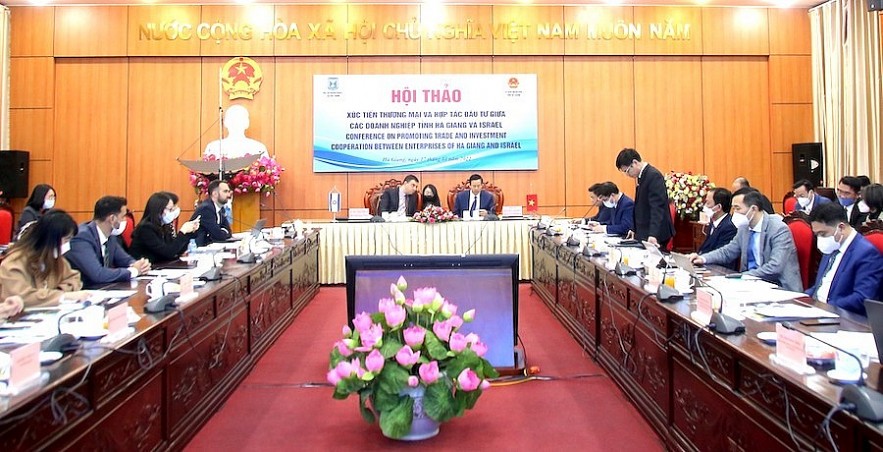 At the event.
At the seminar, Israeli companies introduced solutions to collect rainwater, deal with greenhouse effect. They also talked about equipment to process organic waste into electricity on a small scale. Representatives of Ha Gaing enterprises also discussed their demand and exchanged information on future cooperation.
Based on the discussion, Nadav Eshcar, Ambassador of Israel to Vietnam said Israel and Ha Giang had potential for cooperation. The seminar serves as an opportunity for two sides to seek cooperation in all fields. He hoped the solutions in agriculture would be suitable and feasible for Ha Giang, contributing to the local socio-economic development.
Chairman of the Ha Giang People's Committee Nguyen Van Son said the province was committed to giving favorable conditions for Israel partners. It is ready to welcome and cooperate with Israeli partners whose demand suits the local wishes.
Nguyen Van Son believed that with the success of the seminar and the support of the ambassador, Ha Giang would have the opportunities to innovate, to maintain and develop close relations with the embassy. The province will expand cooperation with Israeli localities, associations and businesses, attracting investment and development projects from Israeli partners. He hoped the two sides would soon come up with a specific cooperation program to apply Israeli technology to Ha Giang agriculture.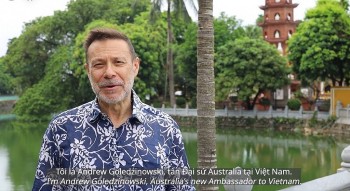 Friendship
According to newly appointed Australian Ambassador to Vietnam, Andrew Goledznowski, Australians are interested in visiting Vietnam now that the country is open again for business.