Traditional Costumes of Vietnamese Ethnic Groups Displayed In Paris
A collection of traditional ethnic costumes from Vietnam by French collector Alain Dussarps is on display at the Vietnamese Cultural Centre in Paris.
The exhibition, which opened on November 7, introduces about 70 sets of costumes, hats, and scarves, along with many accessories, jewelry, and daily items. The exhibits were used by people from more than 30 ethnic groups living mainly in the northern mountainous and Central Highlands regions, as well as minority groups in the Mekong Delta and Red River Delta.
Various items such as costumes of the Dao and Kho Mu people, brocade scarves of the Thai and Lo Lo people, baskets of the E De people, or jewelry of the Mong people show the life and diversity of Vietnam' ethnic minority groups.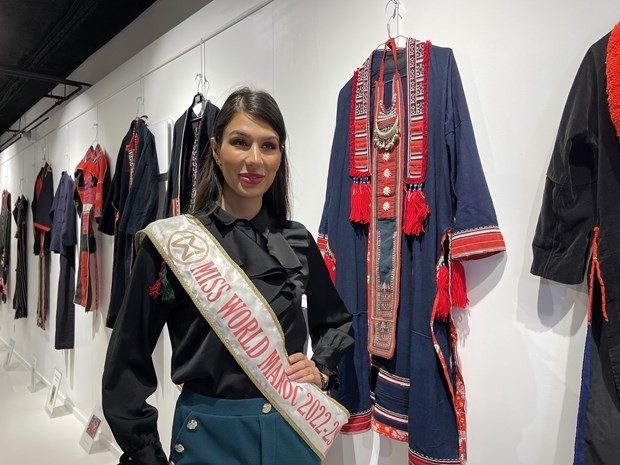 Sonia Ait Mansour, a Moroccan international student in France, wore the costume of the Red Dao people.
Sonia Ait Mansour, a Moroccan student in France, remarked on the diversity of the costumes as well as the culture of Vietnamese ethnic groups. She noticed the costume of the Red Dao people, saying that it has many similarities with the costume of an ethnic group in her country.
Another visitor, Julien Paralles said he is particularly impressed by the colors of the costumes of ethnic groups in the northern mountainous region and realizes the diversity in religions and cuisines of ethnic groups across Vietnam.
Collector Dussarps said that the collection was gathered during the time that he joined Red Cross Societies and charity groups to conduct about 60 humanitarian missions throughout Vietnam. The exhibitions of traditional costumes of Vietnamese ethnic groups have helped him raise funds for humanitarian projects in Vietnam. He undertook some 99 projects so far raising a total amount of EUR 562,000 (USD 599,920).
The exhibition displays traditional costumes of Vietnamese ethnic groups (Photo: VNA)
Nguyen Hai Nam, Chairman of the France-Vietnam Friendship Association (AAFV), said that along with introducing the traditional costumes of Vietnamese ethnic groups, the exhibition is also a chance to call for support of the groups in developing production. On this occasion, the AAFV also called for support for Agent Orange/dioxin victims in Vietnam, stated Nam.
Meanwhile, Vietnamese Ambassador to France Dinh Toan Thang praised Dussarps' enthusiasm for implementing humanitarian activities in Vietnam as well as his love for Vietnamese people, describing it as a long-standing friendship.
He highlighted French collector Dussarps's love for the Vietnamese people, as well as his enthusiasm and contribution to humanitarian projects in Vietnam which have helped ethnic minorities in remote mountainous areas to overcome difficulties faced in their daily life.
The exhibition will run until November 12.