Traveling around the world, Estonia man found his "half'' in Vietnam
VNF - Meigo Mark, an Estonian, married a Vietnamese girl in last October when he was doing a walk around the world.
VNF - Meigo Mark, an Estonian, married a Vietnamese girl in last October when he was doing a walk around the world.
The couple are now waiting for their first child and planning the whole family to travel together.
The couple in their wedding
The walk of love
It all started in December 2016, when the Estonian musician came to Hanoi after traveling through 19 countries for 2 years. Meigo is expected to go the north, China from Hanoi. However, his visa was not approved so Meigo changed the direction to the South.
During his stay in Hanoi for nearly a month to apply for a visa, Meigo met Nguyen Thi Sam at a tea party.
The young girl was impressed when she heard about Meigo's journey of 13,000km, "half-jokingly" told him she wanted to go with him.
When prevented by Meigo because of the difficulty of the journey, Sam convinces him that she can go and shows him her photos of a marathon, as well as her practice.
Then Meigo offered to practice running with Sam every morning. After 2 weeks, the distance of 5km per day increased to 15km and a few weeks later, the two became closer.
However, the story ended up in January 2017 when Sam saw off Meigo out of Hanoi to continue his journey.
After saying goodbye, the two of them sobbed and thought they would never meet again.
''My steps were heavy, my heart ached because I had to leave my love," Meigo said.
"Sam told me many times one of the reasons she loves me is her admiration for my journey around the world, so she does not want to become a barrier. If I stop because of Sam, she will feel very guilty, "
Over a year later, Sam saved money and went to 4 countries to visit Meigo 10 times.
So far, Meigo and Sam have walked 740km together in 5 countries Vietnam, Cambodia, Malaysia, Singapore and Indonesia, Meigo said.
When asked what motives Sam to fly abroad to meet Meigo many times, she replied: "I really like traveling and have gone to some countries before. When we become couples, flying abroad It's really worth waiting.''
Vietnamese-styled wedding
On October 20, 2018, Sam and Meigo held a cozy wedding in Thai Binh as Vietnamese custom.
The bride wears a white long dress with a lotus pattern, bashful with the groom "Westerner" with blue-haired brown eyes and her mother-in-law in traditional Estonian costumes.
Sam and her Estonian mother-in-law
In Estonia, weddings usually take place in 2-3 days, so my family and relatives were shocked to see our wedding starting at 10am and ending at noon, "the 27-year-old groom laughed.
He also said that after nearly two years of mutual acquaintance, both families were very supportive of the couple.
"For me, Sam is the most knowledgeable, patient, kind and caring person I have ever met. She gives me the feeling of being loved, motivated, hoping, bringing me much joy and peace, trust, she is also very strong, the husband was moved when talking about his Vietnamese wife.
Meanwhile, Sam said that she loved Meigo for no reason, and one of the things she treasured about him was that he respected his wife's family.
"I am also very close to the Meigo family. My mother-in-law is very affectionate, happy and caring. My mother died, so the more I love and respect Meigo's mother.''
The 29-year-old still remembers the moment when the Estonian man proposed to her.
"The marriage proposal with me was really unexpected and romantic. It was when we were in Da Lat, climbing up Lang Bian together. When everyone went down, he took out two bamboo rings in his pocket, he made them by himself all night and proposed to me. It was really romantic, impressive and touching, "Sam recalls.
"Up to now, I have earned money by writing travel articles for newspapers and magazines, selling travel photos and sharing videos made during my journey. Hundreds of people from many countries have supported and funded my travel. In the future, I want to write more and make more inspiration for everyone," Megio said.
The bamboo rings made by Meigo
Ngoc Tran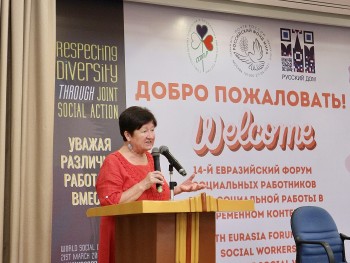 Friendship
The 14th Eurasia Forum of Social Workers Opens was held in Hanoi on March 20-21 with the theme of "The role of social work in the current context."