Truc Bach lake, a historic sight of interest
Recently, people have been flocking to Truc Bach lake, placing flowers and burned incense, to pay tribute to Senator John McCain.
Recently, people have been flocking to Truc Bach lake, placing flowers and burned incense, to pay tribute to Senator John McCain.
Truc Bach lake (source: hanoi.gov.vn/)
On October 26, 1967, John McCain's plane was shot down and he parachuted into the Truc Bach Lake. He was imprisoned for more than five years at Hoa Lo Prison and freed after Paris Peace Accords in 1973.
A statue marking the spot by the lake was erected in 1967, and renovated in the 1980s and 1990s.
Let's get some insights of this special landmark.
Truc Bach lake in the old time
In the past, Truc Bach Lake was a part of West Lake. During that time, local residents made a small embankment for easier fishing.
In the 18th century, Trinh Lord made embankment broaden and called it 'Co Ngu' embankment and built a place for himself to spend time with his concubines.
A few years later, the place was turned into a 'detainment palace" to punish guilty concubines. While staying in the palace, they started to grow mulberry and weave silk so that the place was called 'Truc' village and they named the lake 'Truc Bach' Lake. In the Trinh Lord reign, lotus was planted in Truc Bach Lake, spreading the fragrance around the region.
The nowadays Truc Bach Lake
Nowadays, Truc Bach Lake is located in Ba Dinh district. Co Ngu embankment has become Thanh Nien road.
The lake front is open only along Thanh Nien Road, the other sides are occupied by houses and residential streets.
Nearby historical sites include: Tran Quoc pagoda (on the opposite), Quan Thanh Temple to the southwest of the lake, Chau Long Pagoda to the east, An Tri Temple (dedicated to the worship of a hero from the war against the Chinese Yuan Dynasty) on Pho Duc Chinh Street, and Cau Nhi temple on a small hill near the northern corner of the lake.
Cau Nhi temple (source: ANTD)
Besides visiting temples and pagodas, visitors can have other exciting experiences, as there are a lot of coffee shop, restaurants around Truc Bach Lake.
For a tour around Truc Bach lake, Sarah Turner, an American researcher interested in Vietnamese studies gives her suggestion:
"It has plenty going on around its banks and no shortage of places to stop for a coffee, beer or lunch, so is worth a wander if you've time.
Starting at Quan Thanh Temple at the southeastern edge of the lake, walk across Duong Thanh Nien, the wide road that runs between West Lake and Truc Bach Lake, from where you'll get good views across both lakes. Stop off at Tran Quoc Pagoda or for an ice cream at Kem Ho Tay if you're already ready for a break.
Turn onto Truc Bach Street, which starts with a cluster of coffee shops, all affording great views across the lakes, and goes on to be home to numerous restaurants serving up frog hotpot on rush mats by the lake. They're more prevalent in the evening so it's likely to be quiet if you're there in the daytime. Truc Bach is also home to Foodshop 45, which now has a roof terrace if you fancy a beer and a samosa.
If a beer at Foodshop or one of the other cafes didn't appeal, you could turn left here on Ngu Xa and go to the bia hoi place at the top of the street, on Pho Duc Chinh. The beer's reasonable, the food's good and the chairs have legs.
Next cross over the small bridge on Ngu Xa and take a wander around the island. It's the home of pho cuon (rolled noodles) so a great place to stop for lunch, or head to the lakeside along Tran Vu where you'll have a huge choice of cafes for a coffee or fruit shake.
Leave the island via the bridge on Tran Vu and continue round past Chau Long Pagoda and Chau Long market. It's a typical wet market so worth going in for a browse if you haven't been to one before. There are plenty of fruit sellers around the edge of the market too — be sure to negotiate on price.
The final stretch takes you along Tran Vu Street on the southern edge of the lake. At the easterly end are a few seafood restaurants. Continue on past Truc Bach bia hoi and Happy House restaurant — good cakes, lovely setting, average Vietnamese food — with a stop for a ride on a swan boat if you have the time and are feeling the love./."
( VNF )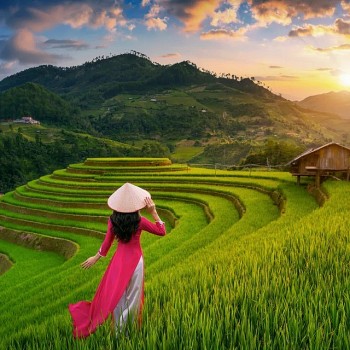 National
UK travel magazine Expedia has named Vietnam among the top five international destinations that visitors should visit this summer.