Trump's silence and isolation ahead of Joe Biden's inauguration
After the U.S Capitol attacks and upcoming Biden's inauguration, Donald Trump enraged and isolated himself, which made it difficult to take a glimpse into the President's mindset.
Where frequently a series of all-caps tweets might have suggested an emotional, frustrated Trump, there is silence.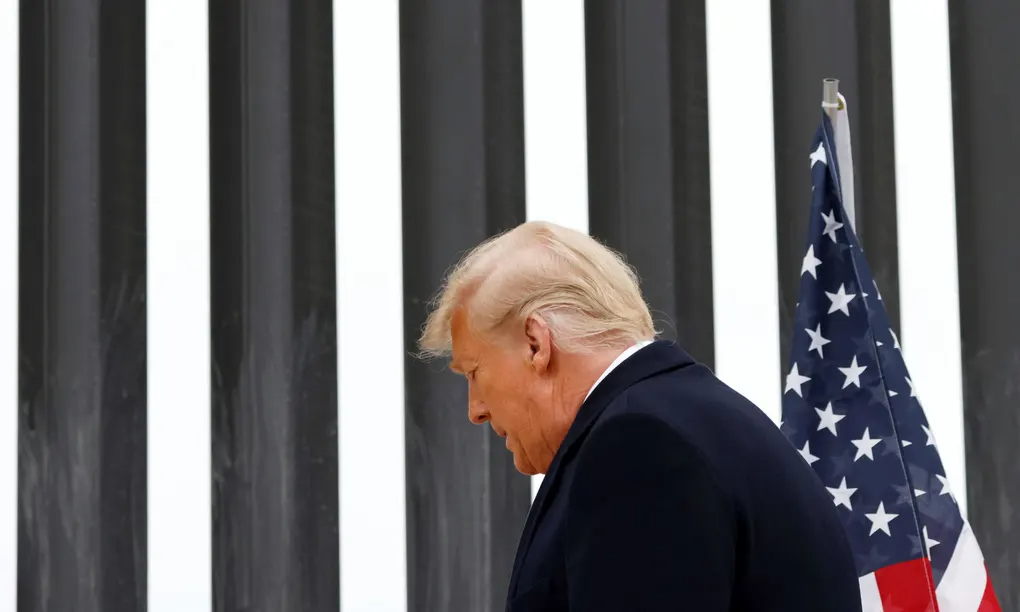 Donald Trump visits the US-Mexico border wall, in Alamo, Texas. Photograph: Carlos Barría/Reuters
According to the Guardian, where posts screeching at fellow Republicans would have indicated a more vindictive bent, or messages with exclamation points a triumphant mood, all that is left of Trump's Twitter account – which once had 88.7m followers – is a curt message from Twitter's admin team: "Account suspended. Twitter suspends accounts which violate the Twitter Rules."
So how has Trump reacted to the events of the past few weeks? By the accounts available, not well. A notoriously excitable president has remained in a state of high alarm.
Trump and Mike Pence's estranged relationship
Mike Pence, Trump's fanatically loyal vice-president, appears to have borne much of Trump's fury.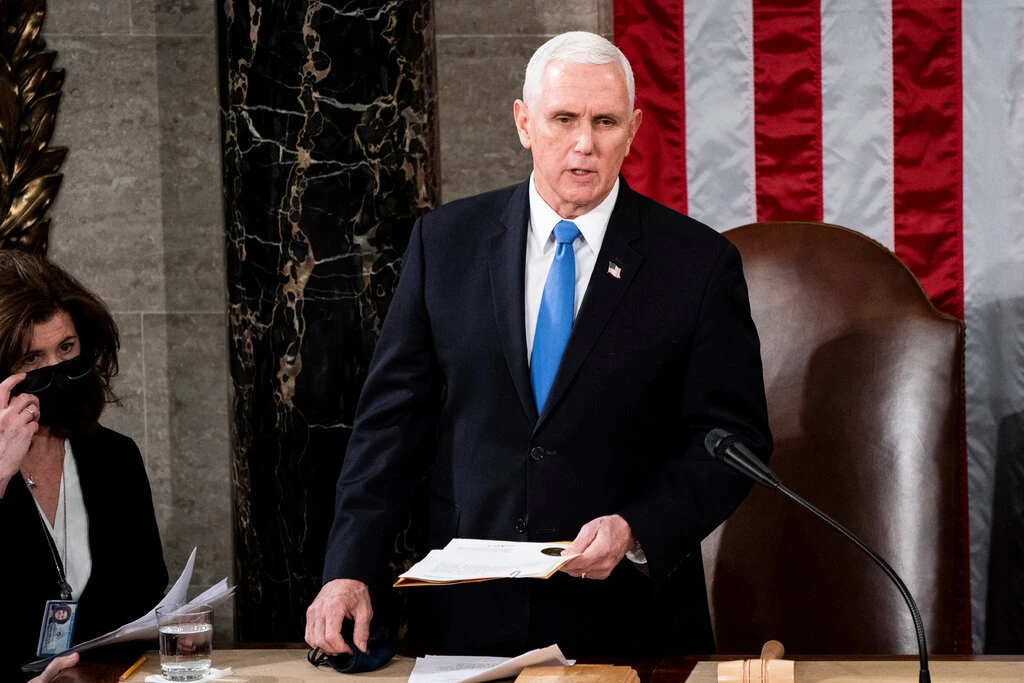 Vice President Mike Pence officiated at a joint session of Congress convened to confirm the Electoral College tally on Wednesday. (Credit: Erin Schaff/The New York Times)
Trump had been badgering Pence to refuse to certify Biden as president – something which is almost certainly illegal.
On Monday, after an extended period of silence, Trump and Pence spoke for the first time after a deadly riot of Trump supporters broke out at the US Capitol with Pence inside, according to two administration officials.
A senior administration official told CNN they met in the Oval Office, had what was described as a good conversation and discussed the week ahead while "reflecting on the last four years of the administration's work and accomplishments."
Trump had spent the weekend largely in isolation, as aides either distanced themselves from him or limited their time in his presence. Trump canceled a planned trip to Camp David, where his closest aides were hoping he would get into a good mindset ahead of his final stretch in office. Instead, he spent the weekend stewing to his deputy chief of staff, Dan Scavino, and entered his final full week angrier than ever.
Trump's treatment of a man who served him faithfully for more than four years outraged those in Pence's orbit -- but also many in Trump's, who view Pence as the most loyal of lieutenants whose treatment they regarded as deeply unfair. And while Pence now appears unlikely to entertain invoking the 25th Amendment to remove Trump from office, he has not weighed in on it publicly, allowing the idea to persist, which people close to him described as intentional.
Pence, who is often internally mocked for how deferential he is toward Trump, has taken a quiet but defiant stance in their final days in office. One source close to the vice president said Pence is hoping to spend his remaining days in office telegraphing "to our allies and adversaries that we have a fully functioning government."
The mob event, and Trump's fury at Pence in the lead-up to it, left their relationship in tatters. Before their Oval Office meeting Monday, the pair had not spoken since before Trump's rally on the Ellipse last week. Their last conversation was punctuated by a vulgarity the President uttered after Pence informed him, for a final time, that he could not unilaterally reject the results of the election, something he had already told Trump in previous meetings that often dragged on for hours.
The final conversation left Trump irate, and his anger emerged during the rally itself, when he told the crowd he hoped "Mike has the courage to do what he has to do" and ignores "the stupid people that he's listening to."
It was the first time in their more than four years as political partners that Trump's vengeance had been trained on a man known mostly for his fealty. Even as others once close to Trump -- from his personal attorney Michael Cohen to his first attorney general, Jeff Sessions, to any manner of former aides -- met similar fates, Pence was spared.
The turn of events has left Pence shaken and caused him to exclaim in anger to a fellow Republican: "After all the things I've done for (Trump)!"
As hundreds of Trump supporters broke into the Capitol, some demanding that Pence be hanged – Trump did not phone his vice-president. In fact, the pair didn't speak for five days, according to the Times, before meeting in the Oval Office on Monday night.
That meeting, aides told the Times, was "non-substantive" and "stilted".
As Pence was holed up in a secure location in the Capitol on Wednesday, Trump was angry and isolated, the Wall Street Journal reported, citing White House advisers.
At the rally near the White House before the mob attacked Congress, Trump said he would march to the Capitol with them. They set off down Pennsylvania Avenue but he took his motorcade home instead.
"The president is pretty wound up"
During Trump's previous self-inflicted controversies, he has spent hours on the phone to friends and advisers, but that wasn't the case in the aftermath of the riot.
The Journal reported that Trump ignored phone calls from the former New Jersey governor Chris Christie, an on-again-off-again confidante, and was "in a dark place".
"It's like watching someone self-destruct in front of your very eyes, and you can't do anything," an adviser told the Journal.
In the days after the Capitol attack, the Washington Post quoted an anonymous senior administration official, who noted: "The president is pretty wound up," but said Trump was focused more on his life after leaving office – Trump is said to be particularly concerned about the cancelation of a prestigious golf tournament at one of his courses, and Deutsche Bank saying it would not finance any of Trump's future developments.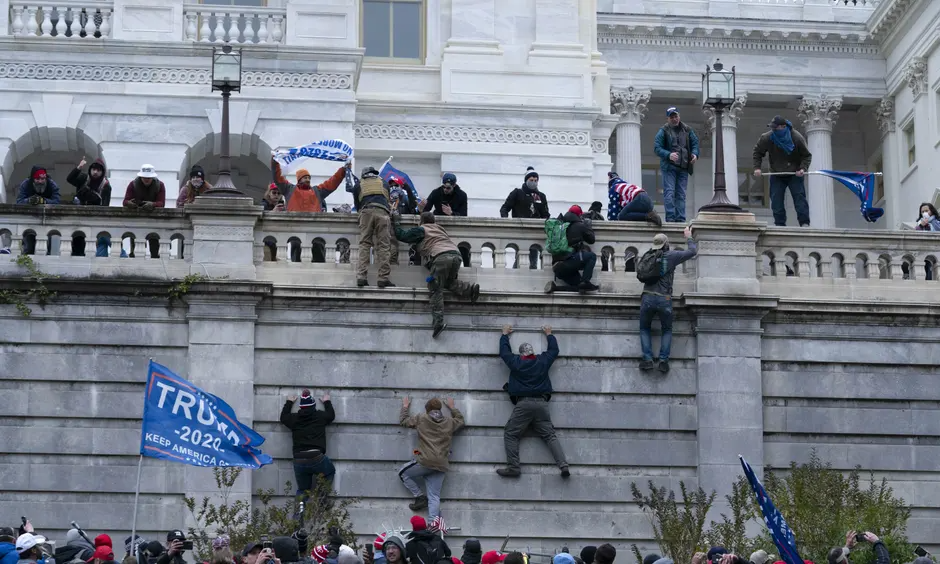 A mob of Trump supporters climbs the west wall of the the US Capitol in Washington. Photograph: José Luis Magaña/AP
All this without word from the president on the soaring coronavirus infections and deaths in the US that are now the highest they have been for the entire pandemic, and are by far the highest in the world, combined with a vaccine administration program that is way behind the government's own goals.
"As far as this is concerned," Trump said, apparently referring to Biden's inauguration: "We want no violence. Never violence. We want absolutely no violence." He added, however, that the then-impending impeachment was "causing tremendous anger", and the subsequent Senate trial was "causing tremendous danger to our country".
Late this week, as Joe Biden prepared to assume the presidency, Trump was still raging, according to CNN. A casual discussion about Trump potentially resigning resulted in "an expletive-laden conversation", CNN reported, while Trump has been in a state of "sullen desolation".
The president has at least finally accepted that his term is about to end. Trump has begun thinking about how he will leave Washington, and is keen on "a military-style sendoff and a crowd of supporters", CNN said, either at the White House or at the Mar-a-Lago compound that is set to become his home.
As a slew of Trump's aides have deserted him, CNN reported that the White House press office is "virtually empty". Even the pool of sources who once leaked to the press almost daily has nearly disappeared, making it harder to discern the president's state of mind.
Trump, known for turning his back on those who displease him, leaves office having discovered that his confidantes, advisers and friends are now doing the same.