What remains after Trump's last assault with the Capitol attack
Last week's events showcased not only a crisis of U.S. democracy, but also a crisis of U.S. power, said NYT.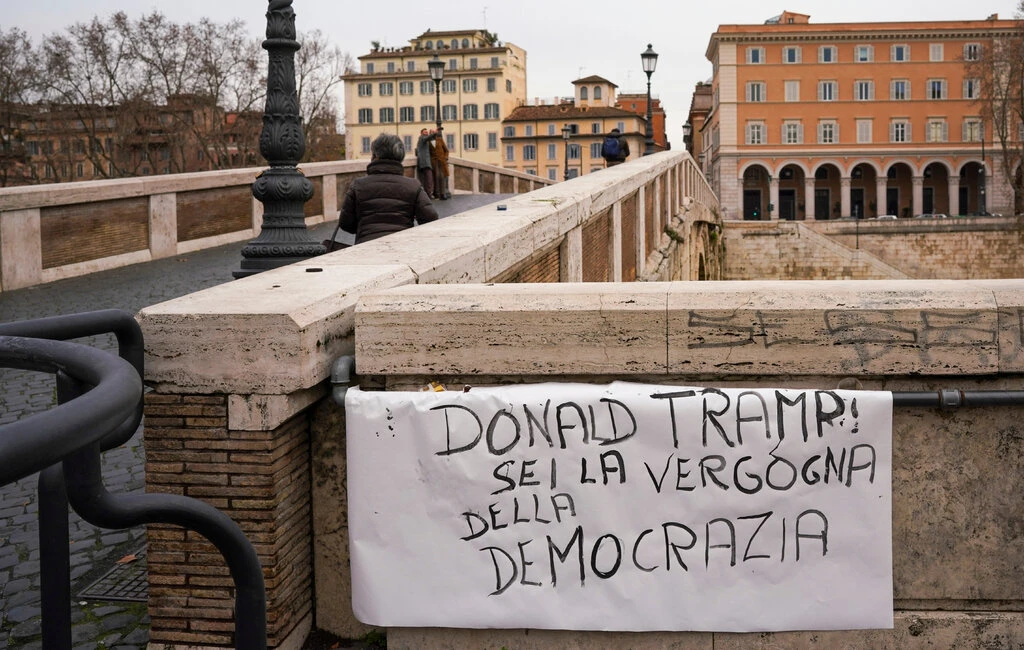 A sign in Rome reading, "Donald Tramp, you are the shame of democracy," on Thursday. Photo: NYT
It is said on the Nytimes that: Donald Trump promised to make the world respect and fear America. In the end, he accomplished neither. He has made a laughingstock of America and its democracy. Nobody could blame Russian, Chinese or Iranian leaders for thoroughly enjoying what they saw on Jan. 6 as a mob incited by the president ransacked the Capitol.
The scenes looked like something out of a "color revolution," the street protests in Ukraine and Georgia that toppled governments and sent shivers of fear down many authoritarians' spines: irate citizens, propelled by social media, protesting what they viewed as fraudulent elections and calling for democracy, draped in the American flag. The only difference was that this time it was not an opposition candidate but a sitting American president protesting a "rigged election," and the storming took place in the United States.
There is already an abundance of commentary on the impact of Mr. Trump's mutiny on American democracy. We can only hope that the attack on Congress was the final battle of the last Civil War, not the beginning of a new one. The 19th-century German chancellor Otto von Bismarck is often said to have asserted that "God has a special providence for fools, drunkards and the United States of America." If he was right, we have reason to believe that America will eventually transcend its current crisis. But what happens in the meantime?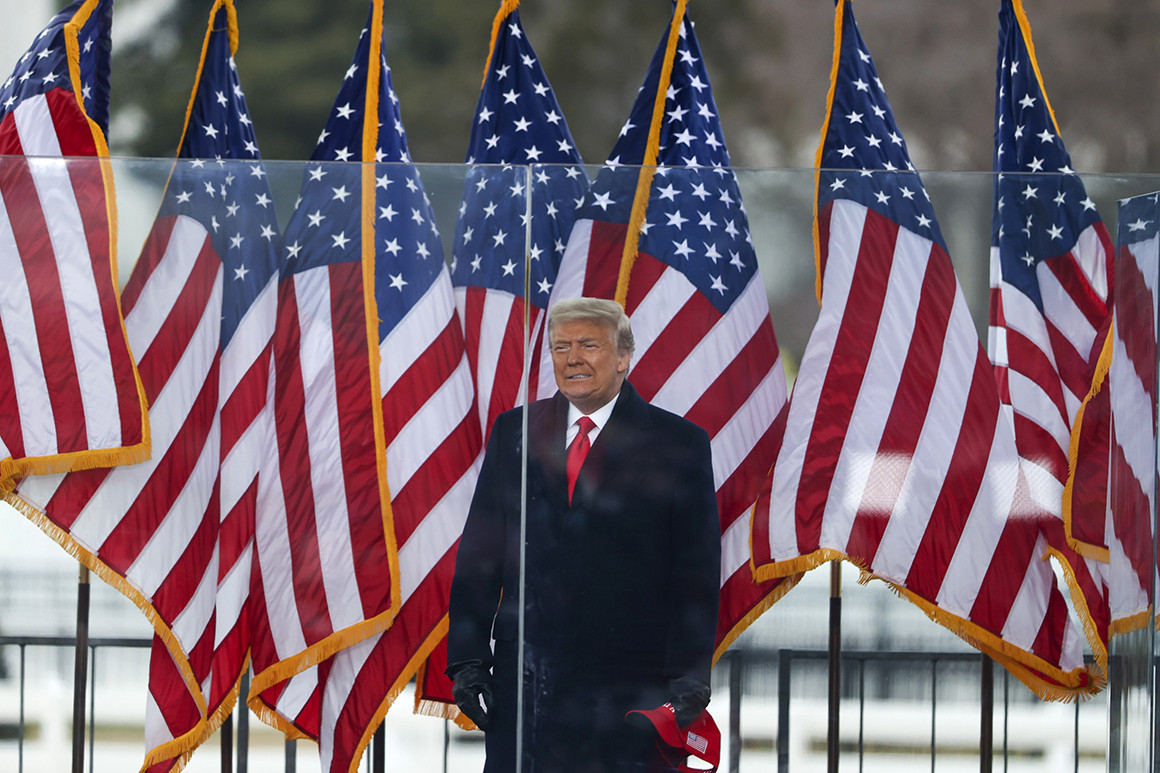 President Donald Trump arrives at the "Stop The Steal" Rally on Jan. 6, 2021 in Washington, D.C.
House Democrats are poised to impeach him on Wednesday. But President Donald Trump is not expected to mount a forceful White House defense against charges he incited last week's deadly riots inside the U.S. Capitol, according to a White House official.
Trump knows he's unlikely to be removed from office with Republicans controlling the Senate until next week and only a few days left of his term. The president has also grown increasingly isolated, distrusting the same aides and advisers he had relied on during prior crises in his presidency, including White House Counsel Pat Cipollone, said the politico.
Americans will soon have a new president, but they won't have a new country. Four years of President Trump will continue to reverberate around the world, no matter how eager President-elect Joe Biden is to move on. This will assuredly affect the two core priorities of the new administration's foreign policy: its hope to build an effective alliance of democracies in defense of a liberal order and its effort to put together a common American-European response to the rise of China and its authoritarian allies.
The resistance to building out an aggressive effort to push back on impeachment is reflective of a president both isolated and distracted by political grievances.
In his final days of his term, Trump is still spending time railing against the election that he lost to Joe Biden in November and surrounding himself with a handful of loyalists — among them Rudy Giuliani — who have been with him since the start, according to interviews with eight current and former Trump aides.
"Since the election, the day-to-day stuff as far as signing [executive orders] and focusing on policy has definitely waned because his focus has been on the election and overturning those results," said the White House official. "We're not obviously pursuing any policy or anything like that."
And since Twitter banned his account, Trump has been making more calls than usual — not, as one former Trump aide said, "to more people" but rather, "the same people over and over again."
Deutsche Bank is Trump's most important lender, with about $340 million in loans outstanding to the Trump Organization, the president's umbrella group that is currently overseen by his two sons.
A spokesman for Deutsche Bank declined to comment on Tuesday. The Trump Organization did not immediately respond to an email seeking comment outside normal business hours, and the White House press office did not answer the phone, reported Reuters.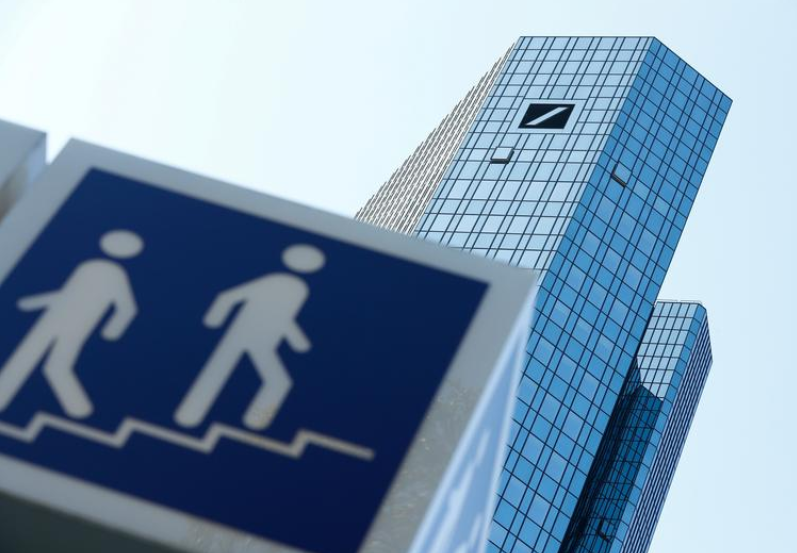 The headquarters of Germany's Deutsche Bank are pictured in Frankfurt, Germany, September 21, 2020. Photo: Reuters.
Christiana Riley, the head of the bank's U.S. operations, last week condemned last week's violence in a post on LinkedIn.
"We are proud of our Constitution and stand by those who seek to uphold it to ensure that the will of the people is upheld and a peaceful transition of power takes place," she wrote.
Reuters reported in November that Deutsche was looking for ways to end its relationship with Trump after the U.S. elections, as it tires of the negative publicity stemming from the ties.