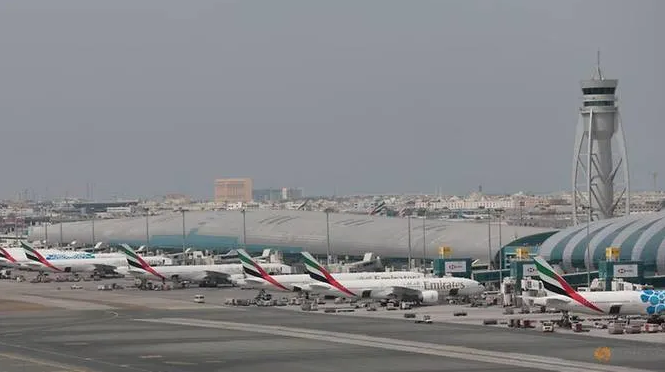 A general view of Dubai International Airport in Dubai, United Arab Emirates February 15, 2019. (REUTERS/Christopher Pike/File photo)
"The UAE Ministry of Health and Prevention announced a case of the new coronavirus affecting people from one family coming from the city of Wuhan in China," the state news agency WAM reported. "It added in a statement that the health condition of those affected was stable and under medical monitoring."
China's National Health Commission said on Wednesday the death toll from the coronavirus outbreak in the country had risen to 132, with another 1,459 new cases confirmed.
The total number of confirmed coronavirus cases in China stands at 5,974, the authority said in a statement.
More than 50 million people have been locked down in and around the city of Wuhan in China's Hubei province, the central industrial city where the outbreak first began, in a bid by authorities to stop an infection that has since spread to other cities in China and to other countries.
The virus, which first started in Wuhan, has since spread to more than 10 other areas including as far afield as the United States, France and Australia. None of the confirmed deaths to date has been outside China.
However, confirmations of person-to-person transmission in Germany, Vietnam, Taiwan and Japan - as opposed to a traveller from China - has heightened concern.
Thailand, the top destination for China's holidaymakers, had 11 million Chinese visitors last year. But with 14 coronavirus cases, it is the second-worst hit country outside of China.
Other airlines including Singapore Airlines and Hong Kong's Cathay Pacific Airways are allowing crew to wear masks on China flights, while American Airlines provides hand sanitiser wipes for flight attendants to use on all departures to China.
Some are taking even more drastic measures with flight cancellations.
South Korean budget carrier Air Seoul said on Tuesday it will halt all flights to China due to travellers' concerns about the virus, while United Airlines Holdings is suspending 24 US flights to Beijing, Hong Kong and Shanghai between Feb 1 and Feb 8 due to a sharp drop in demand.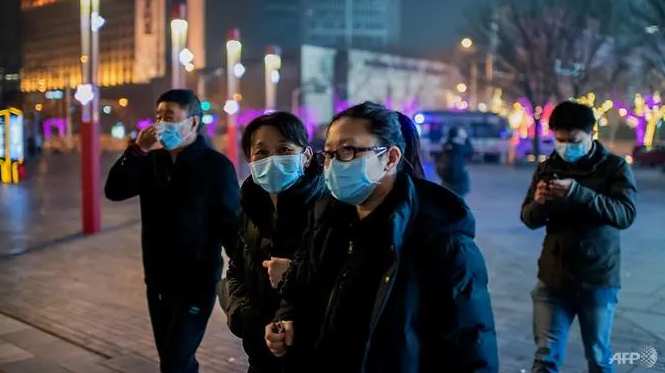 In this file photo taken on Jan 28, 2020 people wearing protective masks to help stop the spread of a deadly virus which began in Wuhan, walk on a nearly empty shopping mall in the Sanlitun area in Beijing. (Photo: AFP / NICOLAS ASFOURI)
Japanese evacuated from Wuhan
The first Japanese nationals evacuated from Wuhan, the Chinese city at the centre of a deadly virus outbreak, arrived in Tokyo on Wednesday (Jan 28) aboard a charter plane, with four of them showing symptoms of fever or coughing.
Japan has confirmed seven patients, including a Japanese tour bus driver who had been infected after coming into contact with Chinese visitors - the first reported case of a possible transmission inside Japan, according to the health ministry.
Japanese citizens evacuated from Wuhan, the epicentre of a deadly virus outbreak, described an atmosphere of confusion and fear in the Chinese city and expressed relief as they arrived in Tokyo on Wednesday.
A total of 206 Japanese citizens landed at Tokyo's Haneda airport on Wednesday morning, with health professionals carrying out checks on board and at the airport, but no mandatory quarantine was planned.
The flight arrived as several countries work to extract their nationals from Wuhan, with an American charter flight also leaving the city on Wednesday, bound for an airport in the Los Angeles area.
Takeo Aoyama, a Nippon Steel employee who arrived on the evacuation flight, described confusion in Wuhan, with travel restrictions intended to contain the virus making it hard for those in the epicentre to know what was happening.
"The number of patients began increasing rapidly at a certain point. That was very worrying," he told reporters at the airport. "We were not able to move freely, so we only had partial information. The restrictions on the flow of goods and transport were extremely strict."
The Japan flight arrived in Wuhan overnight, carrying emergency relief supplies including 15,000 masks, 50,000 pairs of gloves and 8,000 protective glasses, the foreign ministry said.
People in Beijing and across China are donning masks, spraying antiseptic and staying off the streets in a battle to halt the spread of the viral outbreak.
A drugstore in the Chinese capital will be fined 3 million yuan (US$434,530) for hiking the price of masks by almost six times the online rate amid a spreading virus outbreak, the Beijing municipal market regulator said on Wednesday.
An administrative penalty notice has been issued to the Beijing Jimin Kangtai Pharmacy for sharply raising the price of N95 masks, the regulator said in a statement on its website.
The store raised the price of a box of 3M brand masks to 850 yuan while the online price was just 143 yuan, state television said.
Since Thursday, the regulator has investigated 31 price violation cases, it said, as it boosted supervision of prices of protective gear and punished illegal activities, such as hoarding or fabricating information about price hikes./.
VNF/CNA/AFP