Justin Gaethje beat Tony Ferguson in the fifth round to win an interim lightweight belt at UFC 249. It was the first major American sporting event since widespread shutdowns because of the coronavirus pandemic.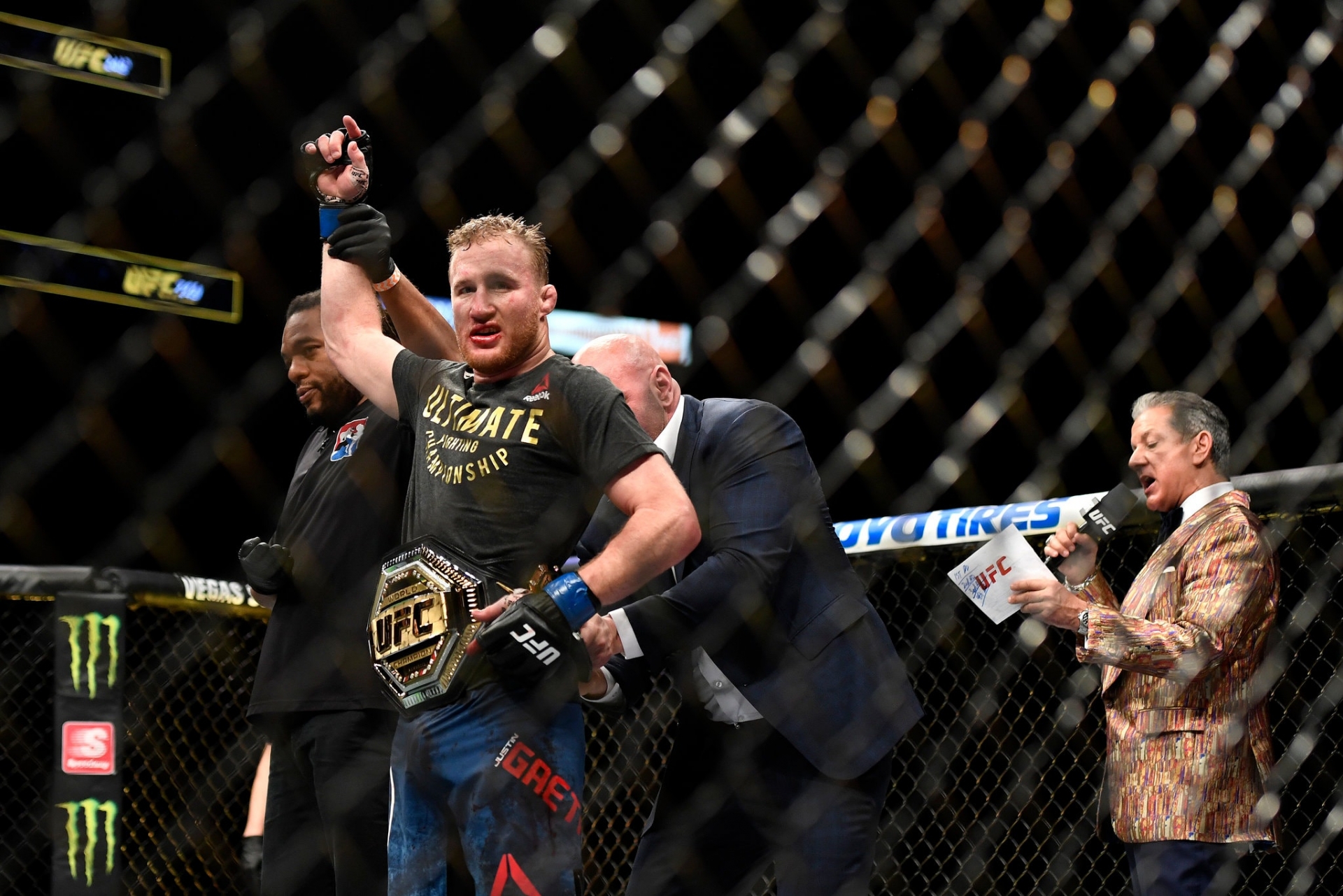 Justin Gaethje stopped Tony Ferguson in the fifth round at U.F.C. 249, winning the interim lightweight title and setting up a championship showdown with Khabib Nurmagomedov.Credit...Douglas P. Defelice/Getty Images
Justin Gaethje and Tony Ferguson started Round 1 with a cautious approach before Gaethje (22-2) began throwing massive, winging punches in between heavy leg kicks.
The left hook of Gaethje continued to land with significant impact into Round 2, but he stuck to the plan of landing sharp leg kicks to keep Ferguson from getting into a comfortable rhythm. In the final seconds of the round, Ferguson dropped Gaethje with a massive uppercut that could have ended the fight had Gaethje not been saved by the bell.
Gaethje recovered from the knockdown heading into the third round, landing more heavy punches and cutting Ferguson, causing significant swelling around his left eye.
In Round 4, the stone jaw of Ferguson finally started to crack. For the first time, Ferguson's legs buckled after another Gaethje right hand.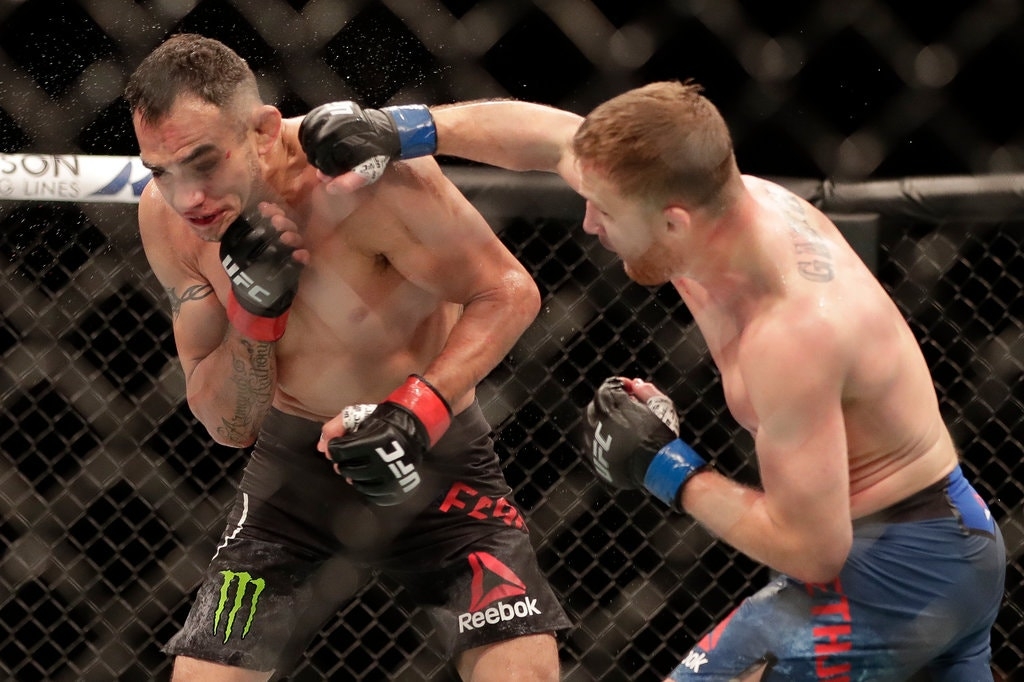 Gaethje, right, was a replacement fighter for U.F.C. 249 because Khabib Nurmagomedov could not travel to the United States due to pandemic restrictions.Credit...John Raoux/Associated Press
After almost five full rounds of absolute domination, a Gaethje jab caused Ferguson to shake his head and stumble backward with his arms and legs seeming to betray him. Referee Herb Dean jumped in to call a halt to the bout at the 3:39 mark of Round 5.
Round 5

The fight ended the way it started — with Tony Ferguson taking thunderous punches from Justin Gaethje.

With 90 seconds remaining, Gaethje wobbled Ferguson with a left jab to the nose. When he followed up with more punches, referee Herb Dean intervened to spare Ferguson further punishment.

The win makes Gaethje the U.F.C. interim lightweight champion, putting him in position to face Khabib Nurmagomedov later this year for the undisputed title.

"I knew I was a killer stepping in here," Gaethje said in the octagon afterward. "I'm good, bro."
In winning the fight, Gaethje ran his current winning streak to four and may have put the final nail in the coffin of a clash between Ferguson and Nurmagomedov, a fight the UFC has attempted to book on five separate occasions.
UFC 249 result: Francis Ngannou knocks Jairzinho Rozenstruik out cold in just 20 seconds
Following his victory over Alistair Overeem in devstating fashion, Rozenstruik, who had moved to 10-0, went big game-hunting.
Unfortunately for Jairzinho Rozenstruik, he was the latest to fall victim to Ngannou during UFC 249 Saturday night in Jacksonville.
Dude knocked Rozenstruik out 20 seconds into the first round with vicious blow after vicious blow. It was violent. It was stunning. Our jaws have yet to be picked up from the floor.
Ngannou has now won his last four fights, all by knockout, in 45, 26, 71 and 20 seconds. It is a reign of fistic terror unlike any other in UFC history.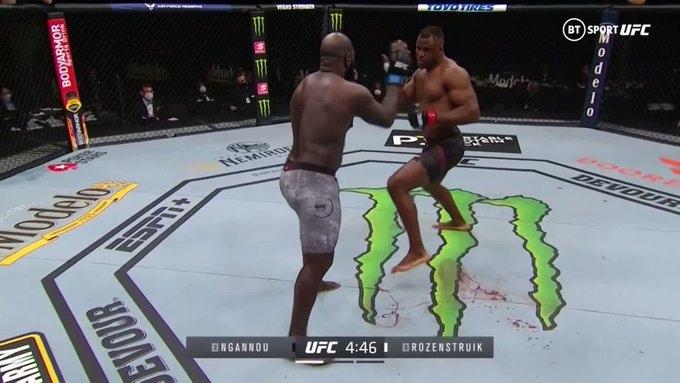 Francis Ngannou knocks Jairzinho Rozenstruik out
As noted in the pay-per-view broadcast, Ngannou should now battle for the heavyweight title in his next fight. Heck, Daniel Cormier noted after the fight that he would prefer not to take on the Cameroon native.
Ngannou has a choice. He can sit back and wait for a title shot at the winner of the rubber match between Stipe Miocic and Daniel Cormier, a fight that seems like it may never happen but one the UFC seems willing to wait for. Or he can continue to throw his terrifying punches at heavyweights and hope that the run continues in a division where a "puncher's chance" is omnipresent.
Elsewhere at UFC 249, Donald Cerrone was defeated in the main event of the prelims, but once again showed his class as Anthony Pettis collected the win.
Vincent Luque opened up the prelims with a victory over Niko Price. The victory came via a doctor stoppage after Price suffered a seriously injured eye following an overhand left.
VNT
CBS/NyPost