UK and Europe daily weather forecast latest, January 25: Freezing sub-zero temperatures hit the UK with heavy snow and a cold blast of Arctic air
The UK is forecasted to cope with 10 cm of snow with a cold blast of Arctic air sweeping. Meanwhile, an unsettled spell of weather is expected for many parts across southern Europe.
UK's weather forecast
According to Express, a slow-moving band of heavy snow and cold temperatures, coming in from the Arctic circle, is expected to sweep across Wales and southern England throughout the weekend, with a possibility it could stall over the West Midlands through the same period. Over coastal regions, one to three cm of snow is more likely while the same areas may experience rain and sleet as well. It comes as new snow and ice warnings have been issued for swathes of the UK by the Met Office, and with temperatures expected to plummet to -10C in some areas people are being urged to take extra care due to the incoming icy conditions.
Met Office chief meteorologist Steve Willington said cold air coming in from Iceland and the Arctic will bring with it "a mix of wintry hazards across the UK".
Mr Willington added: "In clearer conditions, overnight ice will remain a hazard, while a band of snow is likely to bring falls of one to three cm quite widely across central areas of the UK, particularly the Cotswolds and higher ground in the East Midlands on Sunday. But snow outside of these areas is also a potential hazard."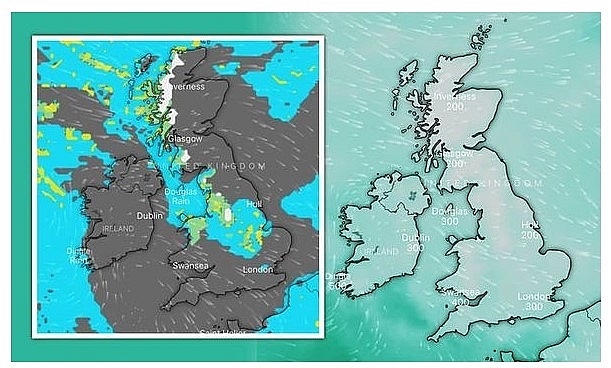 UK cold weather forecast: Map shows Arctic air blast brings FREEZING sub-zero temperatures (Image: Windy)
While some parts of the UK will see up to three cm, areas that sit 100m above sea level could see as much as 10cm of snow.
Dartmoor, the Brecon Beacons and Snowdonia could see as much as 15cm blanket the areas. A yellow weather warning is in place today for Scotland, while another three warnings for snow and ice will kickstart on Sunday for the south of England and London.
The warning for snow and ice reads: "An area of rain will come across the west and southwest of the country on Sunday morning. This will fall onto cold surfaces with ice forming readily during Sunday morning."
"The rain will turn to snow readily on Sunday morning, with some places seeing small accumulations of one to three cm at low levels, but possibly three to seven cm over 100m. Higher ground such as Dartmoor and Exmoor are likely to see the largest accumulations with 10 to 15cm possible here."
"Once the main area of precipitation clears, wintry showers will feed in from the west maintaining the risk of icy stretches and more localised snow accumulations."
Weather charts also show temperatures are expected to -2C in London and much of the south east through Sunday.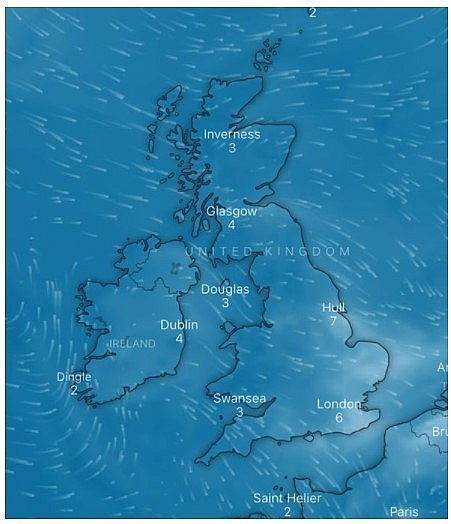 UK cold weather forecast: Temperatures are expected to plummet to below zero (Image: Windy)
Looking forward, deputy chief forecaster at the Met Office, Chris Tubbs said the weather will likely get much wetter from next week as the snow dissipates.
Mr Tubbs said: "Once the certainty increases about which areas are most likely to be affected by potentially heavy rain, we may need to issue further warnings – especially if next week's rainfall is likely to compound the impacts from this week."
In addition to the snow, Brits are being urged to heed flood warnings over the next few days. Environment Secretary George Eustice has warned of the possibility of more "challenges" in parts of England next week due to the surplus in rainfall.
On a visit to Northwich in Cheshire, which was badly affected by the recent floods, Mr Eustice said authorities were "watching closely" as water moves through the river system, including areas in Yorkshire such as along the River Don and parts of the River Aire.
The Environment Secretary said: "The thing that concerns us most is that late next week we are expecting more rainfall that falls on wet, soggy ground. It is possible that we therefore could have some additional challenges in a week's time."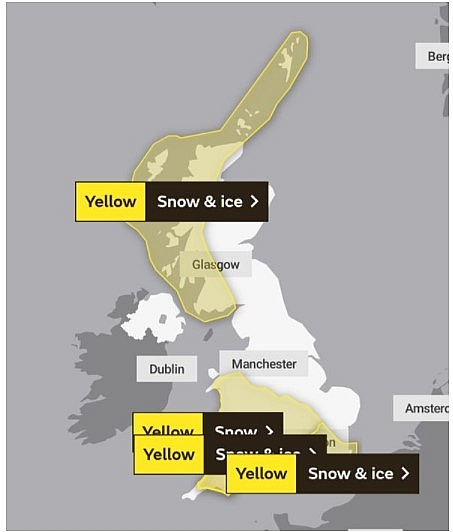 UK cold weather forecast: The Met Office has a number of warnings in place (Image: Met Office)
The Environment Agency has warned of "exceptionally high river levels" following days of heavy downpours in the wake of Storm Christoph, with hundreds of properties and homes destroyed across the country.
There are 11 flood alerts in place for the Greater London area, while 186 alerts and warnings are in place for the rest of the country.
On January 25
According to Weather Online, another cold day on Monday but with plenty of sunny spells and largely dry weather across the UK and Ireland. A weakening front brings increasingly scattered and light wintry showers to northern parts of England which sink south through the Midlands before fading completely. Elsewhere scattered wintry showers also continue to feed into northern parts of Scotland and Irish Sea coasts of England and Wales. Highs range from 1 to 6C for most.
Rather cloudy with wintry showers across the north and northwest. Mostly dry and sunny elsewhere. Staying cold with icy patches and frost early and late. Windy across the northeast, Met Office reported.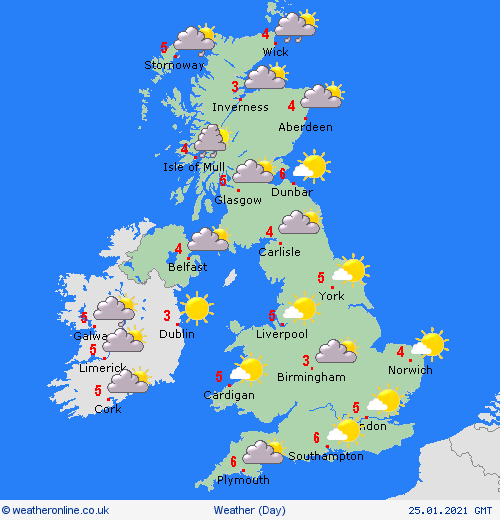 Photo: Weather Online
Outlook for Tuesday to Thursday
Fine, dry and cold initially with a few wintry showers in far north-east. Gradually turning more unsettled from the south-west, with cloud, wind, and outbreaks of rain and hill snow.
Europe's weather forecast
Showers spread over Spain and Portugal on Sunday, mainly affecting northern and western areas. Drier elsewhere. Wet and windy across Sardinia, Corsica, Sicily and much of Italy where there will be heavy outbreaks of rain, turning to snow over higher ground here. These tend to clear east through the afternoon. Rain becomes heavier and more widespread across western Greece. Largely dry bar some scattered showers for Turkey.
Outbreaks of rain, sleet and snow spread across France on Sunday. Rain first thing across the Low Countries will soon clear to allow for a dry but cold day here. Snow pushes into the Belgium later. Cloudy with patchy outbreaks of sleet and snow across Germany and Poland. Some snow showers for Switzerland and Austria. Heavier and more persistent snow over Switzerland later.
Weak high pressure building across Scandinavia will bring mainly dry conditions to Norway and Sweden. Finland, however, will see cloudier skies and snow showers to the north and a mix of rain, sleet and snow to the south. Rain, sleet and snow expected through the Baltic States too. A cloudy but largely dry day for Denmark, just a few scattered wintry showers about.
Photo: Stirimeteo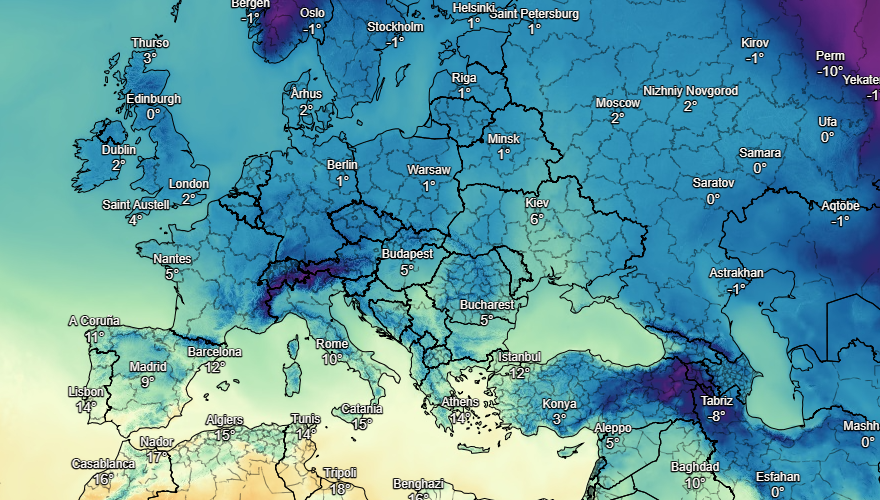 Photo: Stirimeteo
On January 25
According to Weather Online, patchy outbreaks of rain spread from the northwest across much of Portugal, Spain and the Balearic Islands on Monday. Corsica, Sardinia, Italy and Sicily too see patchy outbreaks of rain spread from north to south. This turns to sleet and snow over the Appennines and clears to leave a dry and fine day in the north.
Early snow clears from eastern France to leave a mostly dry and fine day here. Another band of patchy rain, sleet and snow arrives to the northwest later however and spreads across the Low Countries too. Snow for southern Germany while the rest of the country stays mostly dry but cloudy. Mostly dry and cloudy too with isolated snow showers for much of Poland, the Czech Republic, Slovakia, Hungary and Austria. Heavier snow falls over eastern Poland.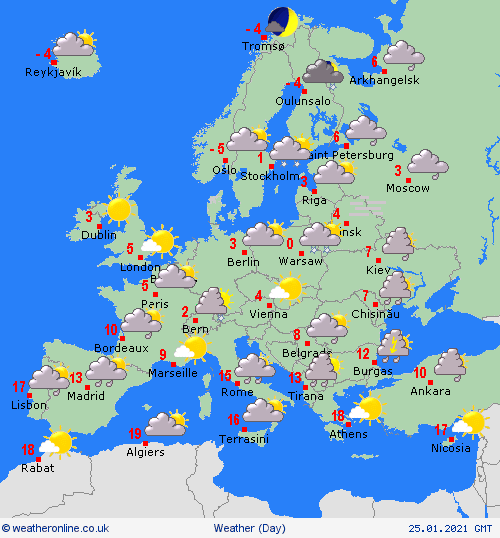 Photo: Weather Online
Mostly dry and fine for Norway and Sweden with good spells of sun for southern Norway. An area of snowfall spreads across Finland and into northeastern parts of Sweden later. Early wintry showers clear north from western parts of the Baltic States before an area of heavier and more persistent snow arrives from the south later. Mostly cloudy with scattered wintry showers in Denmark.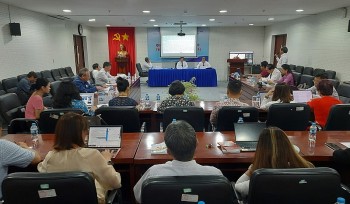 Friendship
The Vietnam - India Friendship Association's Ho Chi Minh City branch, the Ho Chi Minh City Union of Friendship Organizations (HUFO) and the Southern Institute of Social Sciences on March 21 held a scientific seminar themed "Vietnam - India relationship: tradition and present".