UK and Europe daily weather forecast latest, January 20: Heavy snow to hit with wintry conditions across the UK
The UK is forecasted to cope with heavy snow beginning with wintry conditions across the country. Meanwhile, fair conditions is likely to appear in central and eastern Mediterranean, wet and windy ones set to cover western, central and northern Europe.
UK's weather forecast
Snow is set to blanket Britain from Wednesday in a 48-hour snow blitz which is expected to bring up to 2.5ft (78cm) in parts of the UK based on the latest weather charts, reported Express.
Heavy snow is forecast across the UK this week, with the start of the wintry conditions expected in just a few hours time. Weather maps show Scotland will see the start of the snowfall, before it moves further south on Wednesday, eventually covering much of Britain.
Snowfall is forecast in the north of Scotland on Monday and Tuesday as the mercury is set to plummet to -6C in these areas, according to charts by Netweather.
The rest of the country is set for slightly warmer conditions at the start of the week, with temperatures reaching the double digits.
As Wednesday approaches, the freezing temperatures in Scotland begin to move further south, alongside the high snow risk. By 9pm a snow risk chart shows much of Scotland and northern England covered by swathes of red and white, indicating between a 75-100 percent chance of snow.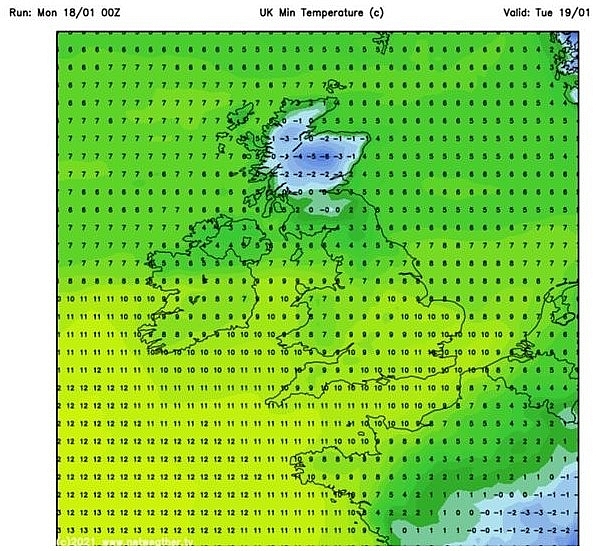 UK snow forecast: Temperatures are set to fall to -6C in Scotland but stay milder further south (Image: Netweather)
Parts of western England and much of Wales are covered by a lower snow risk, of between 30-70 percent. By midnight the snow risk intensifies further, with much of the UK covered by huge patches of white and red on the weather map.
The east of England and parts of the south avoid the risk of snow at this time, but the charts predict the snowstorm will move further east overnight.
A second chart, valid for 6am Thursday, shows the weather front has moved east, with parts of the Midlands and the east of England covered by a moderate snow risk, as shown by the green and yellow colourings.
Much of Scotland and the north of England are covered by a 100 percent snow risk, which is where the heavy snow is set to fall. Snow depth maps by WXCharts show parts of Northern Scotland can expect up to 12inches (32cm) of snow on Monday and Tuesday.
But by Wednesday that starts to steadily increase, with 19inches (48cm) forecast at 9am on Thursday morning.
The chart shows heavy snow is also expected to blanket the rest of Scotland and north of England, with up to 10 inches (26cm) expected in Cumbria. The map shows the snow depth continues to increase through the week, with 2.5ft (78cm) forecast at 9am on Friday January 22.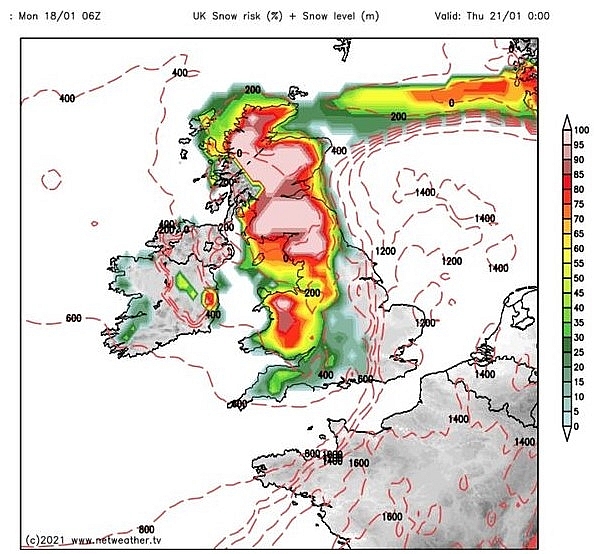 UK snow forecast: By midnight the snow risk intensifies further, with much of the UK covered by huge patches of white and red (Image: Netweather)
Netweather shows a high risk of snowfall continues through Thursday for Scotland, the north of England, Midlands and parts of Wales.
By Friday the snow risk chart shows the wintry conditions look set to stay confined to the very north of the UK. The 48-hour snow blitz from Wednesday evening also looks set to drive down temperatures across the UK.
By 6am on Thursday most of Scotland and the north of England will be plunged below freezing, as the rest of the UK sees highs of 5C. Temperatures will drop further on Friday, with -6C forecast in Scotland at 9am, while the rest of the UK battles to exceed 0C.
The Met Office has said snow is possible from Wednesday to Friday this week. They said: "Remaining extremely unsettled with heavy rainfall, potential for snowfall on the northern edge. "Strong winds across southern and, more especially, central areas. Much colder in the north with wintry showers."
Met Office meteorologist Tom Morgan "Despite the brief thaw, from Wednesday night we expect a return of colder, windy conditions, with snow falling on higher ground in the North of England and overnight frosts further south."
BBC forecasters also expect the end of the week to be characterised by the "occasional wintry weather".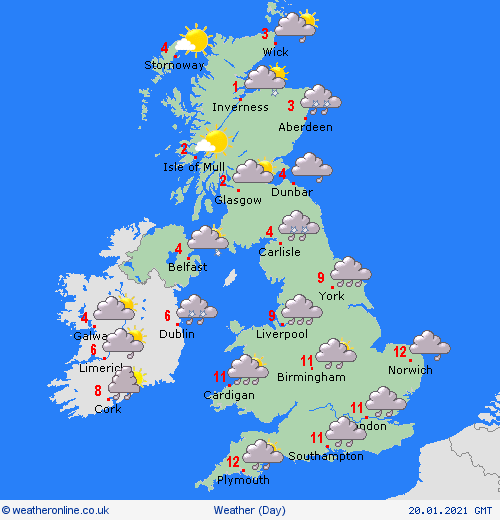 Photo: Weather Online
On January 20
According to Weather Online, a wet morning for much of England and Wales. Heavy periods of rain in Wales, western and northern England, patchier to the southeast. Wet too for southern Ireland with the risk of snow over the hills and across the hills of Wales.
Cold for Scotland, the best sunshine in the west, but sleet and snow in the east. This afternoon sees the heaviest rain in Wales and northern England, snow over parts of northwest England and Northumberland as well as the southern Uplands. Further sleet and snow in eastern Scotland. Dry for central and western Scotland as well as Northern Ireland. Highs at 10 or 11C in much of England and Wales, 3C in northern England, Ireland and Scotland.
Wet and windy England and Wales but improving for Northern Ireland. Some snow over southern Scotland pushing into east Scotland later. Drier but still some showers in far north, Met Office reported.
Outlook for Thursday to Saturday
Rain and snow in the north Thursday clearing northeastwards, showers elsewhere, windy. Sunshine and showers Friday and Saturday, wintry in the north. Perhaps some rain in the far south Saturday.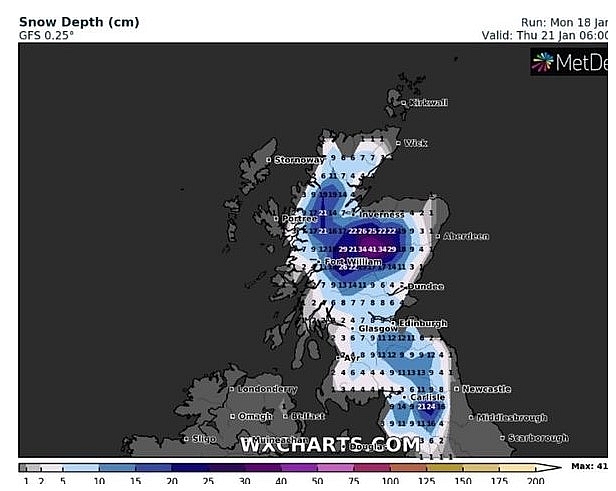 UK snow forecast: 19inches (48cm) of snow is forecast at 9am on Thursday (Image: WXCharts)
Europe's weather forecast
Largely dry and bright for Portugal, Spain, the Balearic Islands, Corsica and Sardinia. Cloud thickens to the northwest of Iberia with rain arriving here later. Largely dry and fine for Italy and Sicily with scattered showers developing to the west later. Early showers ease over southern Greece to give and dry and bright day here. These conditions extend into western Turkey though eastern areas see further snowfall.
Breezy with outbreaks of rain over northern France and the Low Countries. Dry over the rest of France with the best of the sun to the south. Breezy with outbreaks of rain, sleet and snow spreading across Germany into the Czech Republic, Slovakia and Poland later. Mostly dry and fair for Switzerland and Austria with some snow possible to the north.
Wet and windy for Denmark. Mostly dry and fair across the rest of Scandinavia. Some patchy sleet and snow into the far south of Norway and Sweden. Isolated snow showers also develop over the southern Baltic States.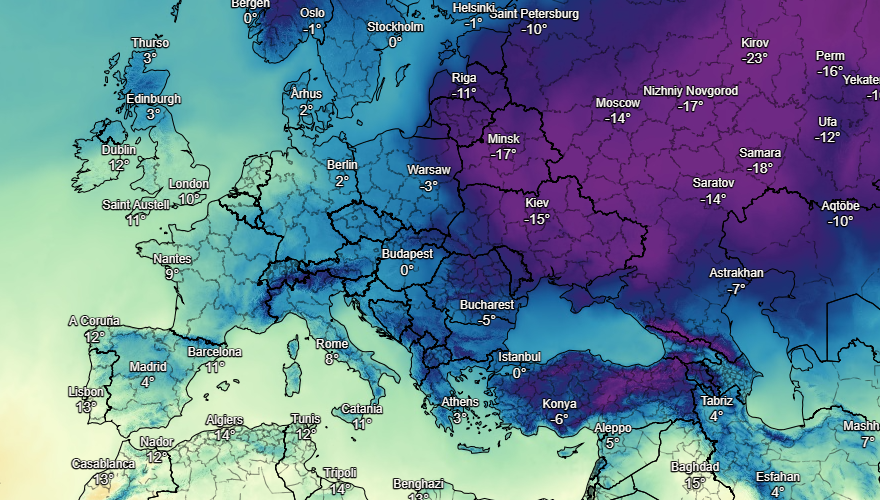 Photo: Stirimeteo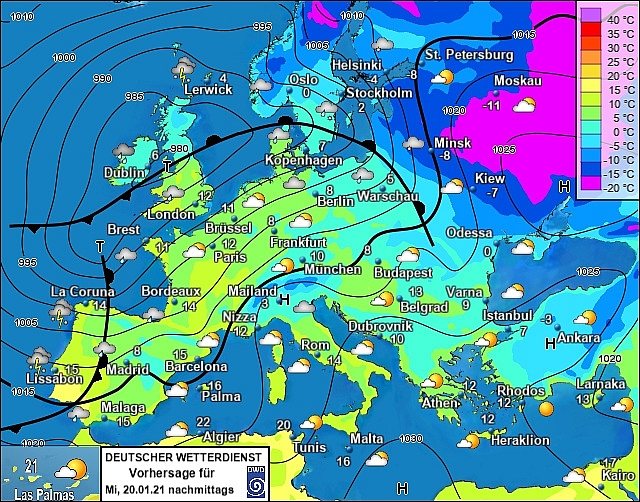 Photo: Stirimeteo
On January 20
According to Weather Online, an unsettled Portugal and western Spain. East in Spain will be dry with sunny spells. The Balearics will be dry with some sunshine to, fair weather extends into Corsica and Sardinia. Italy will be mostly dry with some sunny spells although rain affects the north. Greece should be fine with lots of sunshine and it will stay fat across turkey too.
A windy day across France with showers in central areas and rain in the west. Staying windy through the Low Countries and Germany a few spots of drizzle on the coast but mostly dry. Poland will be wet in the north but dry for most areas with a fair amount of cloud. Hungary, Austria and Switzerland should be dry with some bright or sunny spells.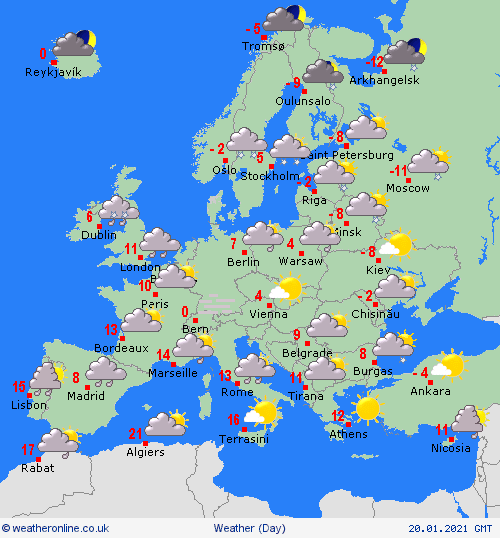 Photo: Weather Online
Windy weather and cloud and drizzle will affect Denmark. Rain and strong winds for the Baltic states. Dry and cold for Finland and northern Sweden. Central Sweden will be wet. Rain and snow in southern Norway, colder and dryer to the north.