UK and Europe daily weather forecast latest, March 28: Rain, mountain snow across western areas from Wales northwards
The UK is expected to have a rather cloudy and windy day. Rain and mountain snow is likely across many western areas from Wales northwards. Meanwhile, a cold front brings a chilly blast to northern Europe.
UK's weather forecast
According to Sky News, Sunday is set to be a rather cloudy and windy day. Rain and mountain snow is likely across many western areas from Wales northwards.
Sizzling temperatures of 24C will bake the UK next week as a warm-weather system sweeps in, according to the latest forecast.
Met Office forecasters have predicted highs of 24C across the south east of England on Tuesday. The latest Met Office weather models show large parts of the UK turning dark orange as an area of "warm tropical continental air" closes in from Europe. Tuesday is on course to be the hottest day of 2021 and just short of the all-time March record set more than 50 years ago.
According to the Met Office, the mercury reached a high of 25.6C at Mepal in Cambridgeshire on March 29, 1968. Sunny conditions on Tuesday will also see temperatures across central regions of the UK reach the low 20C's, according to Met Office Chief Meteorologist Andy Page.
The balmy weather will also coincide with a gradual lifting of coronavirus restrictions in England. From Monday, March 29, Boris Johnson's strict "Stay at Home" message will expire and some family members will be able to reunite.
Photo: News Sky
Next week people will be allowed to meet in groups of up to six people outdoors as well as in private gardens. But, ahead of the up-turn in temperatures, much of the UK is set to be hit by strong winds and heavy rain this weekend.
The Met Office has highlighted three weather systems which are set to descend over the UK over the next 72-hours. In a post on Twitter, the weather channel said to expect "big temperature swings".
A weather model shows "cold polar maritime air" moving over the UK from the Atlantic from Friday evening. The cold-blast will see temperatures plummet below freezing for parts of Scotland overnight.
The area of low-pressure is set to clear as a "milder tropical maritime air" pushes in from Saturday into Sunday – creating a divide in the weather between the North and South.
Temperatures in the South are set reach the low-teens by Sunday before climbing further on Monday when a "warm tropical continental air" system takes over.
The Met Office wrote on Twitter: "Big temperature swings will occur over the coming days as several different air masses affect the UK. Later in the weekend, a slow moving front will bring large rainfall amounts to parts of western Scotland. Into next week and it becomes very warm some of us."
Met Office Chief Meteorologist Andy Page said: "From Saturday we are going to see a change in weather across the UK, with the northern and southern parts of Britain experiencing quite marked differences."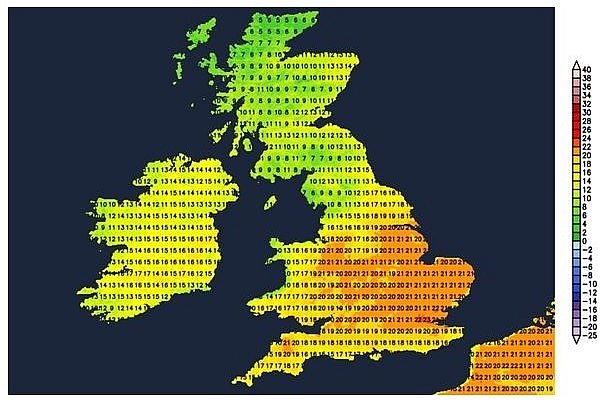 UK hot weather forecast: The South is set to see the highest temperatures (Image: NETWEATHER)
"The northern half of Britain will see strong winds and heavy rain, especially in parts of Western Scotland where a Yellow warning for rain will be in force for 48 hours from 6pm on Sunday evening."
He added: "However, in sheltered central and southern parts of the UK, weather conditions will be much calmer with temperatures climbing in the March sunshine to highs into the low 20s, with the possibility of 24C in southeast England by Tuesday."
On March 28
According to Weather Online, a moist southwesterly flow across all areas of the country on Sunday. There will be outbreaks of rain and drizzle in Wales and England initially, most of it in the west. More persistent rain and showers develop in western Scotland as well as in western and northwestern Ireland, but staying drier in the east. The best of any sunshine will be over far southern parts of England. A breezy day for all with winds reaching gale force in the west. High temperatures at 9 to 13C.
Rain across central areas moving north, persistent and heavy over northwest England and western Scotland. Further south mostly dry, some bright or sunny spells in the southeast. Mild but windy, Met Office reported.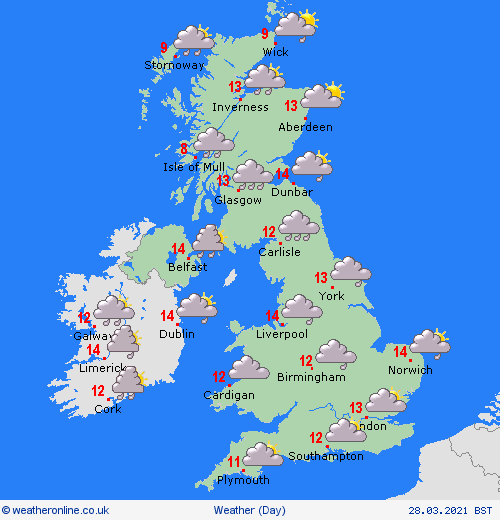 Photo: Weather Online
Outlook for Monday to Wednesday
Rain continuing across the far northwest, gradually easing by Wednesday. Elsewhere dry with sunny spells. Strong winds at first will ease and becoming warm in the south.
Europe's weather forecast
A dry and bright day for much of Spain and Portugal. Some cloud over central areas extending to the Balearic Islands. Some cloud and isolated showers for northern parts of Italy, staying drier further south. A dry day with plenty of sunshine for Greece and Turkey.
A band of rain clears through eastern France, Germany and Switzerland through the morning leaving brighter conditions with scattered showers to the northwest. Showers also affecting the Low Countries. Rain spreads from west to east over Austria, the Czech Republic and Poland becoming increasingly light and patchy further east. A dry start for Slovakia and Hungary with rain arriving here later.
A wet start for Denmark though rain turns to showers later. Rain then spreads across southern Sweden and into the southern Baltic States. Dry and bright to start for the northern Baltic States and Finland but cloud thickens here later. Patchy outbreaks of rain and sleet affect much of Norway.
Freezing Arctic winds will take their toll on Europe this weekend, with snowfall expected to hit parts of France, and Scandinavia, as well as Greece and Turkey. However, the temperatures will pick up next week, according to the latest BBC weather forecast, with cities like Lisbon and Paris both expecting to reach 24C. BBC meteorologist Helen Willetts said Arctic winds "further north" will sweep in colder air on Saturday across parts of Europe, including "the United Kingdom, into France and across Scandinavia".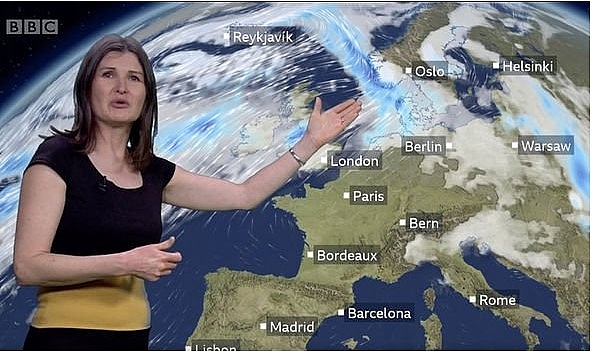 The temperatures will pick up next week, according to the latest BBC weather forecast (Image: BBC)
She said: "So there is a risk of some snow across the higher lands of these areas and across the Alps as well. But behind that, high pressure builds back in again so we keep the unsettled weather towards the north and a cool breeze is affecting southern and eastern parts of Europe. Some snowfall is expected to come into Georgia and Turkey. We will have widespread morning fog and morning frost around this weekend."
Ms Willetts continued: "That weather front, by the time it gets across the Alps and gives us some snow, will weaken and form some showers. They can be quite sharp at this time of year as well. Sunday will bring yet more wetter weather from the UK across into Scandinavia, and things get a little bit cooler. It has been quite mild here for this time of year."
"On the whole, we keep a lot of settled weather further south, temperatures into the 20s in Madrid and 19C in Athens. City forecasts for the coming few days highlights the gradual rise in temperatures, for example, in Budapest that will hit 20C by Wednesday. Same goes for Warsaw."
Earlier this week, unexpected snowfall blanketed the Greek island of Tinos as temperatures plunged across much of Europe. Temperatures were more than 10C lower than the average for this time of year. This comes as the Weather Company forecast that large parts of Europe could experience warmer than normal temperatures from April to June.
It said forecasts suggest April could be warmer than normal across Northwestern Europe and cooler than normal in Southern Europe. Meanwhile, Britain could bake in sizzling temperatures of 24C next week as a warm-weather system sweeps in.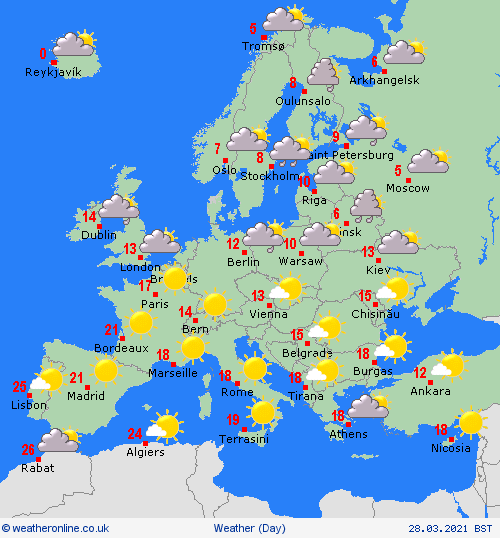 Photo: Weather Online
On March 28
According to Weather Online, a largely dry and fine day for the countries bordering the Mediterannean on Sunday. Some cloud over southern parts of Spain and Portugal but dry and bright conditions extend through Italy, the Balkans, Greece, Cyprus and Turkey.
A dry and largely fine day for France, Switzerland and Austria. Some cloud over northern France which extends in to the Low Countries. Patchy outbreaks of rain affect the northern Netherlands. Rain spreads into northern Germany too where it is also quite cloudy. Cloudy but dry for the Czech Republic, Slovakia and Hungary.
A dry start for Denmark gives to rain as a front arrives from the west. This front also brings heavy outbreaks of rain and sleet into southern Norway. Staying drier further north. Patchy outbreaks of rain and sleet for Sweden before an area of heavier and more persistent rain arrives to the south. Early rain clears the Baltic States to leave a fair day here. Fair too for Finland with a scattering of showers.