UK and Europe weather forecast latest, December 13: Freezing Christmas to come with -7 degree Celsius
Britain is forecasted to have a freezing Christmas with -7 degree Celsius as Artic bomb to dump heavy snow across northern regions of England and Scotland. Meanwhile, unsettled conditions still bring rain and thunderstorms to southern Europe.
UK's weather forecast
The UK could be battered by a barrage of freezing weather including heavy snow in the lead up to Christmas with the latest forecasts warning of temperatures plunging as low as -7C, Express reported.
Low pressure from the Arctic is predicted to swoop in causing icy conditions across northern regions of England and Scotland over the next week. Snow has already started to settle in Central Scotland and is likely to linger until Christmas, with as much as five inches laying today, according to WXCHARTS' snow depth models.
The snow depth models show snow in central Scotland on every single one of the 15 days from today, December 11, up until Christmas. The most amount of snowfall is predicted on December 25, by the charts, which shows 14cm in the region, while the west of Scotland could see 4cm. This means on Christmas morning, people in the northwest of the UK may wake up to an extra present with a sprinkle of snow on the ground.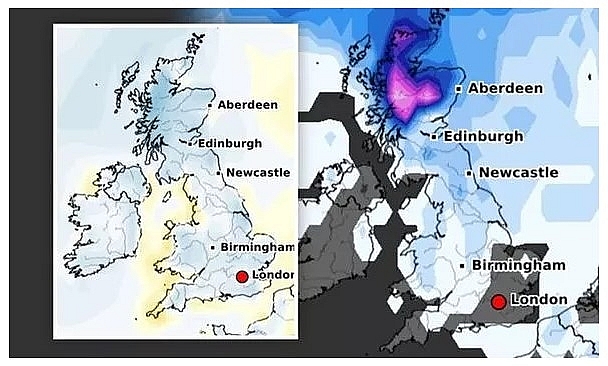 UK snow alert: A deep freeze could arrive on Christmas (Image: WXCHARTS)
Temperatures are also forecast to plunge as low as -7C on Christmas Day in central Scotland, with other regions including Fort William hit by -3C and Aberdeen seeing lows of -2C, WxCharts predicts.
The cold front will arrive early next week as -2C is forecast to hit on Thursday in Scotland. Most of England could see single figures over the next couple of weeks as Manchester and Birmingham are hit with 5C next Thursday. Most of England could see single figures over the next couple of weeks as Manchester and Birmingham are hit with 5C next Thursday.
Amy Hodgson, Senior Meteorologist from The Weather Company, warned wintry weather could strike on higher ground this Christmas.
She told Express.co.uk: "Overall we expect temperatures to remain above average next week and into the week commencing December 21, around 2 to 5 degrees above normal for the time of year. This is due to a mild west to south-westerly airflow across the British Isles, with any wintry precipitation restricted to the higher elevations of the Scottish Highlands."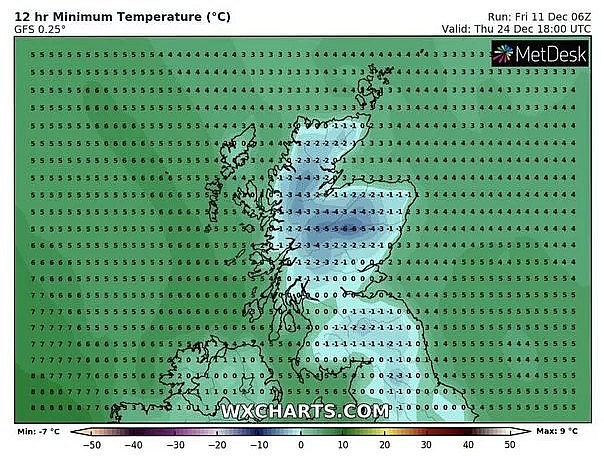 UK snow alert: Snow is forecast to batter Scotland (Image: WXCHARTS)
"Confidence drops significantly towards Christmas with a range of different model solutions. At present, temperatures are forecast to drop to near average for the time of year through the end of December, with conditions expected to be changeable."
"Unsettled conditions at times to the north and west, with some drier and brighter interludes. Some wintry precipitation at higher elevations, with a risk to lower levels at times. However, confidence is very low with a range of model solutions."
The Met Office's long range forecast added Christmas week could be snowy. The forecast said: "Outbreaks of rain or showers are still expected at times, mainly in southern and western parts, which may become wintry on high ground, and perhaps at lower levels at times. Temperatures are likely to be around average for this time of year, however, there remains chance of turning colder again later in the period."
The BBC Weather forecast for the end of December added cold air from Scandinavia and Russia arrive then.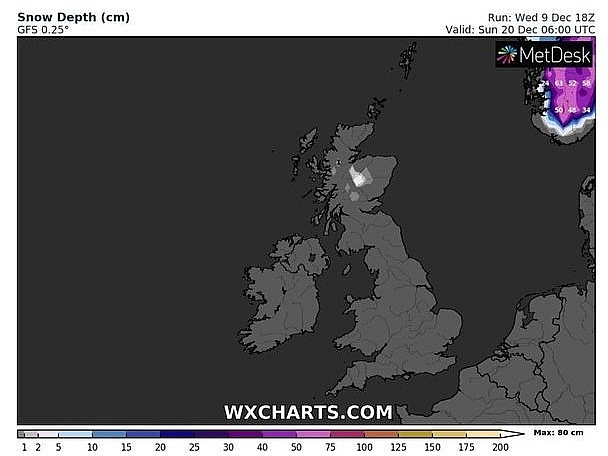 UK snow alert: Wintry conditions are expected by Christmas (Image: WXCHARTS)
It said: "A weather 'battleground' will develop across the north Atlantic and Europe during the Christmas week and the UK will be in the middle of it."
"Our last update suggested that a persistent and vigorous low pressure track across the north Atlantic would be the main driver of the UK's weather, delivering us all some mild, wet and windy weather through the Christmas period. This is still likely for some of the time, but there will probably be an interruption. "
On December 13
According to Weather Online, a wetter day for Sunday as a large area of low pressure is positioned to the west of Ireland. Fronts pass eastwards bringing rain across Ireland, Wales and southwest England by early morning, then spreading to all areas through the morning and into the afternoon. Staying wet in East Anglia and the southeast well into the evening with heavy showers following to many western parts of Wales, England and Scotland. The winds increasing too with a risk of gales in exposed coastal areas across the country. Highs at 7C in the east, up to 12C in the west.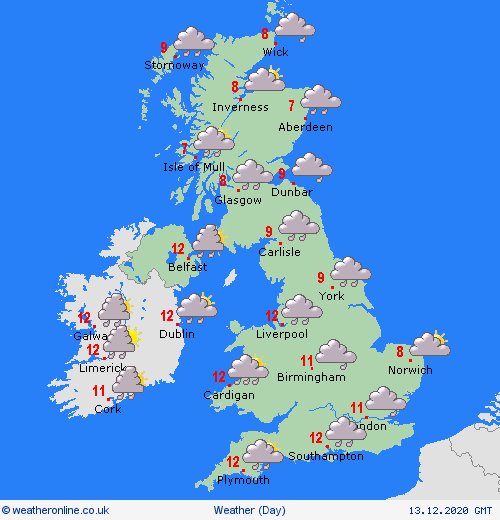 Photo: Weather Online
Europe's weather forecast
The weather for the end of the week in Europe is expected to be "changeable" and "very unsettled", according the BBC. Meteorologist Tomasz Schafernaker warned of "flurries of snow" as temperatures plunge below freezing. He also said that some parts of the continent would be subject to "heavy bouts of rain" as a "powerful jet stream" pushes low pressure in.
Mr Schafernaker told viewers: "The most unsettled weather at the moment is across the southern half of the continent. Low pressures being pushed by a powerful jet stream have been moving across Portugal, Spain, the Mediterranean and into the Balkans for the last few days. This has been delivering heavy bouts of rain, wind and mountain snow, particularly around the Alps. This pattern is going to continue for the rest of the week."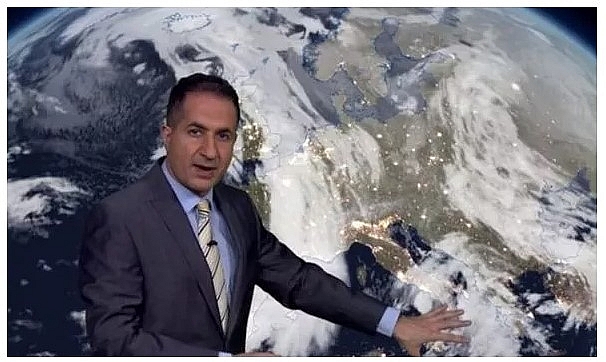 BBC Weather forecast heavy snowfall across parts of Europe (Image: BBC)
Patchy rain clears east of Spain on Saturday to leave a mostly bright day with isolated showers along northern and southern coasts, Weather Online reported. Cloudier for Portugal with patchy rain here. Showers clear south from the Balearic Islands and northern Italy to leave a fine and dry afternoon here. Further thundery showers affect Corsica, Sardinia, Sicily and southern Italy. Showers and thundery outbreaks of rain for Greece and western Turkey. Staying dry and fine to the east of Turkey.
Cloudy with showers for eastern France, Switzerland, the Low Countries and western Germany. Dry and fine for western France and for eastern Germany. Mostly dry but cloudy for Austria, Hungary and the Czech Republic with isolated wintry showers. Some brightness for western Poland while eastern areas stay cloudy with wintry showers.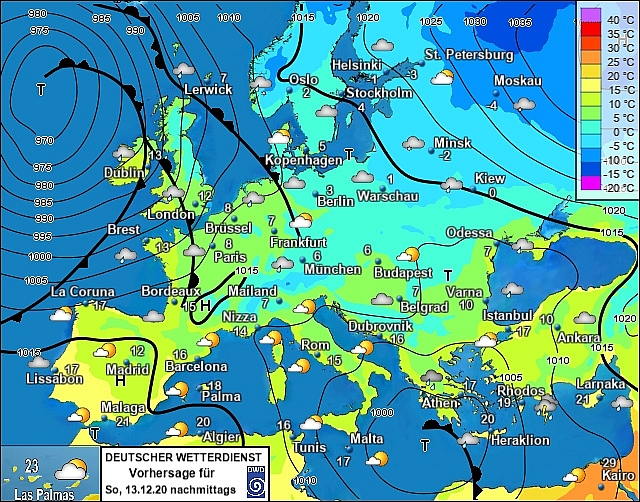 Photo: Stirimeteo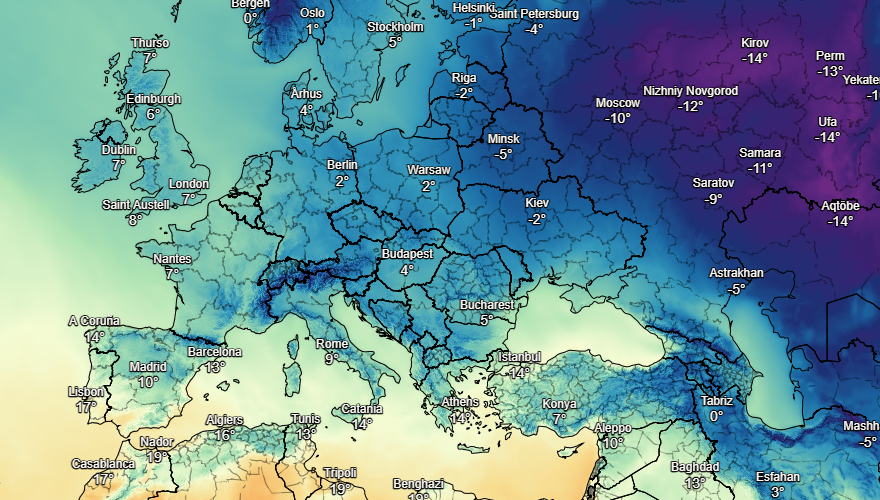 Photo: Stirimeteo
Mostly dry but cloudy for Denmark. Early brightness over the Baltic States is squeezed north as cloud and wintry showers move in from the south. Wintry showers also spread across Finland as well as central and northern Sweden and southern Norway. Staying dry over northern Sweden while central and northern Norway will see some spells of wintry sunshine.
On December 13
According to Weather Online, cloudy with patchy outbreaks of rain for Portugal and northwest Spain. Staying dry and fine for the rest of Spain and for the Balearic Islands, Corsica, Sardinia and much of Italy. Outbreaks of heavy thundery rain affect southern Italy and Sicily but these clear by the evening. Low pressure brings heavy thundery downpours to much of Greece and western Turkey through the day.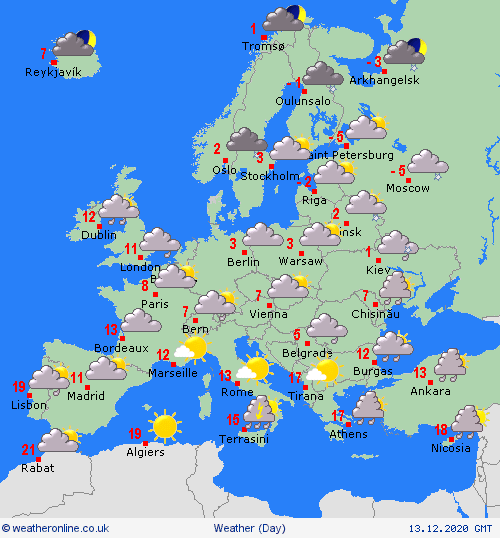 Photo: Weather Online
Scattered showers over northwestern France on Sunday with rain arriving here later. Staying dry and bright over central and southeastern areas. A mostly dry and fair day for Switzerland, Austria, Germany, the Czech Republic, Poland, Slovakia and Hungary with a chance of isolated wintry showers developing at times. Some patchy mist and fog developing in the east.
Rather cloudy for Denmark and the Baltic States with a scattering of showers here - these wintry over Estonia and Latvia. Scattered wintry showers affect northern Finland, much of Sweden and southern Norway too. Staying dry and fine over southern Finland and northern Norway.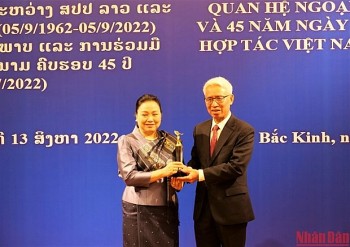 Friendship
The embassies of Vietnam and Laos in China held a friendship exchange in Beijing on August 13 in celebration of the 60th anniversary of the two countries' diplomatic ties (September 5) and 45 years since of signing of the Treaty of Friendship and Cooperation (July 18).