UK and Europe weather forecast latest, December 25: Ferocious polar blast and snow to blanket the UK
The UK is forecasted to cope with freezing weather with ferocious polar blast and snow sweeping across the country. Meanwhile, a chilly night is expected for reindeer over much of Europe and there will be snow in central areas.
UK's weather forecast
Britain is bracing for as much as six inches (16cm) of snow later this week, as a ferocious polar blast sweeps across the UK, Express reported.
The wintry conditions are set to move in from Sunday December 27, according to the latest weather charts. The maps show snow is expected to blanket much of the UK overnight and continue into early next week. The weather charts show even the south east of England is set to see flurries of snow.
Snow risk charts from Netweather show the wintry conditions are set to start in Scotland from 6am on Sunday December 27.
The map shows there is a 100 percent risk of snow over much of Scotland at this time. By the evening the snowy conditions move further south, as much of the UK is seen to turn green, yellow and red indicating a high snow risk by 6pm. The red and white colours indicate between a 75-100 percent chance of snowfall, while the yellows and greens offer between 30-70 percent snow risk.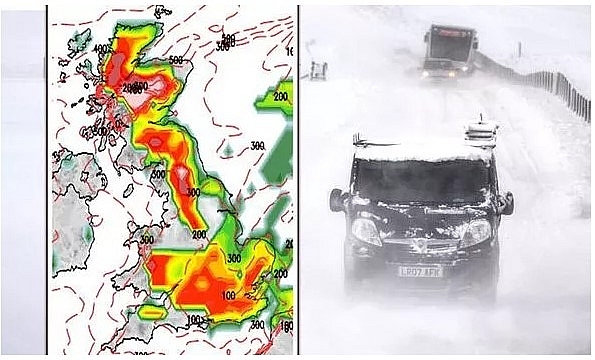 UK snow forecast: The wintry conditions are set to move in from Sunday December 27 (Image: Netweather/Getty)
Wales and North Scotland looks set to see the worst of the snow on Sunday evening, as both areas turn dark red. By midnight on Monday more parts of the UK turns dark red, as the snow risk increases. As 12pm hits, large parts of Scotland, Wales and the Midlands have at least an 85 percent risk of snow.
A second map by WXCharts shows parts of Wales and the north of England can expect up to 1.5inches (4cm) during the same period. By 6pm on Monday the forecasters' snow depth chart shows up to 6.2 inches (16cm) is forecast in parts of central Scotland. From 6am on Tuesday morning, much of Britain -including the capital - are expected to see snowfall.
Netweather's snow risk map shows much of the UK turn bright red to indicate the high chance of snow. The charts indicate the wintry conditions looks set to move in from the east from the early hours of Tuesday morning.
BBC forecasters concur with the weather maps and state: "By Sunday, the colder air will return from the north-west, with showers falling increasingly as hail, sleet and even some snow over the hills."
"Further wintry showers on Sunday night, with a frost and a high risk of ice on untreated surfaces. Snow may fall and settle in some northern and western areas on Sunday night."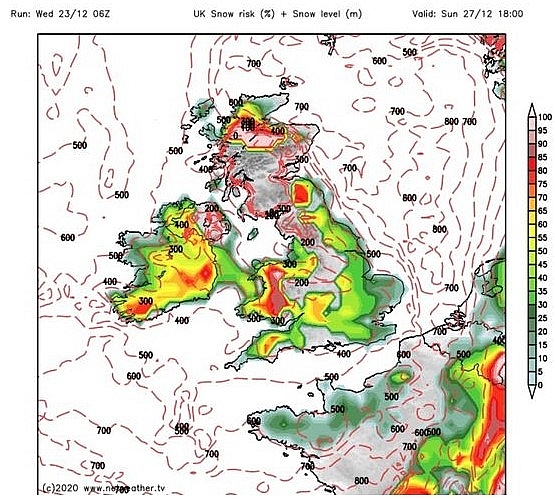 UK snow forecast: By the evening the snowy conditions move further south, as much of the UK is seen to turn green, yellow and red (Image: Netweather)
The Met Office also believes the period between Christmas and New Year could be characterised by snow. They said: "It is expected to stay unsettled for the rest of the weekend and in the run-up to New Year. Outbreaks of rain, heavy showers and strong winds are likely, and there is an increased chance of snow down to lower levels in places."
Despite there being a high chance of snowfall across much of Britain next week, Christmas day is expected to stay dry. The Met Office said: "An area of high pressure is expected to the west of the UK on Christmas Day bringing cold and generally dry conditions for most. After a cold, frosty start it will stay mainly dry with sunny periods."
BBC forecasters agree and said: "Christmas Day will be cold, but largely dry and fine over England and Wales. But they do state East Anglia and Lincolnshire could "catch a wintry shower".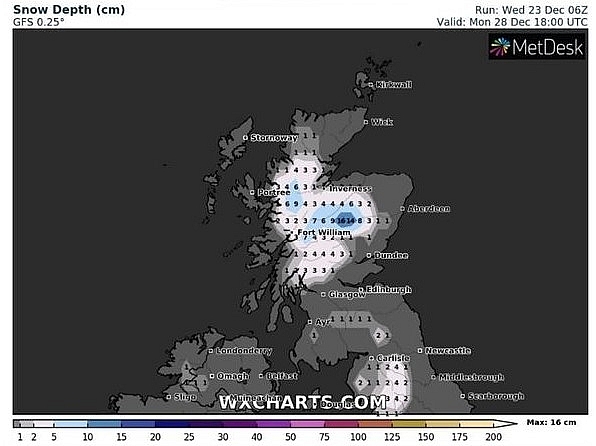 UK snow forecast: By 6pm on Monday the forecasters' snow depth chart shows up to 6.2 inches (16cm) (Image: WXCharts)
On December 25
A fine start to Christmas morning as a ridge of high-pressure built across Ireland and the UK. They will be good spells of sunshine and a widespread frost to start the day. Plenty of sunshine particularly through England and Wales. Cloud will be increasing across Scotland and Ireland with some outbreaks of drizzle into western Scotland. A scattering of wintry showers may affect the northern coast of Norfolk and one or two could trigger over the north coast of Cornwall. Otherwise the day is dry. Highs at a cold 2 to 4C for most, but a milder 10C in the Hebrides later.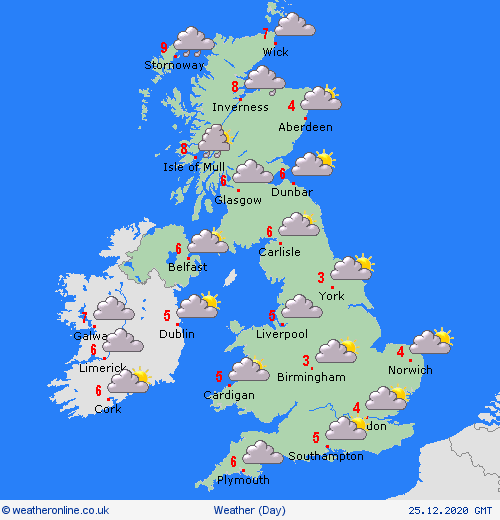 Photo: Weather Online
Europe's weather forecast
According to Weather Online, father Christmas should have a reasonable trip across the skies of Europelater. Showers in northern Spain. A few affecting Portugal too. Drier in central and eastern Spain. Fair through the Balearics, Corsica and Sardinia. Italy should be dry overall with some sunny spells. Greece and Turkey will be dry too with more sunshine here.
Unsettled in much of central Europe. Rain across western and northern France, this heavy at times. Further ain through the Low Countries as well as in northern Germany and northern Poland. Heavy showers for southern Poland, these affecting Hungary and Austria too. Mostly dry for Switzerland with some sunny spells.
Cold for Denmark with a risk of some sleet and snow to the south. Mainly fair in the Baltic States. Chilly with a few snow showers in Finland. Maily dry in Sweden. Snow showers affeting the coasts of Norway, but fair inland.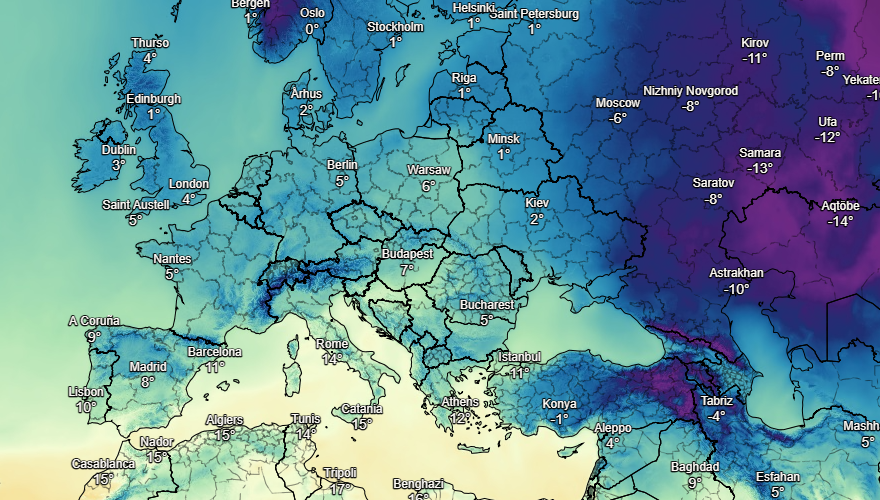 Photo: Stirimeteo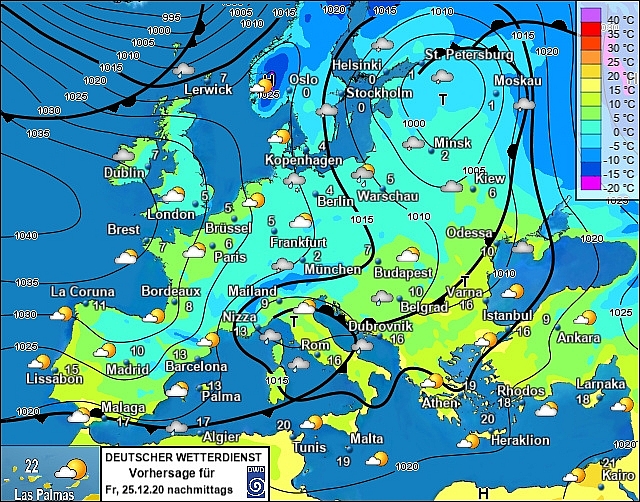 Photo: Stirimeteo
On December 25
A colder day in Spain and Portugal. Showers in northern Spain. fair for other areas with lots of sunshine. Chilly in the Balearics and through Corsica and Sardinia with showers, some of them heavy. Rain and showers in Italy, these heavy and thundery in places. Greece and Turkey will be mostly dry with sunny spells.
Chilly in France with sunny spells and a few showers, mostly east and south. Windy across southern France. Sunny spells and scattered showers for the Low Countries, cold in Germany with some rain and showers to the south. Poland will be cold and bright with sunny spells, some showers and rain in the south. Austria and Hungary as well as Switzerland will be cold with sleet and snow.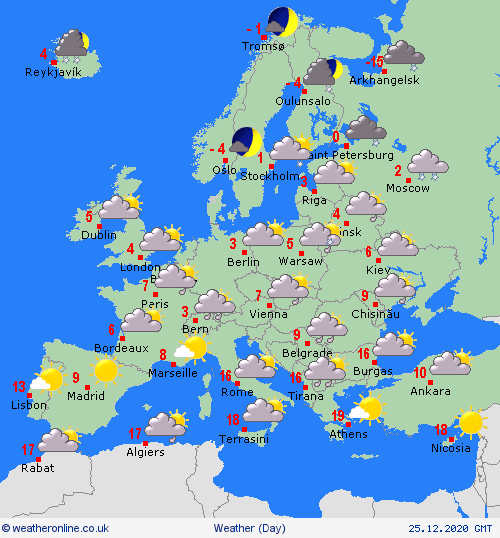 Photo: Weather Online
Cold for Denmark, but bright and dry. Sweden should be cold and dry too. Some snow showers for the Baltic States. Windy in Finland, a scattering of snow showers here too. Norway will be windy in the west with some sleet, drier in the east.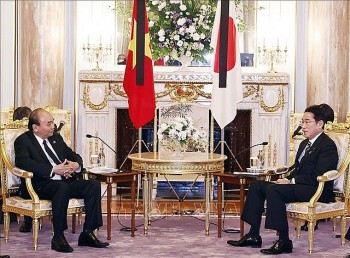 Friendship
Vietnam always treasures the extensive strategic partnership with Japan and views Japan as an important and long-term strategic partner, President Nguyen Xuan Phuc told Japanese Prime Minister Kishida Fumio in Tokyo on September 26.