UK and Europe weather forecast latest, July 20: Heatwave OVER - unseasonably wet and windy heading to UK
Hot weather in UK will have a quick end before turning "unseasonably" wet and windy conditions in this summer. Meanwhile, Europe faces up with boiling temperatures with highs of 42C.
UK's weather forecast
UK weather forecasts predicted another bout of sizzling weather in coming days, as the country saw highs of 27C for the fourth time this year. April, May and June saw similar temperatures, with those of last month edging closer to all-time June highs. However, they may not last for long, as the Met Office predicts the weather may turn to "unseasonable" dampness, express.co.uk reported.
Forecasters at the agency suggest the weather will turn to rain and cloud again this weekend after 26C and 27C highs.
On Sunday, the weather will remain warm at 25C, but with showers on the horizon followed by a dip in temperature to 19C on Monday.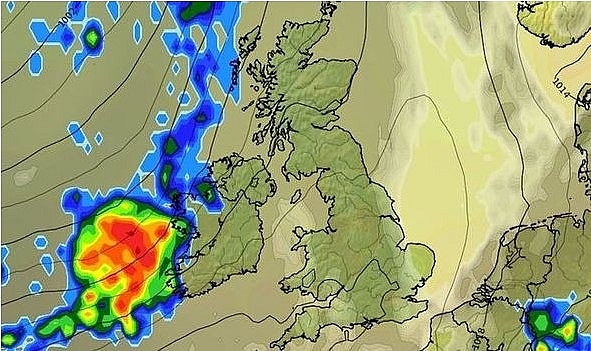 UK long-range forecast: UK prepares for "unseasonably wet and windy" weather after heatwave (Image: WXCHARTS)
While temperatures will remain in the high 10s to low 20s for much of the week, any sun will come edged with clouds.
By Wednesday, July 23, the mercury will reach 23C, but long-range forecasters predict outbreaks of rain will drift over the southeast.
UK long-range forecast: UK temperatures spiked once again this weekend (Image: WXCHARTS)
The long-range forecast from July 23 to August 1 then predicts a change to unseasonable dampness, especially in the north.
The forecast reads: "A fine and dry start towards the south on Thursday, with outbreaks of rain continuing to drift southeastwards through the day.
"Showers further north should begin to ease, but skies will remain cloudy with temperatures turning fresher here.
"As we head towards Friday and the first weekend in this period, it is likely that there will be some further outbreaks of rain and stronger winds at times towards the west, whilst the east should remain more settled."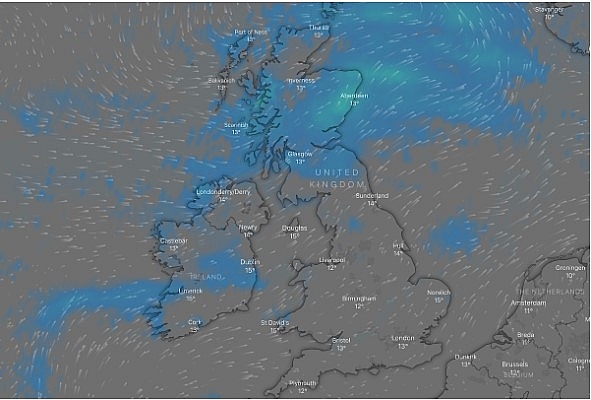 UK long-range forecast: Rain will pool mainly in the north of the country (Image: WINDY)
"There will be periods of calmer and more settled weather during the following week, especially further south, though unseasonably wet and windy conditions will likely return frequently from the northwest.
"Temperatures around average, with any warm spells most likely in the south."
In the meantime, people continue to enjoy the glorious conditions currently encompassing much of the UK, with familiar scenes developing on Britain's beaches.
Brits basked in 25C highs today (July 18), rivalling temperatures in Mexico, which hit 24C in its capital Mexico City.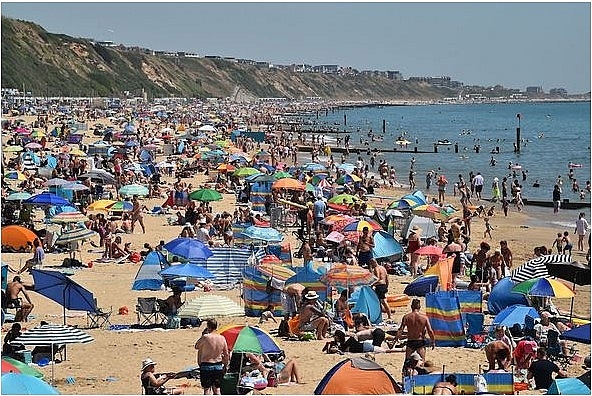 UK long-range forecast: Bournemouth Beach was full of people at the end of June (Image: GETTY)
Bournemouth beach, the subject of controversy last month, was ready to accept up to 100,000 people. Greater Yarmouth was also on track to see up to 50,000 people. Currently, people must remain at least one metre apart from one another due to COVID-19, which may prove hard to enforce in crowds.
Pictures last month showed beaches around the UK chock full of people despite social distancing measures, which remain in place. Bournemouth beach attracted massive crowds at the end of June, forcing local authorities to call in a major incident.
Vikki Slade, leader of the Bournemouth, Christchurch and Poole Council said people's "irresponsible actions" stretched services to their limit.
She said: "We are absolutely appalled at the scenes witnessed on our beaches, particularly at Bournemouth and Sandbanks, in the last 24-48 hours.
"The irresponsible behaviour and actions of so many people is just shocking and our services are stretched to the absolute hilt trying to keep everyone safe."
On July 20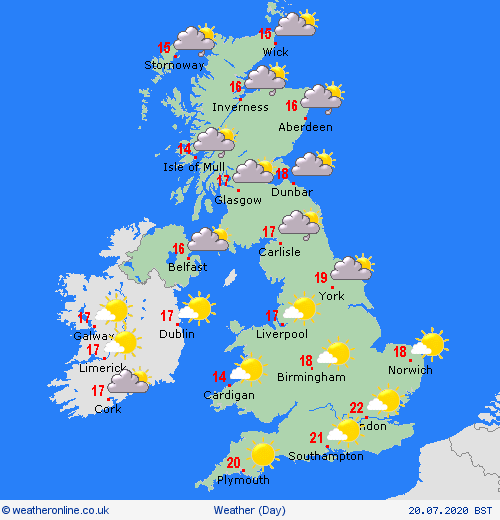 Photo: weatheronline.co.uk
According to weatheronline.co.uk, high pressure lies to the southwest, while a fresh west to northwesterly breeze affects much of Britain. Broken cloud and sunny spells, the best of these across southern and eastern England. A scattering of showers in the west and northwest in the morning, these transferring eastwards to affect northeast England and eastern Scotland into the afternoon, locally heavy. Highs at 16 to 22C, warmest southeast.
On July 21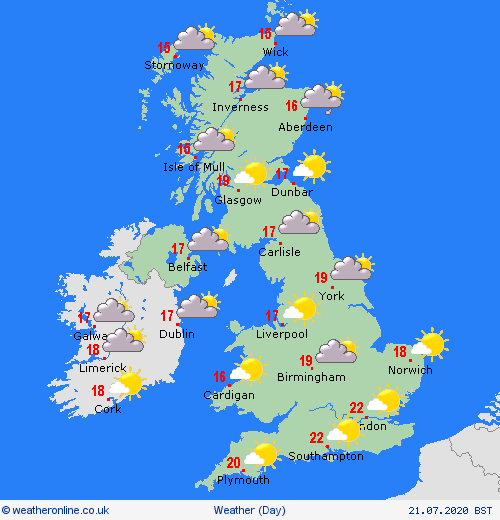 Photo: weatheronline.co.uk
High pressure extends across southern areas, with dry and pleasantly warm conditions for England, Wales and much of Ireland. Sunny spells and well broken cloud here with light winds and coastal sea breezes. Cloudier for Scotland and Northern Ireland with a risk of a little rain or drizzle for western coasts. Local showers may form in eastern Scotland by afternoon. Highs at 16 to 21C, warmest southeast.
Europe's weather forecast
BBC Weather forecaster Tomasz Schafernaker forecasted hot and dry weather for most of Europe over the coming days. He said Spain and Portugal would see the hottest temperatures and noted they have already seen highs of 42C. This hot weather is expected to continue through western Europe with southeastern parts of Europe seeing temperatures in the mid-30s.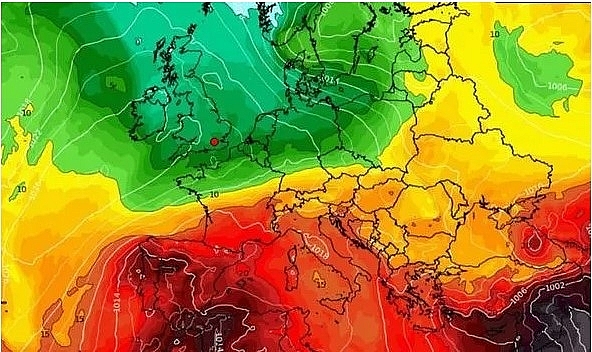 BBC Weather: Scorching heatwave boils Europe as 42C temperatures set to build (Image: WXCHARTS)
Mr Schafernaker said: "Hello, a lot of summer-time heat across western parts of Europe.
"Particularly hot in Spain and Portugal, of course. "Temperatures have recently got up to 42C in the south of Spain.
"That warm weather is spreading into France, Bordeaux will probably be in the low or the mid-30s during the course of Sunday and Monday."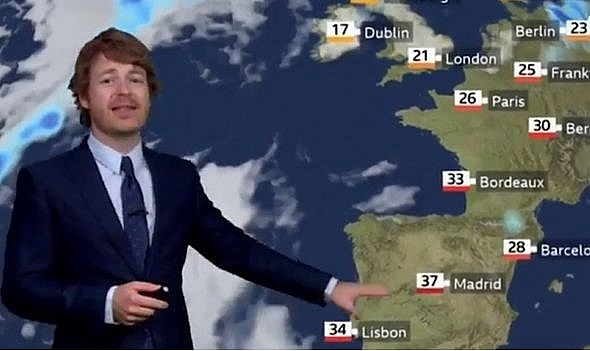 BBC Weather: Spain and Portugal would see the hottest temperatures and noted they have already seen highs of 42C. (Image: BBC)
The BBC Weather forecaster explained this hot weather would not reach the UK as temperatures would be considerably more cool to start the new week.
The hot and dry weather will likely reside in central Europe as eastern Europe can expect some cooler temperatures due to rain.
Mr Schafernaker continued: "Central and eastern parts of Europe very warm. "But here I think there will be a chance of showers and thunderstorms."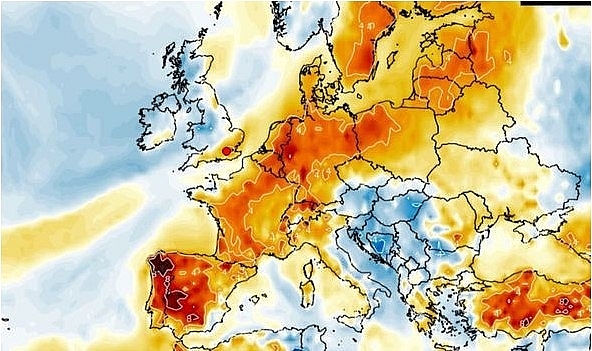 BBC Weather: The BBC Weather forecaster explained this hot weather would not reach the UK as temperatures would be considerably more cool to start the new week. (Image: WXCHART)
"The forecast for Monday shows further storms developing across the north Balkans and parts of eastern Europe."
The southeast of Europe is expected to see temperatures above 30C for most areas with some areas reaching just shy 40C.
The BBC Weather forecaster added: "Lots of hot sunshine for Turkey, Greece, the Greek islands and Rome will be hot and sunny. "It will be excruciatingly hot in Spain and Madrid."
"In fact on Monday, in Madrid it will be in the high 30s. "It won't be quite so hot as previous days in Paris, however.
"It will be 26 degrees Celsius and you can see those showers and thunderstorms across Berlin and Warsaw."
On July 20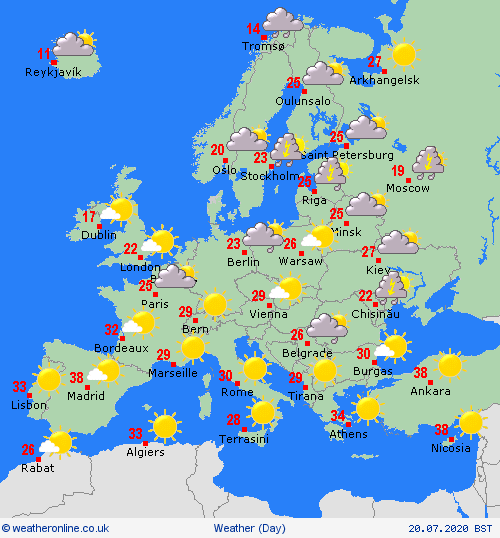 Photo: weatheronline.co.uk
Central and eastern Europe will be unsettled and thundery with areas of rain breaking out widely for the Czech Republic, Hungary, southern Poland, Romania and the Balkan states. Scattered showery bursts for Germany and the Alps, and a few showers for the Netherlands and Denmark.
According to weatheronline.co.uk, staying dry and sunny for Spain, Portugal and much of France, highest temperatures again across the southwest of Iberia. Much of the Mediterranean will be dry, with just isolated showers over the islands, mainly Sicily. Largely dry with scattered afternoon showers for Italy and Greece.
Areas of rain affect Norway and Sweden as low pressure drifts in from the west and fronts pass eastwards, some heavy bursts for a time. Largely dry and warm for Finland and the Baltic states with scattered showers.
On July 21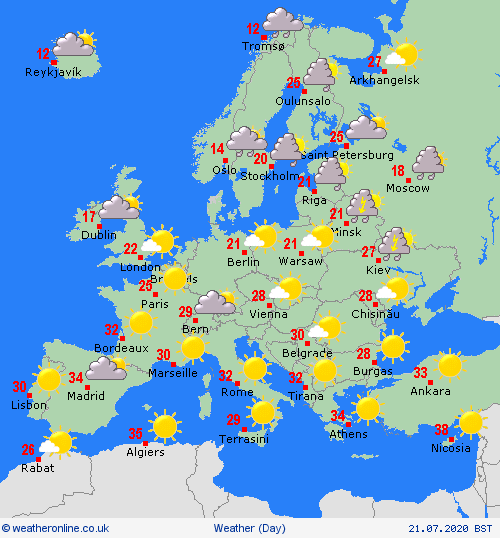 Photo: weatheronline.co.uk