UK and Europe weather forecast latest, July 16: 5 days scorcher to bake UK
Heatwave is forecasted to bake the UK as long-range charts show 5 days scorcher, meanwhile, a deep area of low pressure threatens Europe with heavy downpours.
UK's weather forecast
Britain is on course for a sweltering heatwave as temperatures rocket into the mid-20s for five successive days, according to express.co.uk.
A scorching spell of warm weather is set to strike Britain as temperatures soar to highs of 27C (80F) later this month. Plumes of hot air will move across the UK from Europe on Wednesday, July 22 until Sunday, July 26. The latest weather maps produced by NetWeather.TV shows large areas of the south of England turning dark red as searing heat closes in from the continent.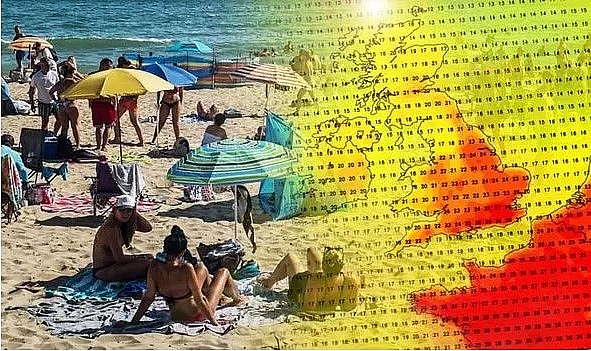 UK weather: A heatwave is forecast to strike Britain (Image: NETWEATHER/GETTY)
The area of high pressure is set to peak on Thursday, July 23 with highs of 27C in the south of England, 24C in the Midlands and 21C in Wales and Scotland. The heat blast will arrive from Wednesday, July 22 with the mercury reaching 24C in the south, 20C in the north and 21C in Wales.
Heading into Friday the dry and bright conditions will continue with highs of 26C in London, 24C in the Midlands and 23C in the north.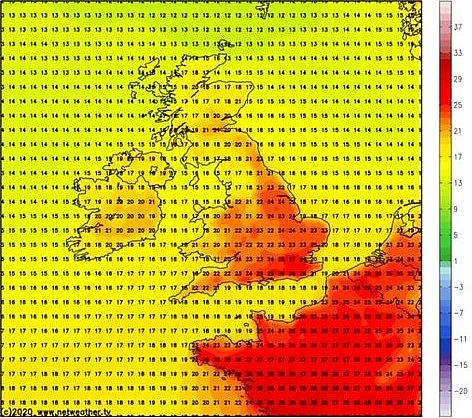 UK weather: Temperatures are set to soar to 27C on July 22 (Image: NETWEATHER)
By Saturday the band of high pressure will continue to move in a northwesterly direction with temperatures reaching 25C in London, 24C in the northwest and 23C in Wales.
Going into Sunday the weather charts continue to darken as heat pushes in from France and Portugal where mercury there soars above 30C.
NetWeather.TV's long-range forecast states the area of high pressure is coming across the UK from the tropical Azores.
The forecast for the week beginning July 20 says the best of the summer conditions will be felt across southern and central parts of the UK, with a chance of a few chilly spells for the north in between the sunshine.
UK weather: High pressure is moving across the UK (Image: NETWEATHER)
NetWeather.TV said: "During this week, high pressure will generally be close to the British Isles, ridging into southern and western areas from the Azores.
"But there will be a generally westerly or northwesterly flow on the periphery of the high pressure area, and there is also potential for one or two chilly northerly blasts."
It adds: "Much of southern, central and eastern England will probably see very little rain, and locally some locations may see no rain at all this week, with the far south most likely to stay completely dry."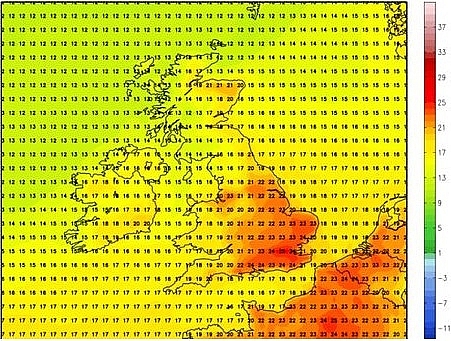 UK weather: Temperatures will remain high going into Friday July 24 (Image: NETWEATHER)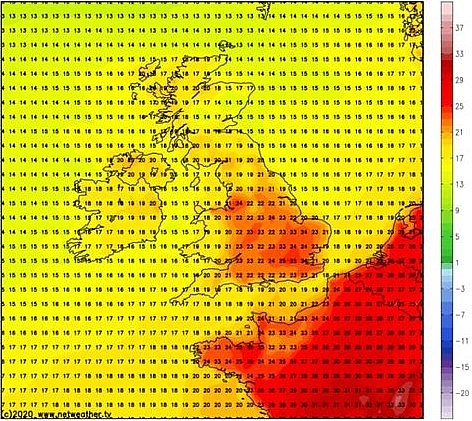 UK weather: Charts have turned dark red in France (Image: NETWEATHER)
BBC Weather's long-range forecast for the end of the month says the UK should see above-average temperatures in the south before the warm weather moves northwards.
It states: "High pressure is expected to be to the south of the British Isles through this period, and this should extend northwards into the south of the UK.
"As a result, southern and central parts of England and Wales should see many dry, settled days, and with temperatures close to, or slightly above, average."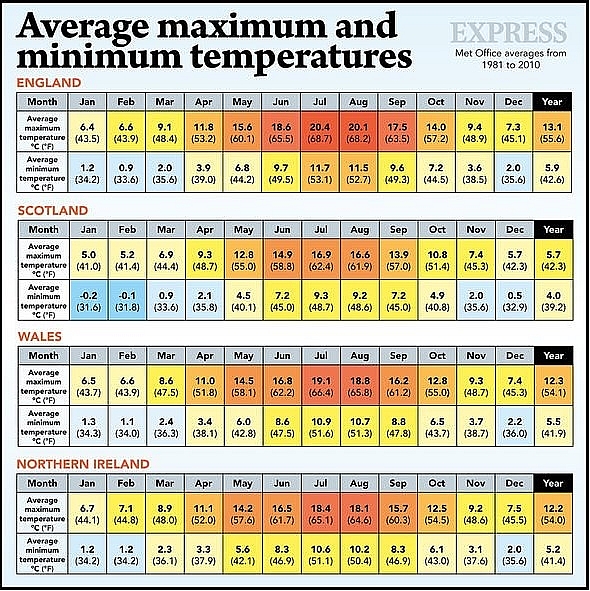 UK weather: Average temperatures across the UK (Image: EXPRESS)
The forecast for soaring temperatures comes a year to the date the record for the hottest ever day in the UK was broken.
The Met Office confirmed 38.7C was recorded at the Botanic Garden in Cambridge on Thursday, July 25, 2019. This figure exceeded the previous record of 38.5°C recorded in Faversham, Kent, in August 2003.
Outlook for Thursday to Saturday
The Met Office is predicting a "warm and humid" feel for many regions of the country. And according to Netweather maps, Thursday also looks likely to be a warm day for many.
Across eastern England and Scotland, many areas are forecast to see temperatures above 20C. But on Friday some parts of the south-east could see even hotter temperatures as high as 27C.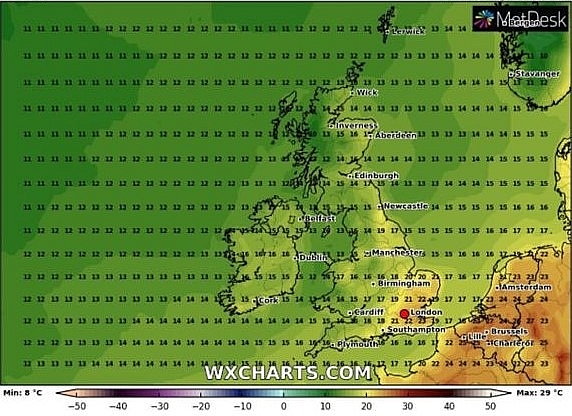 UK heatwave: Saturday will be a warm day for many parts of the UK (Image: WXCHARTS)
"After a showery couple of days, sunnier skies will send temperatures up through the 20s through Thursday and Friday.
"The heat will be focussed across the south of the UK but it's unlikely we'll hit 30 degrees.
"Another case of 'almost but not quite'! The real heat will remain tantalisingly the other side of the English Channel.
"Cooler air will spread down from the north through the weekend.
"But at least for so many of us planning a staycation this holiday season, there's a lot of dry weather in the outlook as we head towards late July."
In comparison to Friday, this weekend looks likely to be a little bit cooler. However, following the trend of previous days, it appears southern regions of the UK will see the most of the warm weather as the week draws to a close.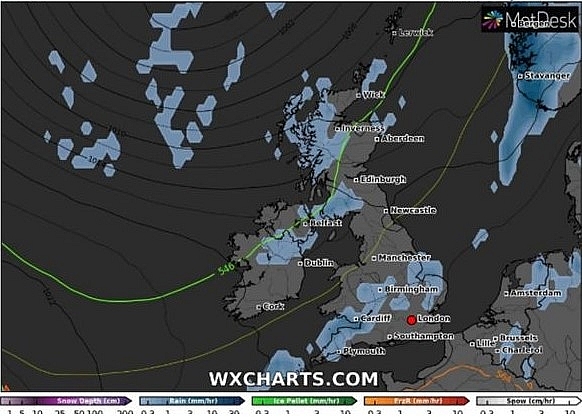 UK heatwave: Some parts of the UK will see some rain over the weekend (Image: WXCHARTS)
According to WXCHARTS weather maps, which use data from MetDesk, temperature highs of 23C could be possible in the south-east on Saturday.
Other areas in southern and eastern England are also expected to see some temperatures above 20C.
Wales, Northern Ireland, northern England and Scotland will be cooler, with temperature highs predicted within the teens. Weather maps also show Sunday will be generally cooler than Saturday, and some rainfall is also likely to make an appearance over the weekend.
Europe's weather forecast
BBC Weather has forecast wet and blustery conditions across parts of Europe. BBC meteorologist Ben Rich warned of an area of low pressure spinning northwards through western Russia. However, sunny, dry and hot conditions are expected across Iberia, with Spain expected to reach close to 40 degrees tomorrow.
Mr Rich said: "Over the western side of Russia, we have developed quite a deep area of low pressure. "As we move out of Tuesday into Wednesday we will keep some wet, blustery weather.
"Further west we have got a band of cloud drifting in and behind that cloudy and cool weather.
"On Wednesday afternoon it will be relatively hot across Turkey, certainly some heat across Cyprus.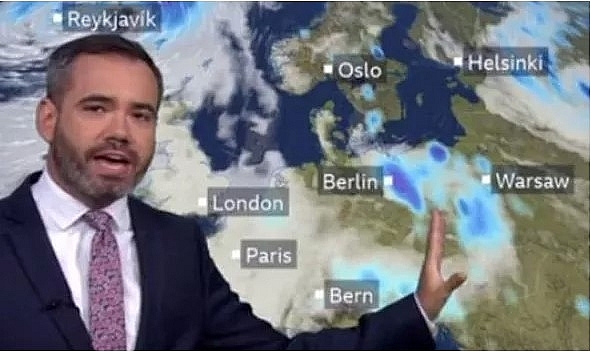 Ben Rich is a meteorologist for BBC Weather Europe (Image: BBC)
"It will be dry and warm for Greece, with a few showers working across Italy."
He continued: "One place where we will have some heat for the rest of the week is Iberia, southern Spain getting close to 40 degrees.
"France and the British Isles are both on the cool side for this time of year.
"There is a band of showery rain moving through Scandinavia and pushing eastwards across Germany.
Temperature are forecast to be in the high 20s (Image: BBC)
"As we go into Thursday some showers will break out across Poland. "The area of low pressure will continue spinning northwards across those western parts of Russia.
"It will be dry, sunny and hot for Spain and Portugal."
Mr Rich said regarding the weekend temperatures across the continent: "Looking further ahead, temperatures in London are set to climb. "By the weekend it will be 27 or 28C.
"At the same time, Paris is likely to get to around 30C. "So things are warming up in the northwest of Europe, but it stays unsettled in Moscow. "Temperatures will be hovering around 20C."
On July 16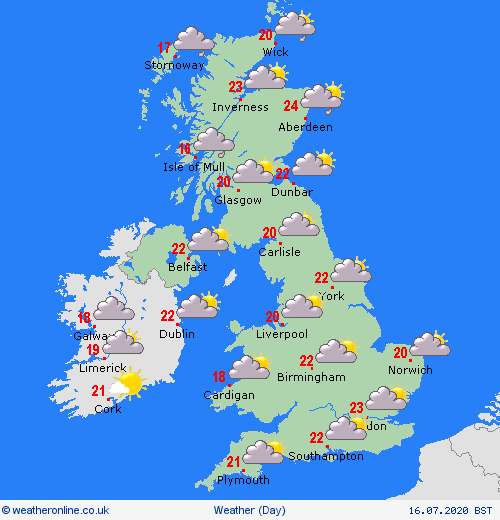 Photo: weatheronline.co.uk.
Slack low pressure affects central and northern Europe, whilst low pressure lies out to the west over the Atlantic. Very warm across southwestern Spain and Portugal with temperatures approaching 40C. Less hot further north and east across Spain, with some areas of rain or local thunderstorms. Plenty of dry weather for France, but areas of rain affect eastern regions.
Thundery rain breaking out widely across central Europe, including the Alps, northern Italy, the south and east of Germany, Poland and the Czech Republic. Eastern Europe will be generally drier with just scattered showers for the Balkans and Romania. Greece and southern Italy mainly dry, but the odd heavy shower possible for Sicily.
Rain affects much of southern Scandinavia, heavy at times, whilst northern parts of Norway and Sweden will see just scattered showers. Generally dry and warm for Finland and the Baltic states.
On July 17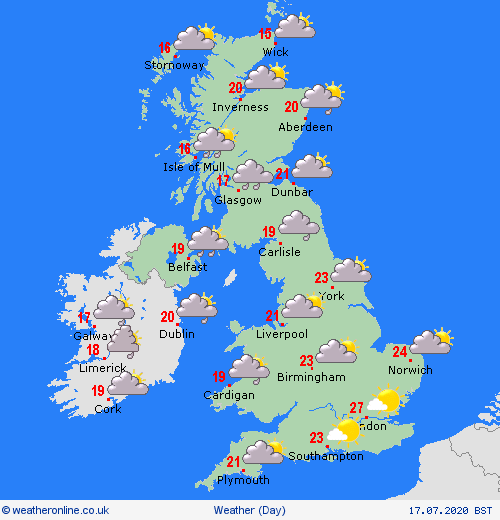 Photo: weatheronline.co.uk.
On July 18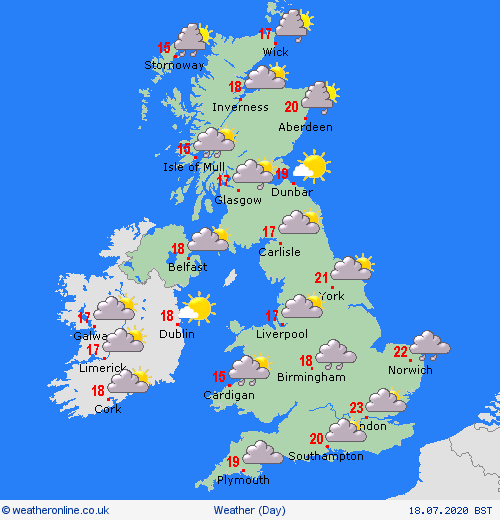 Photo: weatheronline.co.uk.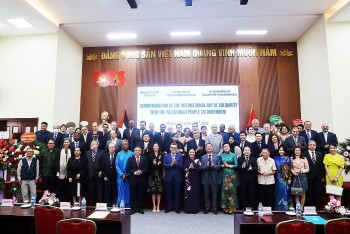 Focus
The Vietnamese people support the righteous struggle of the people of Palestine for independence and freedom.