UK and Europe weather forecast latest, July 17: Sweltering to return with 30C heat in UK
Sweltering will return to bake the UK with 30C heat, meanwhile, cloudy, cool and some rain is forecasted to sweep across Europe. 
UK's weather forecast
Hot weather is set to make a fierce return to the UK this month as temperatures rocket to 30C, according to the latest weather charts, express.co.uk reported.
Forecasters promise a sizzling heatwave in July across southern Britain as hot air moves from Europe to the UK. The latest hot weather maps from Net Weather show temperatures soaring to a sweltering 30 next Thursday in southern regions, including London and Surrey.
Further north in Yorkshire, highs will average 26C and Newcastle will see 23C. It will be cooler in the north west and Cornwall with highs of only 17C and 20C respectively.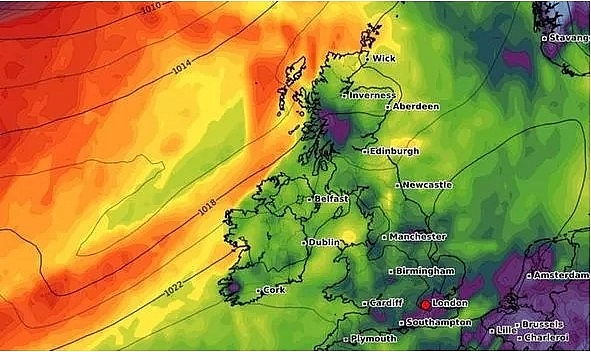 Sweltering hot weather to return with 30C heat frenzy (Image: wxcharts)
Next Wednesday will also see sizzling highs of 28C in London and 25C in Dover. But before next week's heatwave, Weather Outlook's latest forecast said hot weather will also return towards the end of this week.
The forecast said: "Thursday and Friday should be dry and warm in most of the UK with the risk of rain becoming restricted to the north west.
"Temperatures in many areas will be over 21C and in the south 28C could be reached.
"Through the weekend cloud and patchy outbreaks of rain steadily push southeastwards. Cooler and showery conditions follow into northern areas but there is uncertainty about the timing."
As high pressure builds at the start of next week, the weather will be drier. Today will also see some patchy outbreaks of rain in the north and east of the UK.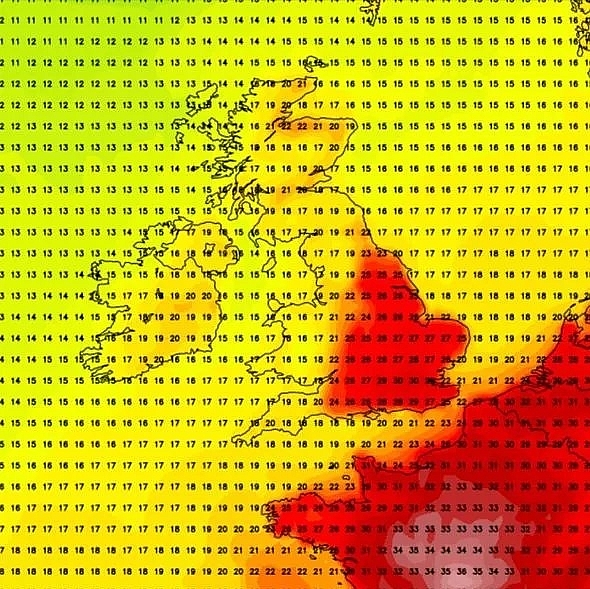 Hot weather is set to make a fierce return to the UK this month as temperatures rocket (Image: Netweather)
But Wales, central and southern England will be dry and bright. The warmest weather will reach the south west of England where people can expect 22C.
BBC meteorologist Helen Willetts said there may be some sunny weather in Northern Ireland, Wales and the South West of England on Wednesday.
She added: "But for most there is more cloud, still some patchy drizzle and it will feel a little bit cooler.
"There's a gentle northwesterly breeze with the exception perhaps being Northern Ireland feeling temperatures just a little higher."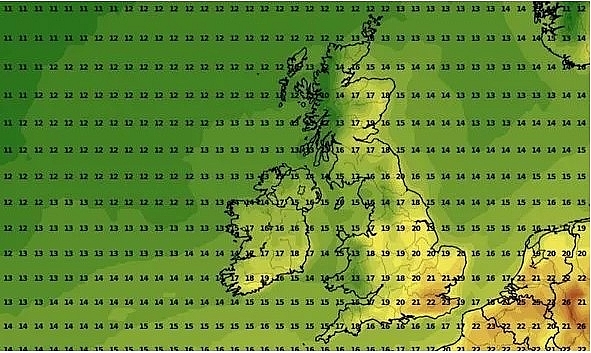 Forecasters promise a sizzling heatwave in July (Image: wxcharts)
Ms Willetts said: "On Thursday it promises a better chance of seeing some brighter weather, even a little sunshine so that will help to lift the temperatures.
"It's just the far north west where we will see some rain coming in."
By Friday, the chances of warmer and sunnier weather will continue to increase in the UK.
Ms Willetts added: "There is a good chance we'll see some decent spells of sunshine for many other areas on Friday and that will really elevate the temperatures."
Friday will see a soar in temperatures reaching 26C in southern England.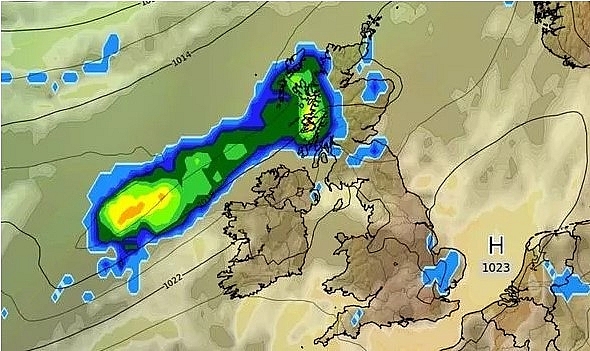 Outbreaks of rain in the north of the UK (Image: wxcharts)
Outlook for weekend
A fair day and very warm day for Friday over most of England and Wales. Some good spells of sunshine and it should be dry too. Southern and eastern parts of Ireland are likely to be dry too with some broken cloud and sunny spells. A weak front brings cloud and outbreaks of rain into Scotland, northern and western Ireland.
The rain turning more persistent into the afternoon, some heavier bursts too. Drier in eastern Scotland, although even here a few spots of rain are likely. Turning cloudier in Cumbria and Northumberland later, some rain on the hills here. A much brighter day for northern Scotland with good spells of sunshine. Highs at a hot 28C in southern England, 21C in southern Ireland, but 16C in the cloudier, wetter areas.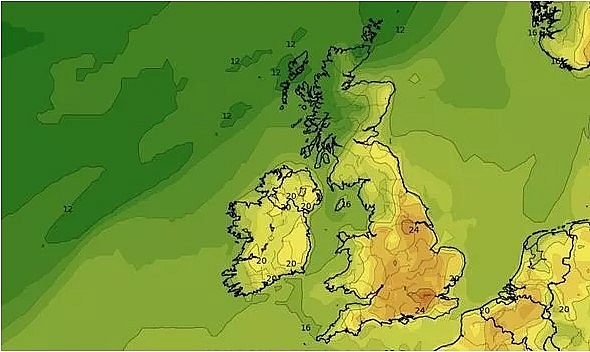 Friday will see a soar in temperatures reaching 26C in southern England (Image: wxcharts)
Outbreaks of rain passing through northern England and Wales on Saturday, these affecting southern and eastern Ireland too. A few showers and some cloud in the Midlands and southwest England by the afternoon. Drier in the far southeast with sunshine. Brighter and fresher in Scotland and the north and west of Ireland. A few showers in western Scotland, otherwise dry. Highs at 25C in southeast England, more widely 15 to 19C.
Europe's weather forecast
BBC Weather has forecast heavy cloud and wet conditions on Thursday across parts of Europe.
BBC meteorologist Chris Fawkes warned of two areas of low pressure moving across the Europe. Mr Fawkes forecast heavy cloud for much of Europe, with cool temperatures and thunderstorms across eastern regions and warmer conditions further south.
Chris Fawkes warned of areas of pressure (Image: BBC)
Mr Fawkes said: "The weather across much of Europe is cloudy, cool and we have some rain to come.
"There are two areas of low pressure, one is going to be bringing some rain across central Europe and another one in western Russia also bringing some wet weather.
"For both of these areas of low pressure we start off with cloud and damp weather.
"As we head into Thursday afternoon the rain is more likely to turn into showers and thunderstorms, some of those will be quite heavy with hail mixed in".
"In southern Europe it is dry and sunny across the Mediterranean with some reasonable temperatures.
"The rain will be increasingly heavy across Germany and into Poland.
"There will be downpours in the Czech Republic and thunderstorms effecting western areas of Russia."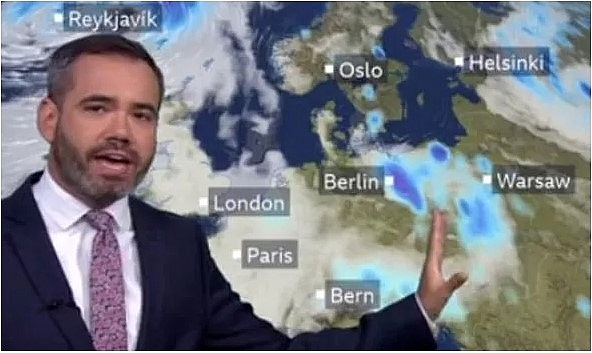 Ben Rich is a meteorologist for BBC Weather Europe (Image: BBC)
BBC meterologist Ben Rich also forecast showers across Poland and provided an update regarding this weekend's temperatures across Europe.
"As we go into Thursday some showers will break out across Poland. "The area of low pressure will continue spinning northwards across those western parts of Russia. "It will be dry, sunny and hot for Spain and Portugal".
Mr Rich said regarding the weekend temperatures across the continent: "Looking further ahead, temperatures in London are set to climb.
"By the weekend it will be 27 or 28C. "At the same time, Paris is likely to get to around 30C. "So things are warming up in the northwest of Europe, but it stays unsettled in Moscow. "Temperatures will be hovering around 20C."
On July 17
High pressure lying to the west of Europe maintains dry and very warm conditions across Spain and Portugal, with temperatures again up to 40C in the southwest of Iberia. Dry across the western Mediterranean and much of France, with temperatures up to 30C in the south, aided by a local mistral wind, weatheronline.co.uk reported.
Fairly unsettled across central and eastern Europe, where slack low pressure will allow areas of rain and thunderstorms to develop widely through the day, affecting Germany, Alpine regions, Poland, the Balkan states and into eastern countries. Areas around the Black Sea should escape dry and warm. A few showers forming for mainland Greece and Italy, but the Greek islands and Cyprus should be dry.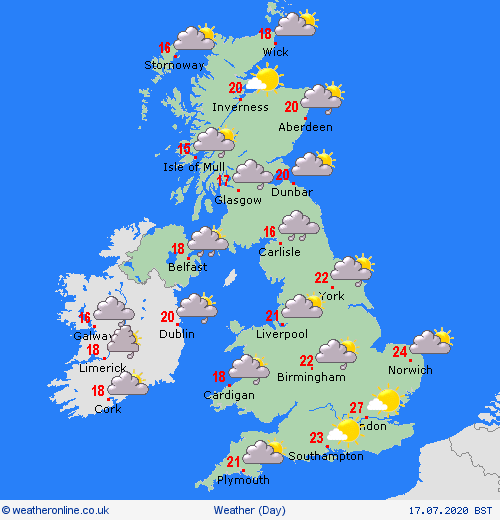 Photo: weatheronline.co.uk.
Drizzly showers are likely for the Low Countries, whilst some heavier showers will affect southern Sweden. A fair amount of dry weather for southern Norway, central Sweden and Finland, but some heavy showers are likely in northern Scandinavia.
On July 18
Photo: weatheronline.co.uk.
On July 19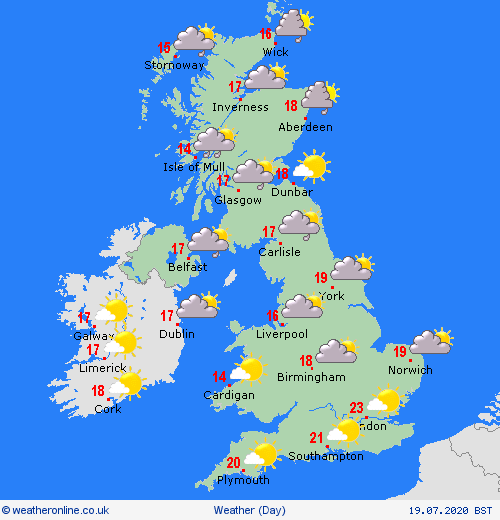 Photo: weatheronline.co.uk.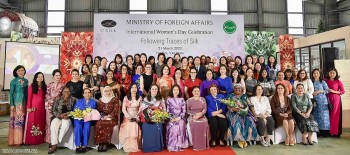 Friendship
Female ambassadors, representatives from diplomatic corps and international organizations, along with spouses of diplomats in Vietnam gathered together to find about more about silk weaving and silk products in Vietnam.