UK's weather forecast
Temperatures in Britain could rise to be as high as 29C in many parts of the country this weekend as a sizzling heatwave grips Europe. While in Europe, weather maps show temperatures could reach a scorching 43C towards the end of this week, express.co.uk reported.
The warm weather will be brought by a large plume of air sweeping across Europe, before hitting Britain towards the end of next week and into next weekend.
According to the Met Office, Friday, July 17, will be warm with good sunshine in the east and south of Britain. The warm air coming from Europe means parts of the UK will reach highs of 30C this weekend.
UK weather latest: A scorching heatwave is expected to arrive from Europe (Image: WXCharts )
Forecasters expected the 'mini heatwave' to last all weekend, with temperatures of 27C and 28C predicted for Saturday and Sunday.
Met Office forecaster Nicky Maxey said: "Luckily, the sunshine is back over the next few days. "It's going to feel more like July. Friday looks like it's going to be the hottest day, but temperatures will still be high across the weekend."
UK weather latest: Some parts of Europe will reach highs of 109F (Image: WXCharts)
"There is a warming trend in the south later this week, certainly by the end of the week and into the weekend, with temperatures back up into the high 20s – if not higher."
Maps from WXCharts show parts of Spain and Portugal will see the centre of the hot temperatures today, as the map turns black with 43C (or 109F) hitting at 3pm today.
The 2m temperature maps also show that parts of the south east of England could see a balmy 27C today.
Into the weekend, temperatures in the south east could peak at about 26C by 3pm on Saturday afternoon.
On Sunday, the weather charts show the whole of Spain and Portugal turn red with 40C forecast for the entirety of the country. While Britain will see cooler temperatures of up to 18C.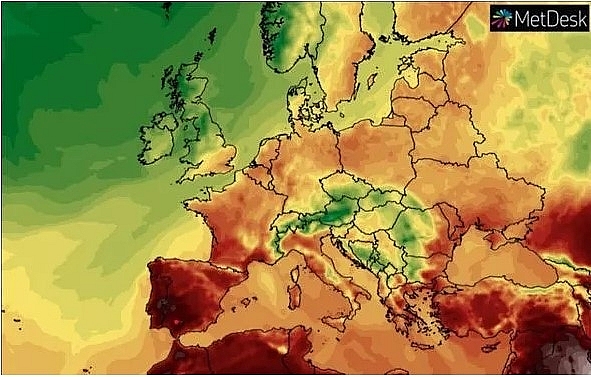 UK weather latest: Temperatures are expected to remain warm all weekend (Image: WXCharts)
The UK will see these lower temperatures continue from Monday and into mid week, with balmy conditions picking up from Thursday midday as a sunny spells heads for Britain.
The weather maps come as Ladbrokes have July down to be a record-breaking month for sunshine.
Odds are 1/3 that temperatures of 30C or higher is recorded anywhere in the UK this weekend.
Ladbrokes spokesperson Alex Apati said: "It looks like we're in for a scorching weekend on the weather front, with temperatures ready to rise." The warm weather, however, will not be felt by all in the country.
Meteorologist Clare Nasir warned a bank of rain and will will hit western parts of Scotland on Friday night, before moving down across central Scotland and Northern Ireland.
She said: "Many of us will see some brighter weather, it will feel warmer south of the rain band, with some sunshine coming through.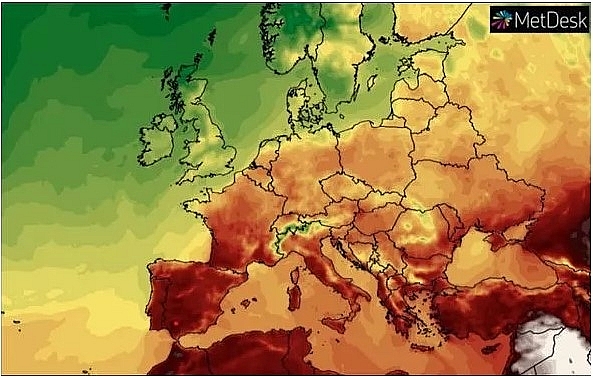 UK weather latest: Some parts of England could see temperatures of 26C today (Image: WXCharts)
"That rain band pushes down towards the far north of England, and extends towards northern parts of Wales." Ms Nasir added: "Into the weekend, it continues its passage southwards, with some fresher air to arrive in the north and also some sunshine."
Statistics from the Met Office show that Britain has seen just 55.5 hours of sunshine in the first half of July, compared to a yearly average of 172 hours.
Ms Maxey added: "[The sunshine] has been even lower in some regions of Britain. Derbyshire, for example, has only seen 43.5 hours of sunshine between July 1 and July 14.
"The county gets an average of 181 hours of sunshine, so they have only seen 24 percent of what they would normally have."
The long range forecast for July suggests good news, with many parts of Britain expected to regularly see temperatures of 20C and above.
The hottest day of the year so far was recorded at the end of June, with temperatures peaking at 32.6C in Heathrow, west London.
Europe's weather forecast
The highest temperatures across Europe at the moment are in the south west of Spain and Portugal, according to the BBC. Weather meteorologist Darren Bett told viewers there is more sunshine on the way here over the next few days. Some of that heat though is getting pushed northwards into southern parts of the UK, into France and all the way into Scandinavia as well.
Mr Bett said: "This is ahead of a band of cloud and rain, which will eventually bring a bit of a change.
"Out towards some eastern areas, we've still got these clusters of rain producing some thundery downpours. "We've had some localised flooding as well. "It looks a bit wetter more widely across parts of Italy, although much drier in Sicily."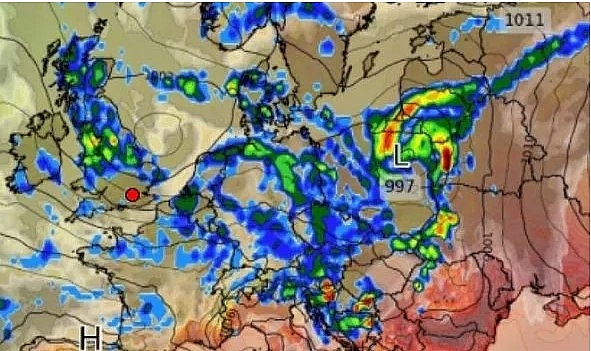 BBC Weather warning: 'Very warm' sunshine under threat from Europe's 'thundery downpours' (Image: WXCHARTS)
He continued: "Whilst that rain eases off a bit overnight, it develops again more widely in roughly the same sort of area.
"This will affect the Czech Republic, Slovakia, the Balkans and perhaps all the way down into Albania. "For much of Greece and Turkey though, it will remain dry and sunny.
"There'll be nothing special about the temperatures though there'll be some very strong sunshine."
'It looks a bit wetter more widely across parts of Italy.' (Image: BBC)
The weather presenter added: "It doesn't look as wet though for Italy on Saturday, remaining drier across Iberia.
"It will perhaps not be quite as hot by this stage, but there's some very warm sunshine to come across France. "We're seeing that heat pushing its way towards Sweden, and particularly towards Finland."
Mr Bett told viewers: "The weather will change in Norway and across parts of the UK as well. "Cooler air will be coming down into London, for example.
'For much of Greece and Turkey though, it will remain dry and sunny.' (Image: BBC)
"More sunshine is in store for Paris while temperatures are continuing to drop away in Lisbon, but it should be dry and sunny in Rome.
"There's more sunshine on the way in Berlin. "It's a different story in Moscow with some heavy thundery showers while temperatures are mid-20s in Stockholm."
On July 19
Fair for Spain and Portgal with plenty of sunshine. Staying fine in the Balearics as well as through Corsica and Sardinia. Italy will have a scattering of showers, but good spells of sunshine. Greece and Turkey wil be dry with plenty of sunshine here, weatheronline.co.uk reported.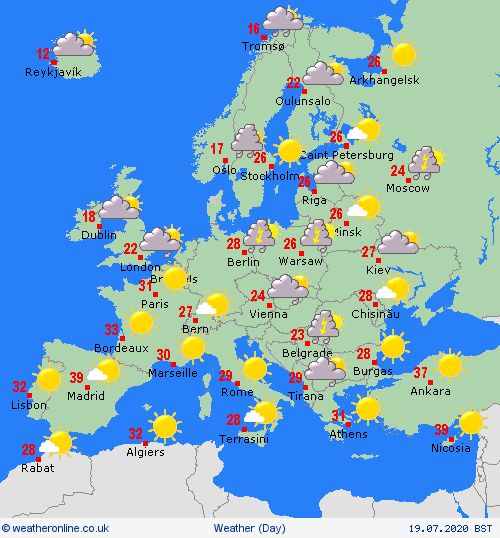 Photo: weatheronline.co.uk
Fair in France with lots of sunshine. Isolated showers in the Low Countries and western Germany, Showers affecting eastern Germany with an area of rain in much of central and northern Poland. Showers in Hungary and Austria, although dry for Switzerland.
Fair with plenty of sunshine across Denmark. The Baltic States will be dry with sunshine here. Fine for Sweden, again with some sunshine. Showers or longer spells of rain affecting Norway.
On July 20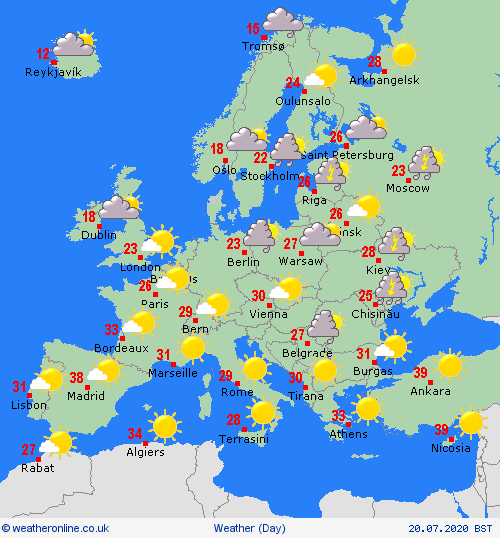 Photo: weatheronline.co.uk
On July 21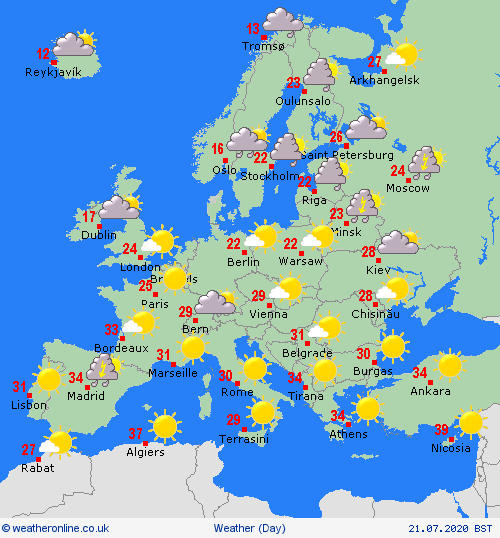 Photo: weatheronline.co.uk
Ruby Lee