UK defence ministry urged to send HMS Queen Elizabeth into South China Sea (Bien Dong Sea)
The UK Ministry of Defence has been urged to send HMS QueenElizabeth into South China Sea (Bien Dong Sea) on her first operational mission next year.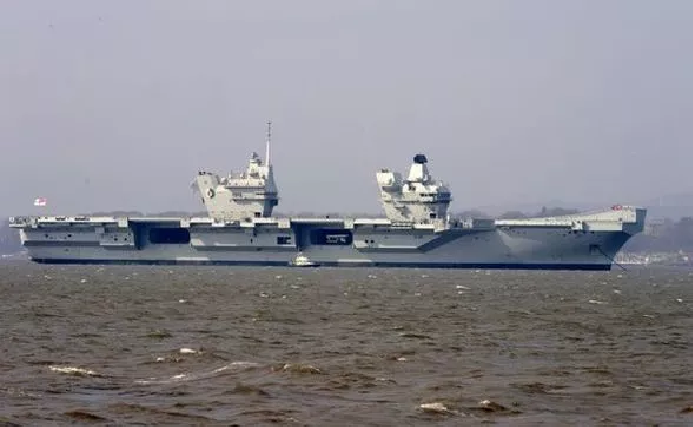 HMS Queen Elizabeth is one of the new aircraft carriers (Image: Getty)
The UK Ministry of Defence has been urged to send HMS QueenElizabeth into South China Sea (Bien Dong Sea) on her first operational mission next year, amid growing fears over China's surging military might in the region.
The Royal Navy's £3.1bn aircraft carrier this week carried out training exercises at sea before returning to base for supplies ahead of departing for major international exercises including the embarkation for the first time of both US and UK F35 Lightning jets.
It is aiming to declare strike carrier capability later this year ahead of its first operational deployment in 2021, The Daily Express reported.
But North East Scotland MP Andrew Bowie said the MoD had to "open its eyes to the glaringly obvious," stressing that they should "step up to the plate" and deploy the aircraft carrier to the pacific.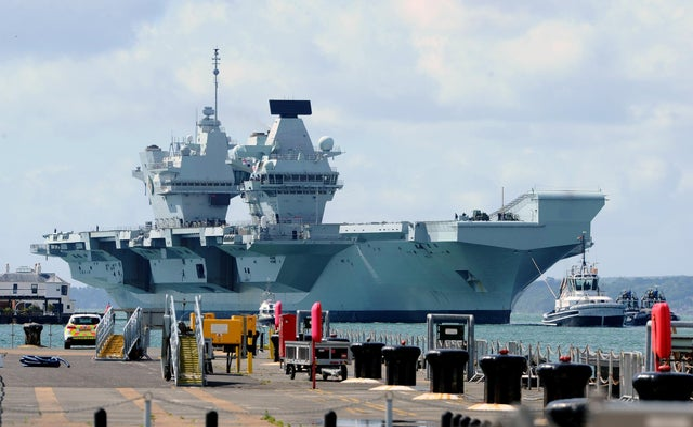 Britain's biggest warship HMS Queen Elizabeth pictured returning to Portsmouth after 10 weeks at sea, carrying out critical training. Photo: Sarah Standing
In a speech to MPs in the House of Commons, Bowie warned China's naval force had boomed since 2014, with the country's fleet of submarines, support ships and hi-tech warships now standing at 335 vessels – more than the total number of ships serving in the navies of Germany, India, Spain and the UK combined, according to Portsmouth's newspaper, The News.
"The size of the Chinese fleet and its rate of growth should be a clear warning of China's determination to become a maritime superpower," he warned.
"Only last week, the People's Liberation Army launched a series of medium-range missiles capable of carrying nuclear missiles considerable distances into the South China sea."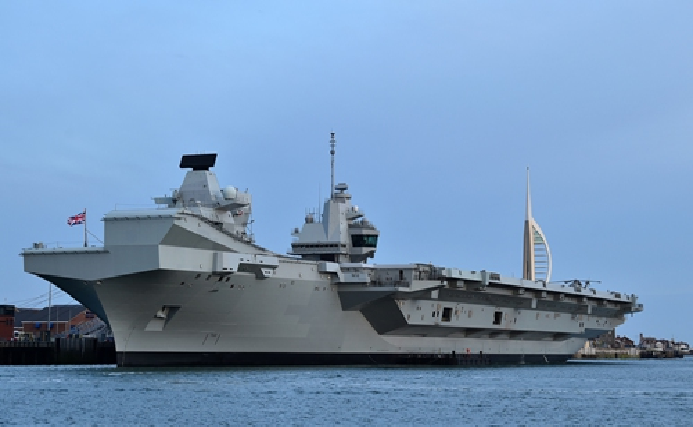 The HMS Queen Elizabeth aircraft carrier is pictured at anchor on the Solent, following an event to commemorate the 75th anniversary of the D-Day landings, in Portsmouth, southern England, on June 5, 2019. Photo: AFP
China claims historical jurisdiction over about 80 percent of the sea, using a U-shaped "nine-dash line" that includes swathes of Vietnam's exclusive economic zone, or EEZ, as well as the Paracel Islands and the Spratly Islands, The Daily Express said.
It also overlaps the EEZs of Brunei, Indonesia, Malaysia, the Philippines, Taiwan and Vietnam.
The United States in June has in response hardened its position on the South China Sea, where it has accused China of attempting to build a "maritime empire" in the potentially energy-rich waters but Beijing has denied this.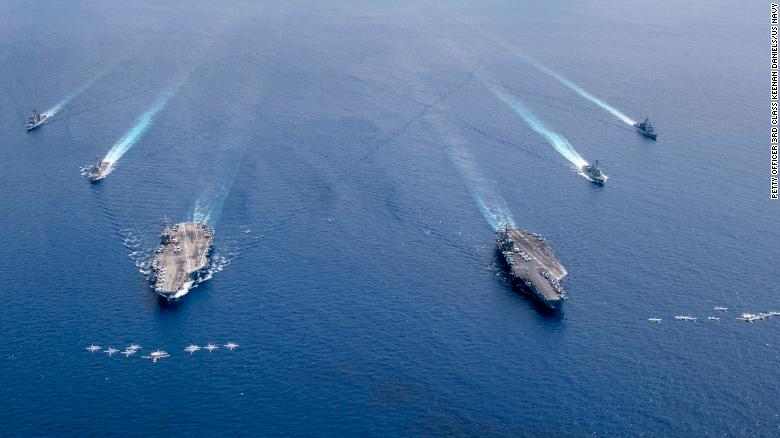 The Nimitz Carrier Strike Force, composed of the aircraft carriers USS Nimitz and USS Ronald Reagan and their escorts conduct operations in the South China Sea. Photo: CNN
At the same time, Philippine President Rodrigo Duterte last week urged a peaceful way out of conflicts with China over the South China Sea and said international law must be followed.
President Duterte made the remarks in a meeting with visiting Chinese defence minister, Wei Fenghe, whose tour of four Southeast Asian countries coincides with some rhetorical sparring between the United States and China over the disputed waterway.
Duterte said in a statement: "We must always be guided by our commitments in international law. Any and all disputes must be resolved peacefully."
Deployment of HMS Queen Elizabeth mooted in 2017
HMS Queen Elizabeth. Getty image
The deployment of HMS Queen Elizabeth to the region was mooted by Prime Minister Boris Johnson during his time as foreign secretary in 2017, when he insisted the UK's two 'new colossal aircraft carriers' would be sent on a 'freedom of navigation exercise' in the region, The News said.
Last year, former defence secretary Gavin Williamson added to this and warned Britain needed to be ready to 'use hard power'.
But since then, ministers have rowed back on the stance following threats by China in March.
Speaking this week, defence minister James Heappey said deployment details were still being finalised, adding: 'It will be an ambitious deployment which demonstrates the UK's commitment to upholding a rules based international system and showcases our world-leading carrier capability.'
UK-China relations have sourced in recent months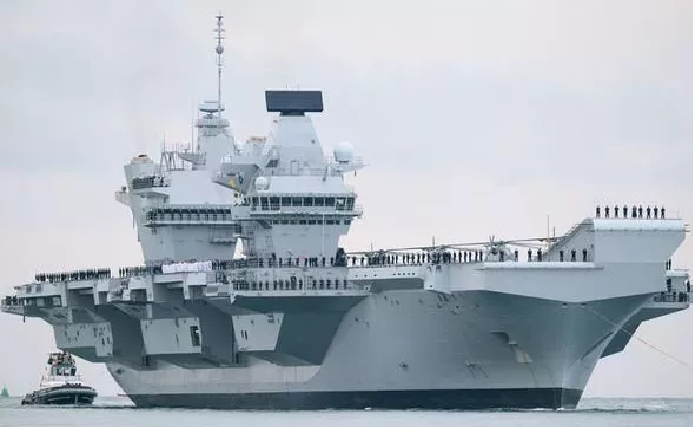 HMS Queen Elizabeth. Getty image
Earlier, The Diplomat said it is no secret that relations between the UK and China have soured in recent months. Already strained over issues such as Hong Kong, the countries' links have suffered greatly during the fallout from the COVID-19 pandemic.
Such issues have prompted London to reassess its relationship with Beijing, with the decision to deny Huawei an active role in Britain's 5G network heralding a more confrontational approach to bilateral affairs. Despite this, silence over recent months has raised questions as to the Johnson administration's long-term commitment to this change.
In light of this uncertainty, imminent decisions regarding the Asia-Pacific deployment of the UK's new aircraft carrier, HMS Queen Elizabeth, have taken on new significance.
Set to embark on its first mission next year, the warship's potential visit to the disputed South China Sea may prove revealing as to whether the UK-China relations have indeed entered a "new era" of competition.
Of course, it is important to remember that such a move would by no means signify the return of a previously absent player, the news magazine said, adding that a British military presence remains notable throughout regional security infrastructure, with a Royal Navy "party" in Singapore complementing a more conventional base in Brunei.
The UK also remains a member of the Five Power Defense Arrangements with Malaysia and Singapore and has even recently sailed frigates through the South China Sea.
This activity reflects the continued importance of local sea lanes for the British economy, as 12 percent of the country's maritime trade passes through the area, it said. /.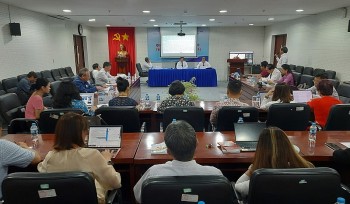 Friendship
The Vietnam - India Friendship Association's Ho Chi Minh City branch, the Ho Chi Minh City Union of Friendship Organizations (HUFO) and the Southern Institute of Social Sciences on March 21 held a scientific seminar themed "Vietnam - India relationship: tradition and present".