US to ASEAN: Reconsider deals with China firms which build facilities on Bien Dong Sea
U.S. Secretary of State Mike Pompeo asked Southeast Asian nations Thursday to reconsider deals with Chinese companies blacklisted by Washington for building island outposts.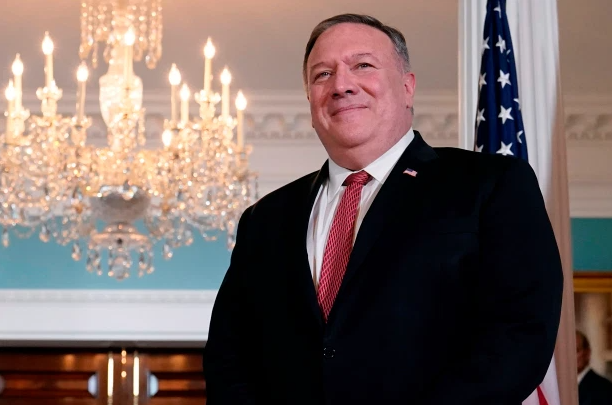 US Secretary of State Mike Pompeo (Photo: NY Post)
US warns ASEAN against cooperating with blacklisted China firms
Pompeo spoke with counterparts from the Association of Southeast Asian Nations in an annual East Asia Summit (EAS) conference by video due to the coronavirus pandemic. Four of the members — the Philippines, Vietnam, Malaysia and Brunei — have been locked in the long-raging territorial conflict with China, along with Taiwan, over the busy waterway, which Beijing claims almost in its entirety.
Although the U.S. lays no claim to the South China Sea, The Washington Post reported that the Trump administration has recently imposed sanctions on Chinese officials responsible for Beijing's military buildup in the area. It includes airfields and radar and missile stations on islands constructed atop coral reefs, raising fears China may interfere with freedom of navigation in international waters.
"Don't just speak up, but act," Pompeo said in a virtual address to the summit of Association of Southeast Asian Nations. "Reconsider business dealings with the very state-owned companies that bully ASEAN coastal states in the South China Sea. Don't let the Chinese Communist Party walk over us and our people." NY Post quoted.
24 China firms blacklisted for carrying out island building activities on Bien Dong Sea
US Commerce Department on August 26 blacklisted 24 Chinese companies, saying that they are helping the ruling Chinese Communist Party construct artificial islands in the Bien Dong Sea (South China Sea), which the U.S. sees as a military provocation. The firms are Chinese large dredging, shipbuilding, infrastructure, and technology companies.
Commerce Department said that since 2013, the Chinese government has built more than 3,000 acres of islands in the international waters off its southeastern coast, including "air defense and anti-ship missile features."
This appears to be the first time the administration is publicly targeting China's actions in the South China Sea, which has provoked U.S. partners in Southeast Asia like Taiwan and the Philippines. Secretary of State Mike Pompeo has recently stepped up criticism of China's claims of outposts in the area, Politico cited.
China's island-building spree through 2017, followed by more assertive military maneuvers, has put the Southeast Asian claimants on guard in the waterway that's prized for fisheries and energy reserves. Washington has no claim in the 3.5 million-square-kilometer sea but believes the sea should be open internationally, VOA said.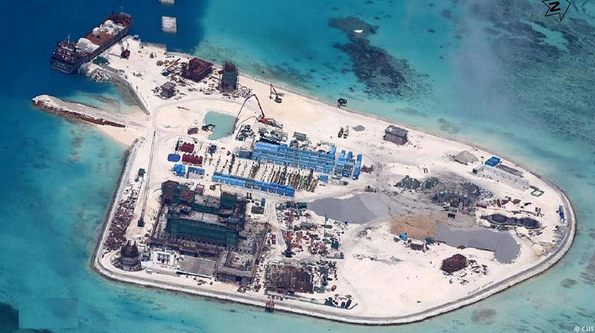 China's illegal artificial island on Bien Dong Sea (Photo: PLO)
Nations' claims towards Mike Pompeo's call
There was no immediate comment from China or its foreign minister, Wang Yi, who was participating in the ASEAN meetings and separately met the group's ministers Wednesday. China has insisted it has right to safeguard its national interests and accuses Washington of interfering in regional affairs.
Philippine President Rodrigo Duterte's administration said last week it would not follow the U.S. move and will allow one of the blacklisted firms or its subsidiary to partner with a local company for an airport project in Cavite province south of Manila.
"They can either result in disaster or a new dawn of peace and stability for our region," Malaysian Foreign Minister Hishammuddin Hussein told colleagues on Tuesday about ASEAN countries' reaction over US call.
Chaired by Vietnam Deputy Prime Minister and Foreign Minister Pham Binh Minh, the 10th East Asia Summit Foreign Ministers' Meeting took place on September 9 within the framework of the ongoing 53rd ASEAN Foreign Ministers' Meeting (AMM-53) and related meetings hosted by Vietnam.
Fifteen years after its establishment, the EAS is now facing both new opportunities and challenges in the context of unprecedentedly rapid and complex changes in the region. The countries need to coordinate closely to strengthen the group in the new phase, contributing positively to dialogue and cooperation, maintaining peace, security and prosperity, and effectively responding to emerging challenges in the region.
World
Here are seven that stand out in a world tipping towards recession and higher inflation: Vietnam, Indonesia, India, Greece, Portugal, Saudi Arabia and Japan