UNDP Collaborates with Canadian Embassy to Support Social Impact Businesses in Vietnam
This is an opportunity for SIBs and all SIB Ecosystem stakeholders to connect and share their experiences towards accelerating the development of Vietnam's SIB Ecosystem.
Hundreds of social impact businesses (SIB), intermediaries, and investors gathered in Hanoi on Dec. 16 at the SIB Connect to exchange information and share experiences toward accelerating the development of the SIB ecosystem in Vietnam. The event, part of the ISEE-COVID project, was co-hosted by the Ministry of Planning and Investment (MPI), Global Affairs Canada (GAC), and the United Nations Development Programme (UNDP).
The project "Leveraging Viet Nam's Social Impact Business Ecosystem in Response to Covid-19" (ISEE COVID project), with sponsorship from Global Affairs Canada, is co-implemented by UNDP and the Agency of Enterprise Development (AED), Ministry of Planning and Investment. It aims to enhance the resilience of social impact businesses (SIBs) in Viet Nam and contribute to reducing the impact of Covid-19 on vulnerable groups, especially women and girls.
Launching SIB Hub at SIB Connect event (Photo: UNDP)
In Vietnam, approximately 4% of businesses are classified as SIBs, which are facing multiple challenges in developing sustainable business models to balance between making profits and creating social impacts. The main challenges that they are facing include lack of capital, lack of information and product market, and lack of knowledge and skills on corporate governance.
With an Ecosystem approach, the ISEE-COVID project is tackling the inter-connected and systemic challenges that SIBs are facing. In 2022, the ISEE-COVID project focused on improving the capacity of SIBs, providing seed funding, building the capacity of and coordination between SIB intermediaries, and strengthening government policy-making capacities for enabling SIBs.
The project has provided seed funding and 6-month one-on-one coaching for 31 SIBs to develop and test new business models, products, and services. In addition, more than 200 SIBs have benefited from training and capacity-building activities, investment promotion, and market access. A cohort of SIB intermediaries received capacity building. The SIB Innovation Champion program has trained nearly 60 individual champions, who in turn provided free coaching for 120 SIBs. The project has also supported 03 SIB-led intermediary organizations to develop and roll out their own peer-to-peer training and coaching activities for more than 100 SIB members.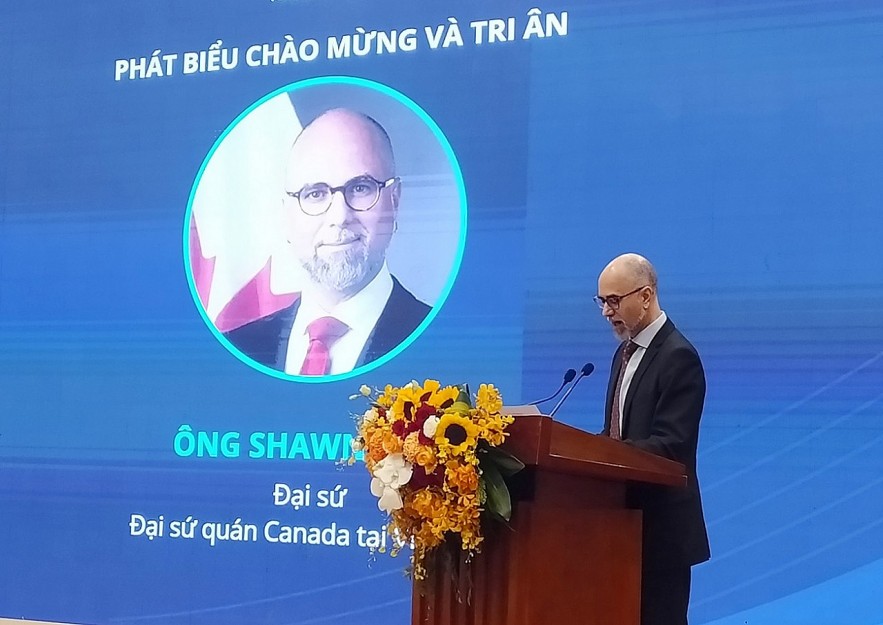 Ambassador of Canada to Vietnam Shawn Steil (Photo: Valerie Mai)
In her remark, UNDP Resident Representative Ramla Khalidi said: "SIB CONNECT is an opportunity for us to celebrate the achievements of social impact businesses and ecosystem actors after a year filled with challenges. Yet the resilience and relevance of the SIBs were best demonstrated precisely in this context of uncertainty, where SIBs were quick to turn their business activities around."
According to the Ambassador of Canada to Vietnam Shawn Steil said: "Canada's development cooperation program in part aims to help catalyze private capital to support sustainable and inclusive economic development. The ISEE-COVID project highlights Canada's commitment to promoting gender equality. The project is also responsive to the Government of Vietnam's poverty reduction priorities by supporting inclusive economic development with a particular focus on small and medium-sized enterprises"
Deputy Minister of Planning and Investment Tran Duy Dong (Photo: UNDP)
On the Government's policies to support the SIB community in the coming period, Deputy Minister of Planning and Investment Tran Duy Dong said: "On the way to achieve the sustainable development goals, social impact business (SIB) is the vital factor, contributing to the economic development, at the same time creating positive impacts on the society and the environment by creating jobs and providing products and services to vulnerable groups. Although there is no specific policy for social impact businesses, the Government always recognizes, encourages, and appreciates SIB."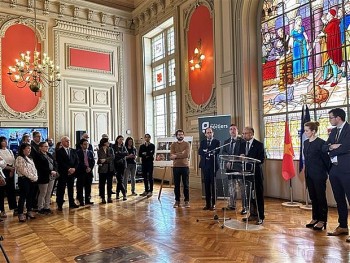 National
Vietnam News Today (Mar. 26): Vietnam and Thailand promote labour cooperation; Vietnamese, French localities look to step up cooperation; Attractive incentives on offer at Hanoi Tourism Festival 2023; E-commerce accounts for 60% of Vietnamese digital economy.