UNDP Attaches Importance to Cooperation with Vietnam: Resident Representative
The United Nations Development Programme (UNDP) always attaches importance to cooperation with Vietnam, UNDP Resident Representative in Vietnam Ramla Al Khalidi affirmed in Hanoi on October 19.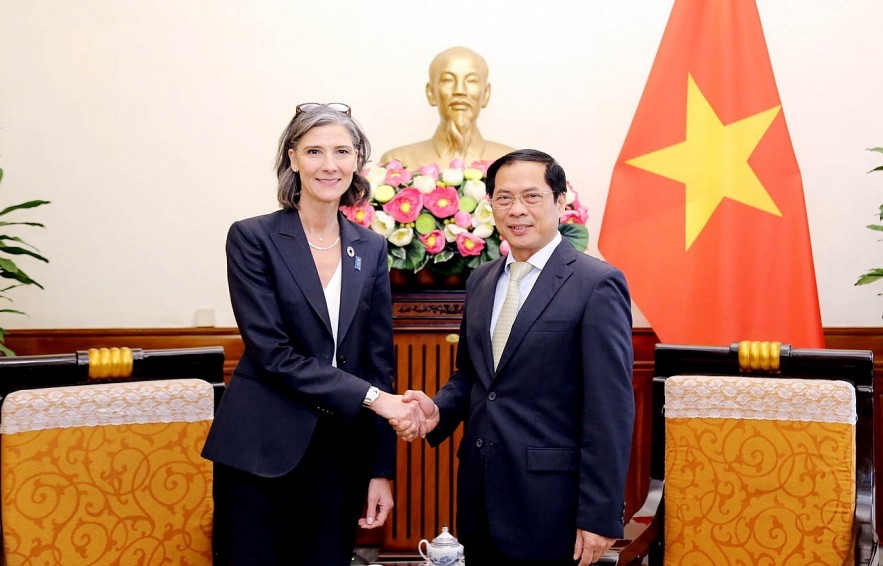 UNDP Resident Representative in Vietnam Ramla Al Khalidi and Foreign Minister Bui Thanh Son. Photo: The World & Vietnam Report
At a meeting with Foreign Minister Bui Thanh Son, the UNDP official congratulated Vietnam on being elected to the UN Human Rights Council for the 2023-2025 tenure, VietnamPlus reported.
She pledged to work closely with the Ministry of Foreign Affairs and other competent agencies to successfully implement UNDP's Country Programme document and the UN's cooperation framework for Vietnam in the 2022 – 2026 period, especially in economic recovery, which covers the support for small- and medium-sized businesses, climate change response, and digital technology application in the fields of health and education.
For his part, Son lauded UNDP's contributions to Vietnam's socio-economic growth, particularly in epidemic prevention and control and post-pandemic recovery.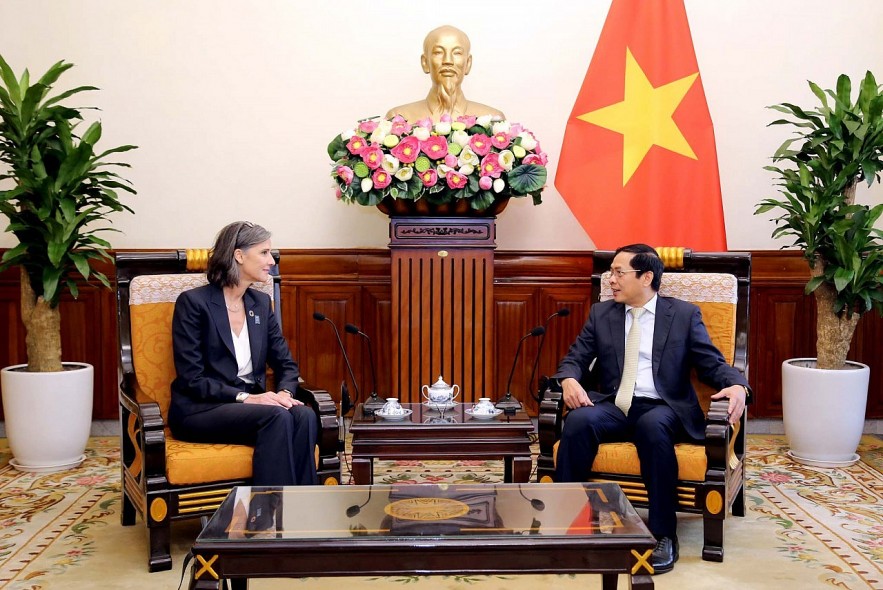 At the meeting between UNDP Resident Representative in Vietnam Ramla Al Khalidi and Foreign Minister Bui Thanh Son. Photo: The World & Vietnam Report
He suggested that the UN body continue to offer its support in terms of resources, policy advice, and experience sharing to Vietnam to implement its industrialisation and modernisation, and the 2021-2030 socio-economic development strategy.
He also proposed further assistance for Vietnam to implement commitments on climate change and greenhouse gas emissions reduction, and negotiate the establishment of a just energy transition partnership (JETP), focusing on completing the legal framework, access to finance and technology, and improving governance capacity.
Earlier, speaking at a policy discussion on the human rights and climate change nexus in Hanoi on October 18, Khalidi said UNDP is deeply committed to supporting stakeholders in Vietnam to ensure the planning for climate change adaptation, mitigation, just energy transition and environmental protection, are aligned with human rights standards.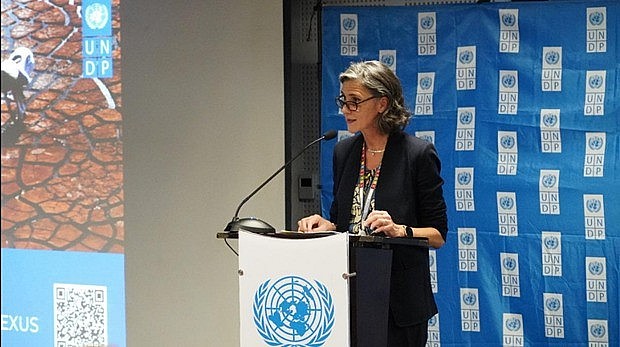 UNDP Resident Representative in Vietnam Ramla Al Khalidi speaks at the policy dialogue in Hanoi on October 18. Photo: VNA
"UNDP is passionate about supporting Vietnam's commitment to net-zero emissions by 2050 and getting there in an inclusive and participatory way that leaves no one behind," she said as cited by the World &Vietnam Report.
In her article entitled "The path toward gender parity in politics in Vietnam" on the occasion of Vietnamese Women's Day (October 20), she also affirmed that UNDP in Vietnam stands ready to support the country in delivering its commitments and targets toward gender equality in the public sector.
"UNDP in Vietnam looks forward to work with you all, government agencies, local non-governmental organisations, and development partners to accelerate the country's efforts in achieving women's equal and meaningful participation in politics in Vietnam."/.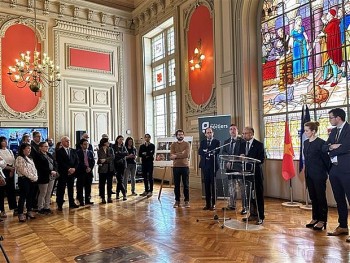 National
Vietnam News Today (Mar. 26): Vietnam and Thailand promote labour cooperation; Vietnamese, French localities look to step up cooperation; Attractive incentives on offer at Hanoi Tourism Festival 2023; E-commerce accounts for 60% of Vietnamese digital economy.