UNDP donated robots to help protect frontline health workers
On June 26, the United Nations Development Programme (UNDP) donated three Ohmni Robots to the National Hospital of Tropical Diseases to help protect frontline doctors and nurses from COVID-19 and other infectious diseases.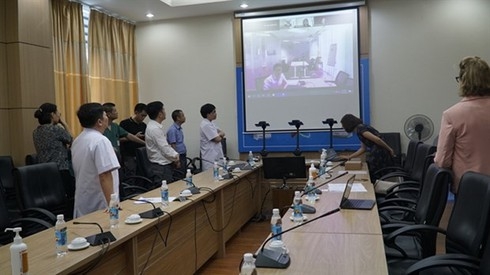 Ohmni Robots are tested at the National Hospital of Tropical Diseases. (Photo: UNDP)
Ohmni Robots have the main functions of remote communication, remote diagnoses and treatment, informed VOV.
Vietnam is one of the tropical countries susceptible to infectious diseases such as H1N1, H5N1, SARS, hepatitis A, B and dengue fever. The National Hospital of Tropical Diseases is a front-line hospital that receives patients with highly contagious diseases.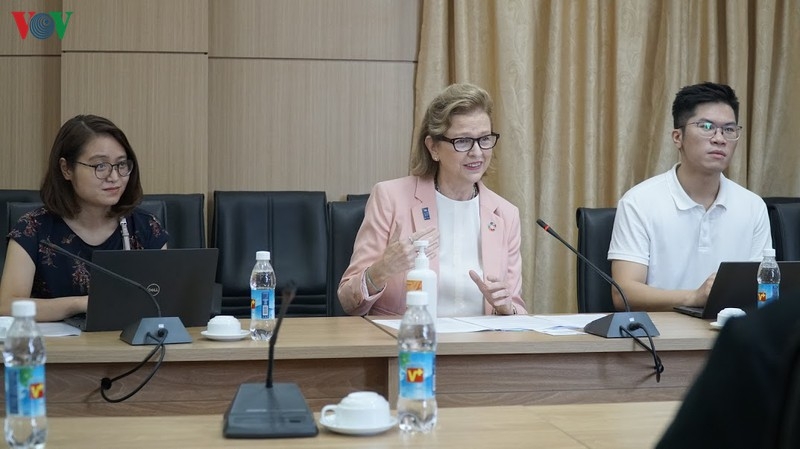 Ms. Caitlin Wiesen - UNDP Resident Representative in Viet Nam hopes that these robots will effectively assist doctors in the treatment of infectious diseases. (Photo: VOV)
According to Dr. Nguyen Vu Trung, Deputy Director of the National Hospital of Tropical Diseases, the hospital has so far only used personal protective equipment (PPE) and tried to protect the health workers as best as possible. However, some doctors and nurses are still at high risk of infection because they come in direct contact with patients, especially when doing procedures to treat the disease, reported by Bao dau thau.
Handing over the robots to the hospital, UNDP Resident Representative in Vietnam Caitlin Wiesen said these robots provide safe interface between the doctor and the patient for diagnoses and they enable doctors to see more patients at a time.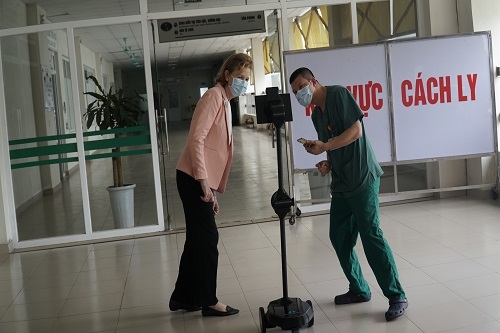 Representative of UNDP and National Hospital of Tropical Diseases tested Ohmni robots. (Photo: UNDP)
They are fully automatic, can be managed from a large distance and provide the added function of tele-medicine and tele-training. That will be very important for the interface between the central hospital and hospitals in rural areas.
She added that the intention was not to replace existing doctors and nurses. It was to complement and provide safety in highly infectious contexts.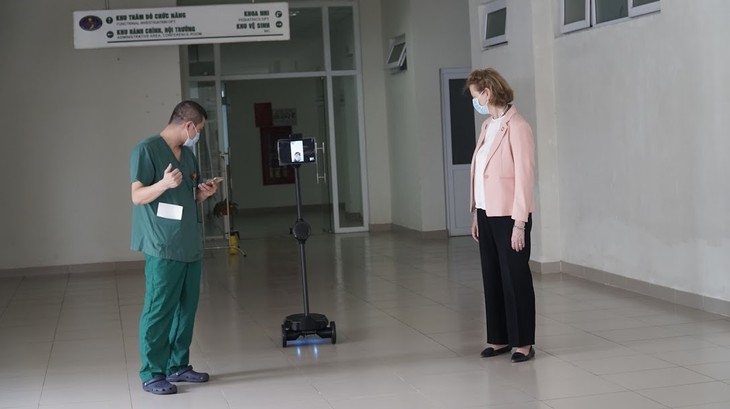 Ohmni robot testing at the National Hospital of Tropical Diseases (Photo: Bao dau thau)
Dr. Tran Van Bac, Deputy Head of the Hospital's Emergency Department, said: "The quality of the audio images, the ability to control robots to move near and far and change the position of observation can partly help us diagnose the disease and detect symptoms from a distance."
Meanwhile, Nguyen Vu Trung, Deputy General Director of the hospital, said: "These robots will help us a lot, the non-contact procedures will protect us."
These are the first robots in a series of robots awarded by UNDP to hospitals for ecosystems and robot applications testing, including diagnostics, distance learning, and distribution of necessary medicines and equipments for treatment of COVID-19 and other infectious diseases. The next donation in July will be the BeetleBot robot.
After experimenting with these two robots, UNDP will hold dialogues between hospitals, health care system stakeholders and robot manufacturers in order to build a healthy robot ecosystem in Vietnam, according to Financial Times.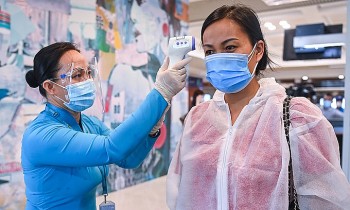 National
Vietnam News Today (October 20): Vietnam adds 3,034 Covid-19 cases to national infection tally; HCM City enhances cooperation with China's Shanghai; Thirty-two localities declare Covid-19 risk levels; Transport ministry mulls letting the unvaccinated fly.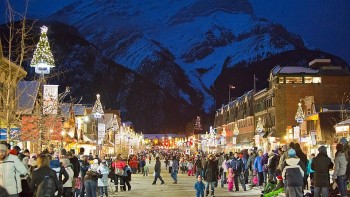 Travel
If you are looking to celebrate your Christmas somewhere else outside the country, then Canada can be the perfect choice for you with these 10 best and most idyllic places to have a wonderful Christmas holiday with your friends and families.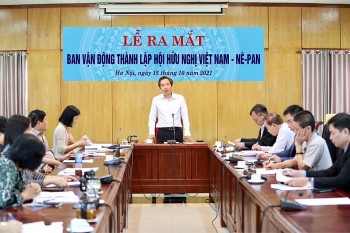 Friendship
The Advocacy Committee for the establishment of the Vietnam - Nepal Friendship Association was officially launched.