Unforgettable Tenure of US Consul General in Vietnam
For Marie C. Damour, US Consul General in Ho Chi Minh City, her term in Vietnam gives her an opportunity to deepen bilateral ties amid challenging regional and global contexts.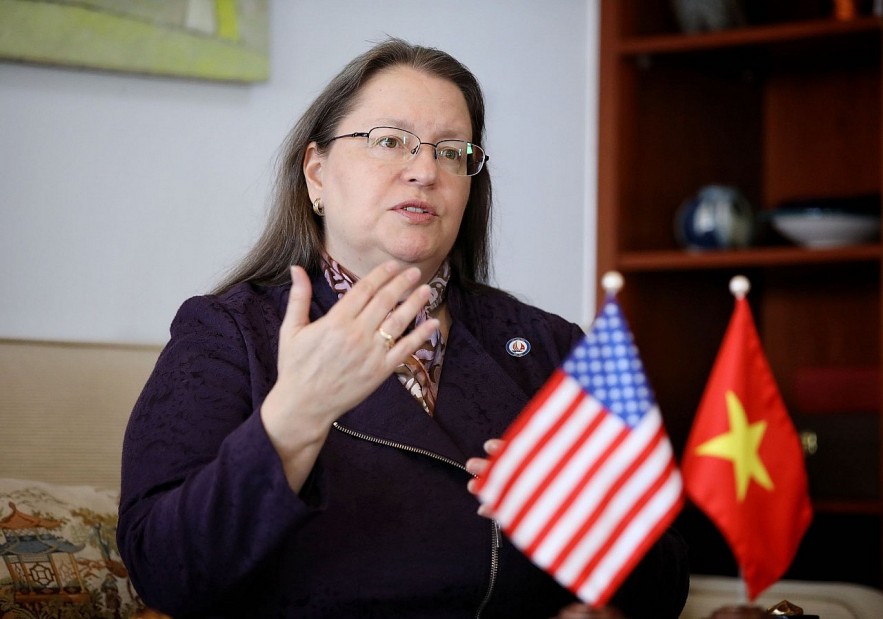 Marie C. Damour. Photo: Ngoc Duong
Marie C. Damour, US Consul General in Ho Chi Minh City, said she has achieved most of her goals during her term, strengthening the comprehensive partnership between the two countries.
Overcoming challenges
"My main goal has always been to help strengthen the relationship between the US and Vietnam. I feel that over the last three years we have accomplished that, although maybe not in the way we expected. I don't think any of us could have predicted that it would take us two years to worry about a global pandemic. However, in a way, this pandemic has helped strengthen the comprehensive partnership between the US and Vietnam," she said.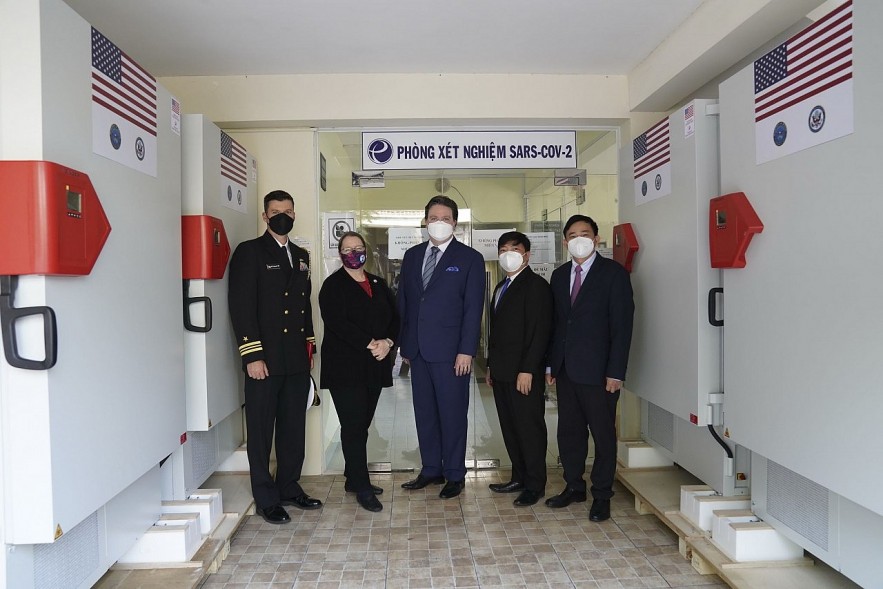 Handover ceremony of refrigerators to Pasteur Institute in Ho Chi Minh City on March 4th. Photo: Thanh Nien
If people say a good partnership is one where both sides benefit, she said the pandemic really underscores how Vietnam and the US benefit from this partnership.
As a diplomat, Damour appreciated that Vietnam is playing a bigger role in the world, not only in ASEAN, in the Indo-Pacific region, but also at the United Nations Security Council.
"The peacekeeping mission that Vietnam is participating in is something I didn't think about 20 years ago when I first came here," she said.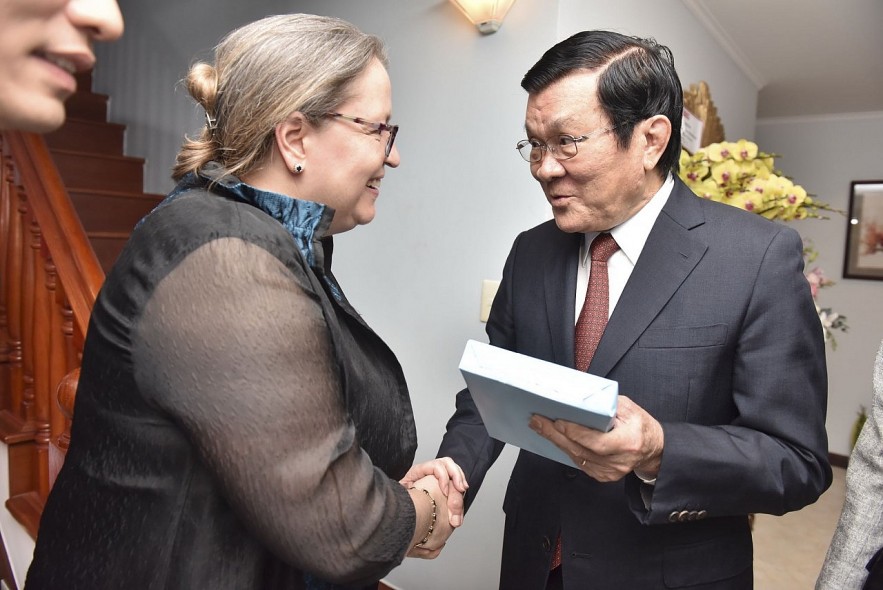 (Right) Former President Truong Tan Sang and US Consul General Marie C. Damour at an event in early 2020. Photo: Thanh Nien
Three words about tenure in Vietnam
It is "challenging, open and fun". According to Damour, this is a challenging time, but in a positive way if you want to develop yourself as a diplomat. Besides, one of the great things about diplomacy is that you always learn something new every day.
She enjoys learning more about Vietnam, from culture and history to language and foreign policy. Finally, it's "fun," because "I have a lot of love for this country," she said.
The US Consul General said that because of the pandemic, there are still many places in Vietnam she has not been to, such as the northern mountainous region. "But the great thing is that Vietnam is always there, and I just have to come back next time," she said.
Regarding Vietnam's commitment to achieve net zero emissions by 2050, the US Consul General believes that this is a feasible target.
"Vietnam has a real opportunity to switch to more sustainable forms of energy. Of course, doing that requires overcoming many challenges, such as upgrading the national grid to receive electricity from solar and wind energy. This can be done, but it takes time, money and effort," she said.
"I think all of Vietnam's partners and friends are ready to help your country fulfill that commitment, because we have the opportunity within our reach for Vietnam to become a leader in this area. I think Vietnam can absolutely prove that a middle income country can still do it. We need someone to take the lead, for others to follow," she said.
Unforgettable memories
Consul General Damour was deeply moved when she mentioned an unforgettable moment during her tenure in Vietnam. That was the time when she first attended the repatriation ceremony of the remains of American soldiers in Da Nang.
The representative of the Government of Vietnam handed over two small boxes, inside containing the remains of American soldiers missing during the war. Then the American servicemen received them and placed them in two metal coffins.
"When they started putting the American flag on the coffin, I was so moved that I burst into tears. All I can think about is this could be my father. When I was two years old, my father was sent to Vietnam and stationed not far from there (Hue).
Thinking of this possibility, I was really moved because if it were my father, I wouldn't have any memories of him right now. And I started thinking about people in America who don't know anything about their father, their brother, or their uncle. I think about our role, as diplomats, in making sure that doesn't happen to anyone else. I think about Vietnam and how benevolent the Vietnamese people have been in respecting the shared tragedy and focusing on the future. Therefore, it was a moment I will never forget," she said.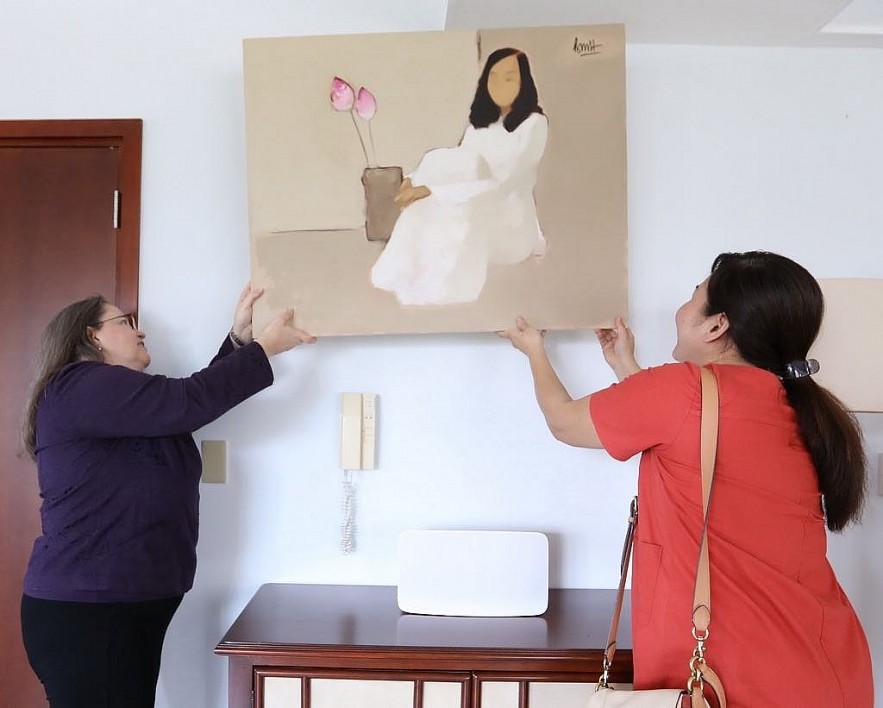 This is Consul General Damour's favorite painting. Photo: Thanh Nien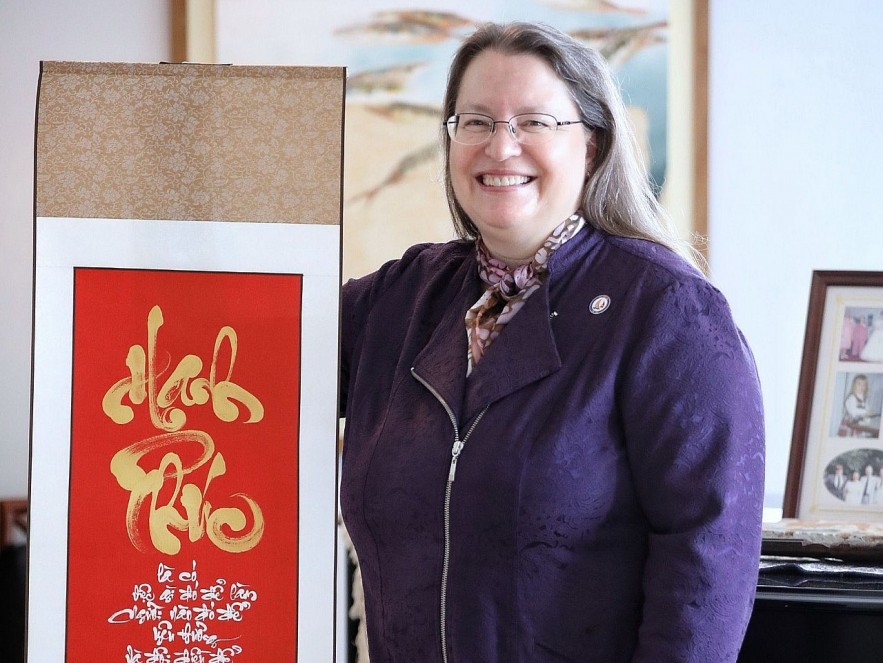 Photo: Thanh Nien
Another memory is from a trip to Can Tho. On the boat to the floating market in the early morning, the US Consulate General talked with two environmental experts about the impact of climate change and the construction of hydroelectric dams in the upper Mekong River. A woman in a canoe came and served what, according to Damour, was "the best bowl of soup ever eaten for breakfast".
"At that very moment, I suddenly realized: this is Vietnam, a place facing future challenges, where cultural and culinary traditions flow, all wrapped up in a unique setting," said the US consul general. According to her, no one can not forget such moments.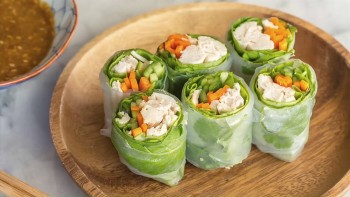 Travel
Rolls are a easy-to-make dish that is loved by many Vietnamese diners as well as Korean stars.