Upcoming Foreigner-Friendly Exhibitions in Hanoi
Read on to discover new and exciting exhibtions in the Vietnam's capital, from history archives to fine arts collection. There is something for everyone to enjoy, whether you are a tourist or a long-term resident in Hanoi city.
Paying a visit to a local art space is always a good way for you to learn more about a place and its people. Exhibitions, of momentums or modern artworks, tell the story of how people were inspired to create, communicate, and express themselves. These are some open-to-public, foreigner-friendly exhibitions in February to get closer to Hanoi - the thousands-year-old capital and its hidden charm.
Foreigner-Friendly Exhibitions in Hanoi
The Temple of Literature in the revival of Hanoi's heritage - The Temple of Literature
To celebrate the 50 founding anniversary of Vietnam - France diplomatic relation, from now til the end of April, "The Temple of Literature in the Recognition of Hanoi's Heritage 1898-1954," exhibition will be displayed in the front of the Thai Hoc house of the Temple of Literature.
February 14 marked the opening of the exhibition. This is a special photo collection, hosted by the Temple of Literature and the School of Far East (EFEO), to present to the public the history of the Temple of Literature.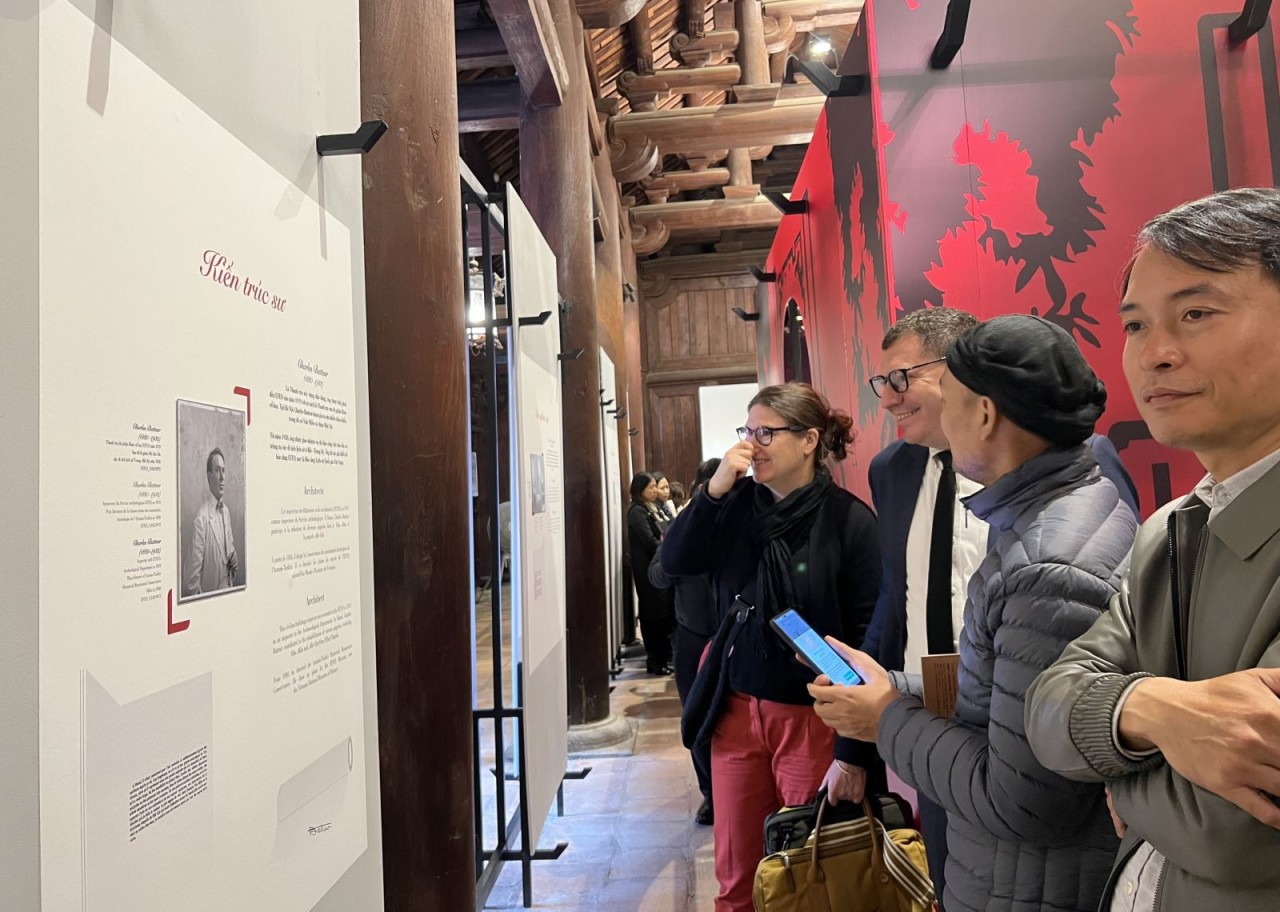 Photo: vanhoanghethuat.vn
The Temple of Literature is known as a major tourist site of the capital, so this is a great opportunity to learn more about its emblematic place of Vietnamese heritage, and its impact on modern life in Vietnam.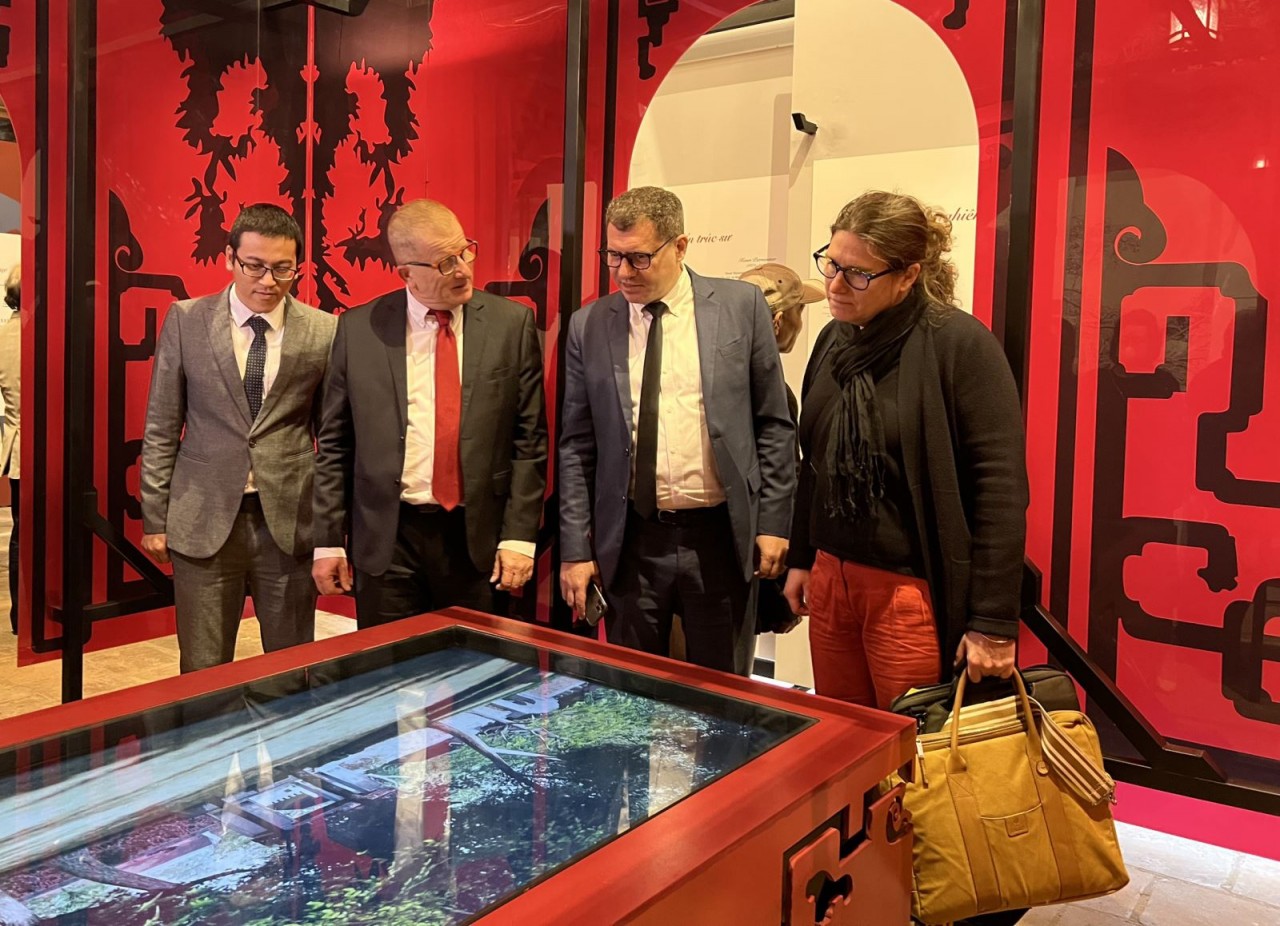 Photo: vanhoanghethuat.vn
This event also symbolizes the effort of France and Vietnam to the preservation of valuable Vietnamese cultural heritage. The exhibition presents some 50 photographs from the EFEO's photo library as well as documents and plans from the period from the Vietnamese National Archives, all of which are complemented by a 3D model. Viewers can enjoy a unique experience and see with their own eyes what this attraction used to be like almost 70 years ago.
An Everyday Dream - Hanoi Exhibition and Information Center
Photo: Thuy Design House Instagram
Thuy Design House once again displayed its exhibition called "An Everyday Dream", this time curated by Dolla S. Merrillees. The exhibition is held right next to the Hoan Kiem Lake, at the heart of the capital city and will be open til late March.
At the exhibition, the fashion works that have a distinctive mark in famous Vietnamese designer Thuy Nguyen's fashion career, including designs that have never been presented to the public.
The unfolds different aspects of Thuy Design House, reimagined through elaborate and dramatic design scenes, presented richly and clearly the diversity of the collections as well as the inspirations that form them: from motherhood, patriotism to the human connection with the spiritual world and nature.
This is also an opportunity to learn Vietnamese idioms, proverbs, folktales, legends; or images of Vietnamese modern fine art, reflecting people's feelings and connection through Ao dai - the traditional attire.
Story of Vu - Anh Duong Art Space
The series of 18 new works composed by visual artist Tran Trong Vu is now displayed at Anh Duong Art Space, one of the pioneering contemporary art galleries in Vietnam.
"Story of Vu" is an artistic portrait of Tran Trong Vu and so much more. This showcased "The Road to Sunshine" is the theme throughout the series of events that will take place at "Anh Duong Art Space" and the 2022 Sculpture Exhibition is the opening event. This is also the first step for artists, cultural and art activists accompanying on the path towards "Sunshine Art Museum" and "Him Lam Art City" shine.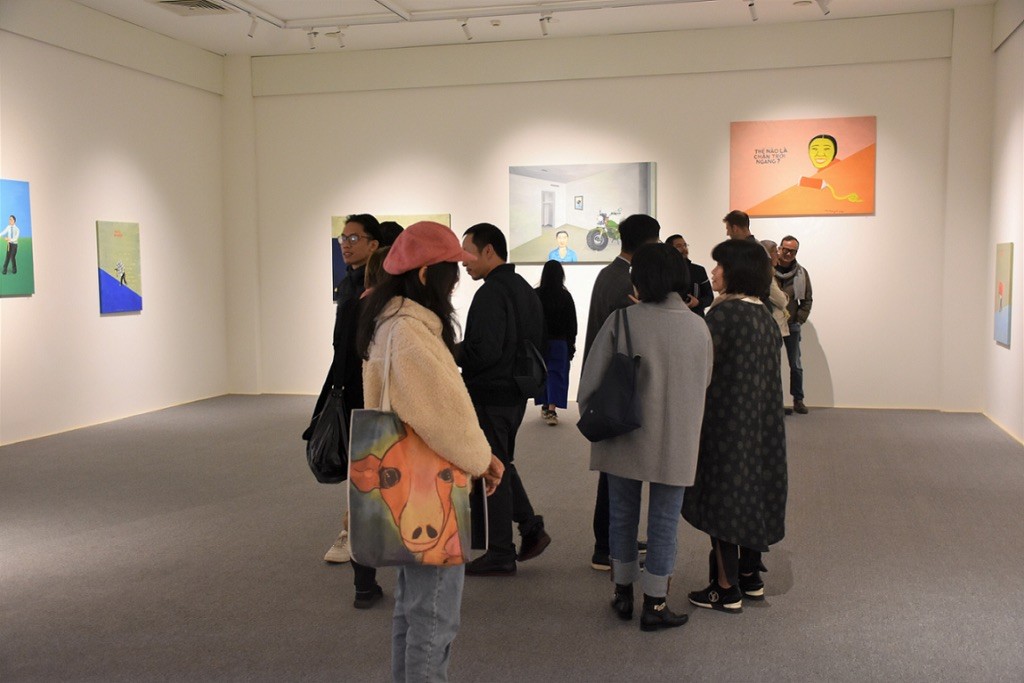 Photo: Shining Sun
"Art is about expressing oneself through creative activities and finding their roots. Our vision of the HimLam Art City, includes a visual arts space (painting, sculpture, fine art design, installation art) that will be built and developed into the Sunshine Art Museum. The museum will introduce the spiritual and cultural life of modern Vietnamese people with contemporary art. It will be the first true contemporary museum in Vietnam. This is also a place to display and honor tangible and intangible heritages with collections of relics and antiquities," said Art Director of Anh Duong Art Space Duong Thu Hang about the Road to Sunshine project.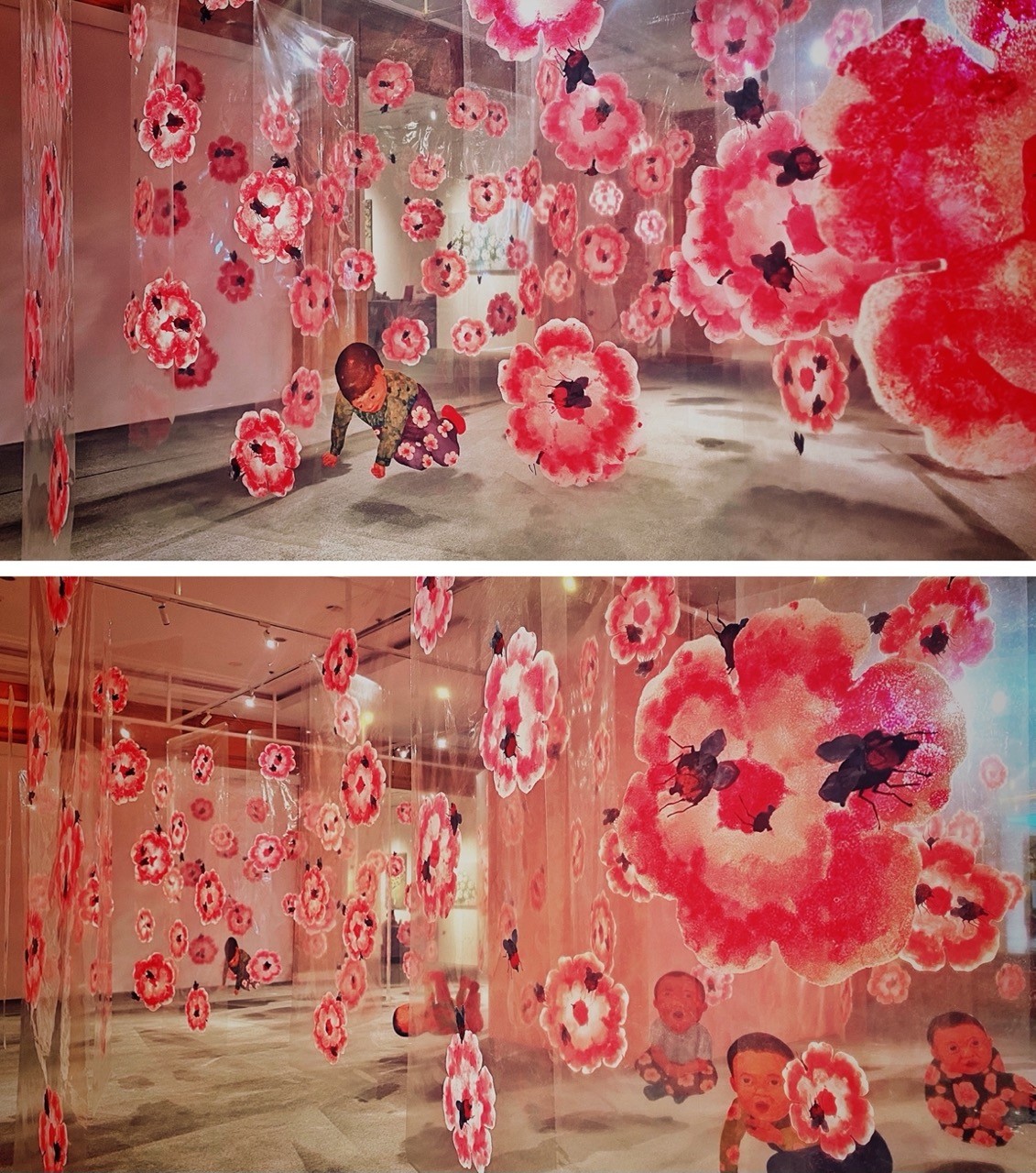 The installation piece "Those years" by Tran Trong Vu (Photo: Nhung Nguyen).
Besides the paintings, you will be captivated by the installation piece "Those years". This was first made famous when displayed in Bor-deaux - France in 2021. As you enter and interact with the artwork, the eye-catching display of playful images like flowers and children, from ground to ceiling, leaves an unforgettable impression. It is like wandering around the artistic mind of Vu.
From Here On Out: Matca Space for Photography
This is the second volume of Makét, a periodical publication by Matca that aims to document the transforming photography scene in Vietnam.
There are four bodies of work: "Wildlife" by Binh Dang, "Suddenly, it hurts a little" by Nguyen Duy Tuan, "No land man" by Nguyen Dinh Phong, and "O Thuy Si" by Thi My Lien Nguyen. Their stories are of very different people but all choose to describe their experiences, joy, and struggles via photography. This exhibition will open every day for the month of February.
The making of the book Makét 02: From Here On Out was supported by the Swiss Arts Council Pro Helvetia and the Embassy of Switzerland in Vietnam. Good news for art lovers: It is also available for sales.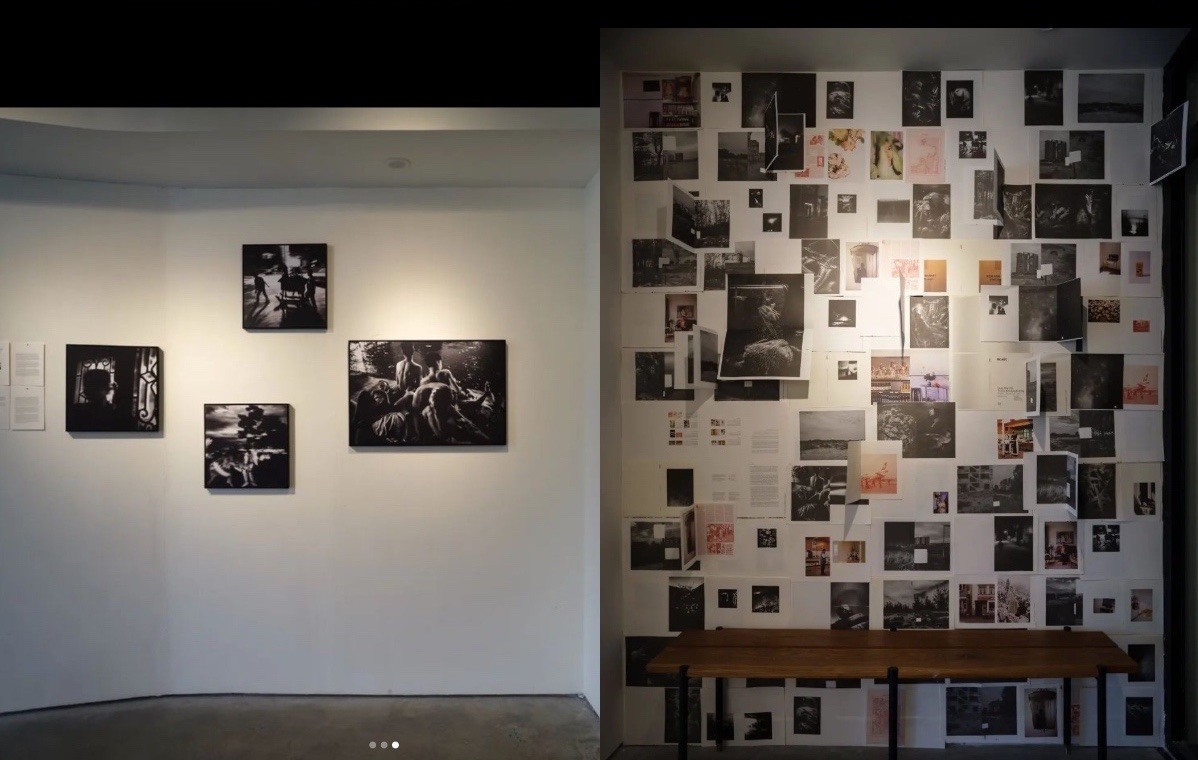 Photo: Matca Instagram age
Notably, another on-going "exhibition" also features photobooks from Matca's collection. They are 9 photobooks on family, love, and belonging. The experience is all about taking your time, flipping through the pages, and enjoying life at a slower pace. Maybe even enjoy a cup of coffee with your partner and talk about your point of view on the books. That is the idea of the "Read with us" series by Matca, with the theme: Family, love, and belonging.