US Ambassador: "I Feel Lucky to be in Vietnam"
US Ambassador in Vietnam Marc Knapper met with nearly 50 journalists for his first local press briefing to talk about the strong bilateral partnership between the United States and Vietnam.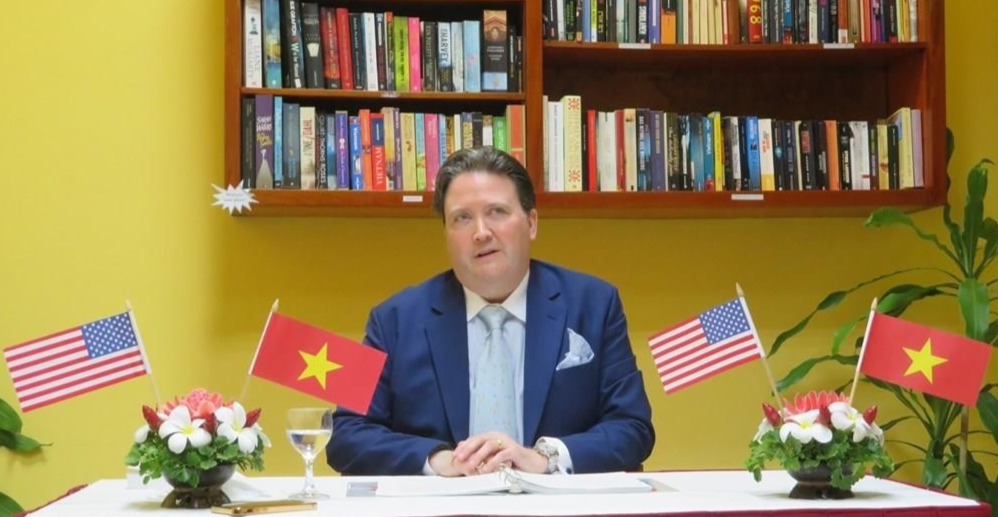 US Ambassador to Vietnam Marc Knapper (Photo: VNA)
On April 20 in Hanoi, the new US Ambassador in Vietnam Marc Knapper said that the US wants to grasp all opportunities towards the future with Vietnam in his first local press briefing.
"Our two countries' relationship has expanded to cover virtually all aspects… whether it's trade and investment, whether it's energy, health, maritime security, people-to-people ties, cultural exchanges - these are all ways in which our countries have and will continue to grow our relationship," said Knapper.
Since assuming the post in Vietnam, Knapper said compared to the time he left Vietnam 15 years ago, the capital city of Hanoi and the country have recorded strong changes and development. Vietnam has also played an increasingly outstanding role in the region and the world.
Highlighting the Vietnamese people's hospitality that remains unchanged, he noted the two countries have expanded and developed cooperation in various spheres, including trade, investment, energy, healthcare, maritime security, and people-to-people and cultural exchanges.
The ambassador said one of the stepping stones for bilateral ties is that the two countries have been working together to deal with the consequences of war, including handling dioxin contamination hotspots, removing unexploded ordnance, and seeking those missing in action from both sides. It has helped lay the foundation for Vietnam - US relations, promote reconciliation, build trust, and pave the way for the future.
Practical initiatives to elevate the two countries' diplomatic relations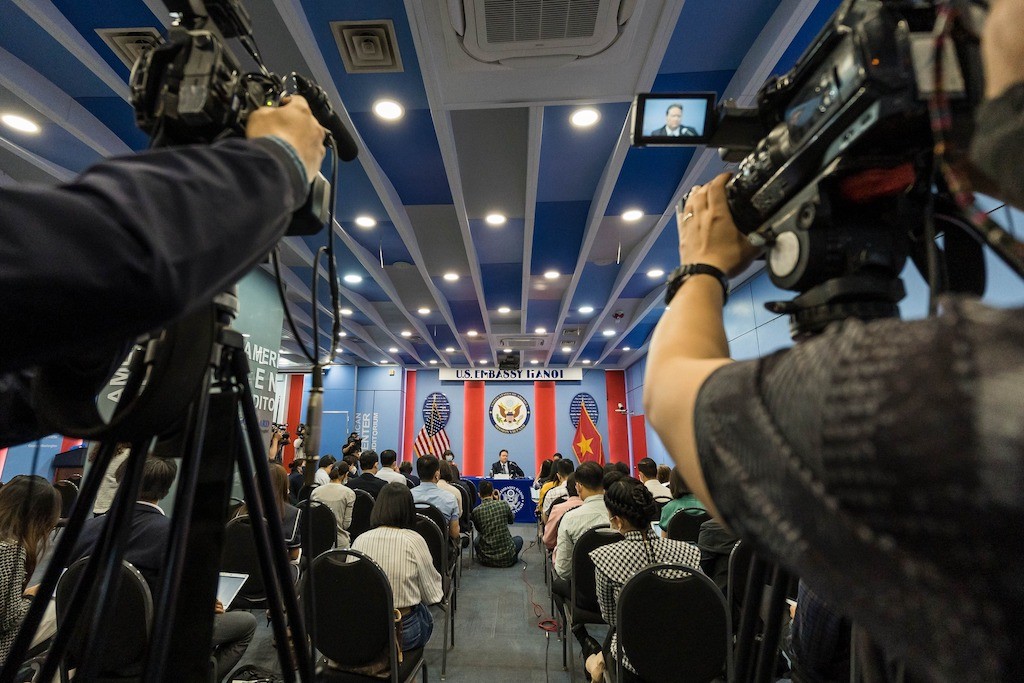 US Ambassador in Vietnam Marc Knapper met with nearly 50 journalists for his first local press briefing on April 20. Photo: U.S Embassy in Hanoi
The US Government recently announced the Indo-Pacific Economic Framework, an initiative expected to go beyond a free trade agreement through which the US will promote decarbonization, boost supply chains' resilience, and invite regional friends and partners to take part in this initiative, according to Knapper.
Vietnam plays an important role in the Indo-Pacific Strategy of the US, he went on, expressing his hope that Vietnam and other partners will join in new economic initiatives and increase cooperation in the climate change fight, energy, and the development of a carbon-free economy.
The diplomat said one of the priorities during his term is to elevate the two countries' diplomatic relations, continue to reinforce trust with Vietnam, and promote cooperation chances in different fields with the Southeast Asian country.
Regarding assistance for Vietnam in coping with the pandemic, he noted that so far, the US has supplied nearly 40 million doses of vaccines to Vietnam.
The US will continue cooperating with Vietnam to cope with Covid-19 as long as it is necessary, he affirmed, adding that it still is ready to help if there is another global health crisis.
The bright future for the comprehensive partnership
Knapper noted that U.S. Vice President Kamala Harris had mentioned her government's strong desire to upgrade the relationship when she visited Vietnam last year.
The U.S. believes that upgrading it to a strategic partnership will not only be an accurate reflection of the kind of work the two sides are doing together, but also open the door to much deeper and broader cooperation between the two countries.
He said he and other U.S. officials have had conversations with representatives of the Vietnamese government to understand how the two countries can grow a relationship and "expanding this is another part of my ongoing responsibilities."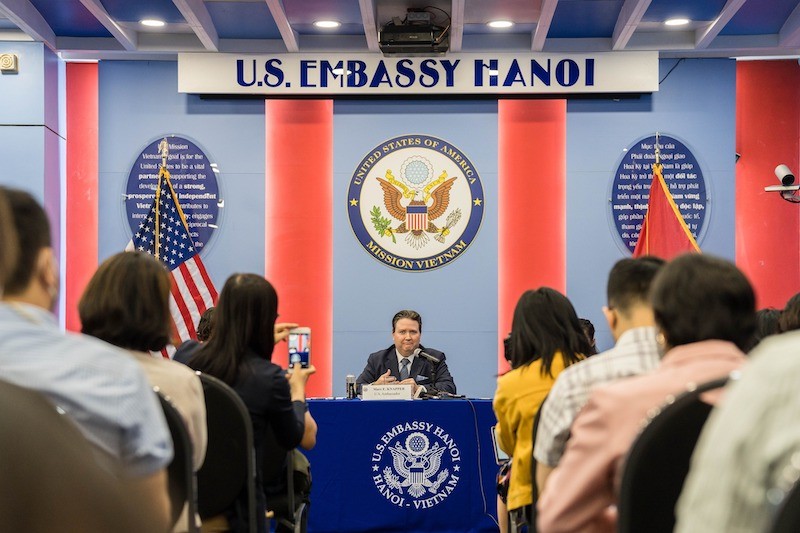 He said that in 2023, when the U.S. and Vietnam will celebrate 10 years of their comprehensive partnership. Photo: U.S Embassy in Hanoi
US Ambassador Visits Can Tho, Mekong Delta

Through USAID Vietnam's projects, the U.S. continues to assist in biodiversity and conservation across Vietnam to help adapt and mitigate impacts from climate change and ...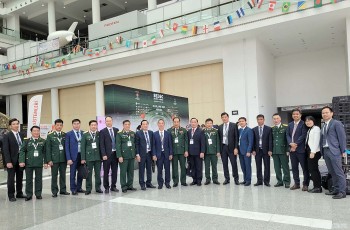 Friendship
Vietnam's presence at the security and defence exhibition SEDEC 2022 in Ankara has been seen as important initial steps to promote the Vietnam-Turkey cooperation.