US Ambassador Visits Can Tho, Mekong Delta
Through USAID Vietnam's projects, the U.S. continues to assist in biodiversity and conservation across Vietnam to help adapt and mitigate impacts from climate change and environmental degradation.
US Ambassador Marc Knapper meets with Can Tho Party Secretary Le Quang Manh about bilateral cooperation, people-to-people ties, educational exchange, trade and health collaboration. Source: US embassy in Hanoi
U.S. Ambassador to Vietnam Marc Knapper has visited Can Tho city on April 7-8, where he met with Can Tho leadership, Can Tho University leaders and students, environmental activists, and Covid-19 health care workers.
In a meeting with Secretary of Can Tho Party Committee Le Quang Manh, Ambassador Knapper discussed bilateral priorities and reaffirmed the U.S. commitment to the Indo-Pacific, the U.S.-Vietnam bilateral partnership, and to addressing the challenges facing the Mekong Delta.
Both sides also discussed ways to increase bilateral cooperation on matters of shared interest including climate change, health, and education.
"The future of Vietnam and the U.S.-Vietnam relationship will be determined not only by Hanoi and Ho Chi Minh City, but by people in all 63 provinces and cities of Vietnam. Places like Can Tho will have an important role to play in the next 25 years of our partnership," said Ambassador Knapper.
During the visit, Ambassador Knapper had the opportunity to tour the Mekong Delta via boat along with ecologists to learn firsthand the impact of climate change on the local environment, communities, public health, and the economy.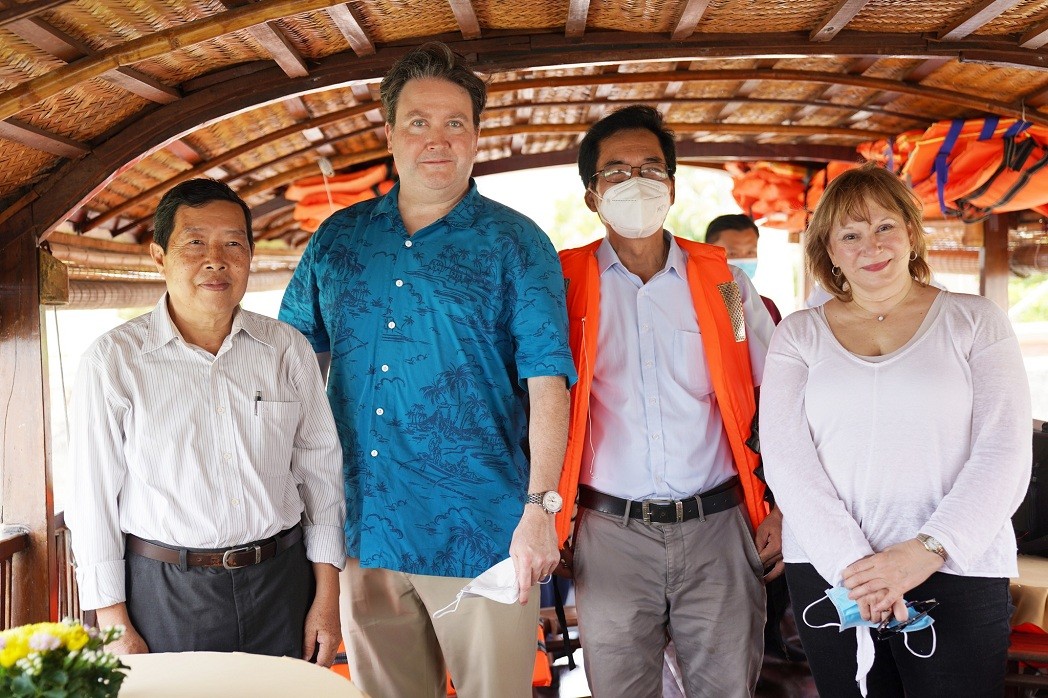 Ambassador Knapper and U.S. Agency for International Development Mission Director Ann Marie Yastishock joined Ecologist Nguyen Huu Thien and Dr. Duong Van Ni for a ride along the Hau river to learn about the region's environmental challenges. Source: US embassy in Hanoi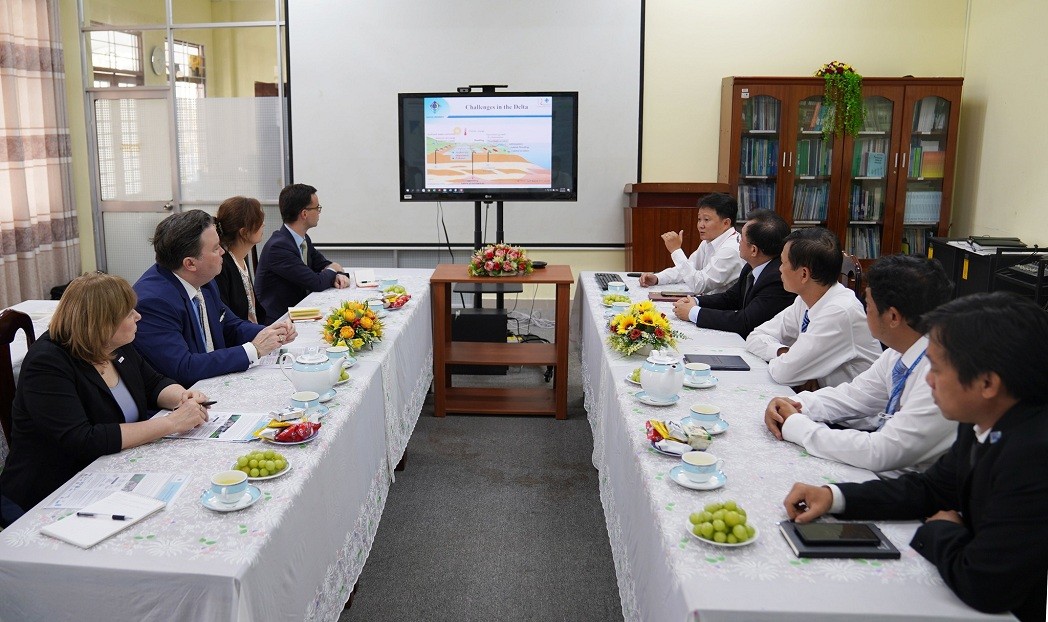 Ambassador Knapper and delegates meets with local climate researchers at Can Tho University's Research Institute for Climate Change to discuss the Mekong Delta's ecological balance and local environmental practices. Source: US embassy in Hanoi
He also met with environmental experts at the DRAGON-Mekong Institute to discuss their cutting-edge research, training and impacts of climate change on major river deltas like the Mekong.
Through the Mekong-U.S. Partnership, the U.S. continues to assist Lower Mekong countries to promote stability, peace, prosperity, and sustainable development.
The U.S. Agency for International Development (USAID) in Vietnam has funded many projects on forest management and biodiversity and conservation across the nation to help Vietnam reduce greenhouse gas emissions and adapt to impacts of climate change.
Ambassador Knapper also met with Can Tho University leaders to reaffirm the U.S. commitment to a partnership focused on education through people-to-people ties and continued collaboration for environmental sustainability.
During his visit to the university, Ambassador Knapper addressed students at the American Hangout and encouraged them to invest in the planet and to remember that "Caring for our environments is not just a government challenge, but a community responsibility."
He urged the students to take action to help mitigate climate change and restore ecosystems.
The Ambassador also met with alumni of U.S. government sponsored programs who have designed meaningful projects on education, environment, entrepreneurship, gender equality, and continue to work together to strengthen the U.S.-Vietnam partnership.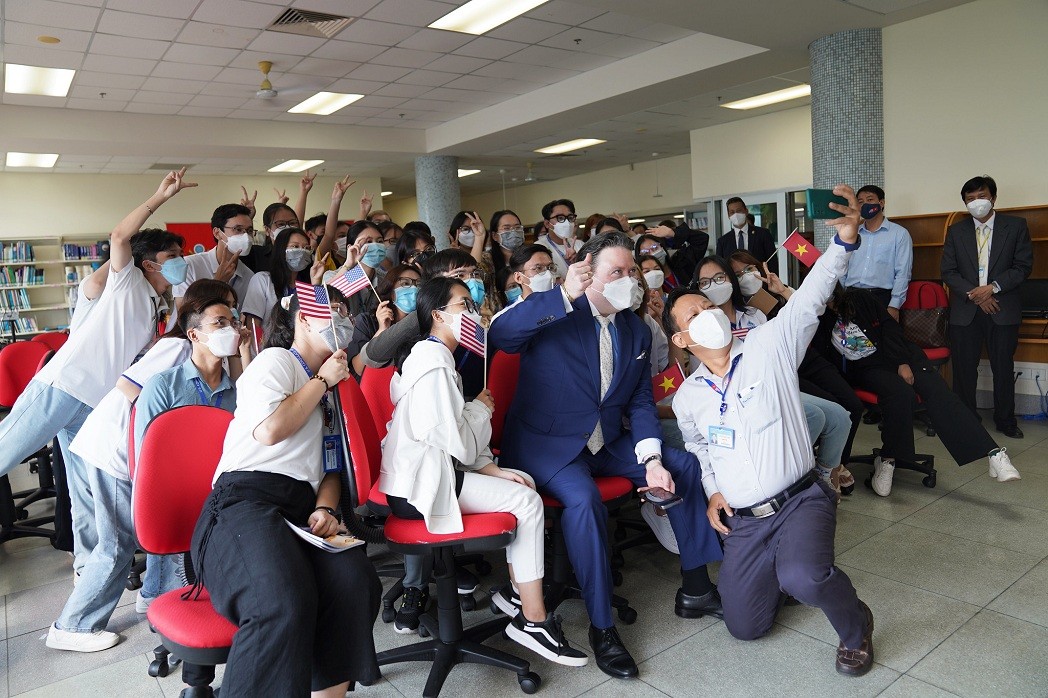 Ambassador Knapper visits the American Hangout at Can Tho University and celebrated Earth Month. Source: US embassy in Hanoi
The diplomat on April 8 attended the launch of "The Interceptor 003," a solar-powered robot that extracts marine debris on the Can Tho River.
Can Tho has been selected as one of 15 riverine locations worldwide for the Interceptor project, a partnership between Coca-Cola and NGO The Ocean Cleanup to reduce the amount of plastic that flows from rivers into the ocean.
The Interceptor 003 will be able to clean up to 50,000 kilograms of waste per day out of the Can Tho River once fully operational.
To conclude his first trip to the Mekong Delta and to mark World Health Day (April 7), the U.S. ambassador, together with USAID Mission Director Ann Marie Yastishock, attended a showcase to honor local health care workers for their efforts in the fight against Covid-19.
"The United States has been a committed partner, providing nearly 38 million doses of Covid-19 vaccine, technical assistance for improved case management, and equipment such as ventilators and oxygen systems for improved care. Yet, we know that none of this can make an impact in lives without frontline health care workers, which is why it is essential that support for them be a cornerstone of the response," Ambassador Knapper highlighted at the event.
The U.S. Ambassador also visited a factory of Vietnam's largest dairy producer Vinamilk and thanked them for being a great supporter of U.S., according to VNA.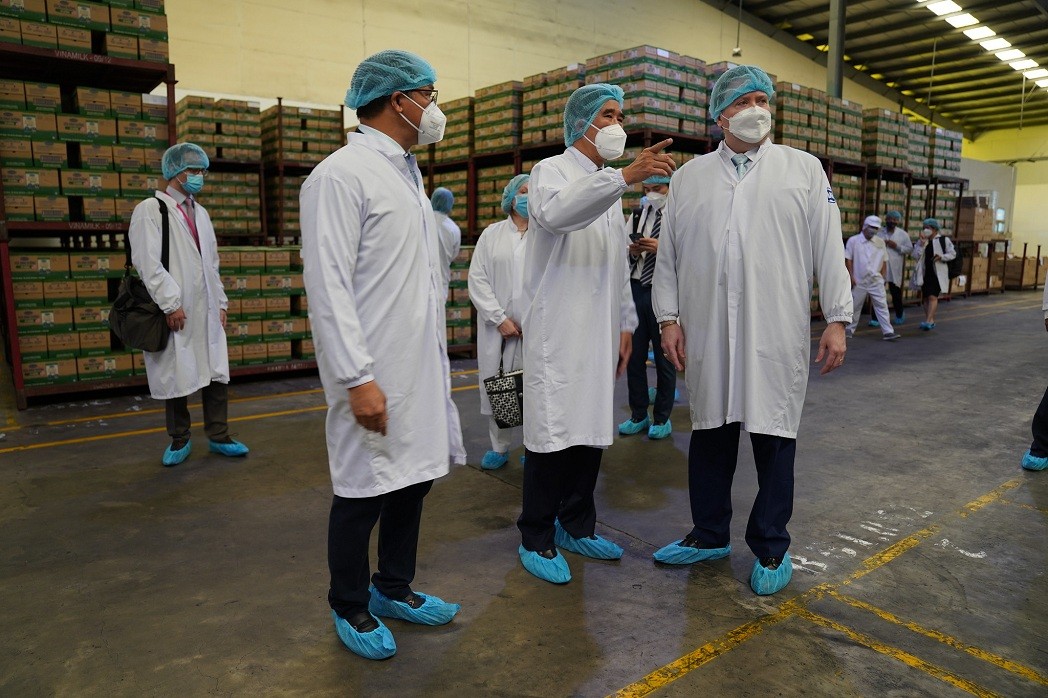 Ambassador Knapper visited and toured the Vinamilk factory in Can Tho.Source: US embassy in Hanoi
Vinamilk is among 40 largest dairy producer of the world in terms of revenues. Its products have been shipped to 57 countries and territories, including major markets of the U.S., Japan and China, with an export turnover in excess of USD 2.6 billion.
The company purchased milk powder, cows and equipment from the U.S. worth nearly USD 306 million from 2019 to 2021.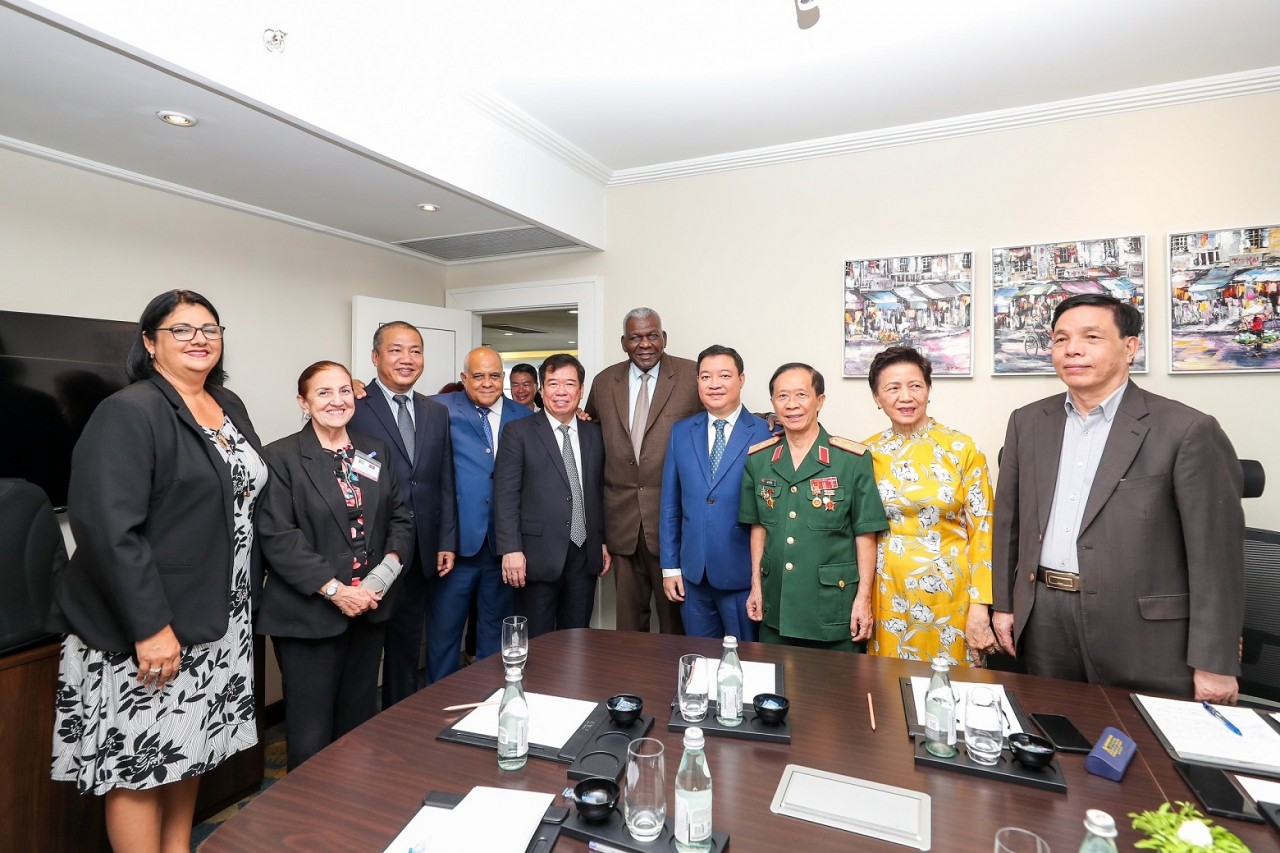 Friendship
President of the National Assembly of People's Power of Cuba Esteban Lazo Hernandez emphasized that Vietnam - Cuba is always united and faithful because they are one family.
September 27, 2023 | 15:11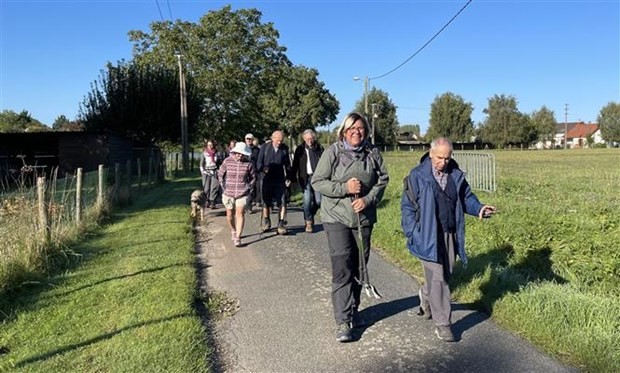 Friendship
The Children's Walk For Hope is a virtual event that will be held globally recently.
September 27, 2023 | 14:54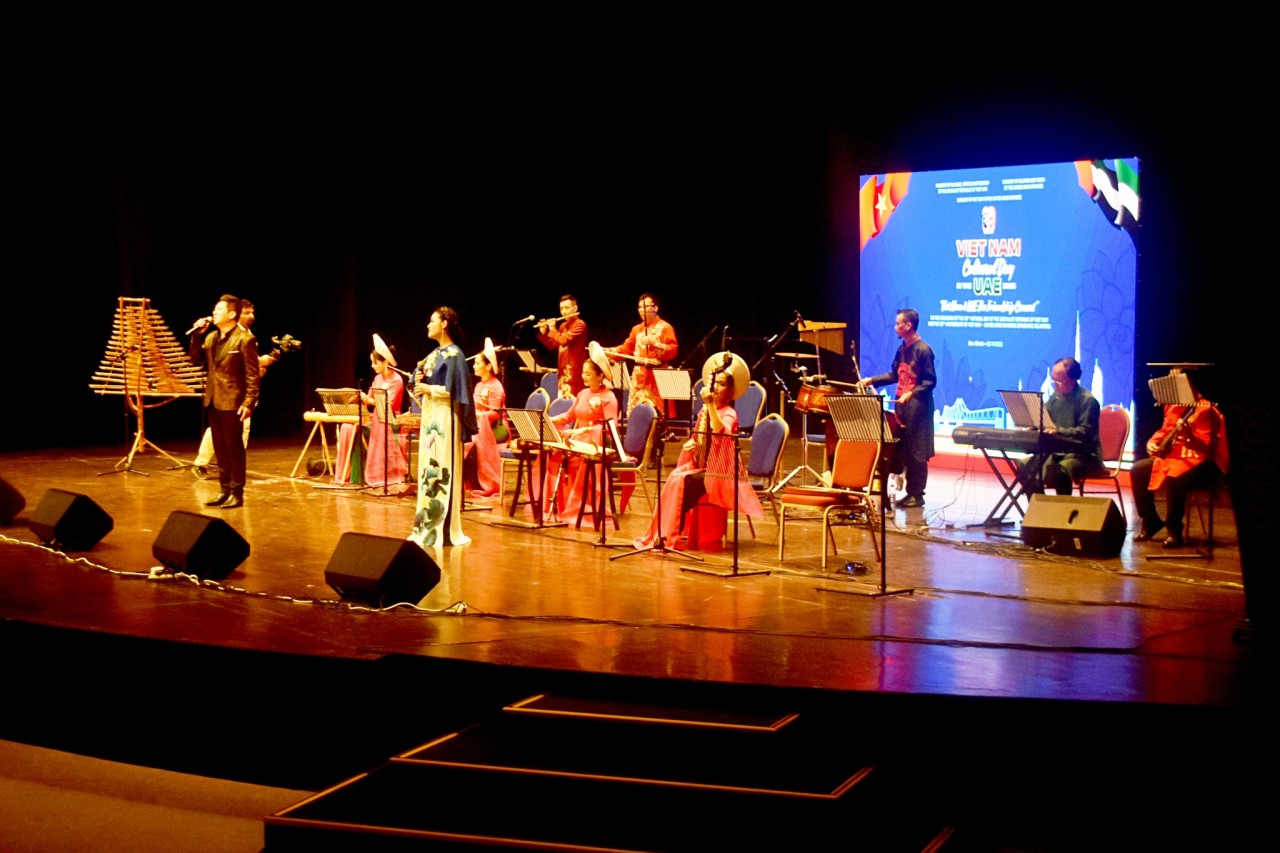 Friendship
A special art performance was held in the capital Abu Dhabi, gathering leading artists from Vietnam and the United Arab Emirates (UAE).
September 27, 2023 | 14:01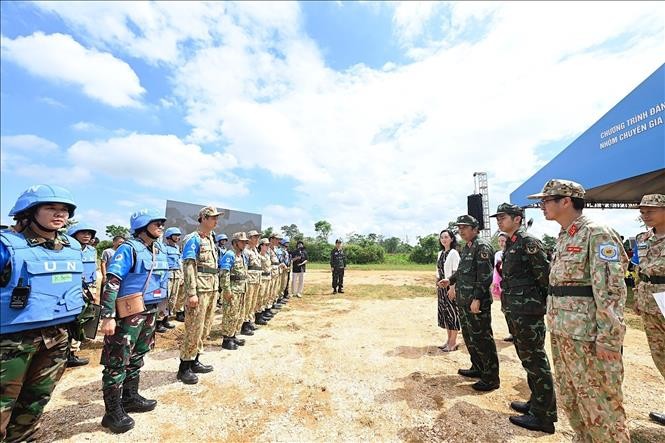 Friendship
Japan and representatives of State members of ASEAN Defence Ministers' Meeting Plus (ADMM-Plus) valued the preparations of Vietnam in hosting the Competency Evaluation Program for Prospective UN Peacekeepers (CEPPP) as well as outcomes of the program.
September 27, 2023 | 07:53