US Mission In Vietnam Thanks Teachers with Special Rendition of "Bụi Phấn"
The US Embassy in Hanoi gives their special glee to the meaningful Vietnamese Teachers' Day on November 20.
In celebration of Vietnamese Teacher Day, the US Mission to Vietnam presented a music video to all teachers to show appreciation.
Along with the special video, the US Embassy in Hanoi shared on their official Facebook page: "Thank all the outstanding educators in Vietnam for their tireless efforts with a very special rendition of "Chalk Powder". Thank you for all. the valuable lessons."
A special rendition of "Chalk Powder"
Kate Bartlett, the Cultural Attaché in US Embassy in Hanoi performed the song "Bui Phan" (Chalk Powder) with an upbeat and jazzy twist. She also sang in Vietnamese, to the surprise and delight of the audience. Many admired Kate's sweet voice and the acoustic tune played by guitarist Bui Gia Khanh.
Although Kate has only been on assignment in Vietnam for less than 2 months and has only been learning Vietnamese for 6 months, she is already using Vietnamese to communicate in daily life as well as at work.
The Cultural Attaché has a special gift for languages. She is fluent in 5 foreign languages, including Spanish, Indonesian, Romanian, Iranian, and Vietnamese. Kate Bartlett demonstrates her expressive language ability through the song.
She wanted to say her sincere congratulations to the teachers on Vietnamese Teacher Day this year. "I am very interested in the Vietnamese language. Cultural activities help me get better at Vietnamese. I also love Vietnamese culture and getting to know lovely Vietnamese friends", shared Kate.
The Cultural Attaché of the US Embassy performed the song "Chalk Powder" to celebrate Vietnam Teachers' Day. Clip: US Embassy in Vietnam
US Mission to Vietnam ended the video sweetly with a collage of Vietnamese and American employees wishing everyone a Happy Teacher Day. The special gift received many views and positive reactions from online audiences as they sent great words and thanks in the comment.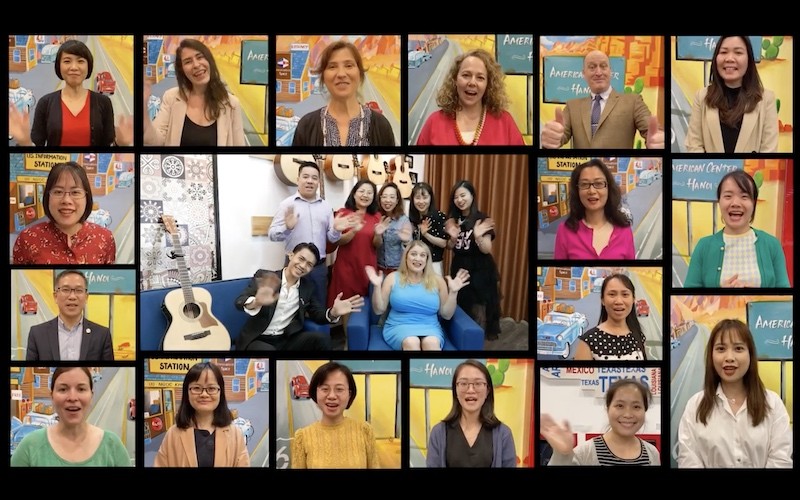 Lovely message from the US Embassy in Hanoi. Photo: US Embassy in Hanoi
Understanding Vietnamese Teacher's Day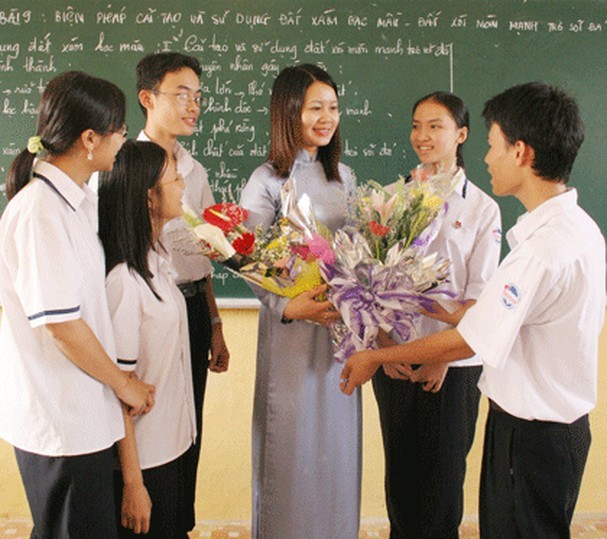 Teacher and students. Photo: Ensa
Vietnamese people teachers honor and people in the education profession on the 20th day of November every year. On November 20th, 1982, the first celebration was held in Vietnam.
The history goes back to more than 60 years ago, in 1957 when Vietnam was a member of an educational organization called Féderation International Syndicale des Enseignants (FISE).
FISE is dedicated solely to educational employments protecting the legitimate and mental rights of everyone involved in the educational field, cited from Vietnam Insider.
As a FISE member along with 56 other countries, Vietnam chose to honor teachers annually on November 20th.
Teacher's Day has become one of the most important days for the country's education sector, honoring every single individual that has contributed to the development of the said sector and their achievements to grow the new future, their students.
Students are to show their respect by either giving gifts or revising their old mentors on this day. They proudly present their successes in life, which makes teachers very happy and fulfilled.
Not only students, parents and the government also make efforts to honor and celebrate the education field.
What makes "Chalk Powder" so special?
Poems, flowers and achievement awards are among popular presents for teachers on this special day but music speaks the language of the heart like no other.
There are many beautiful Vietnamese songs dedicated to educators. But one song stood the test of time and became a timeless work of art. Music and lyrics by Vu Hoang and Le Van Loc, Bui Phan (Chalk Powder) delivered the gratitude towards teachers in a simple way.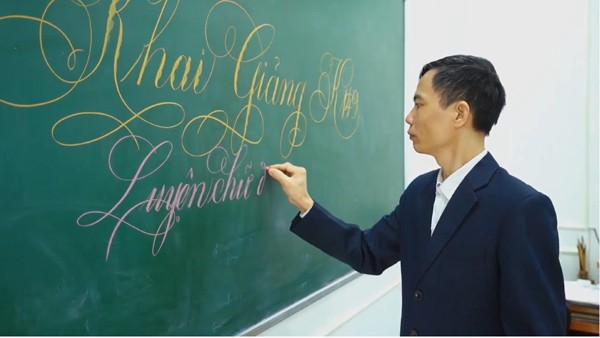 the familiar image of devoted teachers writing lessons on the blackboard. Photo: Vietnamnet
The lyrics praise the dedication of teachers; "Chalk dust on the blackboard as my teacher writes. White powdery dust on his hair. Oh how I love this moment. His hair is gray and grayer as time goes by and as I learn the lesson of life. Colored by chalk dust I will not forget even when I am old. My teacher, I will forever thank you for my special childhood."
The song's familiar image brings nostalgia for many Vietnamese citizens, reminding adults of their early school years.
What do you think about Vietnamese Teacher Day and Bui Phan? How do you plan to celebrate this special day?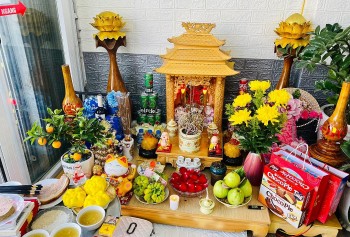 Handbook
Learn more about an ancient Vietnamese tradition that may bring you good fortune!