US - One of Top Important Partners of Vietnam: Deputy PM
Vietnam always regards the US as one of its top important partners, Deputy Prime Minister Vu Duc Dam told visiting Senior Aid to US Senator Tim Rieser in Hanoi on August 29.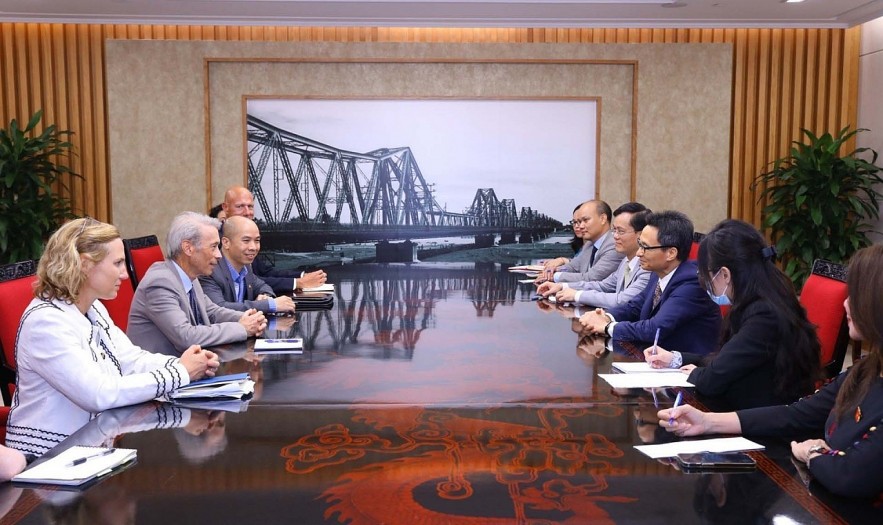 Deputy Prime Minister Vu Duc Dam receives Senior Aid to US Senator Tim Rieser at a reception in Hanoi on August 29. Photo: VNA
At the reception, Dam thanked the US official for his contributions to ties between the two US parties and Vietnam as well as post-war recovery programmes between the two Governments, according to The World & Vietnam Report.
He said generations of the two countries' leaders have made tireless efforts to turn post-war recovery cooperation into a pillar in bilateral comprehensive partnership. It is of significance during the process of reconciliation and trust building between the two Governments and people, thus opening up cooperation opportunities in other important fields.
The Deputy PM wished the US would continue bringing bilateral comprehensive partnership forward on the basis of respecting independence, sovereignty, territorial integrity and political regime of each other, toward lifting ties when conditions are favourable.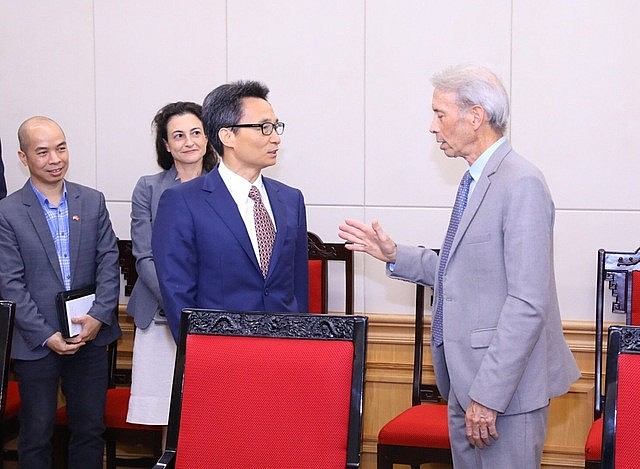 Deputy Prime Minister Vu Duc Dam (left) and Senior Aid to US Senator Tim Rieser . Photo: VGP
On the occasion, the host also thanked the US Government, people and Rieser for providing Vietnam with timely support in medicines and medical equipment, including over 40 million Covid-19 vaccine doses.
Rieser stressed the two US parties and administration's stance on supporting long-standing relationship with Vietnam.
He vowed to continue pooling the support of the US Government and Parliament to offer resources and funding for post-war recovery programmes in Vietnam, such as detoxification at Bien Hoa airport, bomb and mine clearance, support for the disabled affected by war and search for remains of the US servicemen and Vietnamese soldiers.
Both sides talked about activities to further deepen ties on bilateral, regional and global pillars via maintaining exchanges between leaders, offering mutual support in climate change response within regional and global cooperation frameworks and mechanisms as well as response to common challenges.
Tim Rieser is a senior foreign policy aid to Senator Patrick Leahy. He is one "of the most powerful staffers in Congress presiding over U.S. foreign policy and U.S. foreign assistance."
In 2016 he was listed as number 22 of Politico 50 - a "guide to the thinkers, doers and visionaries transforming American politics".
Rieser graduated from the University of the District of Columbia in 1979.
Rieser is a former public defender from Vermont. He has worked for Leahy since 1985. Since 1989 he has served as the Democratic Clerk for the Appropriations Subcommittee on State and Foreign Operations.
Meetings, delegation exchanges resumed post Covid-19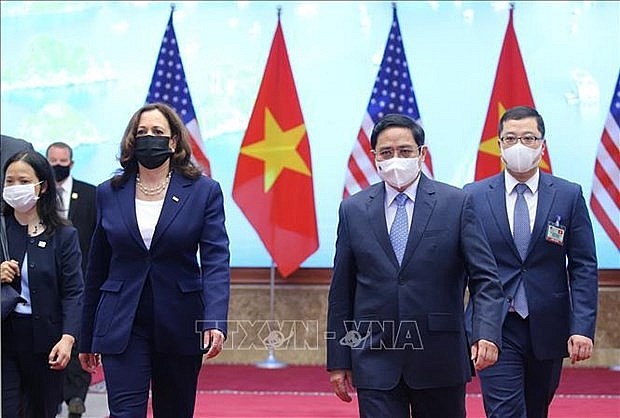 Prime Minister Pham Minh Chinh (right) and US Vice President Kamala Harris in Hanoi last August (Photo: VNA)
Vietnam and the US have resumed meetings and delegation exchanges, and made efforts to increase bilateral cooperation on the occasion of the 27th anniversary of their diplomatic ties (July 12) and after a two-year hiatus due to Covid-19, VietnamPlus said.
After the pandemic was brought under control, the two sides conducted all-level meetings and delegation exchanges, notably President Nguyen Xuan Phuc's bilateral activities with the US on the sidelines of the 76th session of the United Nations General Assembly last September, and the working trip to the US and the UN by Prime Minister Pham Minh Chinh on the occasion of the ASEAN-US Special Summit last May, as well as meetings between the PM and President Joe Biden and Special Presidential Envoy for Climate John Kerry on the fringes of the UN Climate Change Conference (COP26) in 2021.
Vietnam has also welcomed US delegations, including those led by Vice President Kamala Harris in August 2021, US Secretary of Defence Lloyd Austin a month earlier, John Kerry last February and Deputy Secretary of State Wendy Sherman last June.
The two sides have maintained dialogue mechanisms online and exchanges through letters and talks, during which the US reiterated its commitment to backing a strong, independent and prosperous Vietnam, highly valuing the country's position and affirming the importance its attaches to their bilateral ties./.
Trade between Vietnam and the US continues to grow strongly, surpassing $52 billion as of May 2022.
The US has remained Vietnam's biggest buyer, while Vietnam is the ninth biggest trade partner of the US.
In the first six months of 2022, US investors poured $231 million into 26 new projects in Vietnam, ranking among the top ten foreign investors, not to mention investment through a third country.
Cooperation in healthcare and pandemic control remains a highlight of relations. The US also opened its Centers for Disease Control and Prevention (CDC) Southeast Asia Regional Office in Hanoi during the visit by Vice President Harris.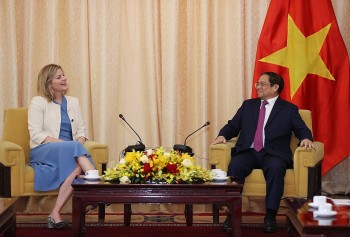 National
The Netherlands committed to cooperate with Vietnam, and together find innovative and sustainable solutions to accelerate green economy transformation.