Vietnam, US Beef Up Cooperation After Covid-19
Vietnam and the US have resumed meetings and delegation exchanges, and made efforts to increase bilateral cooperation on the 27th anniversary of their diplomatic ties (July 12) and after a two-year hiatus due to Covid-19.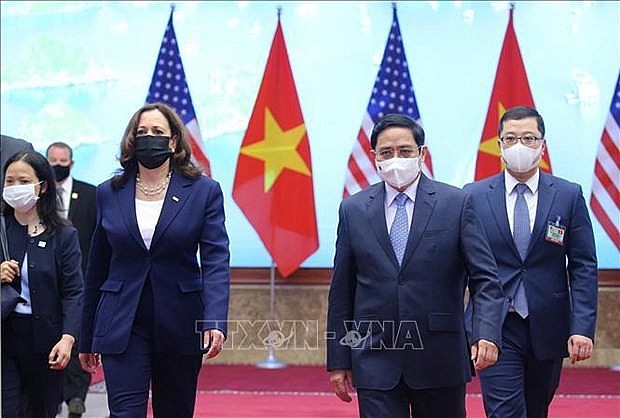 Prime Minister Pham Minh Chinh (right) and US Vice President Kamala Harris in Hanoi last August. Photo: VNA
In politics and diplomacy, the bilateral relationship has maintained its positive development pace.
After the pandemic was brought under control, the two sides conducted all-level meetings and delegation exchanges, notably President Nguyen Xuan Phuc's bilateral activities with the US on the sidelines of the 76th session of the United Nations General Assembly last September, and the working trip to the US and the UN by Prime Minister Pham Minh Chinh on the occasion of the ASEAN-US Special Summit last May, as well as meetings between the PM and President Joe Biden and Special Presidential Envoy for Climate John Kerry on the fringes of the UN Climate Change Conference (COP26) in 2021.
Vietnam has also welcomed US delegations, including those led by Vice President Kamala Harris in August 2021, US Secretary of Defense Lloyd Austin a month earlier, John Kerry last February, and Deputy Secretary of State Wendy Sherman last June.
The two sides have maintained dialogue mechanisms online and exchanges through letters and talks, during which the US reiterated its commitment to backing a strong, independent, and prosperous Vietnam, highly valuing the country's position and affirming the importance its attaches to their bilateral ties, cited VNA.
The US also suggested the two sides take further steps to enhance their relations, prioritizing cooperation in economy, trade, national defense-security, and healthcare.
Prime Minister Pham Minh Chinh attends US-Vietnam Busiess Summit in March 2022. Photo: VNA
The US is Vietnam's largest export market, while the latter is the former's ninth-largest trading partner. The first five months of the year witnessed their two-way trade turnover rise by 26% year on year to nearly US$11.2 billion.
The two sides have kept implementing their action plan toward a harmonious and sustainable trade balance, whilst simultaneously maintaining dialogues to resolve outstanding issues in trade ties. During the US visit by PM Pham Minh Chinh in May, local firms of the two countries exchanged a score of economic deals with a total value of over US$30 billion.
As of March 2022, the US direct investment in Vietnam has reached US$10.3 billion, making the US the 11th largest foreign investor in the country. US firms are therefore keen to invest in areas of Vietnamese interests, such as infrastructure development, supply chain, and digital economy. Meanwhile, Vinfast, a leading EV manufacturer, signed a contract to build a US$4 billion EV and battery factory in North Carolina.
The two sides have been able to sustain an exchange of delegations and maintain contact in security and defense, with cooperation focused on overcoming war consequences and improving the country's maritime capacity. Priority has been given to searching for the remains of US and Vietnamese soldiers missing in action, handling dioxin-contaminated land, and supporting people with disabilities.
Vietnam has actively coordinated with the US Agency for International Development (USAID) in implementing a Memorandum of Intent (MOI) on cooperation to improve the capacity of examining remains during the war. During the Vietnam visit, Deputy Secretary of State Wendy Sherman announced that the US would provide an additional US$19 million this year in support of ongoing US efforts in Vietnam.
Bilateral education cooperation has also yielded positive results, focusing on education training and technology transfer. The US International Development Finance Corporation (DFC) announced the US Government's US$37 million grant to Fulbright University Vietnam (FUV) to build a school in Ho Chi Minh City. In addition, volunteers from the US are expected to come to Vietnam in the coming months to teach English. Currently, Vietnam has six US-invested educational institutions in Hanoi, Ho Chi Minh City, Quang Ninh, Hai Phong, and Binh Duong.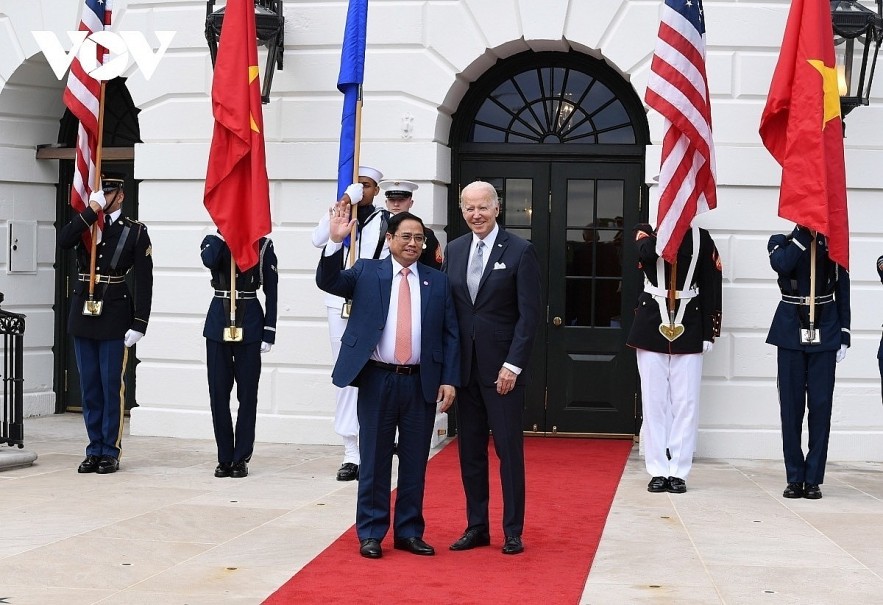 Vietnam and the US sign numerous cooperation agreements and economic contracts during PM Pham Minh Chinh working trip to the US in May 2022. Photo: VOV
With regard to medical co-operation and the Covid-19 control efforts, the two sides have supported each other in terms of medical equipment and vaccine access, while sharing experience in pandemic prevention and citizen protection. So far the US has supported Vietnam with nearly 40 million doses of vaccines, along with 111 deep freezers to preserve vaccines.
The US has sponsored the installation of a liquid oxygen system at Bach Mai hospital in Hanoi. It has also opened a regional office of the US Centre for Disease Prevention and Control in Hanoi during Vice President Kamala Harris' visit. It was requested to donate CUE rapid test kits and transfer the latest mRNA vaccine technology and therapeutic drugs to Vietnamese partners, reported VOV.
Regarding regional and international cooperation, the two countries have closely worked together in addressing regional and international issues of mutual concern and Covid-19 prevention, especially within the framework of the UN Security Council and ASEAN. Recently, Vietnam and six other ASEAN countries participated in the collective discussions toward future negotiations of the Indo-Pacific Economic Framework for Prosperity (IPEFP) with the US and other partners and attended the Major Economies Forum on Energy and Climate (MEF) chaired by the President of the US.
July 22, 2022 marks 27 years of the establishment of diplomatic ties between Vietnam and the US. With many cooperation opportunities ahead, the leaders and people of the two countries have grounds to believe their comprehensive partnership will continue to flourish in the near future.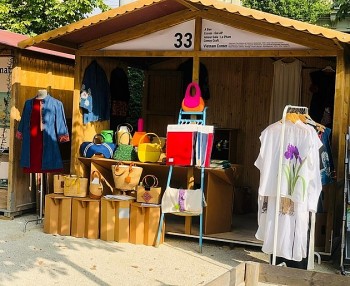 World
Vietnam's GDP grew by 8.83% in the first nine months of 2022, the highest increase in the period of 2011-2022.