U.S. Promotes Environmentally Friendly Business Ecosystem in Vietnam ­­
U.S. supported Green Index to promote environmentally friendly business ecosystem in Vietnam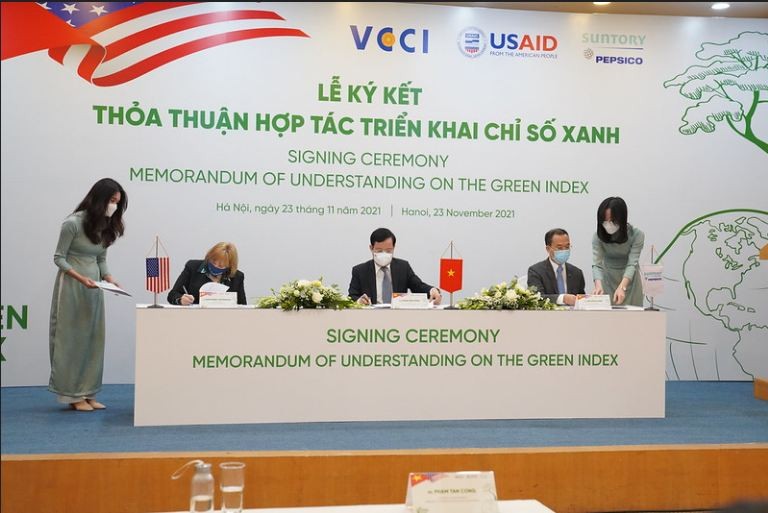 Launch of Green Index to Promote Environmentally Friendly Business Ecosystem in Vietnam. Source: USAID
The United States Agency for International Development (USAID), the Vietnam Chamber of Commerce and Industry (VCCI), and Suntory Pepsico Vietnam (SPV) on Nov. 23 signed a Memorandum of Understanding (MoU) to establish a Green Index to help businesses identify provinces that are facilitating green operations.
Conceived by VCCI and supported by USAID and SPV, the Green Index will promote environmental regulatory reforms and improve environmentally-friendly investment at the provincial level. During her August trip to Vietnam, U.S. Vice President Kamala Harris announced USAID's support for developing a Green Index to rally the private sector to climate action.
"The historic agreements struck at the recently concluded COP26 to accelerate cooperation on climate action underscore the importance of collective action to preserve and protect our environment," said USAID/Vietnam Mission Director Ann Marie Yastishock at the signing ceremony.
"This new partnership brings us one step closer to elevating greater environmental awareness and driving greater sustainability to benefit Vietnam's citizens and economy."
The Green Index aims to assess and rank local environmental quality as perceived by businesses, and explore firms' environmental behavior, their willingness to apply green technologies/practices, and their readiness to invest in green operations. Additionally, this trilateral partnership intends to establish the Green Index as a useful tool to inform local policymaking and the development of an environmentally sensitive business ecosystem.
The index will be published as part of the current Provincial Competitiveness Index (PCI) implemented by VCCI with support from USAID. PCI measures transparency, investment, trade, and economic growth, and has become an important tool since its inception in 2005 for encouraging reforms at both the national and provincial levels on economic governance.
The Green Index is an effort to incorporate greater environmental sustainability into provincial leadership considerations moving forward. This initiative is being launched just as Vietnam's shift to deeper environmental awareness is taking root. The Green Index furthers Vietnam's path towards sustainable economic development and bolsters Vietnam's commitments at the recent Climate Change Conference (COP26).
A green economy is defined as low carbon, resource-efficient, and socially inclusive. A green economy generates increasing prosperity while maintaining the natural systems that sustain us.
Many traditional export markets of Vietnam have put plastic products of all kinds under strict control and restricted use, according to SGGP.
The Ministry of Natural Resources and Environment also confirmed that Vietnam has officially signed a commitment with the world on reducing plastic emissions because presently, Vietnam is listed as one of the top 5 countries contributing to the world's unmanaged plastic waste into the environment with 1.8 million tons a year. In particular, Vietnamese people produce 30 billion plastic bags annually.
However, the Southeast Asian country is committed to plastic waste reduction by developing a waste recycling market and banning people from using plastic waste while shopping. The two solutions are expected to be helpful for the growth of the country as well as for the protection of the country's marine environment.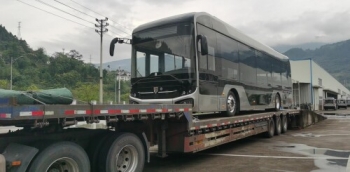 Economy
Ev Dynamics (Holdings) Limited is a pioneer and a prominent player in China's new energy commercial vehicles market, as well as a whole-vehicle manufacturer of specialty passenger vehicles and new energy passenger vehicles.