US Students Volunteer to Build Charity Houses in Quang Ngai Province
Six charity houses for poor and disadvantaged households in Quang Ngai Province were constructed with the participation of 16 American student volunteers.
House construction is one of the activities in the 2023 Summer International Volunteer Exchange Program from June 30 to July 19, 2023, organized by the Putney Student Travel (US) in collaboration with Quang Ngai Provincial Youth Union. Three charity houses were built in Binh Thanh commune, Binh Son District, and three others were built in Tinh Khue commune.
Despite being sweaty, American students still enthusiastically pushed bricks, mixed cement and sand to build houses following the guidance of local master craftsmen.
Madelyn Baker (16 years old, from Santa Clara County of California, USA) shared: "Our group comes from schools in many parts of the US and flew to Ho Chi Minh City and Quang Ngai Province for volunteering work. I am touched by the love of locals for volunteering students. I love building houses so that poor people can have new houses to live in".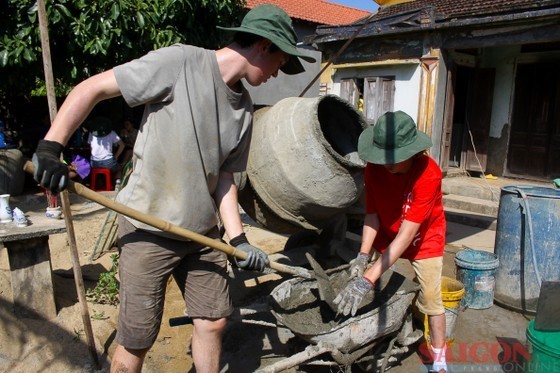 American student volunteers build charity houses in Vietnam (Photo: SGGP)
Jeremy Worth (16 years old, from Alexandria City of Virginia, USA) expressed his pride when volunteering in Quang Ngai. "I have not had much information about Quang Ngai before. But when in Quang Ngai, I feel very happy because locals are friendly and kind," shared Jeremy Worth.
Student volunteers have completed the foundation and brick wall of Vo Thi Tuyet Nga's house in Tu Cung village of Tinh Khe Commune. Bui Thi Thuy Hong, leader of the American volunteer group in Tinh Khe Commune, shared that American students have been building three houses in Tinh Khe Commune for poverty-stricken locals.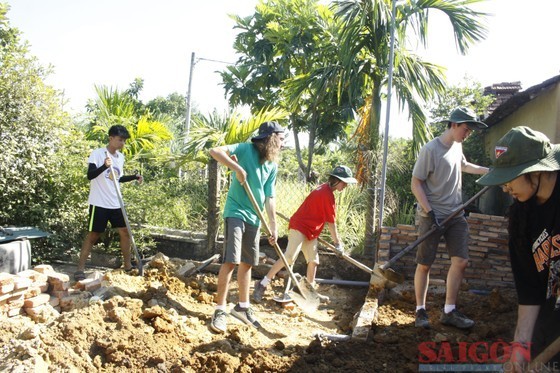 American volunteers level the ground for a house in Tinh Khe Commune, Quang Ngai City (Photo: SGGP)
After finishing the activity in the commune, American student volunteers will have cultural exchanges with Quang Ngai youths. They will visit some tourist attractions, landmarks, and historical sites of Quang Ngai province. Besides, the children also participated in teaching English and carrying out other voluntary work on beaches.
The summer exchange program has created favorable conditions for Quang Ngai youths and American students to learn about each other's cultures. Moreover, it creates a playground through volunteering activities contributing to strengthening the friendship and mutual understanding between the two sides.