Vibrant Activities to Celebrate ASEAN-Japan 50 Years of Relations
Diverse activities, from high-level events to sports tournaments, have been held to commemorate the 50th anniversary of ASEAN-Japan friendship, said Yazawa Hideki, Principal Deputy Director, Regional Policy Division, Asian and Oceanian Affairs Bureau, Ministry of Foreign Affairs of Japan.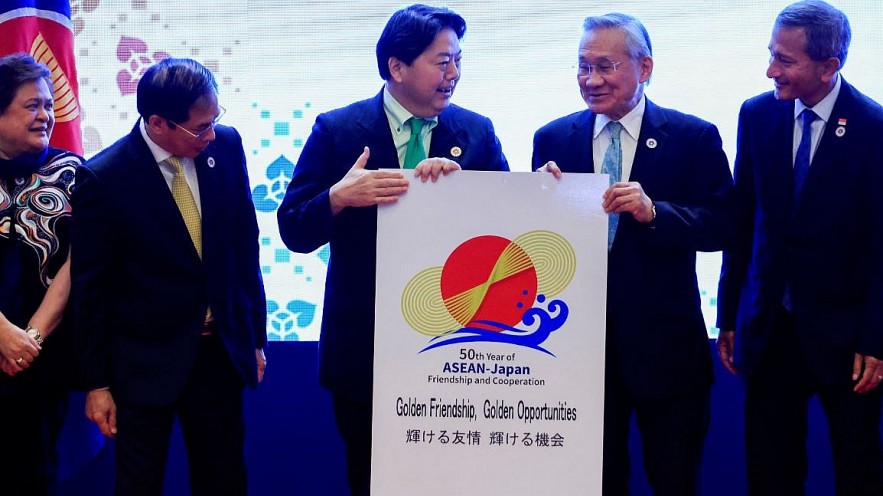 The official logo and catchphrase for the 50th year of ASEAN-Japan relations was unveiled at a foreign ministers' meeting in Phnom Penh in 2022.
Spoke at the Online Press Briefing on the Commemorative Summit for the 50th Year of ASEAN-Japan Friendship and Cooperation, held on Nov. 7, Yazawa Hideki highlighted the fruitful history of ASEAN-Japan relations.
Since 1973, ASEAN and Japan have built a cooperative relationship for peace and development in the Asia-Pacific region. In particular, people-to-people exchanges have been the foundation for a strong partnership based on "heart-to-heart understanding." On January 18, 2013, during his first overseas trip after taking office, late Japanese Prime Minister Shinzo Abe announced the "Five Principles of Japan's ASEAN Diplomacy." The principles stressed the importance of protecting and promoting universal values; upholding the rules of law and rules in the sea; promoting open and free economy; enhancing cultural relations; and enhancing youth exchange.
Over the last 50 years, ASEAN and Japan have built a cooperative relationship in many fields. Japan supports ASEAN's solidarity, values ASEAN's central role in dealing with regional challenges, and respects and contributes to ASEAN-led mechanisms. In terms of economics, Japan has long been a reliable economic partner of ASEAN. Japan's ODA capital for ASEAN countries has helped improve the quality of human resources and training in information technology, medicine, and healthcare sectors. Through cooperation, the two sides promote people-to-people exchange and understanding. So far, the ASEAN Council of Japan Alumni (ASCOJA) has more than 50,000 members. Since 2007, the Japan-East Asia Youth Exchange Program (JENESYS) has brought about 47,000 students from Southeast Asia to Japan and vice versa.
As the two sides celebrate their "golden anniversary," a series of events are held in Japan and ASEAN countries to connect the people and further promote the relations. To name a few, Commemorative Symposiums were held in Jakarta and Tokyo in March and February this year. The "JENESYS U-17 Women's Football Memorial Cup" started on Friday 17 March in Uruma City, Okinawa, Japan, and ended on Tuesday 21 March. During the competition, the players from ASEAN countries and Timor-Leste engaged in exchanges with Japanese people, thereby connecting the two sides' cultures and peoples.
To conclude the anniversary year, the Commemorative Summit for the 50th Year of ASEAN-Japan Friendship and Cooperation is scheduled to take place from December 16-18 in Tokyo to further promote exchanges and strengthen between Japan and ASEAN. Highlighting the firm foundation of the "heart-to-heart" relationship built and fostered over the years, the Summit will adopt a joint statement and its implementation plan.