Viet Nam Days in India Held to Celebrate 50 Years of Bilateral Friendship
Viet Nam Days in India 2022 is scheduled to take place from December 12 to 14 to celebrate the 50th anniversary of the diplomatic relations between Viet Nam and India and will be the last activity of Viet Nam Days Abroad 2022, organized by the Ministry of Foreign Affairs.
Taking place in New Delhi (India), Viet Nam Days in India 2022 contributes to introducing the unique features of Vietnamese people and culture to the public in India, consolidating traditional friendship, enhancing people-to-people exchanges, trade, and tourism between the two countries.
The program is honored to have the presence of Ambassador Extraordinary and Plenipotentiary of Viet Nam to India Nguyen Thanh Hai, Deputy Minister of Culture, Sports and Tourism Hoang Dao Cuong, Minister of State for External Affairs of India Vellamvelly Muraleedharan, Director General of the Indian Council for Cultural Relations Kumar Tuhin, Deputy Director of Department of Cultural Diplomacy and UNESCO Affairs, Ministry of Foreign Affairs Dao Quyen Truong, and representatives of ministries, departments, diplomatic corps and local and international friends in India.
Within its framework, many cultural exchanges, tourism promotion, and business connection activities were held.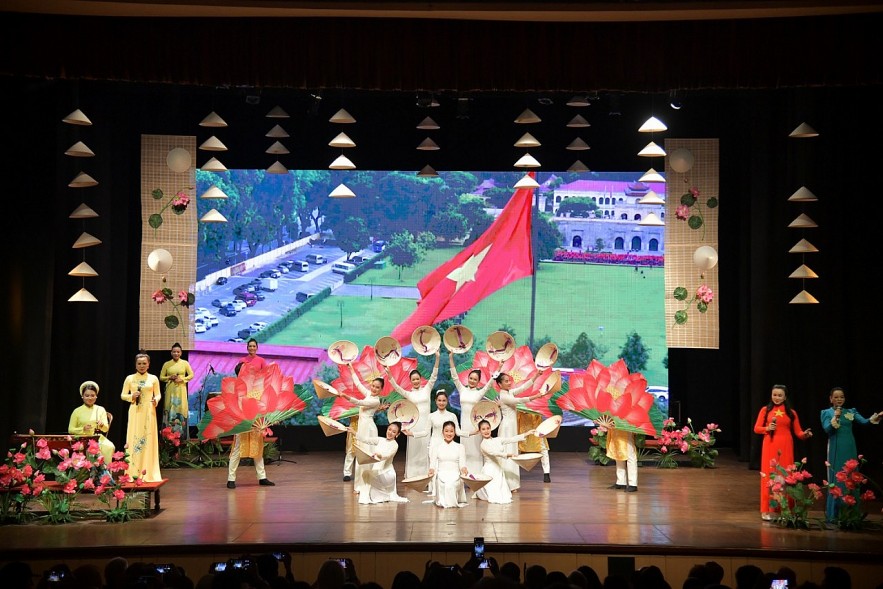 Performing Vietnamese art in India within the framework of Viet Nam Days in India. (Photo: MOFA)
Magical Night Art Performance offers the public the opportunity to learn about Viet Nam - India cultural connection. Some notable art performances such as Cham Dance, Tac Xinh (San Chay community), Then singing (Tay, Nung, Thai people), Lon Sluong (Nung ethnic group), Lon Coi (Tay ethnic group), and impressive monochord solo Indian Dance spotlighted Vietnamese culture in the eyes of the public in India. The program brings together artists from the Viet Bac Folk and Dance Theater.
Speaking at the program, Deputy Minister of Culture, Sports and Tourism Hoang Dao Cuong shared: "This art performance is a vivid demonstration of the cultural exchange between Viet Nam and India. At the program, audiences in India have the opportunity to enjoy the unique ethnic art forms of Viet Nam, including those that have been recognized as UNESCO's intangible cultural heritage. I believe this meaningful cultural event will contribute to consolidating and further promoting the friendship and comprehensive strategic partnership between Viet Nam and India".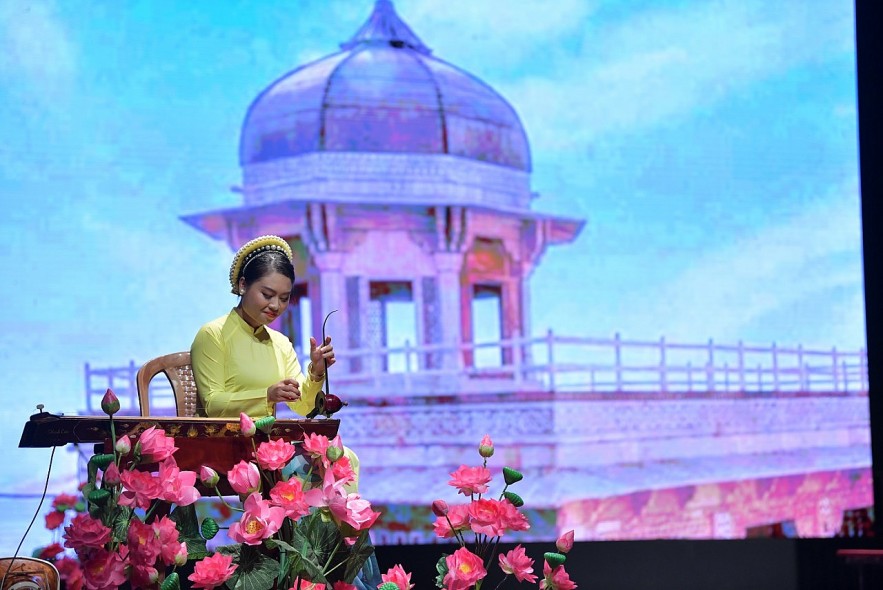 Performing Vietnamese folk music in the Magical Night Performance (Photo: MOFA)
Viet Nam Tourism Promotion Forum in India on December 14th is a meaningful activity, demonstrating the efforts to promote bilateral cooperation between the management agencies and businesses of the two countries, based on the results achieved by the tourism industry. The forum comprises three main discussion sessions, focusing on introducing the potential of Viet Nam's tourism.
This is an opportunity for Vietnamese businesses to study the insights of Indian tourists, discuss aviation connections, and promote unique types of tourism that meet the needs of Indian tourists, such as culinary tourism, wedding party tourism, MICE tourism, Golf tourism, resort tourism, and cinema tourism.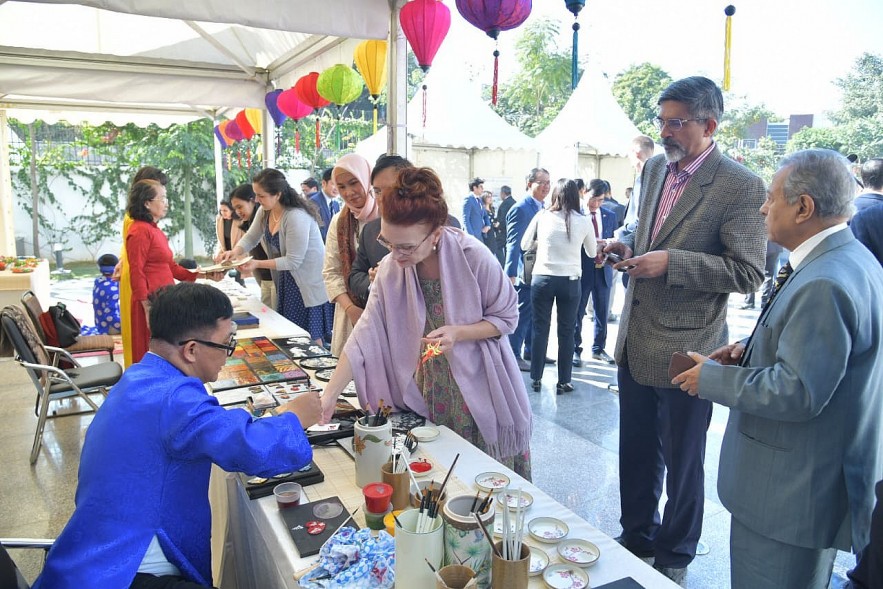 International guests learn about Vietnamese culture (Photo: MOFA)
As the highlight of the series Viet Nam Days Abroad 2022, Vietnamese Cultural Space continues to introduce the unique features of Vietnamese culture, making them available and accessible to international friends. The public in India had the chance to experience Vietnamese folk art forms such as Dong Ho folk painting art, To he molding art, and performances of ethnic musical instruments.
Vietnamese Cultural Space also provides participants with an opportunity to learn about the beauty of Vietnamese people and their daily lives through the Viet Nam Vitality exhibition. The exhibition features outstanding books, photos, and magazines, especially those about President Ho Chi Minh, successfully showcasing the image of a vibrant, rich in culture, and promising Viet Nam.
Viet Nam Days Abroad is an annual national promotion program, assigned by the Prime Minister to the Ministry of Foreign Affairs since 2010. The program usually takes place on the sidelines of Vietnamese high-level Leaders' official visits to other countries, on the occasion of the anniversary of the establishment of diplomatic relations, receiving positive responses from localities, businesses, agencies, organizations, international friends, and overseas Vietnamese.
It is the second time the Ministry of Foreign Affairs has chosen India as the destination for the series of Viet Nam Days Abroad Programs. Previously, Viet Nam Days in India was first held in early March 2018 on the occasion of the bilateral visit of former President Tran Dai Quang to India.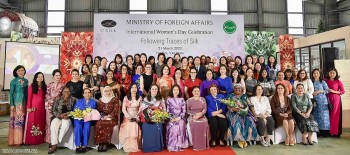 Friendship
Female ambassadors, representatives from diplomatic corps and international organizations, along with spouses of diplomats in Vietnam gathered together to find about more about silk weaving and silk products in Vietnam.