The press conference saw the attendance of Consul General of India in Ho Chi Minh City Madan Mohan Sethi, Vice President of Ho Chi Minh City Union of Friendship Organizations (HUFO) Hoang Khanh Van, and Vice Chairwoman of Ho Chi Minh City Vietnam - India Friendship Association (VIFA) Ho Thi Trinh Anh.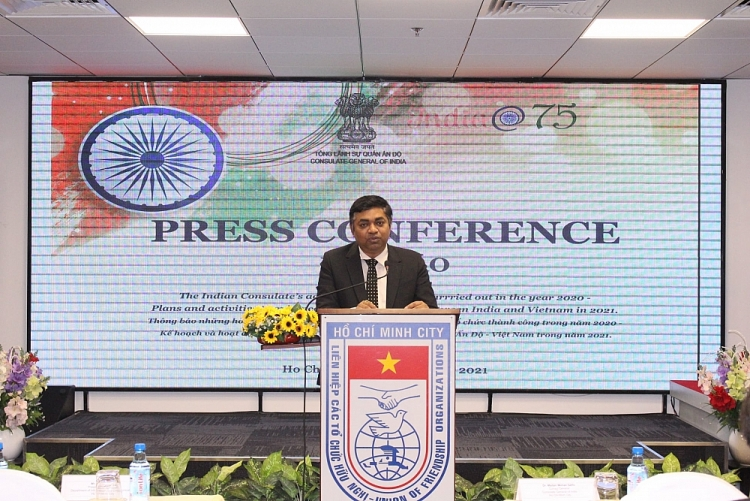 Consul General of India in Ho Chi Minh City Madan Mohan Sethi aspires to beef up the cooperative relationship between India and Vietnam.
Speaking at the event, Consul General Madan Mohan Sethi announced the socio- cultural-charitable activities that the Consulate General carried out in 2020, with the effective cooperation of VIFA and HUFO.
In 2021, the Consulate General of India will continue to promote cooperation on economy-trade and education between Indian and Vietnamese enterprises and universities.
"Under the plan, India sets a target of sending 500 Vietnamese students to study in the country under the scholarships granted by the Indian government or tuition fee packages to improve knowledge on the undergraduate or graduate level in any profession", said Madan Mohan Sethi.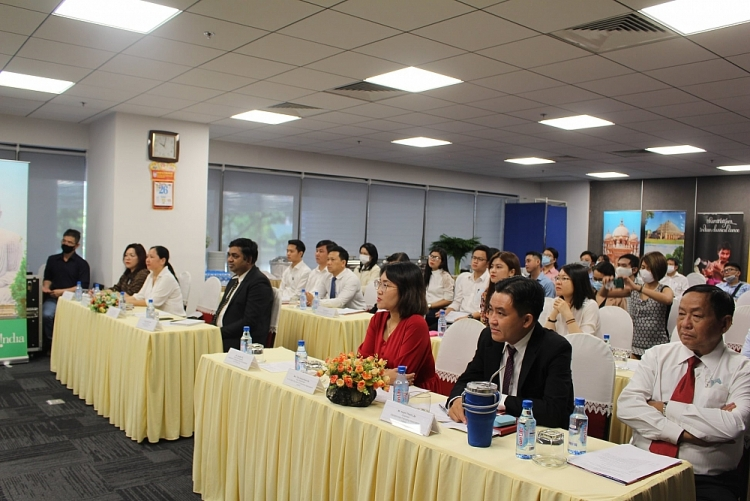 Delegates at the press conference.
He also said that there are currently 40-50 Indian enterprises interested in investing in Vietnam. Meanwhile, many Vietnamese businesses are also keen on investing in India.
"As the Covid-19 epidemic in India is controlled in the next 1-2 months, commercial flights resume, Vietnam- India cooperation will be further promoted", he added.
India will celebrate its 75th anniversary of Independence Day on August 15, 2022. The Consulate General of India in Ho Chi Minh City is scheduled to organize 75 activities and events including seminars, exhibitions, cultural events, etc to honor the country's important achievements.
Malie Nguyen