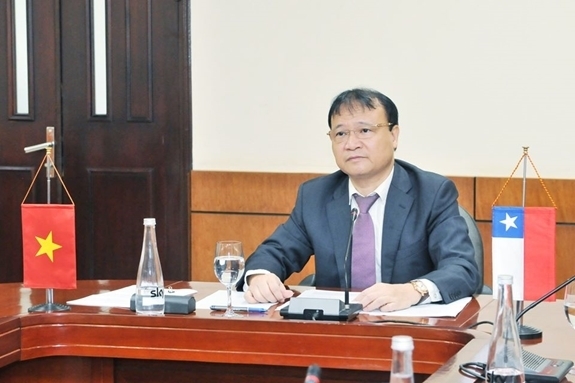 Deputy Minister of Industry and Trade Do Thang Hai attends the meeting. (Photo: qdnd.vn)
This meeting was also held to boost bilateral collaboration amid the ongoing coronavirus pandemic, while also taking advantage of the Vietnam - Chile Free Trade Agreement and the Comprehensive and Progressive Agreement for Trans-Pacific Partnership (CPTPP), according to VOV.
Both Vietnam and Chile expressed their delight at the growth of bilateral trade as Chile became Vietnam's fourth-largest partner in Latin America with revenue of US$1.23 billion, representing a year-on-year rise of 12.95%.
Most significantly, the first half of 2020 witnessed bilateral trade reach close to US$568 million despite the serious impact of the COVID-19, a slight fall of 1.04% on-year.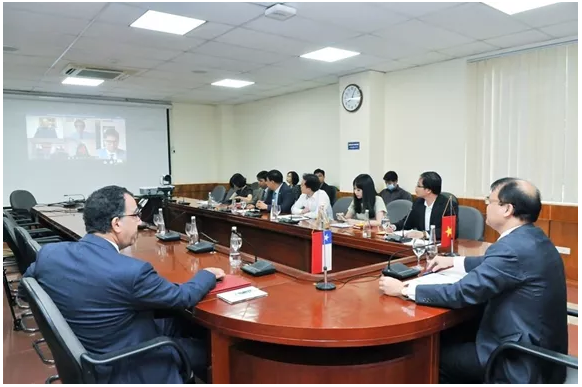 General view of the virtual meeting. (Photo: qdnd.vn)
At the meeting, representatives from Vietnam and Chile proposed to intensify supply chains and the production and export of face masks and protective gear and to enhance trade promotion activities both online and offline.
Regarding the CPTPP, Hai expressed his hope that Chile will soon conduct procedures domestically to ratify the agreement and create a new driving force for trade relations between Vietnam and Chile in particular and between the other signatories in general.
The Chilean official suggested to maintain bilateral cooperation mechanisms to exchange information and foster collaboration in trade promotion, customs, e-commerce, and digital economy, Nhan Dan reported.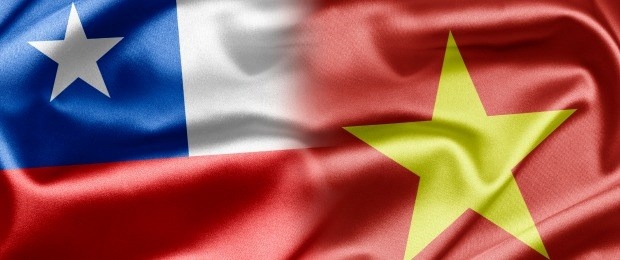 Both Vietnam and Chile expressed their delight at the growth of bilateral trade (Photo: Vietnam Plus)
He asked Vietnam to strengthen the relationship between Chile and ASEAN, given the country has assumed the ASEAN Chair this year.
Deputy Minister Rodrigo Yanez Benitez agreed with Deputy Minister Do Thang Hai, expressing his belief that import-export turnover will achieve good growth in the coming time.
Also at the meeting, the Vietnamese Ambassador to Chile Nguyen Ngoc Son and the Chilean Ambassador to Vietnam, Jaime Chomali, pledged to promote bilateral political and trade relations towards the 50th anniversary of the establishment of diplomatic relations and 10 years of signing the Vietnam-Chile Free Trade Agreement in 2021.
At the end of the meeting, the two Vice Ministers agreed that the Covid-19 pandemic is still complicated and will implement cooperation activities and promote trade. Also the two sides will strengthen the bilateral economic cooperation relationship between the two countries, informed Vinanet.
Candy Lee