Vietnam and China Forge Close Relations On High Political Trust
Deputy Prime Minister Pham Minh Minh and Chinese State Councilor cum Foreign Minister Wang Yi are scheduled to co-chair the 14th meeting of the steering committee for bilateral cooperation in Naning during Minh's visit on July 12-13.
Deputy Prime Minister Pham Binh Minh began a two-day visit to China on July 12, during which he is scheduled to co-chair the 14th meeting of the Steering Committee for Bilateral Cooperation.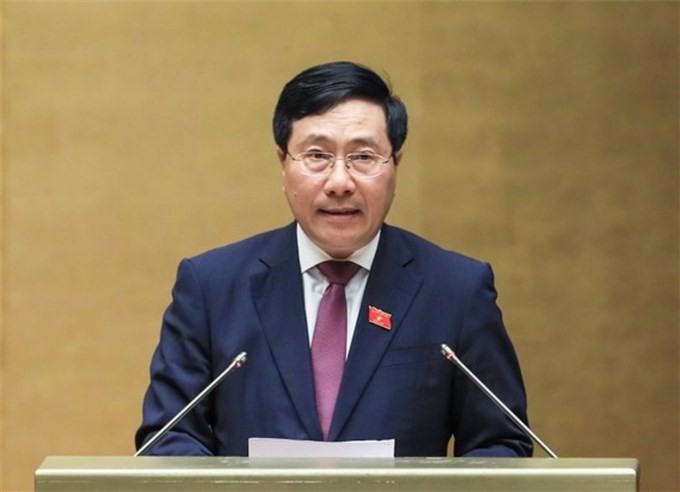 Deputy Prime Minister Pham Binh Minh. Photo: VOV
Both sides have fostered a strong friendship and comprehensive co-operation, recording substantial progress over recent times. They have frequently maintained high-level exchanges and contact in flexible forms to increase political trust between their respective leaderships.
Following the 13th National Congress of the Communist Party of Vietnam held in early 2021, Party General Secretary Nguyen Phu Trong, President Nguyen Xuan Phuc, Prime Minister Pham Minh Chinh, and National Assembly Chairman Vuong Dinh Hue held phone discussions and online talks with their Chinese counterparts, namely General Secretary and President of China Xi Jinping, Premier Li Keqiang, and Chairman of the National People's Congress Li Zhanshhu, in a bid to outline important orientations for bilateral relations moving forward.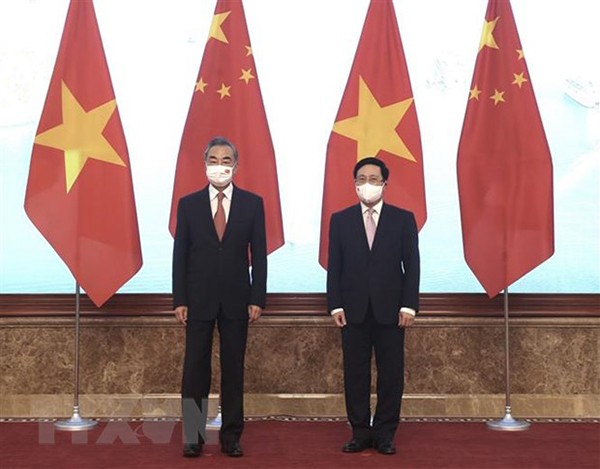 Deputy Prime Minister Pham Binh Minh welcomed Chinese State Councilor and Foreign Minister Wang Yi to attend the 13th meeting of the Steering Committee for Bilateral Cooperation between Vietnam and China in September 2021 in Hanoi. Photo: Lam Khanh/VNA
Continuing positive development of VN-China relations
With regard to economic co-operation, China is Vietnam's largest trading partner and second largest export market, while the latter is the former's largest trading partner in ASEAN and its sixth largest partner in the world.
According to the General Department of Vietnam Customs, two-way trade turnover hit US$165.8 billion last year, up 24.6% on-year. The first five months of this year alone saw bilateral trade rise by 13.3% to US$64.06 billion.
As of June 2022, China ranked sixth out of 139 countries and territories investing in Vietnam with a total registered capital of US$22.31 billion. Problems in some co-operation projects were gradually removed, whilst the Cat Linh-Ha Dong urban railway line using Chinese loans was officially put into operation.
Bilateral co-operation in the COVID-19 fight has achieved many substantive results. China is one of the main countries that has provided the most COVID-19 vaccines for Vietnam, thereby making effective contributions to pandemic prevention and control throughout the country.
The two countries have closely co-ordinated and satisfactorily handled issues on the basis of legal documents on land border management reached by their top leaders to maintain peace and stability along their shared border. Despite some new complicated factors occurring at sea, the situation remains stable, with the two sides maintaining channels of dialogue, negotiation, and efforts to control disagreements in line with international law, including the 1982 UN Convention on the Law of the Sea (UNCLOS).
The two countries have actively co-ordinated to promote peace, stability, and co-operation in the region and the rest of the world at multilateral forums, especially at ASEAN and UN forums.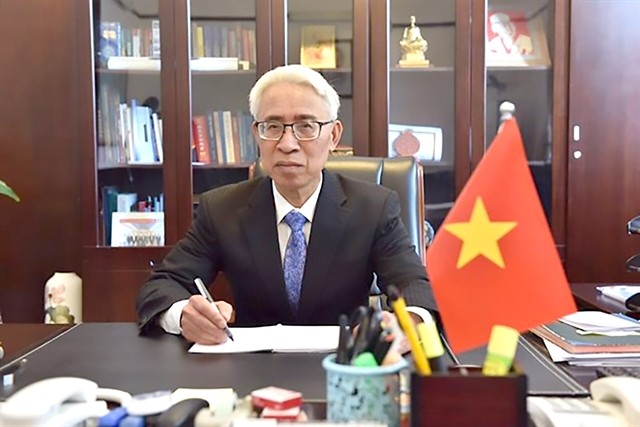 Vietnamese Ambassador to China Pham Sao Mai. Photo: VNS
However, due to the negative impact of the COVID-19 pandemic, the mutual partnership has faced several difficulties, with two-way trade turnover showing signs of slowing down, as well as the customs clearance of goods at border gates not going smoothly. The two sides have also yet to resume direct flights, meaning Vietnamese students have been unable to return to Chinese universities to study.
Highlighting the significance of the coming visit by Deputy PM Minh, Vietnamese Ambassador to China Pham Sao Mai said the trip reflects both sides' resolve to maintain close contact between the two Parties and countries so as to further strengthen political trust. It will help effectively implement Vietnamese and Chinese leaders' common perceptions in order to develop friendship and win-win cooperation in a result-oriented manner.
The two sides will review bilateral cooperation since the steering committee's 13th meeting in September 2021 and discuss major orientations and concrete measures for promoting bilateral ties in all aspects.
Mai held that to further bring into play the potential and advantages of bilateral cooperation, Vietnam and China should coordinate closely with each other to seriously and fully carry out their leaders' common perceptions, as well as bilateral agreements, tackle difficulties and obstacles, and improve cooperation quality in all spheres.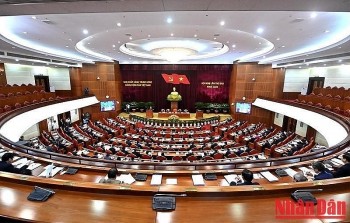 National
The 13th Party Central Committee discussed two important projects on October 4, the second working day of its 6th plenum.