Vietnam And Hungary Enhance Local Cooperation
The delegation of the Vietnamese Embassy in Hungary led by Ambassador Nguyen Thi Bich Thao recently visited the city of Debrecen - the third largest city in the country and the second most populous city in Hungary (after Budapest), capital of Hajdu Bihar county. During the visit, they discussed measures to promote cooperation between Vietnamese and Hungarian localities.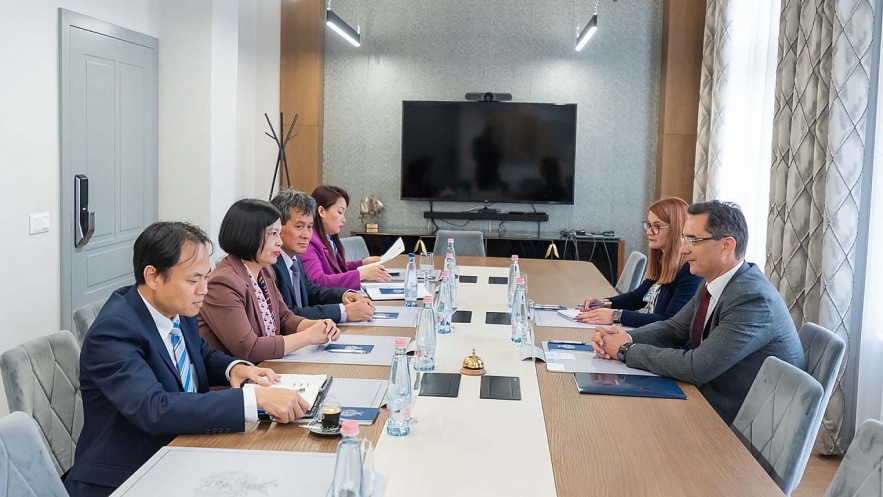 Ambassador Nguyen Thi Bich Thao worked with Debrecen City Mayor László Papp. Photo: WVR
Within the framework of the business trip, Ambassador Nguyen Thi Bich Thao met with the Mayor of Debrecen City, greeted the leaders of the self-governing government of Hajdú-Bihar county, visited and worked with the Rector of Debrecen University.
They visited Hajduhus 2000Kft food processing company, met Hungarian friends who love Vietnam, and nearly 80 Vietnamese students studying and living in Debrecen city.
During the meeting with Ambassador Nguyen Thi Bich Thao, Debrecen City Mayor László Papp introduced the city's socio-economic development achievements over the past 10 years.
Those achievements include the fastest growing industrial park in Hungary, attracting large corporations such as BMW, and Debrecen International Airport, Hungary's second largest, soon having direct flights to Istanbul to connect with the East.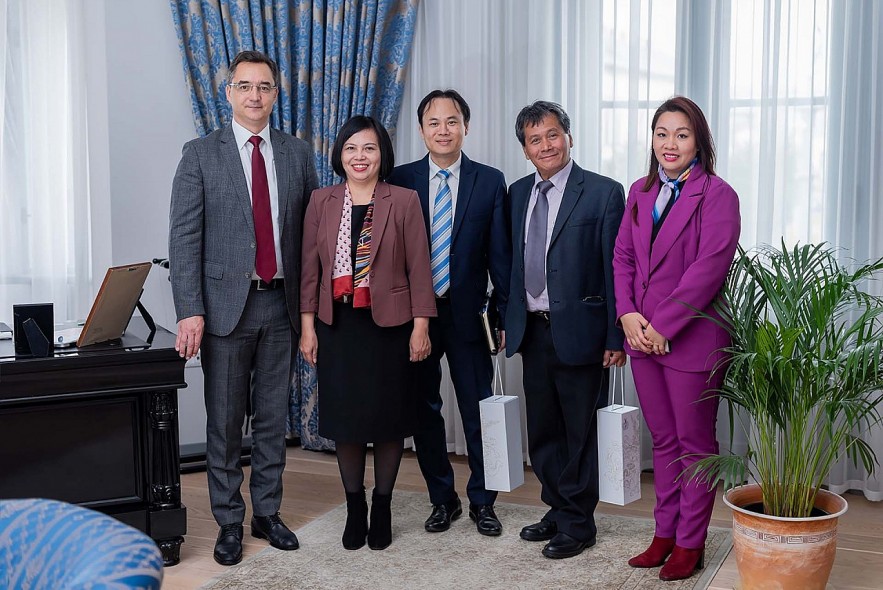 Ambassador Nguyen Thi Bich Thao worked with Debrecen City Mayor László Papp. Photo: WVR
László Papp expressed his desire to cooperate in the fields of culture and tourism. He shared that the city's current challenge is needing more than 20,000 workers/year to serve the city's development needs, especially in terms of infrastructure (roads, railways, power transmission, and development of new residential areas).
Ambassador Nguyen Thi Bich Thao affirmed that the Government and people of Vietnam always appreciated Hungary's help and support in training human resources for Vietnam, including Debrecen City.
The Ambassador agreed with the Mayor's proposal on the direction of cooperation, and was ready to support and promote areas such as labor cooperation.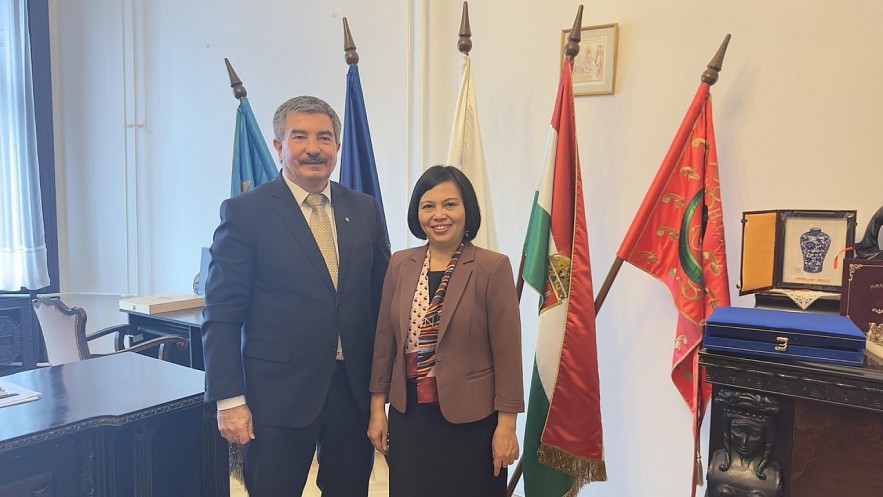 Ambassador Nguyen Thi Bich Thao worked with the head of Hajdú-Bihar County Council. Photo: WVR
At the meeting, the Head of Hajdú-Bihar County Council Joltán Pajna introduced the organization of project construction using EU support money for green, circular, and sustainable economic development, environmental protection, waste treatment, renewable energy, and tourism development under the EU's strategic direction.
Joltán Pajna expressed his joy that Hajdú-Bihar county has shared its experience and knowledge of utilizing hot mineral springs with Phu Yen (since 2019).
He hoped that support and technology transfer activities would progress as well as help strengthen cooperation with Vietnamese provinces and cities.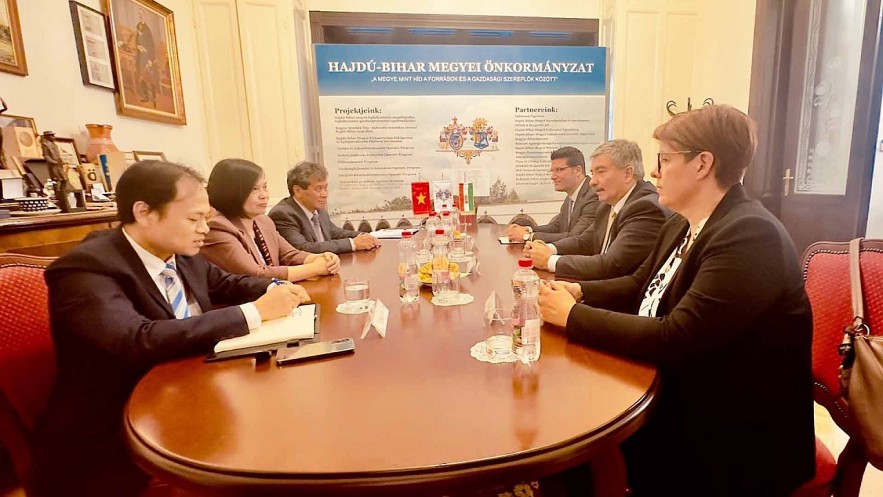 Ambassador Nguyen Thi Bich Thao worked with the head of Hajdú-Bihar County Council. Photo: WVR
Ambassador Nguyen Thi Bich Thao said the traditional friendship between Vietnam and Hungary over the past 73 years, and five years of comprehensive partnership, has always been maintained, expanded, and deepened.
The Ambassador thanked the leaders of Hajdú-Bihar county for creating favorable conditions for Vietnamese citizens to study and integrate well.
She pledged to be ready to support and connect Hajdú-Bihar county with Vietnamese localities, such as Tuyen Quang, which also has strengths and potential in hot mineral springs, and continue to promote training cooperation, especially for high-quality technical workers.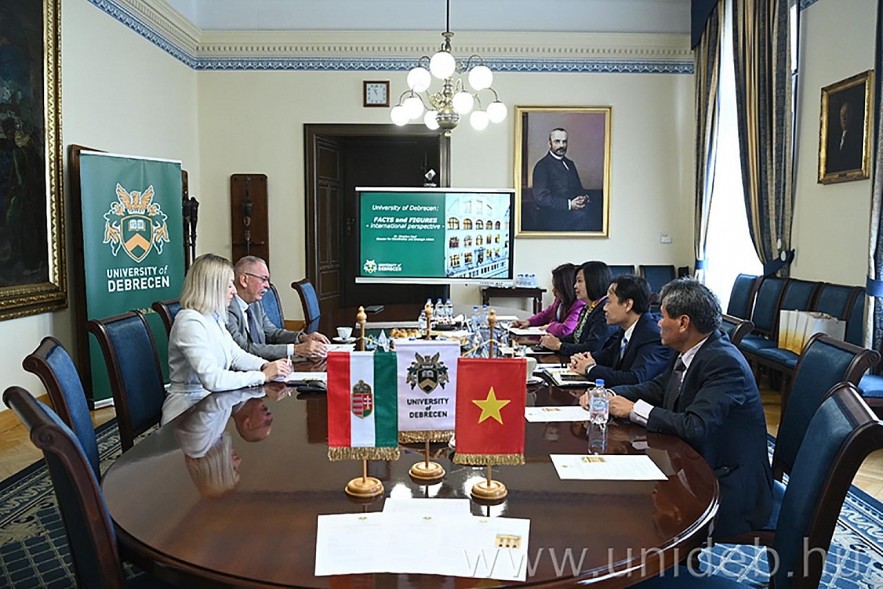 Ambassador Nguyen Thi Bich Thao worked with the Debrecen University Rector. Photo: Uniden
Visit Debrecen University - the second largest human resource training university in Hungary with 30,000-40,000 students/year, built in the early 19th century, and work with Professor Zoltan Szilvassy, rector of the university, Ambassador Nguyen Thi Bich Thao stated that education and training are one of the pillars of the more than 70-year traditional friendship and cooperation between Vietnam and Hungary.
Affirming that high-quality human resource training continues to be the key to the development path of the two countries, the Ambassador thanked Debrecen University for its support and interest in Vietnamese students studying at the school.
She welcomed the Rector's proposals and ideas on exchanging experts, establishing in-depth research and consulting groups in areas where both sides have complementary strengths.
Ambassador Nguyen Thi Bich Thao said the Embassy is ready to be a bridge between Debrecen University and schools and research institutes in Vietnam.
Zoltan Szilvassy expressed his desire to promote cooperation with Vietnam in forms such as expert exchange.
The university is ready to provide scholarships to Vietnamese students (in addition to the scholarships between the two Governments), especially focusing on areas of added value and strengths of the university, such as agriculture, medicine, pharmacy, agricultural and food processing.
Currently, the school spends a fund worth US$700,000 annually to provide scholarships.