Vietnam, Argentina Seek To Strengthen Trade Cooperation
Vietnamese Ambassador to Argentina Duong Quoc Thanh has paid a working visit to Rosario city of Santa Fe province, towards the expansion and investment collaboration between the two sides.
In orrder to seek opportunities for promoting trade and investment collaboration between the Argentinean province and Vietnamese localities, Vietnam's Ambassador to Argentina Duong Quoc Thanh has paid a working visit to Rosario city of Santa Fe province.
Meeting provincial Governor Omar Perotti, he appreciated the potential of Santa Fe province and said the two sides hold great potential for promoting cooperation in the agricultural sector, as Vietnam has high demand for animal feed, raw materials for processing, cereals, wheat flour and other items that are Santa Fe's strengths, as The World & Vietnam reported.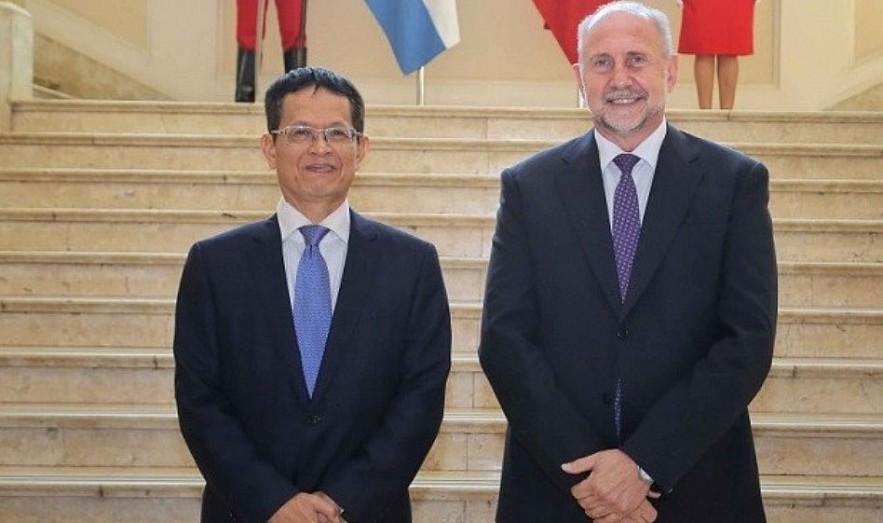 Vietnamese Ambassador to Argentina Duong Quoc Thanh meets Governor of Santa Fe province Omar Perotti. (Photo: VNA)
Omar Perotti informed the guest that a delegation of officials and businesses from Central Argentina, including those of the province, is scheduled to pay a working visit to Vietnam in mid-November, saying it will be an opportunity for the two sides to discuss potential cooperation opportunities.
As scheduled, the delegation will have meetings with local leaders as well as representatives of the Vietnam Chamber of Commerce and Industry; organize a seminar to introduce the export potential of Santa Fe province and the central region of Argentina to Vietnamese partners as well as visit Vietnam Foodexpo 2022 and seaport system in Ho Chi Minh City.
According to VNA, the Vietnamese Ambassador welcomed the upcoming visit of the delegation, saying that he is ready to act as a bridge for Argentinean enterprises to approach partners in Vietnam.
Within the framework of the visit, Thanh also attended the 138th anniversary of the establishment of the Rosario Commodity Exchange and held meetings with enterprises that have cooperation with Vietnam.
Previously, during their meeting in Hanoi in July, Vietnam and Argentina agreed to consider the possibility of cooperation in new potential fields such as fundamental industries, hi-tech agriculture, food processing, energy, and biotechnology to deepen bilateral economic-trade relations. The agreement was reached by Minister of Industry and Trade Nguyen Hong Dien and visiting Argentinian Minister of Foreign Affairs, International Trade, and Worship Santiago Cafiero.
Dien affirmed Argentina is one of Vietnam's leading partners in America, with two-way trade surpassing USD 4.5 billion last year. The figure represented a year-on-year rise of 14.1%. Of the total, Vietnam's export value was USD 832 million.
Vietnamese Ambassador to Argentina Duong Quoc Thanh writes dơn in a guestbook of Rosario city. Photo: VNA/Hoai Nam.
Argentina is Vietnam's third largest trader in Latin America, while the latter is the former's biggest trade partner in Southeast Asia and the sixth biggest on the global scale. However, the bilateral trade value remains modest compared to both sides' potential.
Therefore, he showed his hope that the two sides will continue efforts to increase trade exchanges, diversify imports and exports, and gradually equilibrate the trade balance.
The Vietnamese minister proposed Argentina create more favorable conditions for his country's businesses, especially those operating in agriculture, garment and textiles, wood products, and handcrafts, to approach the Argentinian market.
As Nhan Dan reported, Vietnamese Ambassador Duong Quoc Thanh said that bilateral relations between the two countries have always developed well since the establishment of diplomatic ties nearly 50 years ago. Trade has been a bright spot after the two countries established a comprehensive partnership in 2010 with an increase in two-way exchange turnover from USD 1 billion to nearly USD 4 billion in 2020.
However, the Vietnamese Ambassador said that trade exchange between the two countries still focuses on main items such as corn, soybeans, animal feed, and pharmaceuticals from Argentina, as well as phone components from Vietnam. He attributed it to the lack of information about each other's needs, tastes, and market access methods by businesses.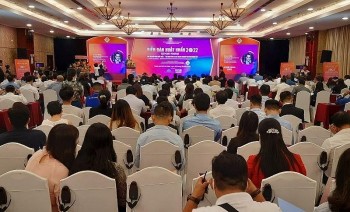 Focus
Vietnam News Today (Dec. 9): Vietnam - Singapore innovation centre helps firms transform production; HCM City among most searched destinations by travelers; Vietnamese digital technology industry's revenue estimated at 148 billion USD in 2022; Two Vietnamese films up for consideration at Oscars.