Vietnam, Australia Announce Enhanced Economic Engagement Strategy
The Enhanced Economic Engagement Strategy between Vietnam and Australia was published on December 21. It shall set out a roadmap to boost bilateral trade and investment ties.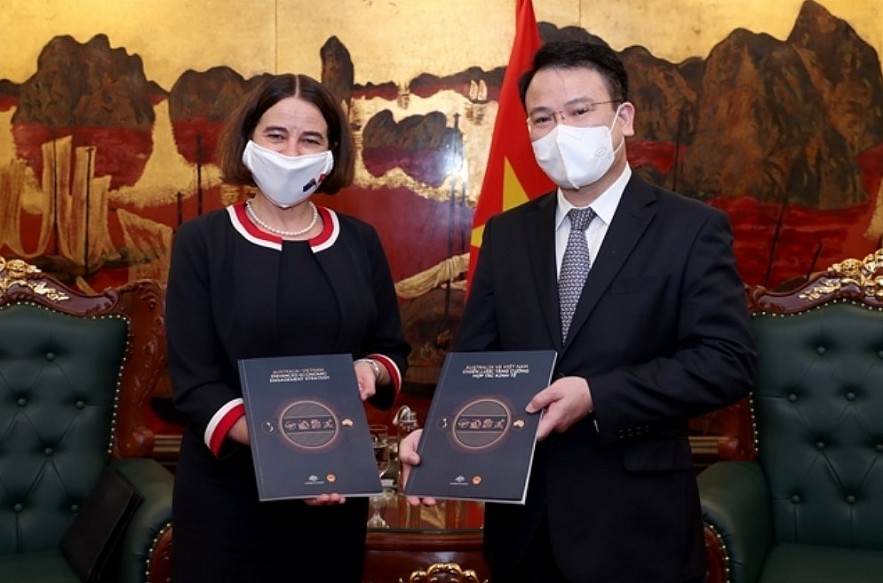 Australia's Ambassador to Vietnam Robyn Mudie and Vice Minister for Planning and Investment Tran Quoc Phuong release the Australia Vietnam Enhanced Economic Engagement Strategy. (Photo courtesy of the Australian Embassy)
In a media release, as nhandan reported, Australian Minister for Trade, Tourism and Investment Dan Tehan welcomed the strategy as the foundation for Vietnam and Australia's effort to double investment and become top ten trading partners.
"Australia and Vietnam have complementary economies - we are partners more than competitors. Our supply chains are becoming more closely entwined, meaning together we are exporting to markets around the world," he said.
"The implementation of the Economic Engagement Strategy will unlock mutually beneficial opportunities and boost our trade and investment relationship, especially in key areas such as education, resources, agriculture, manufacturing and digital economy."
"Whether on the streets of Ho Chi Minh City or on the farms of western Victoria, the Australia-Vietnam economic relationship will provide opportunities for investment and trade," Tehan said.
"As both our countries emerge from the pandemic and begin our economic recovery, the strategy presents tremendous opportunities for both our nations," he added as hanoitimes reported.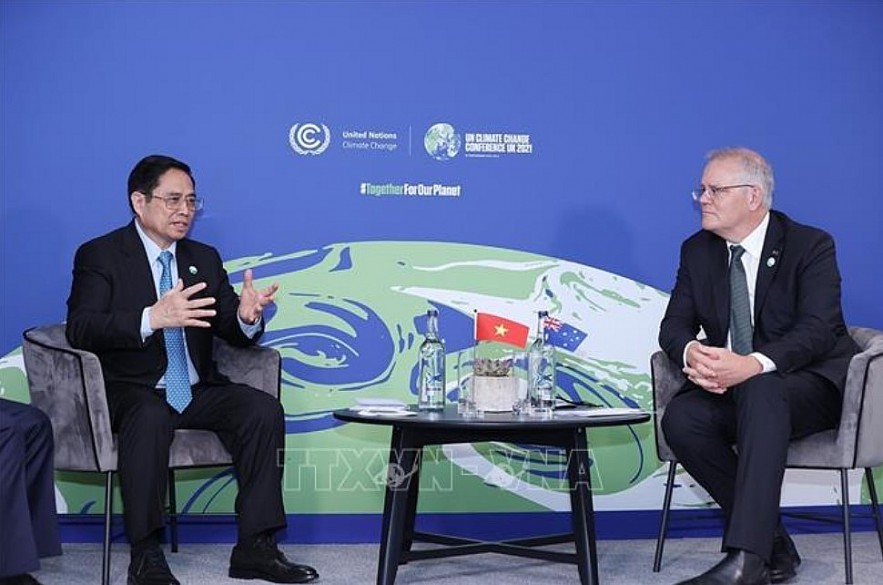 Vietnam's Prime Minister Pham Minh Chinh and his Australian counterpart Scott Morrison meet on the sideline of COP26. Source: VNA
The minister said as both our countries emerge from the pandemic and begin their economic recovery, the strategy presents tremendous opportunities for both nations.
For his part, Vietnam's Minister of Planning and Investment Nguyen Chi Dung noted "success in achieving the common objectives of the Strategy will further enhance the economic position of Vietnam and Australia, contributing to the safety, security and shared prosperity of the Asia-Pacific region".
The Strategy also highlights the importance of strengthening the rules-based global trading system as the basis for open international trade and working together to address economic challenges and coercive economic practices.
According to VOV News, official data shows that over the past 20 years, the Australia-Vietnam trade has grown at an average rate of 8.6% per year, much higher than the average trade growth of 5.8 %/year between Australia and other ASEAN countries. Two-way trade in goods and services was estimated to reach AUD14.6 billion (US$10.4 billion) in 2020.
Meanwhile, Vietnam's investment in Australia has increased fivefold from AUD155 million (US$110.5 million) in 2008 to AUD785 million (US$559.4 million) in 2020. Vietnamese investment grew the most in the 2010-2014 period, after the ASEAN-Australia-New Zealand Free Trade Agreement took effect.
For its part, as of December 2020, Australian investment in Vietnam hit AUD1.38 billion (US$980 million), ranking 20th among all foreign investors in the country. Australia mainly invests in the manufacturing, processing, food, agriculture, forestry and fishery sectors.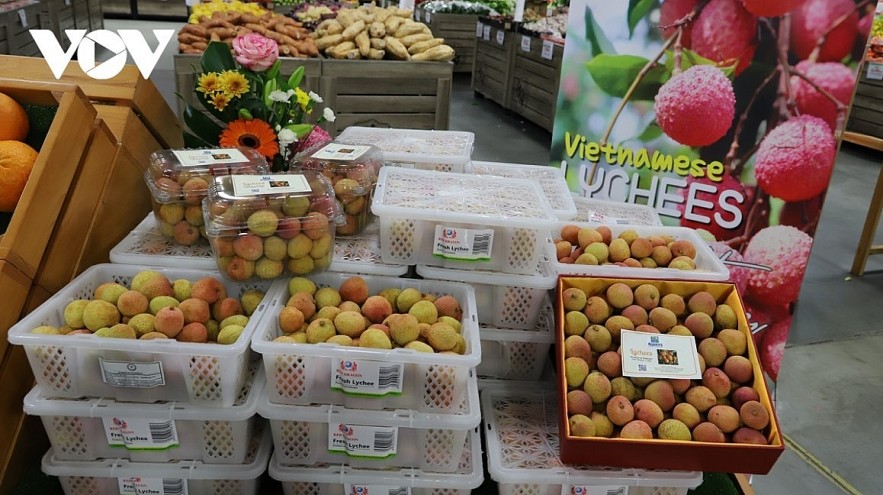 Some Vietnamese fruits such as litchees and durians have been exported to Australia. Photo: VOV News.
Australia's top exports to Vietnam include coal, iron ore, live animals, education and cotton. Vietnam's major exports to Australia include communications equipment, crude petroleum, clothing and footwear. Vietnam is a popular destination for Australian tourists and for Australia's sizeable Vietnamese community.
In addition, Australia is one of the largest non-refundable ODA partners for Vietnam. "Australia's ODA projects have met Vietnam's development requirements, helping the country address its difficult challenges," Minister Dung emphasized.
He noted that there is much room for the two countries to fully tap into their cooperation potential, and the 2021-2025 strategy is expected to realize that goal.
For his part, Australian Minister for Trade, Tourism and Investment Daniel Tehan, said Australia attaches importance to implementing the strategy, considering it the foundation for bilateral economic cooperation in the coming years. Australia will act on opportunities to fulfil the target of becoming one of the top 10 trading partners of Vietnam, he affirmed.
The idea of formulating the Enhanced Economic Engagement Strategy was put forward during the 2019 talks between Australian Prime Minister Scott Morrison and the then Vietnamese PM Nguyen Xuan Phuc to further promote the two countries' trade and investment ties. The strategy, which aims to put both countries on track to become top 10 trading partners and double two-way investment, will cover two-way trade, investment and other economic cooperation including recommended actions for each country.