Vietnam Business & Weather Briefing (Oct 19): Vietnam Ranks 2nd in Southeast Asia on online spending
Vietnam Business & Weather Briefing (Oct 19): Reference exchange rate up VND 26, Vietnam remains an attractive investment destination for foreign financiers, Hanoi works to speed up the disbursement of investment projects
Business Briefing
Gold rate: VND 66 million/tael (buying) - VND 66.8 million (selling)
Reference exchange rate: VND 23,663/USD
Investment news: Vietnam remains an attractive investment destination for foreign financiers, Hanoi works to speed up the disbursement of investment projects
Market news: Vietnam ranks 2nd in Southeast Asia on online spending
Weather Forecast
The North is affected by a continental cold high-pressure, combined with the western circulation of storm No. 6.
Business Briefing
Gold rate
Gold price is under pressure from the increase of USD interest rate in the international market. On the morning of October 19, the price of the SJC gold bar decreased by VND 100,000 per tael, while Eximbank listed the buying price at VND 66 million/tael and the selling price at VND 66.8 million.
Reference exchange rate
The State Bank of Vietnam set the daily reference exchange rate for the US dollar at VND 23,663/USD on October 19, up VND 26 from the previous day. With the current trading band of +/- 5%, the ceiling rate applied to commercial banks during the day is VND 24,846/USD, and the floor rate VND 22,479/USD.
The opening-hour rates at many commercial banks increased. At 8:35 am, BIDV listed the buying rate at VND 24,295/USD and the selling rate at VND 24,575/USD, both up VND 15 from the end of October 18. Meanwhile, Vietcombank kept both rates unchanged at VND 24,240/USD (buying) and the selling rate at VND 24,550/USD (selling).
Photo: Zing
Investment news: Vietnam remains an attractive investment destination for foreign financiers
Despite enduring the adverse impact of the Covid-19 pandemic and global uncertainties, several foreign investors continue to view Vietnam as an attractive investment destination, according to insiders. A survey conducted by Cushman & Wakefield highlights that more than 200 senior representatives from leading investment firms have selected Vietnam as their primary investment destination among emerging markets, with the country obtaining nearly 80% of the votes, followed by India getting 75%.
Despite concerns about global macroeconomic instability, rising interest rates, and high inflation, foreign investors continue to inject money into committed projects in the country, said Trang Bui, general manager of Cushman & Wakefield. The Business Climate Index (BCI) published by the European Chamber of Commerce in Vietnam (EuroCham) and produced by YouGov Decision Lab indicates that 45% of European business stakeholders remain optimistic about future prospects for their own businesses ahead in the fourth quarter of the year. Furthermore, respondents anticipate that investment planning, orders, and revenues will remain relatively stable in comparison with the previous quarter.
The Ministry of Planning and Investment recently unveiled Vietnam attracted more than US$18.7 billion in foreign direct investment as of September 20, with Singapore, Japan, Denmark, China, and the Republic of Korea becoming the leading investors.
Most notably, foreign investment disbursement hit a record high of US$10.06 billion during the first half of the year, securing the highest growth rate over the past five years. Bui revealed that Vietnam is primarily focused on developing infrastructure such as highways and seaports in a bid to enhance competitiveness and attract further FDI inflows into the country. Rapid improvements made in the infrastructure system have therefore contributed to the country's strong economic growth and significant developments in terms of the logistics industry, she noted.
Bui went on to outline that thanks to the tremendous efforts over recent years, the country is considered to be an attractive investment destination and a dynamic economy with a large degree of openness and a high economic growth rate. With regard to policies that aim to attract foreign capital, Dr. Phan Huu Thang, chairman of the International Investment Research Institute, underlined the necessity of fine-tuning the legal system and re-evaluating existing projects to devise proper strategies and identify Vietnamese advantages in order to ensure efficiency for investments moving forward.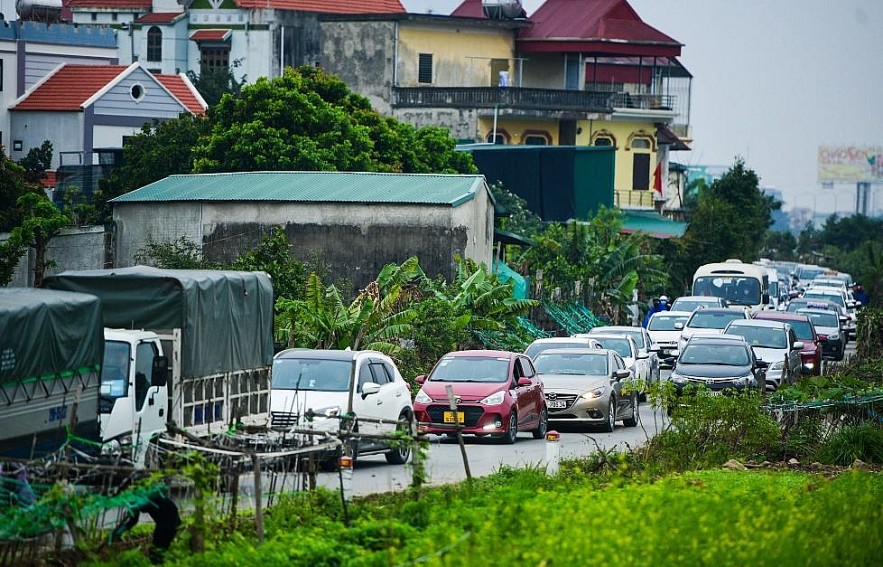 Photo: Zing
Hanoi works to speed up the disbursement of investment projects
Secretary of the Hanoi Party Committee Dinh Tien Dung has asked for more concerted, drastic, and effective measures to speed up the disbursement of investment projects, especially key ones, according to VNA.
At an October 18 working session between the city's delegation of National Assembly (NA) deputies and standing members of the municipal People's Council, People's Committee, and several agencies in preparation for the 15th NA's upcoming fourth session, he required the municipal People's Committee, departments, sectors, and localities to quickly carry out a project to build Ring Road No.4, especially in site clearance and resettlement.
The city will take the performance of this task as one of the important criteria for evaluating officials, he stressed. The city leader also asked for specific investment plans in the fields of health, education, and culture.
Market news: Vietnam ranks 2nd in Southeast Asia on online spending
The "Vietnam e-commerce white paper 2022" released by the Ministry of Industry and Trade on September 15 cited a Google, Temasek, and Bain & Company forecast that by 2025, e-commerce revenue in Southeast Asia will reach US$234 billion, almost double that of 2021 ($120 billion). Indonesia, the Philippines, Thailand, Malaysia, and Vietnam are the leading countries in the region in terms of the size of the internet-based economy.
It is forecast that by 2025, Indonesia will rank first in the region, with about $104 billion spent through e-commerce channels. The figure is similar to Singapore and Vietnam, with $39 billion; followed by Thailand ($35 billion); the Philippines ($26 billion); and Malaysia ($19 billion). For total economic revenue on the internet (e-commerce; transportation and food; online tourism; online audiovisual), Indonesia will still take the lead with revenue of $146 billion, followed by Vietnam with $57 billion, Thailand with $56 billion, and then the Philippines, Malaysia, and Singapore.
For Vietnam, in 2021, revenue from the internet-based economy was $21 billion, estimated to rise to $57 billion by 2025, up about 271%. According to the "Vietnam E-commerce White Paper 2022", the B2C (Business to Consumer) e-commerce revenue will reach $16.4 billion in 2022, an increase of 2.7 billion compared to 2021. Five years ago, in 2017, this figure was only $6.2 billion. Along with soaring e-commerce revenue, the number of consumers shopping online in Vietnam has increased sharply in the past 5 years, from 33.6 million in 2017 to 60 million by 2022. Through surveys, the percentage of internet users shopping online reached 74.8%.
The average online shopping value of Vietnam is also expected to rise from $186/person in 2017 to $260-$285/person in 2022; the proportion of B2C e-commerce revenue compared to the total retail sales of goods and services consumption would reach about 7.2-7.8%. The report also shows that clothing, footwear, and cosmetics items account for 69% of the percentage of goods chosen by Vietnamese online shoppers, followed by equipment, and household appliances at 64%; and technology and electronics at 51%.
In 2021, e-commerce websites were dominant with 78% of online consumers choosing them, followed by mobile purchasing applications (47%), forums - social networks (42%). The growth rate of e-commerce has increased sharply, and the percentage of people who choose to pay by cash is still high, up to 73%; payment via e-wallet 37%; payment via ATM card, debit/credit card about 25%. The top criteria that Vietnamese consumers are interested in when shopping online is the reputation of websites and applications (74%); fast and flexible delivery (57%); promotions 56%; cheaper than in-store 54%; genuine, quality goods (47%).
According to the Department of E-commerce and Digital Economy, in 2021, the Covid-19 epidemic seriously affected the commercial and service activities of Vietnam in particular and the world in general. The negative growth of some large service sectors made the reduction of the overall growth of the service sector and the entire economy. In 2021, Vietnam's economic growth was only 2.58%, the lowest in the past 30 years. In that context, Vietnam's e-commerce still maintained a stable growth rate of 16%, with retail revenue of $13.7 billion. The proportion of e-commerce retail revenue in the total retail sales of consumer goods and services nationwide reached 7%, up 27% over the same period in 2020.
Photo: Zing
Weather Forecast
October 20: The North is affected by a continental cold high-pressure, combined with the western circulation of storm No. 6. North and North Central will be foggy in the early morning. From the night of October 19-20, the Northeast region and Thanh Hoa will turn cold.
Other areas will have showers and thunderstorms in the evening and at night, especially in the South Central Coast, Central Highlands, and Southern provinces.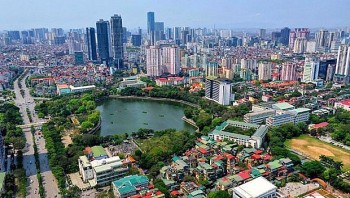 National
Vietnam News Today (Jan. 29): Quang Ninh: Cross-border trading with China resumed after Tet; Hanoi in the world's top three culinary destinations: Tripadvisor; Intertwined opportunities, challenges for Vietnam's economy in 2023; Supermarkets, traditonal markets gradually resume normal operations amid abundant supply.